We are reader-supported. Buying through links on our site may earn us commissions. Learn More.
Deal Alert! Huge James Allen Sale- 3% off Earth Diamonds AND 25% off settings or

15% off at Blue Nile!



December Birthstones: Tanzanite, Zircon and Turquoise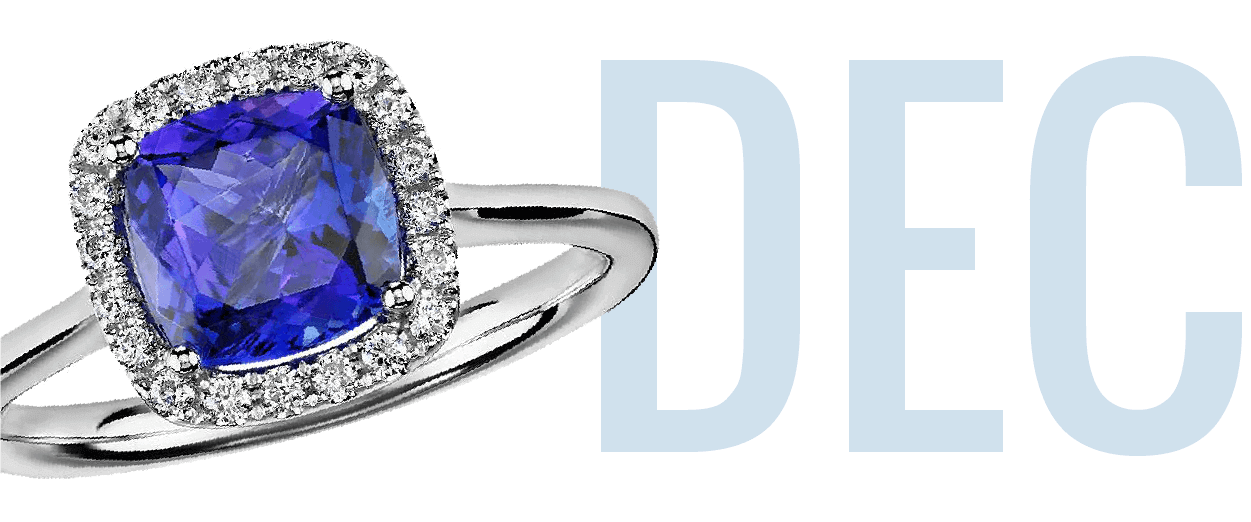 What Is The Birthstone For December?
Three options are available for December birthstones: Tanzanite, Zircon, and Turquoise. The December birthstone color is blue, with varying shades depending on the gemstone. While zircon can be found in a range of colors, blue is the classic choice, especially as a winter birthstone. 
The oldest of the three December birthstones is zircon, the first gemstone mined was turquoise, and the most recently discovered is tanzanite. The stones offer affordable birthstone jewelry options and are quickly becoming viable alternatives to diamond jewelry.
Tanzanite Birthstone

Stemming from its only mining locale in the world, tanzanite gets its name from the country Tanzania. Unlike other months, this December birthstone has a shorter history, going undiscovered until 1967.
Despite its recent discovery and lack of ancient folklore, tanzanite's rich color and immense beauty make it one of the most popular gemstones of the modern world. Because of its rarity and limited availability, tanzanite will likely be passed down for generations as a precious heirloom.
Tanzanite Symbolism and Meaning
The meaning of the tanzanite birthstone is spiritual and intellectual enlightenment.  Tanzanite symbolizes wisdom and truth. It's thought that those who wear tanzanite will discover deep new meaning through self-reflection.
Tanzanite Color
The tanzanite birthstone is blue in color. Formed of the mineral zoisite, tanzanite is a vivid blue gem found in only one place in the world. When small amounts of the mineral vanadium mix with high temperatures, the blue color develops. The December birthstone ranges in hue, and normally includes shades of purple and lavender. And while some tanzanite contains brown tints, the gemstones are usually cut and treated to reduce that effect.
Measuring between 6.5 and 7 on the Mohs scale of hardness, tanzanite is slightly less durable than other gemstones. No cause for concern, tanzanite can be worn daily in earrings and necklaces, though rings should probably be saved for special occasions. Proper care helps maintain the life and beauty of tanzanite jewelry.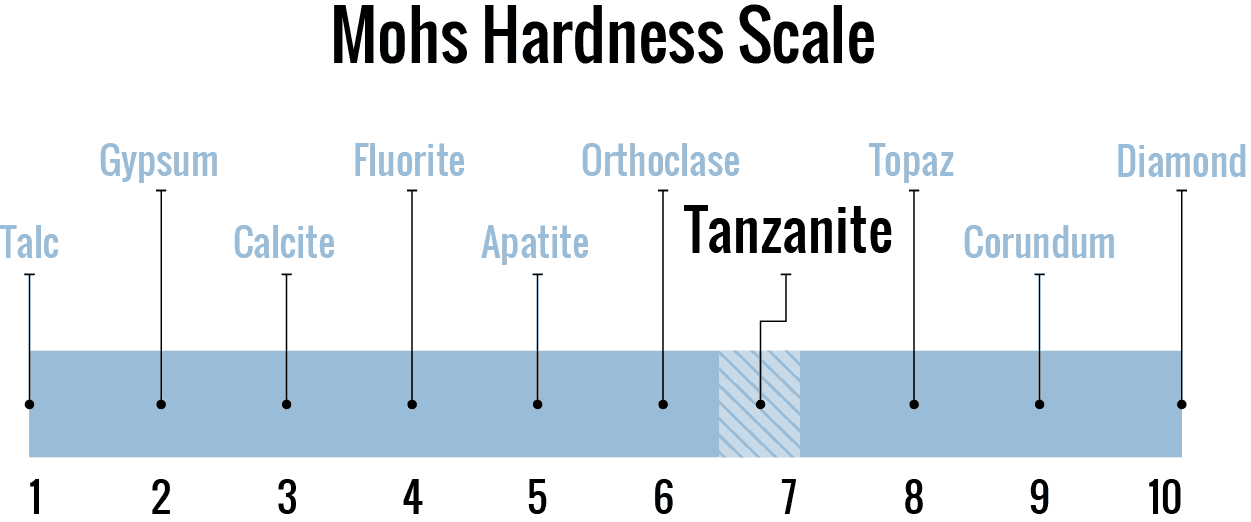 Tanzanite Origins
Uncovered by Maasai herders in 1967, the vibrant blue stones were unexpectedly discovered in the Merelani Hills in Arusha, Tanzania. The herders shared their discovery with Manual d'Souza, a local fortune prospector, who registered the location with proper mining claims. The only place in the world tanzanite can be found is within a few miles of this original deposit.
Because Tanzanite is only available in a tiny area on Earth, December's primary birthstone is a rare and precious gem.
Tanzanite Birthstone Jewelry
When choosing tanzanite birthstone jewelry, you will want to look at a few characteristics of the gemstone prior to your purchase. The cut, carat weight and size, color, and clarity are all important considerations to make.
While diamonds have more of a standard cut and very similar shapes, tanzanite is cut to showcase its unique color and beauty. Each tanzanite is cut in such a way as to enhance the natural beauty and brilliance of the gemstone.
The carat size of tanzanite varies like its dimensions and is measured by the weight as well as the face-up dimensions of the gemstone.
The color of each tanzanite gemstone is also unique and typically has two different colors showcased at one time. Typically these colors are of a blue variety and could be a mix of blue with violet.
The blue color of tanzanite is especially eye-catching in a ring. Consider a cushion cut with a halo setting or a pear-shaped stone in a rose gold setting like this one from Blue Nile.
For pendants and necklaces, choose from a simple halo tanzanite pendant or a more extravagant piece like this round tanzanite surrounded by diamonds and sapphires in yellow gold from Blue Nile.
Tanzanite bracelets are usually classic and simple in design, like this one with oval diamonds from Blue Nile.
For earrings, tanzanite options include these gorgeous studs from Blue Nile or these ones in a halo setting from Blue Nile.
Most tanzanite gemstones also do not have any obvious inclusions that you can see with just the eye.
You will find that tanzanite is much rarer than diamonds because of the minimal locale in which it is found. It is also not as tough or as durable as other gemstones so when you wear tanzanite in different forms of jewelry, it is vitally important that you exercise caution while wearing the jewelry and protect it from hitting against anything or it could easily become damaged.
Caring for Your Tanzanite Birthstone Jewelry
Tanzanite remains stunning and beautiful for much longer if you properly care and maintain the gemstones. Avoid any cleaning that may involve vibrations of any kind and use a small brush with warm, soapy water to clean the upper and underside of the gemstones. You will then rinse the tanzanite well and allow it to dry.
Always avoid using any oils or harsh chemicals because these substances can seriously damage the gemstone and negatively impact its value.
Zircon: Secondary Birthstone
An alternative to tanzanite, zircon is another stunning December gemstone. While zircon is available in a range of colors, the blue variety tends to be associated as a secondary December birthstone.
Zircon: Symbolism and Meaning
The meaning of the zircon birthstone is wisdom, prosperity, and confidence. Zircon symbolizes these traits and is thought to aid in sleep quality and warding off evil spirits.
During the Victorian era, this December birthstone was a prized gem, often adorned in necklaces and other decorative pieces. In the early 20th century, heat treatment became a popular way to enhance the blue color of zircon for jewelry.
Zircon: Color
The zircon birthstone is blue in color. The gemstones range from light blue to vibrant blue and can include hints of green. Although zircon does come in other colors, blue is the most common as a December birthstone.
Zircon: Origins
Abundant within the Earth's crust—and dating back over 4 billion years—Zircon is a widely available mineral of the nesosilicate group. Zircon deposits can be found in Cambodia, Tanzania, Thailand, Sri Lanka, the United States and Canada—though the largest deposit (37% of the world supply) comes from Australia. It rates a 7.5 on the Mohs scale of hardness, meaning it holds up well for everyday jewelry.
Zircon Birthstone Jewelry
Zircon is not as common as some other gemstones. However, it is a naturally sparkly gemstone and can be compared in many different ways to diamonds. Green zircon is the most sought-after color and happens to be the rarest color you can find.
When purchasing zircon, you will want to consider the cut of the gemstone because of its dispersion and light performance. The right cut into a brilliant shape can help maximize and enhance its appearance and beauty and make it look almost indistinguishable from diamonds.
You will also find higher levels of clarity when it comes to zircon, and only small imperfections are common and are often only visible through means of magnification. You can also find zircon that has been heat treated to enhance its overall transparency.
The stunning color of zircon offers many beautiful jewelry options including rings, necklaces, bracelets, stud earrings, and pendants.
Taking Care of Zircon Birthstone Jewelry
Clean your zircon jewelry every few months with warm, soapy water. Dry it with a soft cloth and ensure it dries fully before storing. Avoid ultrasonic cleaners because they can damage zircon. The December birthstone is far less durable than diamonds. 
Store your zircon jewelry in a soft cloth or container to keep it from being scratched. Because zircon is sensitive to UV and sunlight, avoid wearing it or placing it in the sun for long periods of time. Prevent damage by removing your zircon jewelry before washing dishes or doing other hands-on work like gardening and cleaning.
Turquoise: Tertiary Birthstone
Those born in December not only benefit from two exquisite gemstones, but also a third blue beauty: turquoise.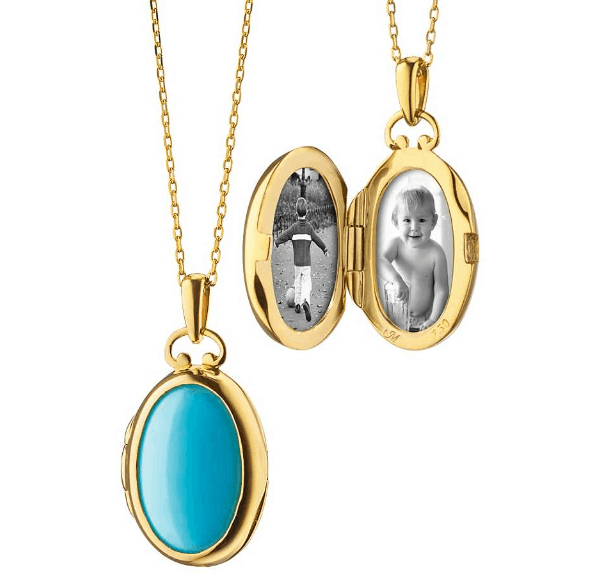 Turquoise: Symbolism and Meaning
The meaning of the turquoise birthstone is health and wealth. Turquoise symbolizes good luck and is believed to bring financial and personal protection to those who wear it.
As one of the oldest and most beloved gemstones, turquoise has been admired since ancient times. Pharaohs in Egypt wore turquoise stones around their necks, and Native Americans fastened them to special pieces of their wardrobe. Aztecs adorned their ceremonial masks and weapons with turquoise, as did kings and warriors of many kingdoms.
Turquoise: Color
The turquoise birthstone is greenish-blue in color. The stunning gemstones—which range from soft to darker greenish blues—are composed of hydrated phosphate of aluminum and copper. Because turquoise measures a 6 on the Mohs scale of durability, it is perfect for special occasion jewelry as opposed to everyday wear.
Turquoise: Origins
Originally discovered in Ancient Persia (known as Iran today), turquoise deposits are located in the United States, Northern India, Afghanistan, Australia, Northern Chile and Turkestan. Often formed in arid regions, turquoise found in Arizona leads the world in quality and value.
Turquoise Birthstone Jewelry
When purchasing turquoise, it is in your best interest to distinguish between real turquoise and imitation turquoise gemstones. True turquoise will carry more of an opaque appearance with a wax-like luster.
Since turquoise is very soft, it must be stabilized before it can be used in any jewelry. The stabilizing compound it is submerged in will harden the stone. There are also treatments that can be done to enhance its appearance.
Before purchasing turquoise this December birthstone, be sure to inquire about any treatments that have been used on the stone and make sure to find out if the stone is, in fact, real turquoise.
Turquoise jewelry ranges in size, color, and design. For a turquoise pendant, almost any setting looks great. It doesn't matter if it's a simple bezel set design like this one from Blue Nile or anything more extravagant.
With a special December birthstone design, you're bound to surprise your loved one. Also check out November's topaz and January's garnet birthstones.
Taking Care of Turquoise Birthstone Jewelry
Turquoise jewelry is soft and can be very fragile. It's important that you refrain from wearing your December birthstone jewelry when doing hands-on work like washing dishes, cleaning, or gardening. Keep it out of extreme weather conditions and avoid using jewelry cleaners.
To clean turquoise jewelry, simply wipe it down with warm water and a soft cloth. It is also recommended that you store your turquoise jewelry separately from your other jewelry as not to scratch or damage the stone.
Fun Facts
The Smithsonian Museum in Washington, D.C. hosts an extensive collection of tanzanite, including one stone of over 122 Carats.
Tanzanite was given its name by Tiffany & Co. after the gemstone was discovered as zoisite in 1967. The name "zoisite" sounded too similar to "suicide," so the company marketed the gem with a name to reflect its origin: Tanzania.
Beyoncé was gifted a stunning tanzanite ring of over 10 Carats by her husband Jay-Z.
Ancient records indicate that turquoise jewelry was fashioned as far back as 3000 BC, as evidenced in ancient Egyptian tombs, including that of King Tut.
Many celebrities flaunt turquoise jewelry for special appearances, including Cameron Diaz, Megan Fox, Sarah Jessica Parker and Sofia Vergara.
Gift Ideas
No matter which December birthstone you choose—whether tanzanite, zircon or turquoise—these vivid blue gems are bound to garner attention. Consider a gift that's designed especially for the one you love.
Whether you want to pair the stones with sterling silver, gold, or white gold, any type of metal would make the perfect setting for December birthstone jewelry. Consider watches, pendants, bracelets, or even men's jewelry.
Read More About Birthstones:  
James Allen

James Allen is the leader in online diamond sales. Their imaging technology is the same as inspecting a diamond with a jeweler's loupe. They have the largest exclusive loose diamond inventory online and fantastic prices. They also have the nicest collection of lab created diamonds online. Now save 25% off settings AND 3% off Earth Diamonds during James Allen HUGE limited time sale!
What we love about them:
No questions asked returns within 30 days of shipment. James Allen will send you a paid shipping label to return the ring.
Lifetime Warranty
Free International Shipping
Free prong tightening, repolishing, rhodium plating and cleaning every 6 months
Provide insurance appraisals
One free resizing within 60 days of purchase
Free ring inscriptions
Best-in-class high quality imagery of all diamonds in stock
24/7 Customer Service
Best-in-class packaging

---
Blue Nile

Blue Nile is the largest and most well known internet jewelry seller. They have a very large exclusive online inventory. Their high quality images are catching up to James Allens' and their prices are amazing. Blue Nile have generously offered our readers an exclusive one-time use coupon.

(Click Here to save $100 off engagement ring settings)
What we love about them:
No questions asked returns within 30 days of shipment. Blue Nile will send you a paid shipping label to return the ring.
Lifetime Warranty
Free Shipping
Free prong tightening, repolishing, rhodium plating and cleaning every 6 months
Provide insurance appraisal
One free resizing within the first year of purchase
High quality images of about half of their diamonds
24/7 Customer Service
100% credit towards future upgrades (must be at least double in value)
Best in class fulfillment

---
Still afraid of getting ripped off?
Before you buy a diamond, get personal buying advice from industry veterans. We'll help you get the best diamond for the money.
Ask your diamond purchase question here
DISCLAIMER: We don't use your email for marketing. Period.