We are reader-supported. Buying through links on our site may earn us commissions. Learn More.
Deal Alert! Huge James Allen Sale- 3% off Earth Diamonds AND 25% off settings or

15% off at Blue Nile!



May Birthstone: Emerald Origins and Gift Ideas
Emerald Symbolism and Meaning
The emerald has long been associated with youth, rebirth, longevity, even immortality, and many cultures have venerated it for many of those aspects. The ancient Egyptians, for example, used the gemstones for their burial rituals, sending their pharaoh-gods into the next life with a hoard of precious emeralds as protection.
The green gemstone is also a symbol of vision and truth. It could give the owner the power to see into the future or foretell danger by changing colors. In Europe, during the Middle Ages, the emerald was believed to reveal whether the oath taken between lovers was true or false. In a more literal sense, emeralds were used as a way to improve one's vision by ancient Greeks and Romans.
Many familiar legends invoke the emerald as a stone of power. For instance, the Grail of Arthurian legend was reputed to be a cup made from a single emerald, with the power to prolong life and preserve chastity. The common thread through many of these stories is that the emerald is a stone for those seeking truth, meaning and long life.
Emerald Color
Like aquamarine, the birthstone of May is from the beryl mineral family. It gets its color from trace amounts of chromium, whereas iron is responsible for the blue or blue-green hues found in aquamarine.
Emerald ranges from light green to a vibrant, dark, forest green. The latter are more rare and valuable. The rarest may even appear blue-green. Another rare type of emerald is a trapiche emerald that features a six-pointed pattern like a star burst.
It falls between 7.5 and 8.0 on the Mohs hardness scale. Emeralds can contain many inclusions or other materials trapped in the gem, which can make them somewhat brittle.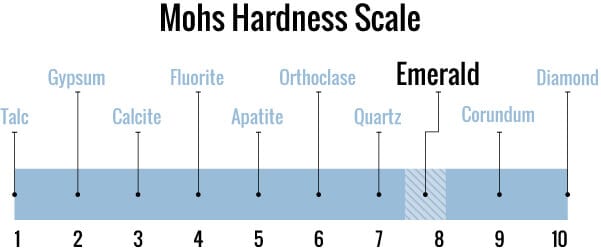 Emerald Origins
The Egyptians are thought to be the first people to mine emeralds, perhaps as far back as 5,000 years ago. Cleopatra was reputedly obsessed over the green gem, and staked claim to all the emerald mines in Egypt, which eventually took on the name of Cleopatra's Mines.
The Incas and Aztecs of South America also valued the stone, and today the best green gems (including the trapiche) come from the continent, specifically Colombia. Other emerald regions include Zambia, Brazil, Zimbabwe, Madagascar, Pakistan, India, Afghanistan, Russia and the United States.
The origins of the word "emerald" reach us from the Greek word smaragdos that literally translates to "green gem."
Fun Facts
Celebrities from Jackie O to Elizabeth Taylor have favored the emerald among their jewelry collections. The former First Lady's engagement ring from the dashing JFK featured a tapered baguette 2.84-carat emerald alongside a 2.88-carat diamond in a diamond open-halo setting.
In 1962, actor Richard Burton gave Elizabeth Taylor a 23.46-carat emerald brooch with gems sourced from Colombia. It was later auctioned by Christie's for nearly $6.6 million.
Emerald is the official wedding anniversary gemstone for celebrating the 20th and 35th year of marriage.
The world's largest emerald is the Bahia Emerald, an 840 pound stone discovered in Bahia, Brazil, in 2001. It reputedly contains more than 180,000 carats of emeralds.
May Birthstones
If your birthday is in May then you have the pleasure of enjoying the heart of Spring and the emerald happens to be the perfect accouterment for this joyous season. Emeralds also make great statement pieces, especially when worn as jewelry. May birthstone jewelry is sure to make a wonderful gift for anyone for any occasion.
From stunning engagement rings, a birthstone necklace for Mother's Day, or even emerald children's jewelry, there is something for everyone, and it will make a thoughtful and personal gift for the spring season.
How to Buy an Emerald
Just as you would buy a diamond, you will also want to focus on the 4 C's (color, cut, clarity, and carat weight) when it comes to choosing the best emeralds. Since it is rare to find brilliantly and vibrantly colored emeralds, you will want to make sure that you are getting something of immense value.
When purchasing an emerald, you will primarily focus on the color of the gemstone. The color should be evenly distributed throughout the gem and should not appear to be too dark. Lighter colored emerald gemstones are the most common to find and will carry more affordable price tags.
Inclusions on emerald gemstones typically don't carry much weight because they don't do much to detract from the color and look of the gemstone. Instead, you will be more focused on the emerald gemstones hue and saturation, rather than small inclusions.
When determining which cut to purchase, you will want a cut that emphasizes the deep and rich color of the emerald. The right cut will also provide you with a brighter stone, and many of those inclusions will become effectively hidden.
With emeralds, you will see a vast difference in price tags when you begin to look at smaller emeralds compared to the larger emeralds. Be sure to know what your budget is before you begin to make your own comparisons.
Finally, you can find emeralds in a number of jewelry settings for a May birthstone. From necklaces, simple pendants, engagement rings, wedding rings, bracelets, and earrings, the possibilities are endless when you are in the market for the perfect birthstone jewelry options.
Natural vs. Lab-Created Emeralds
Emeralds for May birthstones carry qualities of love and loyalty and offers the recipient a softer gemstone with vibrant coloring. However, a naturally occurring emerald gemstone can become quite pricey along the way.
The green color of emeralds comes from elements such as chromium, vanadium, and iron and since the value of an emerald rests so much on its color and saturation, the final decision on the emerald comes down to the eye of the beholder.
Emeralds are graded on a scale of B to AAA. The latter being the most valuable emerald available. When determining the value, after considering the hue and hardness, you will typically look into whether the gemstone was naturally occurring, or if it is a lab-created emerald which can also have an immense impact on the price tag and value.
A natural emerald will have a few more inclusions due to the minerals that created it. A natural emerald will be more unique in appearance. A lab-created emerald will have no inclusions, and the color will be different than that of a natural emerald because the composition will be different.
If you are looking for emeralds within a more affordable price range, then a lab-created emerald, although not authentic, is still a real emerald even though they were created in a lab rather than nature.
Gift Ideas
For your own green stone of immortality, start with this oval emerald and diamond ring in platinum from Blue Nile. Or triple your powers of soothsaying with this three-stone emerald and diamond halo ring from Blue Nile.
Emeralds also pair well with diamonds on these pendants, like on this pear-shaped stone from Blue Nile surrounded by pavé-set diamonds or an oval-shaped stone from Blue Nile of similar design.
Of course, emeralds are stunning enough to go solo as well. Take these stud earrings in 18K white gold from Blue Nile as a fantastic example.
Finally, we return to the winning combination of emeralds and diamonds with these two halo bracelets in 18K gold, one showcasing 5.39-carats of emeralds and the other set in 18K white and yellow gold.
James Allen

James Allen is the leader in online diamond sales. Their imaging technology is the same as inspecting a diamond with a jeweler's loupe. They have the largest exclusive loose diamond inventory online and fantastic prices. They also have the nicest collection of lab created diamonds online. Now save 25% off settings AND 3% off Earth Diamonds during James Allen HUGE limited time sale!
What we love about them:
No questions asked returns within 30 days of shipment. James Allen will send you a paid shipping label to return the ring.
Lifetime Warranty
Free International Shipping
Free prong tightening, repolishing, rhodium plating and cleaning every 6 months
Provide insurance appraisals
One free resizing within 60 days of purchase
Free ring inscriptions
Best-in-class high quality imagery of all diamonds in stock
24/7 Customer Service
Best-in-class packaging

---
Blue Nile

Blue Nile is the largest and most well known internet jewelry seller. They have a very large exclusive online inventory. Their high quality images are catching up to James Allens' and their prices are amazing. Blue Nile have generously offered our readers an exclusive one-time use coupon.

(Click Here to save $100 off engagement ring settings)
What we love about them:
No questions asked returns within 30 days of shipment. Blue Nile will send you a paid shipping label to return the ring.
Lifetime Warranty
Free Shipping
Free prong tightening, repolishing, rhodium plating and cleaning every 6 months
Provide insurance appraisal
One free resizing within the first year of purchase
High quality images of about half of their diamonds
24/7 Customer Service
100% credit towards future upgrades (must be at least double in value)
Best in class fulfillment

---
Still afraid of getting ripped off?
Before you buy a diamond, get personal buying advice from industry veterans. We'll help you get the best diamond for the money.
Ask your diamond purchase question here
DISCLAIMER: We don't use your email for marketing. Period.