We are reader-supported. Buying through links on our site may earn us commissions. Learn More.
Deal Alert! Huge James Allen Sale- 3% off Earth Diamonds AND 25% off settings or

15% off at Blue Nile!



November Birthstones: Topaz and Citrine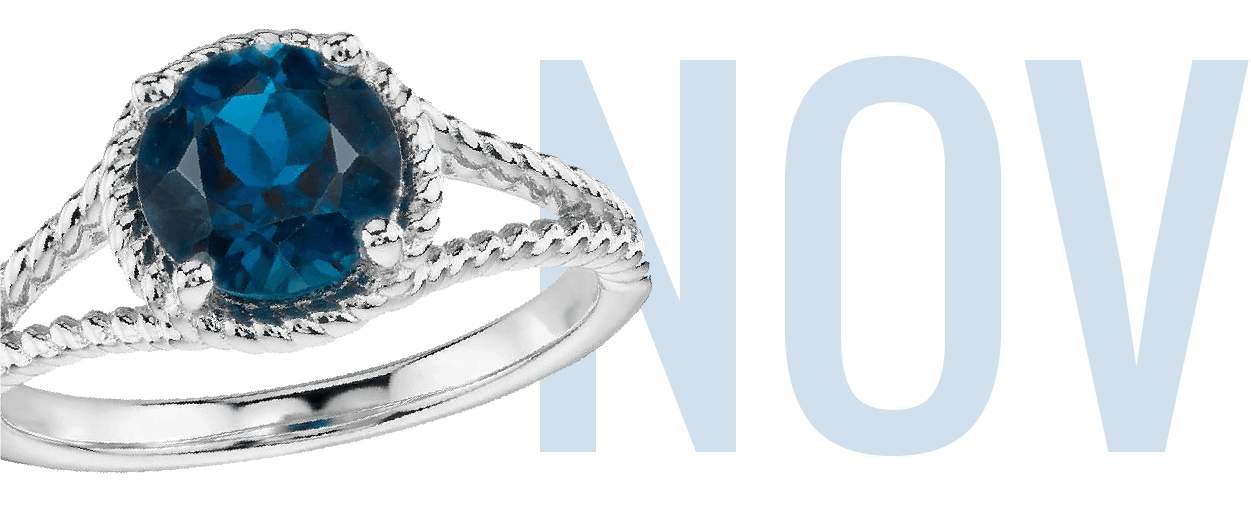 What Is The Birthstone For November?
November birthdays have two options for birthstones: Topaz and Citrine. The color for November's birthstone is golden yellow. While topaz is available in a variety of colors, yellow is the signature color for the November birthstone. Some choose blue topaz as an alternative, as it's a popular color for topaz and more widely available than yellow topaz. Citrine is a golden yellow gemstone that ranges from pale yellow to brownish orange.
There are two birthstones for November because of different interpretations of the breastplates worn by Aaron in the book of Exodus, and because citrine is an affordable alternative to yellow topaz. It's difficult to find a yellow topaz, especially one at a price most people can afford. That's why citrine is a beautiful November birthstone that offers options as low as these earrings for under $200 from Blue Nile or this pendant from Blue Nile for under $300.
Both birthstones offer beautiful jewelry options, but citrine is more widely available for everything from stud earrings to rings. The eye-catching color of this birthstone offers a unique, thoughtful gift for someone you love.
Topaz Birthstone
The topaz birthstone name is derived from the ancient Greek word "topazios," meaning St. John's Island. Topaz had referred to any gemstone that was yellow in color—stemming from the golden pieces once found near the Red Sea. Though the original stones were likely not topaz, the name now refers to a specific stone with distinct mineral composition.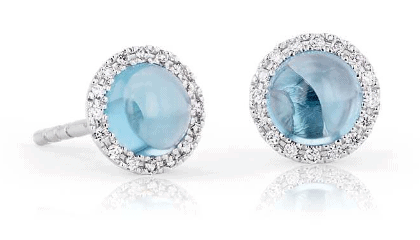 Topaz: Symbolism and Meaning
The meaning of the topaz birthstone is calming tempers and reducing nightmares. Topaz symbolizes healing and protection. It's believed to bring a calming, healing aura to those who wear it. According to legend, topaz even banished lunacy and enchantment.
Topaz: Color
The color of the topaz birthstone is golden yellow, ranging from a pale gold to a rich yellowish-orange. Topaz is also available in a variety of other colors including green, red, pink, and the most popular blue. Imperial topaz, also known as "precious topaz," is signified by a yellow, pink, or pinkish-orange hue. Imperial topaz can be more difficult to find and purchase because of its rarity.
Comprised of the mineral silicate of fluorine and aluminum, topaz crystallizes within lava flow or within rocks that have solidified from lava. In its purest form, topaz is colorless. Small impurities give the stones their color, making topaz available in any shade of the rainbow. Achieving an 8 on the Mohs scale of hardness, topaz is durable enough for everyday wear and all styles of jewelry.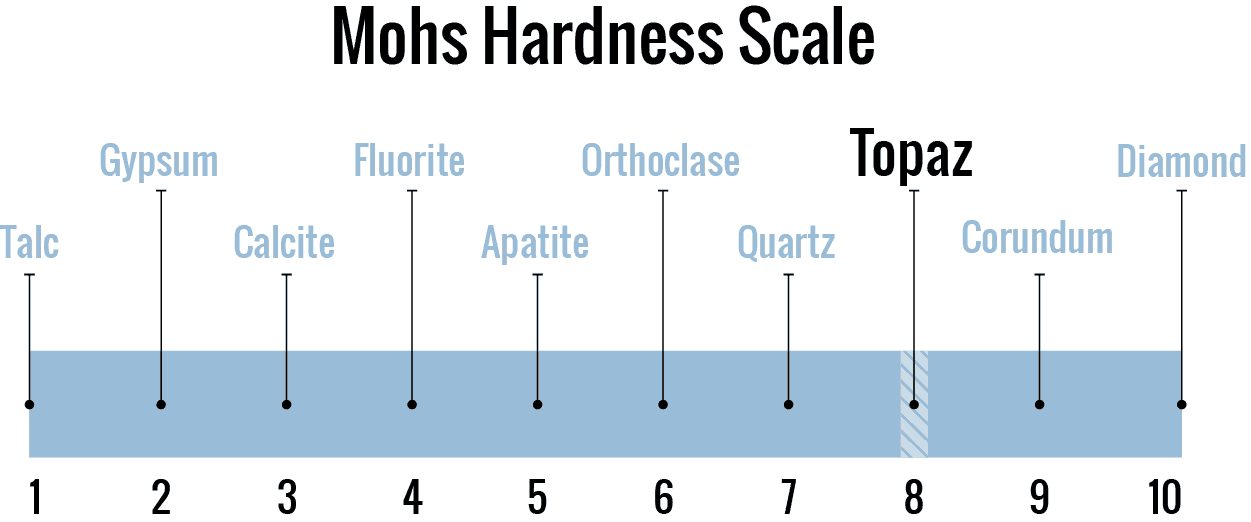 Topaz: Origins
Due to the historical confusion of any yellow gemstone being considered as topaz, it's difficult to determine when topaz was originally discovered. During the 19th century, the Ural Mountains in Russia became a large source of topaz. Around the same time, a sizeable deposit was discovered in Brazil. The South American country remains the largest producer of high-quality, natural topaz.
These November birthstones are also mined in Australia, Germany, Sri Lanka, India, Pakistan, Nigeria, Italy, Norway and the United States.
Tips for Purchasing Topaz Birthstone Jewelry
When purchasing topaz, familiarize yourself with the differences between topaz varieties. A precious topaz, by today's standards, refers to a topaz that is more yellow in color and can range up to a more orange or peach-like color. Topaz stones are commonly misidentified because of how distinct and vast the possibilities are.
An imperial topaz has a very reddish to orange color, but the term can also be used to describe a topaz with a pink hue as well. When purchasing a topaz, one of the most important characteristics to investigate is its color. The richer or more vibrant the hue, the more desirable it is, but also the more expensive. Be sure to take a close look at the stone's hue, tone, and saturation.
Caring for Your Topaz Birthstone
Clean your topaz birthstone with warm, soapy water and a soft cloth or toothbrush every few months. Let your jewelry completely air dry before storing it. Avoid harsh chemicals, ultrasonic cleaners, and steam cleaners, as they can damage topaz birthstones.
Store your topaz in a soft cloth or separate container for safe keeping from scratches and damage. Remove your topaz jewelry before hands-on activities like cleaning, gardening, and washing dishes. Your topaz could be damaged and may collect extra dirt and soap residue. You also want to limit extended time in direct sunlight.
Citrine: Secondary Birthstone
Ranging from light yellow to brownish orange, citrine's name comes from the French word "citron," signifying its fruit-like, yellow color.

Citrine: Symbolism and Meaning
The meaning of the citrine birthstone is healing and comfort. Citrine symbolizes new beginnings and serenity. It's thought that those who wear citrine jewelry will have a renewed sense of peace and a sunny outlook. This healing, cheerful nature correlates with its golden tone.
Citrine: Color
The color of the citrine birthstone is yellow, ranging from a pale yellow to a brownish orange. Citrine's signature hue is due to small impurities of iron found in certain quartz crystals. Because traces of iron in quartz are a rare occurrence in nature, much of the citrine on the market is heat-treated quartz.
Measuring a 7 on the Mohs scale of hardness, citrine is relatively durable, making it a practical choice for everyday wear and special occasions. Because citrine deposits are more abundant, the gemstone is an excellent and affordable alternative birthstone to topaz.
Citrine: Origins
Primarily found in Brazil (particularly the Rio Grande region), citrine deposits are also located in Bolivia, Madagascar, Spain, Russia, France and the United States (namely California, North Carolina and Colorado).
How to Purchase Citrine Birthstone Jewelry
Citrine is one of the most popular gemstone choices for those looking for a yellow stone. Citrine is a type of quartz and makes for a very beautiful and stunning November birthstone.
When purchasing citrine, consider the warmth of the stone's color. The richer the hue, the more desirable the birthstone is, but also the more expensive. Compare various citrine stones to determine which color gemstone you prefer that falls within your budget.
Citrine is a gemstone that does well when paired with bold, vibrant, and even dramatic jewelry designs, such as this flower pendant from Blue Nile. It's also good to look for citrine with well-matched yellow colors to use in multi-gem birthstone jewelry options.
Caring for Your Citrine Birthstone Jewelry
Due to ranking a 7 on the Mohs scale, the citrine gemstone can be worn daily. However, it's worth noting that if citrine is exposed to abrupt and severe temperature changes, it's likely to crack or fracture. The color may also begin to fade if it's exposed to direct sunlight for long periods.
To clean your citrine birthstone jewelry, use warm, soapy water and a cloth and gently clean the gemstone. The stones should never be steam-cleaned or exposed to oils or other harsh chemicals that may damage the stone. Let your jewelry air dry completely before storing it in a soft cloth or padded container.
Choosing the Right Metal for Your November Birthstone
Depending on the color of the individual stone you have chosen for your November birthstone, you can choose from yellow/rose/white gold or platinum to pair with your gemstones. Sterling silver is also an option that some companies offer.
While some metal options may look better than others depending on the color and vibrancy of your November birthstone, it really comes down to your own personal preferences and what you would enjoy wearing.
Fun Facts
In 1768, the royal court of Portugal commemorated the discovery of imperial topaz (the now signature birthstone of November).
Weighing 596 pounds, an enormous colorless topaz crystal was found in Minas Gerais, Brazil.
Blue topaz is considered the traditional gift for 4th and 23rd wedding anniversaries.
Citrine is often gifted on 13th and 17th wedding anniversaries.
Several celebrities like Tara Reid and Kim Cattrall have been known to wear citrine rings.
Gift Ideas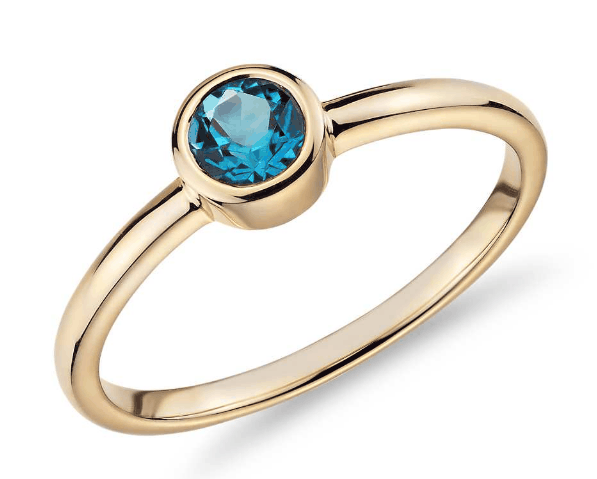 Both topaz and citrine make for exquisite jewelry, though citrine is generally more affordable and easier to find. Consider a birthstone piece for the one you love, whether it's a birthday, anniversary, or special celebration.
For a pair of citrine earrings, consider these simple, yet unique studs from Blue Nile.
For rings, go with a vintage design like this vintage citrine ring from James Allen or consider one with a higher setting like this simple cushion cut from Blue Nile.
If you're in search of a pendant or necklace, consider these styles:
For bracelets, choose your favorite multicolored arrangement, such as this two-row one from Blue Nile or go full-on citrine with this gorgeous round rope bracelet also from Blue Nile.
The citrine or topaz bracelets can be worn regularly without the fear of incurring a lot of damage and wear and tear. These gemstones will last a considerable amount of time as long as they are cleaned and well cared for.
Whether you choose a citrine piece or one with topaz, it's the thoughtfulness of your gift that counts. Also, check out October's opal and December's tanzanite birthstones.
Read More About Birthstones:
James Allen

James Allen is the leader in online diamond sales. Their imaging technology is the same as inspecting a diamond with a jeweler's loupe. They have the largest exclusive loose diamond inventory online and fantastic prices. They also have the nicest collection of lab created diamonds online. Now save 25% off settings AND 3% off Earth Diamonds during James Allen HUGE limited time sale!
What we love about them:
No questions asked returns within 30 days of shipment. James Allen will send you a paid shipping label to return the ring.
Lifetime Warranty
Free International Shipping
Free prong tightening, repolishing, rhodium plating and cleaning every 6 months
Provide insurance appraisals
One free resizing within 60 days of purchase
Free ring inscriptions
Best-in-class high quality imagery of all diamonds in stock
24/7 Customer Service
Best-in-class packaging

---
Blue Nile

Blue Nile is the largest and most well known internet jewelry seller. They have a very large exclusive online inventory. Their high quality images are catching up to James Allens' and their prices are amazing. Blue Nile have generously offered our readers an exclusive one-time use coupon.

(Click Here to save $100 off engagement ring settings)
What we love about them:
No questions asked returns within 30 days of shipment. Blue Nile will send you a paid shipping label to return the ring.
Lifetime Warranty
Free Shipping
Free prong tightening, repolishing, rhodium plating and cleaning every 6 months
Provide insurance appraisal
One free resizing within the first year of purchase
High quality images of about half of their diamonds
24/7 Customer Service
100% credit towards future upgrades (must be at least double in value)
Best in class fulfillment

---
Still afraid of getting ripped off?
Before you buy a diamond, get personal buying advice from industry veterans. We'll help you get the best diamond for the money.
Ask your diamond purchase question here
DISCLAIMER: We don't use your email for marketing. Period.