Diamond Pro is reader-supported. When you buy through links on our site, we may earn an affiliate commission. Learn More.
Deal Alert! 25% off James Allen settings
and
15% off Blue Nile settings!
February Birthstone: Amethyst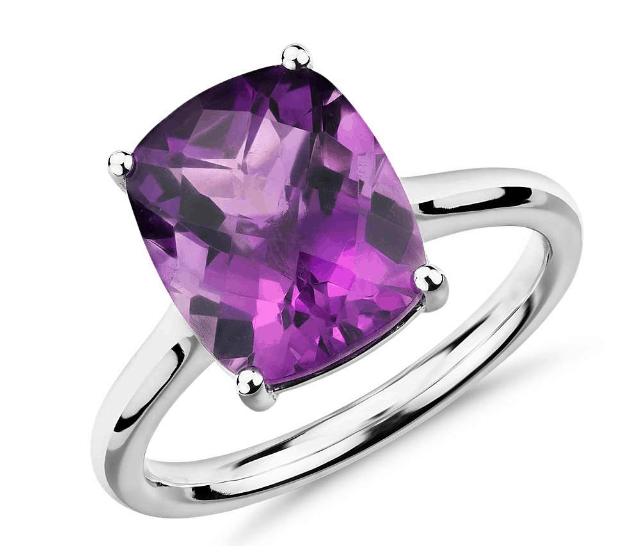 What is the birthstone for February
Amethyst is the birthstone for those born in February. As a variety of quartz, amethyst can help you keep a balanced mindset and makes a beautiful focal point for any type of birthstone jewelry including rings, necklaces, bracelets and earrings.
Amethyst Meaning, Properties and Benefits
Full of history and legend, the amethyst has long resided in the hearts of many cultures, religions and royalty. Its name is derived from the Greek word for intoxicated, "methustos," as it was believed to help protect against drunkenness.
Amethyst Healing Properties
Amethyst is also known for its healing properties of relieving stress and balancing moods. Dating as far back as 2000 B.C., Ancient Romans and Greeks believed amethysts contained healthy powers, helped ward off evil powers and kept wearers clear-minded and sharp. Amethysts can also help reduce anger and anxiety, and alleviate negativity. It's believed that those who wear amethyst jewelry will benefit from these natural healing properties. Even Leonardo da Vinci is believed to have regarded the gemstone as an aid to quicken intelligence and dispel evil thoughts.
Amethyst Benefits
Balanced energy
Better sleep
Tension release
Calming power
Brings stability
Reduces negative energy
Amethyst has also been attributed to bringing peace, strength and stability. Regardless of its intrinsic qualities, the amethyst boasts incredible beauty and offers a special purple warmth to all those with February birthdays.
Amethyst Color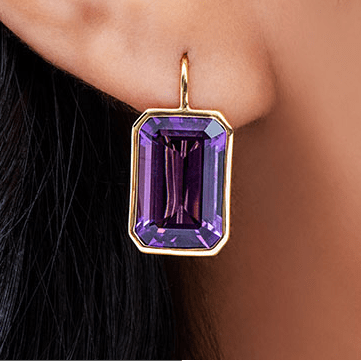 As a member of the quartz family, amethyst comes in the purple variety. Because quartz is one of the most abundant materials found in the Earth's crust, the mineral is widely available in a spectrum of colors. The purple amethyst stone, however, ranges from pinkish lilac to a deep violet. Some amethysts even contain hints of red. The gemstone's shade largely depends on small impurities, like traces of iron or manganese.
Measuring a 7 on the Mohs scale of hardness, amethyst is a relatively durable gem. It can be worn in everyday jewelry, especially earrings and pendants.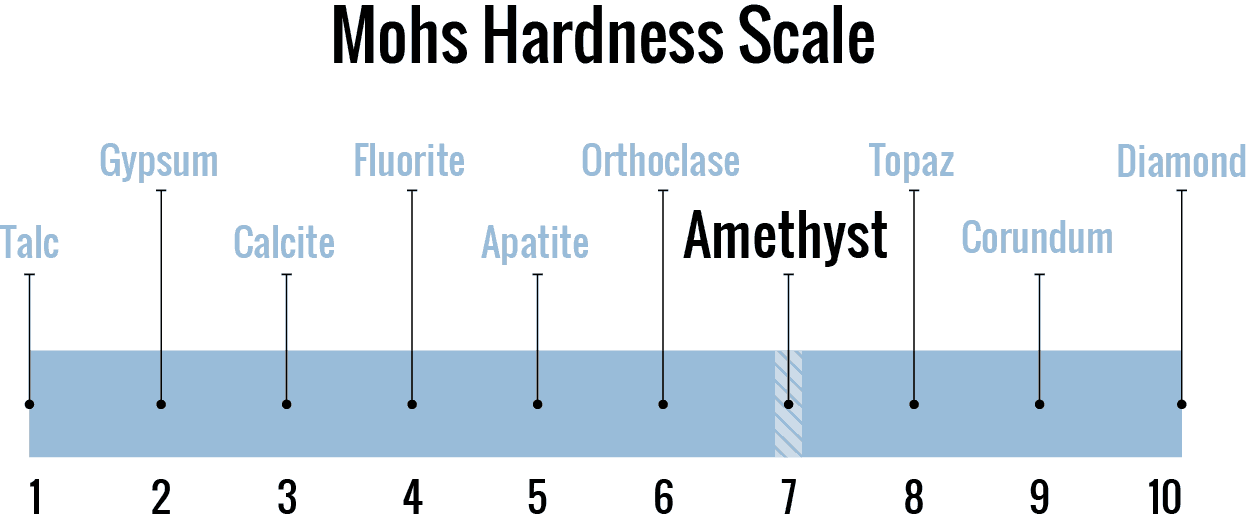 Amethyst Origins
While the exact date of discovery is unknown, records indicate amethyst traces as far back as 25,000 years in France. Prehistoric humans are believed to have used amethyst as decoration, as pieces of the stone are connected with remains of Neolithic man.
Because quartz is an abundant mineral, amethyst deposits are found worldwide, in countries like Zambia, Brazil, Uruguay, Mexico, Canada and the United States. Brazil remains the largest supplier of amethyst.
Tips for Purchasing Amethyst Birthstone Jewelry
Amethyst is popular because of its beautifully vibrant purple coloring, and it makes a stunning addition to any outfit.
Best Cut for Amethyst
Amethysts are cut to enhance the color and beauty of the gemstone, unlike how a diamond is cut to maximize its brilliance. When looking at the cut of an amethyst, pay attention to the color intensity of the gemstone.
Best Color for Amethyst
When purchasing amethyst jewelry, you will want to examine the color of the amethyst and pay close attention to the different color variations. Color is the most important quality to look for in an amethyst.
Deeper colored amethysts are usually more desirable and have a higher price tag than lighter gemstones. While purple is the primary color, you may also notice hints of red and blue which are considered as the amethyst's secondary colors. Review several amethysts to see which color variation you like best that fits within your budget.
When looking at any kind of gemstone, it's always recommended that you view it in natural light or with up-close digital photography to get a more accurate depiction of what the gemstone's hue really is. As you look at each stone, watch for imperfections and other defects that may be present on the stone's surface or inside the stone. The goal is to find an eye-clean amethyst with no noticeable blemishes.
Best Setting for Amethyst
Choosing the best setting for your amethyst comes down to personal preference and lifestyle. Settings range from vintage designs like these on James Allen to modern styles like these on Blue Nile. Depending on what you're looking for, review several settings before making a decision. 
As you look at options, think about when you'll be wearing the jewelry. If it's going to be an everyday piece and you work with your hands often, you may want a more secure setting like a bezel. If you'll be wearing the jewelry only on special occasions, consider one with more flair, like this gorgeous halo ring from Blue Nile.
Best Metal for Amethyst
The best metal for amethyst jewelry is 14K gold because it is long-lasting, durable, and affordable. You can find 14K gold in white gold, yellow gold, or rose gold — whatever is your personal preference. 14K gold is cheaper and more durable than 18K gold, and holds up better than sterling silver. While platinum is also an option, it's more expensive and looks nearly identical to white gold.
Best Place to Buy Amethyst Birthstone Jewelry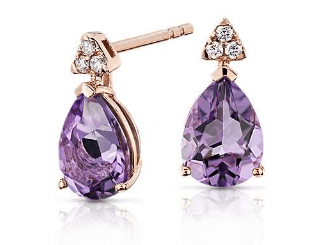 The best place to buy amethyst birthstone jewelry is a reputable online vendor with high-quality gemstones and settings, like Blue Nile. They offer an extensive collection of amethyst jewelry, giving you plenty of beautiful options. For instance, you can find stunning amethyst pendants like this one from Angara and earrings like these from Blue Nile that will last and be an heirloom for generations. Because of less overhead, online prices are lower than bricks and mortar stores while delivering excellent quality.
Caring for Amethyst Birthstone Jewelry
Since amethyst rates at a 7 on the hardness scale, it's a durable option for birthstone jewelry. Amethysts can be worn on a regular basis without fear of easily becoming damaged.
As with most gemstones, simply clean the amethyst with warm soapy water and wiping it with a soft cloth. Let the jewelry air dry completely before storing it in a cloth or padded container. Never steam clean or subject the amethyst jewelry to any kind of heat because doing so can seriously damage the stone and deteriorate its value.
Amethyst Engagement Rings
Amethyst makes a great choice for engagement rings because of its durability and unique beauty. It's a colorful alternative to a traditional diamond engagement ring. The amethyst offers a stunning focal point but is still a classic choice. An amethyst engagement ring like this one from Blue Nile is an especially thoughtful idea for those with February birthdays.
For the setting, a halo or vintage setting in white gold will allow the amethyst to stand out. A cushion cut, oval cut, or heart shape will also do the amethyst justice and make a brilliant impact on the engagement ring as a whole.
Finally, an amethyst engagement ring is a more affordable option than a traditional diamond engagement ring.
Fun Facts
The signet ring worn by Cleopatra was likely an amethyst, holding an engraving of Mithras, a deity which symbolized the source of life and light.
Uncovered in Maine in 1993, one large cavern contains more than a ton of amethyst crystal.
The largest amethyst geode in the world weighs over two and a half tons and stands over 3.25 meters tall. It's named the Empress of Uruguay and is thought to be over 130 million years old.
Celebrities like Debra Messing and Zoey Salanda have worn amethyst jewelry on the red carpet.
The amethyst is a popular 6th and 17th wedding anniversary gift.
Gift Ideas
Distinct in color and beauty, amethysts make for particularly stunning jewelry—and tend to be quite affordable. Select a design that matches the style of your loved one, especially if they are February-born.
For exquisite purple rings, take a look at this amethyst and diamond side-stone ring from Blue Nile. Other ring designs include a pavé band, a round stone or a lighter-toned Cabochon ring like this on Blue Nile.
If you're curious how an amethyst might look in a necklace, check out this pear shape pendant on James Allen and this beautiful oval that's set in 14K white gold on Blue Nile.
With bracelets, choose from a range of elegant options, like this sterling silver design on Blue Nile or this tennis bracelet that's interspersed with blue topaz.
This pair of amethyst drop earrings from Blue Nile is bound to catch attention, while these simple studs from James Allen will turn heads well.
With amethyst, there's no wrong choice. Its vibrant purple hue stands strongly on its own.
Read More About Birthstones:  
James Allen

James Allen is the leader in online diamond sales. Their imaging technology is the same as inspecting a diamond with a jeweler's loupe. They have the largest exclusive loose diamond inventory online and fantastic prices. They also have the nicest collection of lab created diamonds online. Save 10% off select Lab Grown Diamonds and 25% on setttings!
What we love about them:
No questions asked returns within 30 days of shipment. James Allen will send you a paid shipping label to return the ring.
Lifetime Warranty
Free International Shipping
Free prong tightening, repolishing, rhodium plating and cleaning every 6 months
Provide insurance appraisals
One free resizing within 60 days of purchase
Free ring inscriptions
Best-in-class high quality imagery of all diamonds in stock
24/7 Customer Service
Best-in-class packaging

---
Blue Nile

Blue Nile is the largest and most well known internet jewelry seller. They have a very large exclusive online inventory. Their high quality images are catching up to James Allens' and their prices are amazing. Blue Nile have generously offered our readers an exclusive one-time use coupon.

(Click Here to save $100 off engagement ring settings)
What we love about them:
No questions asked returns within 30 days of shipment. Blue Nile will send you a paid shipping label to return the ring.
Lifetime Warranty
Free Shipping
Free prong tightening, repolishing, rhodium plating and cleaning every 6 months
Provide insurance appraisal
One free resizing within the first year of purchase
High quality images of about half of their diamonds
24/7 Customer Service
100% credit towards future upgrades (must be at least double in value)
Best in class fulfillment

---
Still afraid of getting ripped off?
Before you buy a diamond, get personal buying advice from industry veterans. We'll help you get the best diamond for the money.
Ask your diamond purchase question here
DISCLAIMER: We don't use your email for marketing. Period.