Diamond Pro is reader-supported. When you buy through links on our site, we may earn an affiliate commission. Learn More.
Deal Alert! 25% off James Allen settings
and
15% off Blue Nile settings!
June Birthstones: Pearl, Alexandrite and Moonstone
Pearl Symbolism and Meaning
A number of cultures believe pearls were created by mythical creatures. Japanese folktales, for example, say they formed from the tears of nymph-like beings or mermaids. Such gems were said to be cursed and that they would only bring sadness to the wearer.
However, other traditions associate pearls with teardrops of the gods, claiming the natural gemstone is a symbol of purity and the perfect gift for a bride on her wedding day.
Pearls figure richly in Chinese mythology, particularly around dragons. Legends say that a pearl can protect one against the great beasts, while other stories involve slaying dragons in order to claim the valuable pearls they carried in their mouths. The victor would gain wisdom by winning the pearl in battle.
Additionally, pearls are associated with good health, wealth and even fertility.
Pearl Color
Pearls are the only gemstones that come from living creatures, though most of the ones sold today are cultured rather than harvested wild. Pearls come in many colors, from snow white to midnight black, as well as pink, cream, blue, green and gold. They also come in a variety of shapes and sizes.
The quality of the mother-of-pearl (called the nacre) determines the luster, and the best pearls are regularly shaped and free of blemishes.
Pearls are one of the softer stones, ranging between 2.5 and 4.5 on the Mohs hardness scale. That delicacy means they are a better fit for necklaces or earrings since they could be easily damaged in other types of settings.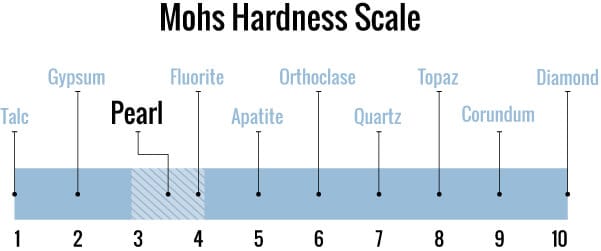 Pearl Origins
The oldest known pearl is the Umm Al Quwain Pearl, dated to 7,500 hundred years ago, which was found at a burial site on the Arabian Peninsula. The discovery was made in 2012; before this, the oldest pearl was believed to be about 5,000 years old from Japan. Pearls were first harvested from the Persian Gulf, as well as from Asia and Europe.
Today, most gems are cultured, coming from Southeast Asia, Pacific Island countries like Tahiti, Australia, Japan, and others.
The name for pearl originally comes from the Latin word perna and later changed to perle in French. Perna means "leg," referring to the mutton leg shape of the mollusc bivalve.
Freshwater Pearl Grading Chart
There are always new shapes, colors, sizes, and textures being introduced and with these new varieties constantly surfacing, freshwater pearls are evolving to be one of the most cultured types of pearls.
Why choose a cultured freshwater pearl? You should choose freshwater cultured pearls because they are composed of solid crystalline nacre and are very close to a natural pearl (learn more about the difference in our guide to cultured vs. natural pearls.)
A freshwater cultured pearl is also a very durable type of pearl and has an almost silky and radiant glow to them making them much more attractive.
For an Elite ranked grade quality of a pearl, you are looking at a shape that is almost a true round shape and a pearl with great luster, crisp reflected light, and a blemish rate under five percent.
An A quality pearl, on the other hand, is a more commercial grade pearl with an off-round shape, poor luster, and minimal reflection.
When choosing pearls, your primary focus is going to be on their shape, and this is the characteristic that is the most visible alongside the luster and surface quality of the pearl.
A cultured pearl is a pearl that has been created by an oyster farmer, and it was done in very controlled conditions. While a freshwater pearl may be the least expensive option, both freshwater and saltwater pearls are the real thing. Many cultured pearls we can find today were derived from freshwater mussels and saltwater pearl oysters.
Alexandrite: Secondary Birthstone
Alexandrite has a relatively short history, first discovered in the Russian Ural Mountains in the 19th century by a Finnish mineralogist. The gemstone was named after future Tsar Alexander II. It became the official stone of the old Russian empire because the stones can appear green or red, matching the old military colors of the day.
Alexandrite nearly vanished as quickly as it appeared, as the Russian mines were quickly exhausted of this rare gem. However, new deposits have been found in Sri Lanka, India and Brazil. They can also be created in a lab.
Alexandrite colors can shift with the light, appearing green in sunlight or red under incandescent light. Other varieties of this valuable gemstone may look yellow, pink or even raspberry depending on the lighting conditions. It is a hard stone, rating 8.5 on the Mohs hardness scale.
If the gemstone experiences a 100% change, this means that the entire gemstone can shift in color. For a higher-quality alexandrite gemstone, you will want a percentage that goes no lower than 85% which means that some of the facets of the gemstone will not color shift.
The biggest element to pay close attention to when purchasing alexandrite gemstones is the quality of lighting in which you are viewing them. You want to know what the gem will look like in true sunlight, rather than artificial light before you purchase.
Moonstone: Tertiary Birthstone
As the name implies, moonstones are linked to the lunar orb that circles the Earth. It has been revered by many people across the world for thousands of years. Legends from cultures as diverse as ancient India and Rome believed moonstones were formed from moonbeams or moonlight. Hindus associated moonstones with wisdom, while the luminescent gem has also symbolized love and fertility.
Moonstone was used in Roman jewelry and examples from Asia go back even further in time. Moonstones can be imbued with many colors. The most common are milky white to bluish-white. They can also appear grey, blue, pink, green, yellow, brown or orange.
Sri Lanka and India are important regions for moonstones, with the latter famous for producing gems with a rare blue hue. Moonstones are not particularly hard, sitting around 6.0 to 6.5 on the Mohs hardness scale.
Moonstone is most widely used to make jewelry, including birthstone jewelry and the most popular form of moonstone jewelry would be a ring, like engagement rings. You can also purchase matching stud earrings, a necklace, or even bracelets that incorporate the beautiful and rare moonstone gem.
Most often the moonstone will be set in a platinum or white gold setting complete with diamonds for a lavish and rich look. For a more sedated and muted piece, a stunning single moonstone pendant and necklaces to adorn the neck is also a popular way to wear the moonstone gem.
According to lore, the moonstone is often used as a talisman to ward off evil and protect the one wearing it. It has also been linked to fertility and protection during pregnancy.
Fun Facts
The Hope Pearl is one of the largest pearls ever found in the wild, weighing 450 carats. It was once owned by Henry Philip Hope, the 19th-century Dutch banker better known for the Hope Diamond.
British royalty through the centuries have favored pearls. Kate Middleton is the latest royal to adopt the gem as part of her elegant style. She is rarely seen without a set of pearl drop earrings.
Synthetic alexandrite has been available on the market since the 1960s.
In 1970, moonstone became the official state gem of Florida to commemorate the Apollo 11 moon landing. Ironically, moonstone does not occur in Florida nor is it found on the moon.
Gift Ideas
Inspired by Kate Middleton? Then start with a pair of pearl earrings, such as these opulent South Sea cultured pearl stud earrings from Blue Nile.
Journey to Tahiti, where pearls take on darker hues, like in these iridescent black Tahitian pearls from Blue Nile enveloped in a sterling silver infinity symbol or these luscious Tahitian pearls from Blue Nile accented by petite round brilliant-cut diamonds.
Perhaps no piece of jewelry is more classic and elegant than the pearl necklace. This piece is simple but exquisite: a strand of pearls from Blue Nile mounted on 14K white gold. Tahitian pearls display a taste of the exotic in this extraordinary strand necklace from Blue Nile.
Pearl bracelets offer an opportunity to show off the variety of colors to be found in this gemstone. Such as in this naturally golden South Sea strand from Blue Nile or this multicolored Tahitian bracelet also from Blue Nile.
Those drawn to the lunar cycle might be interested in the moonstone, which appears lush and powerful in this sterling silver setting from Blue Nile with a halo of sparkling, pavé-set white topaz gemstones.
James Allen

James Allen is the leader in online diamond sales. Their imaging technology is the same as inspecting a diamond with a jeweler's loupe. They have the largest exclusive loose diamond inventory online and fantastic prices. They also have the nicest collection of lab created diamonds online. Save 10% off select Lab Grown Diamonds and 25% on setttings!
What we love about them:
No questions asked returns within 30 days of shipment. James Allen will send you a paid shipping label to return the ring.
Lifetime Warranty
Free International Shipping
Free prong tightening, repolishing, rhodium plating and cleaning every 6 months
Provide insurance appraisals
One free resizing within 60 days of purchase
Free ring inscriptions
Best-in-class high quality imagery of all diamonds in stock
24/7 Customer Service
Best-in-class packaging

---
Blue Nile

Blue Nile is the largest and most well known internet jewelry seller. They have a very large exclusive online inventory. Their high quality images are catching up to James Allens' and their prices are amazing. Blue Nile have generously offered our readers an exclusive one-time use coupon.

(Click Here to save $100 off engagement ring settings)
What we love about them:
No questions asked returns within 30 days of shipment. Blue Nile will send you a paid shipping label to return the ring.
Lifetime Warranty
Free Shipping
Free prong tightening, repolishing, rhodium plating and cleaning every 6 months
Provide insurance appraisal
One free resizing within the first year of purchase
High quality images of about half of their diamonds
24/7 Customer Service
100% credit towards future upgrades (must be at least double in value)
Best in class fulfillment

---
Still afraid of getting ripped off?
Before you buy a diamond, get personal buying advice from industry veterans. We'll help you get the best diamond for the money.
Ask your diamond purchase question here
DISCLAIMER: We don't use your email for marketing. Period.