Diamond Pro is reader-supported. When you buy through links on our site, we may earn an affiliate commission. Learn More.
Deal Alert! 25% off James Allen settings
and
15% off Blue Nile settings!
July Birthstone: Ruby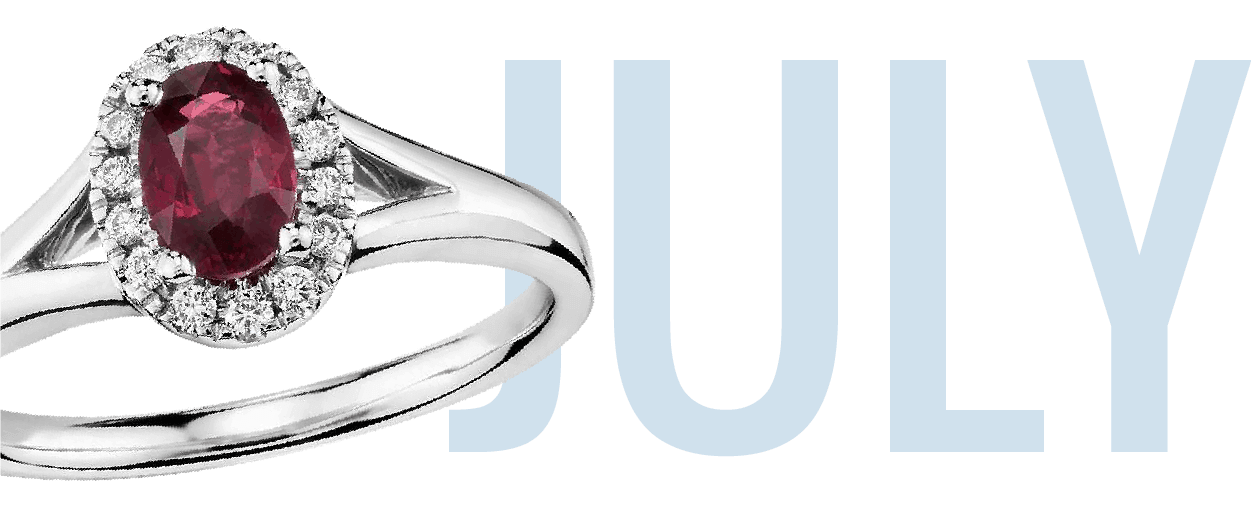 Ruby Symbolism and Meaning
Regarded as a symbol of passion, courage and protection, rubies have been a beloved gemstone for centuries. Historical trade records indicate that rubies were prized as far back as 200 B.C. when they were traded on the North Silk Road in China.
Due to the good fortune they were thought to bring, rubies were placed beneath building foundations for extra security. Ancient Chinese and Hindu noblemen embellished their armor and harnesses with rubies before heading into battle, believing rubies would offer them protection. Similarly, the Burmese thought they carried invincible power, and warriors planted rubies into their skin before heading into battles.
Ancient Hindus offered rubies to the god Krishna because they believed it would allow them to be reborn as emperors. And the Greeks attested that the glow of the ruby had the power to melt wax.
Across countries and centuries, the ruby has been revered as a gem full of passion and power. Known as the king of precious gems, rubies remain popular in engagement, wedding and birthstone jewelry.
Ruby Color
The ruby gets its name from the Latin word "ruber," which means red. While many rubies are royal red in hue, the gemstones range from pink like this Pear Shape ruby from James Allen to dark red like this Cushion Cut also from James Allen.
The darker end of the ruby spectrum tends to have more value in the marketplace, but some people genuinely prefer the brighter, lighter gem shades.
Rubies are composed of the red variation of mineral corundum, or aluminum oxide. The chromium gives the ruby its red pigment and glow, making an eye-catching stone. Gems of other mineral corundum variations are known as sapphires.
On the Mohs durability scale, rubies rate a 9.0, only one grade below the diamond. They are sturdy stones that are resistant during everyday wear.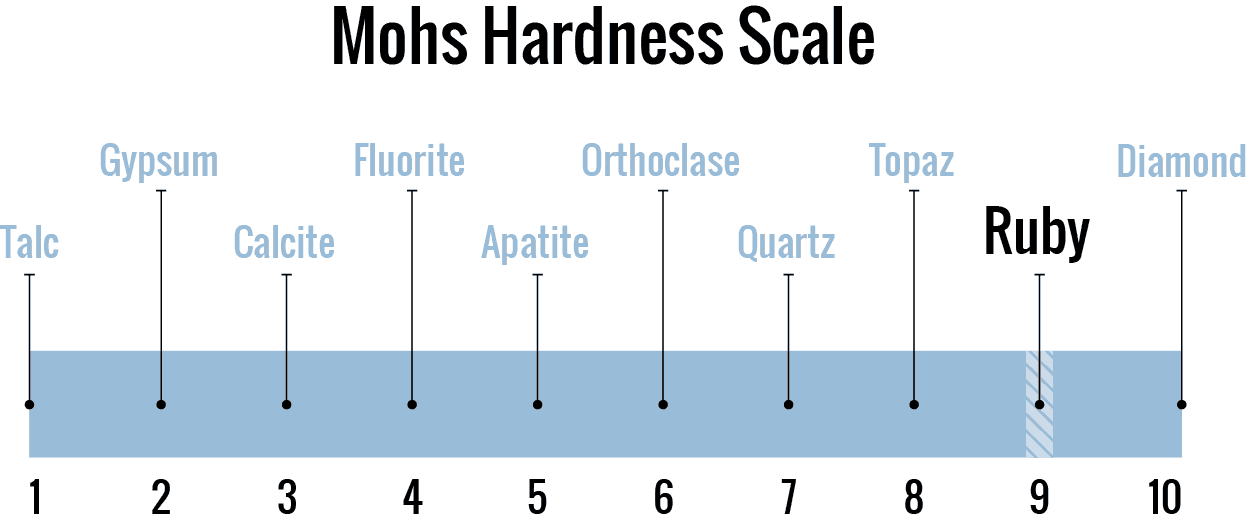 Ruby Origins
For centuries, the Mogok Valley in Burma (now known as Myanmar), was the major source for rubies, particularly deep red gems with a purple tone. Since the 1990s, rubies have also been produced from Mong Hsu, Myanmar, although these stones naturally lack the deep red hue found in the Mogok Valley. Rubies from the Mong Hsu region are often treated with heat techniques to improve the color saturation.
Ruby deposits can also be found in other countries around the world, including Cambodia, Thailand, Afghanistan, Australia, Colombia, India, Japan and Brazil.
Purchasing Rubies
Since rubies are most highly regarded for their hardness and magnificent and bright color, these are the features to consider when looking at rubies to purchase. Unlike other gemstones, rubies are not graded using any certain scale or ranking system. Instead, you will want to look at a ruby's properties in order to better rate its overall quality yourself.
If you are on a budget and are looking for a more affordable ruby birthstone option, then a natural ruby that is one carat will be best suited for your budget. Coming in at under $300, one-carat rubies still offer fair quality, but may be teetering on commercial, rather than fine.
Lab-made rubies for birthstone jewelry will also cost far less than real rubies and can often be found at as much as 90% off the price of a natural ruby that may have the same quality as the lab made ruby. Additionally, the larger the ruby, the higher the price point will reach.
When choosing a cut for ruby jewelry or a ruby birthstone, you will most often find rubies cut as ovals, cushions, marquise, or round shapes. Heart and emerald shaped options are also readily and commonly available but are in much lower demand than its other counterparts.
Next, you will look at choosing the color of the ruby you would like to purchase. While most may think of a ruby being only a red or purple reddish color, you can find ruby gemstones in other hues and saturations including pink, sapphire, and violet.
Finally, as with any gemstone purchase including a diamond purchase, you will want to see what the ruby will look like in a natural light setting, opposed to artificial light. Rubies may have something called extinctions, or noticeable black or gray patches that can be found inside the gemstone when put in bright light. You will want to move the ruby gemstone around in natural light and pay attention to these small details, so you can determine if there are any other visible problems within the gemstone.
The inclusions and blemishes can also cause a drastic price difference in rubies like it would with diamonds. If there are no inclusions, then the price, of course, will be much higher than one that has inclusions, or blemishes.
The saturation and tone of the ruby may also prove to be valuable insight to have. The saturation of the ruby simply refers to the purity and intensity of the gemstone. If you are looking at a vivid ruby, then the color will appear very rich and intense and will most likely be more valuable and higher in price.
The tone refers to just how much color is present within the gemstone. The scale for the tone of the ruby goes from dark to very light with the most valuable ruby being a more medium tone.
Fun Facts
The most expensive ruby ever sold was the 25.5 carat Sunrise Ruby for $30 million.
Elizabeth Taylor's jewelry collection was auctioned off in 2011 and included several ruby pieces, like a ring set containing an 8.24 Carat stone that was valued at $512,925 per Carat. A ruby-studded necklace of Taylor's was also sold for more than $3.7 million.
The largest ruby in the world weighs over 40,000 Carat and is owned by a jewelry company in China.
The first working laser was created from ruby by Theodore Maiman in Moscow in 1960.
Rubies are mentioned in the Bible on four occasions, with reference to their wisdom.
Gift Ideas
For a gift of love, passion and prosperity, the ruby is a perfect choice, especially for those with July birthdays. Rubies are also a traditional gift for 15th and 40th wedding anniversaries.
A personalized jewelry piece remains a keepsake forever, and can be passed down for generations.
For a necklace or pendant, consider a ruby and diamond halo like this from Blue Nile, a floral pendant like this from Blue Nile or a ruby cluster pendant like this one from James Allen.
For a stunning pair of earrings, you may find the darker tone of these ruby studs appealing or you may prefer a lighter glow like the stones in this vintage inspired set from Blue Nile.
Bracelets come in wide varieties, like this one studded with diamonds from James Allen or this vintage style with 14K yellow gold from Blue Nile.
When it comes to rings, you have a wide range of choices:
No matter which jewelry piece you choose, an exquisite ruby is always a gift that comes from the heart.
Choosing a Setting
When you decide on a setting for your ruby birthstone jewelry, you will want to select a metal that falls in line with your individual taste and budget. However, if you are purchasing the ruby as a gift for someone else, you will want to learn what their preferences are, so you can get them the perfect gift that they will absolutely love.
If you purchase a larger ruby gemstone, then it is most fitting if you choose a prong setting in which small metal claws hold the gemstone in place. A bezel setting is a more secure way to hold the gemstone in place.
No matter which jewelry piece you choose for July birthstones, an exquisite ruby is always a gift that comes from the heart.
James Allen

James Allen is the leader in online diamond sales. Their imaging technology is the same as inspecting a diamond with a jeweler's loupe. They have the largest exclusive loose diamond inventory online and fantastic prices. They also have the nicest collection of lab created diamonds online. Save 10% off select Lab Grown Diamonds and 25% on setttings!
What we love about them:
No questions asked returns within 30 days of shipment. James Allen will send you a paid shipping label to return the ring.
Lifetime Warranty
Free International Shipping
Free prong tightening, repolishing, rhodium plating and cleaning every 6 months
Provide insurance appraisals
One free resizing within 60 days of purchase
Free ring inscriptions
Best-in-class high quality imagery of all diamonds in stock
24/7 Customer Service
Best-in-class packaging

---
Blue Nile

Blue Nile is the largest and most well known internet jewelry seller. They have a very large exclusive online inventory. Their high quality images are catching up to James Allens' and their prices are amazing. Blue Nile have generously offered our readers an exclusive one-time use coupon.

(Click Here to save $100 off engagement ring settings)
What we love about them:
No questions asked returns within 30 days of shipment. Blue Nile will send you a paid shipping label to return the ring.
Lifetime Warranty
Free Shipping
Free prong tightening, repolishing, rhodium plating and cleaning every 6 months
Provide insurance appraisal
One free resizing within the first year of purchase
High quality images of about half of their diamonds
24/7 Customer Service
100% credit towards future upgrades (must be at least double in value)
Best in class fulfillment

---
Still afraid of getting ripped off?
Before you buy a diamond, get personal buying advice from industry veterans. We'll help you get the best diamond for the money.
Ask your diamond purchase question here
DISCLAIMER: We don't use your email for marketing. Period.