We are reader-supported. Buying through links on our site may earn us commissions. Learn More.
Purchasing a Diamond Pendant: Everything You Need to Know
Bottom Line Recommendation
A diamond pendant makes for a stunning and meaningful gift for any special occasion. To ensure you purchase the most beautiful necklace, review the diamond closely. Look for a diamond that is clean of blemishes and inclusions—and one that offers plenty of brilliance (also known as sparkle). Most importantly, choose a diamond from a reputable and reliable vendor like James Allen or Blue Nile. When it comes to style, consider the preferences of your loved one. Diamond pendant designs range from solitaire pendants set in 14K white gold like this one from James Allen to those in yellow gold settings like this example from Blue Nile.
What is a Diamond Pendant?
A diamond pendant is a necklace with a central diamond that's attached by a small loop to a jewelry chain made of precious metal (usually gold or platinum). The word 'pendant' comes from the Old French "pendre" and Latin word "pedere"—both meaning "to hang down." Diamond pendant necklaces are often given as a symbol of love, specifically eternal love.
Here are some curated Diamond Pendants from our favorite jewelry retailers:
What is a Solitaire Pendant?
A solitaire pendant is a necklace with one gemstone—usually a diamond. The gemstone stands alone on a jewelry chain, typically made of white gold, yellow gold, or platinum. Solitaire pendant necklaces range in style from a 0.3 Carat solitaire pendant in platinum like this one from James Allen to this1.5 Carat solitaire pendant in white gold from Blue Nile.
Where to Buy a Diamond Pendant
Similar to buying a diamond ring, it's critical that you purchase a diamond pendant from a reputable vendor. From our extensive experience, we've learned that the following vendors are the most trustworthy and reliable in the industry.
James Allen: The James Allen site offers high resolution photography and videography—giving you the best tools for buying diamonds and jewelry online. Their extensive selection of well-crafted settings make them a superior choice for beautiful fine jewelry, and their prices remain competitive.
Diamond pendants from James Allen:
Blue Nile: Blue Nile's collection is full of exceptional craftsmanship. Having built strong relationships with diamond and jewelry vendors, Blue Nile offers the largest selection of diamonds and settings. Like James Allen, Blue Nile provides high-quality video technology, making online diamond selection easier and more accurate.
Diamond pendants from Blue Nile:
Brian Gavin Diamonds: Brian Gavin is known for offering the best cut diamonds in the industry. Their diamonds offer unparalleled brilliance, meaning they give off the most sparkle. Consider their collection for finding a truly beautiful piece of jewelry.
Diamond pendants from Brian Gavin:
Boutique options: If you're looking for something unique and have extra space in your budget, please contact us.
Diamond Pendant Settings and Designs
Several precious metals are available for your chain and pendant. You can select 14K or 18K gold as both are durable enough for everyday wear. Gold colors include yellow, rose and white—and the decision should be made with the wearer's preferences in mind. Pendant chains also come in platinum, though the price is higher and often not necessary.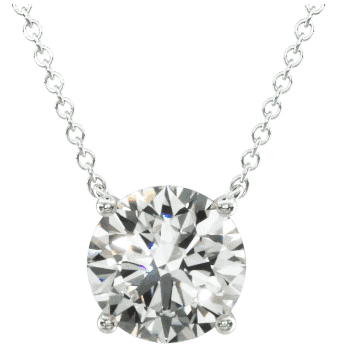 Popular setting styles for pendants usually include prongs (typically four) because prongs allow the most light to enter the diamond and reflect back to the eye. 
Other designs include halo settings, and bezel settings. Metal surrounds the stone in a bezel setting like in this 14K white gold pendant.
Most importantly, be sure to purchase your diamond pendant from a reliable vendor. We strongly recommend choosing a vendor you can trust, like Blue Nile or James Allen.
Best Diamond Pendant Designs for Inspiration
Diamond pendants come in a variety of styles and settings. Here we offer inspiration on everything from solitaire designs to halo pendants.
Solitaire Diamond Pendant Necklaces
Halo Diamond Pendant Necklaces
3-Stone Diamond Pendant Necklaces
Unique Diamond Pendant Necklaces
Diamond Cross Necklaces
Diamond cross necklaces feature a cross shape made out of diamonds that's attached to a chain. Diamond crosses range in style, size and color, though this 14K white gold diamond cross necklace from James Allen is a prime of a classic diamond cross pendant. There are women's and men's diamond crosses, ranging from petite designs to signature styles totalling 2 carats like this one from Blue Nile. 
For diamond cross pendants, we recommend 14K or 18K gold chains because they're durable but not as expensive as platinum. A gold diamond cross is timeless and will last for many years of everyday wear.
Dancing Diamond Necklaces
Dancing diamonds are a unique design with a setting that allows the center diamonds to move or "dance." As the diamond continually moves, it catches light from various angles, allowing it to showcase its brilliance and fire. Dancing diamond pendants range in size and style, from classic yellow gold designs to modern white gold settings. 
In addition to dancing diamond pendants, you can find dancing diamond earrings, dancing diamond heart necklaces and dancing diamond rings.
Do you want to know what other necklaces exist? Check out our Diamond Necklace Guide and find out.
When to Buy Diamond Pendants
Diamond pendants make for beautiful and memorable gifts. Because of their classic design and popular appeal, diamond pendants are often kept as family heirlooms and passed down for generations.
Consider gifting a diamond pendant for any of these special occasions:
Wedding anniversary (i.e. 5th, 10th, 15th)
Birthday
Valentine's Day
Celebration of an exciting milestone
Graduation (high school, college, graduate school, medical school)
Birth of a child (push present)
Retirement
Job promotion
Christmas, Hanukkah and other holidays
Wedding day gift (for bride, mother, mother-in-law, grandmother)
How to Choose a Diamond for Your Pendant
When it comes to selecting a diamond pendant, be sure to choose a high quality, well cut stone. A diamond with a high level of fire and brilliance will sparkle far more than a poorly cut diamond (which will end up looking dull).
For pendants, use the following parameters to assess a diamond:
Certification: Look for a diamond with a GIA or AGS certification. These are the most reliable grading entities, helping to ensure you get the quality you're promised.
Cut: A diamond that is cut well maximizes the light that strikes each pavilion—reflecting it back through the diamond's table and crown to your eye. Depending on the diamond's shape and the certifying body, Excellent and Ideal diamonds are the best cut stones—though you'll still need to review the diamond closely through high resolution imagery. You can also ask for help from an expert.
Color: Most importantly, ensure the diamond looks white in relation to its setting.
Clarity: Because pendants are worn directly in the line of sight, Clarity is even more important in pendant diamonds than in rings. Review the diamond carefully to ensure no blemishes and inclusions are present when looking at the stone with the naked eye. Use a vendor with incredible video technology like James Allen or Blue Nile to have a strong advantage when assessing a diamond's Clarity. If you'd like an expert evaluation, contact us and we'll review the diamond for you.
Shape: The shape you choose for your diamond pendant—whether it's round, oval or heart-shaped—is primarily based on personal preference. Look at a variety of shapes to see what matches the wearer's style the best. The most popular and timeless shape for a pendant is a round diamond.
An Affordable Alternative to the More Expensive Natural Diamond Pendant
If you would love to get a diamond pendant but most of the ones you are looking at are out of your price range, consider Blue Nile's new Lightbox Lab-created Fashion Jewelry Line partnered with DeBeers. They have an amazing selection of white, pink and blue jewelry pieces to choose from.
How Much is a Diamond Necklace Worth?
Diamond necklaces range in value depending on the number of diamonds, the diamond carat weight, diamond cut quality, and type of setting. For instance, this three-stone diamond pendant in white gold from Blue Nile might cost $6,500, while a this halo diamond pendant in white gold from Blue Nile might cost $2,900. A solitaire pendant necklace with a 1.75 carat diamond like this one from Blue Nile can cost $40,000.
If you were to resell your diamond necklace, it would be worth much less than what you paid for it. Just like selling diamond rings, a diamond necklace shouldn't be viewed as a financial investment.
How Big is a 1 Carat Diamond?
A 1 Carat Diamond isn't a certain size, but a certain weight. A 1 Carat Diamond is equal 200 milligrams, or 0.2 grams—roughly the same as a quarter of a raisin. Depending on the shape of the diamond and the cut, the size appearance will differ slightly. For instance, this 1 Carat oval diamond from James Allen may appear slightly larger than this 1 Carat round cut diamond also from James Allen.
How Much is a 1 Carat Diamond?
1 Carat Diamonds can range dramatically in price, depending on cut quality, color, shape, and clarity. For instance, a dull 1 Carat round diamond like this from James Allen might only cost $4,590 while a stunning 1 Carat round diamond from James Allen's True Hearts collection might cost $7,540.
Above all, we recommend looking for a well-cut diamond that offers brilliance and sparkle. It's more important to find a beautiful stone than achieve a certain carat weight. For help in selecting the most stunning diamond for your budget, reach out to our experts.
Best Chain and Clasp for Diamond Pendants
The best chain type for pendants is a cable chain because it's strong, elegant and versatile. That's why most people choose a cable chain for their pendant. 
The best precious metal for diamond pendant chains is 14K or 18K gold because it's durable and beautiful, but not as expensive as platinum. You can find 14K and 18K gold chains in yellow gold, white gold and rose gold. This 18K white gold halo diamond pendant from James Allen is a stunning example of a diamond pendant chain. 
The best type of clasp for diamond pendants is a lobster clasp, because it's secure while opening and closing easily. This three-stone drop pendant from Blue Nile features a lobster clasp in 18K gold. Other clasps for diamond pendants include spring ring clasps, barrel clasps and magnetic clasps.
How to Determine Chain Length
The length of your chain will be based primarily on personal preference and what's offered by the vendor. Standard chain lengths range from 16 to 24 inches, with 18 inches being the most common.
With a 16 inch chain, the diamond will rest above the sternum (unless the person has a thin neck, then the diamond will hang lower). With an 18 inch chain, the pendant will likely fall right about at the sternum—and a 22 or 24 inch chain usually puts the diamond lower than the sternum.
Consider the person you're buying for and their style. When in doubt, measure the chain lengths of their favorite necklaces.
Famous Diamond Pendants
Pendants of all varieties have been worn for centuries across many cultures. Due to their beauty and sleek design, diamond pendants are also frequently worn by celebrities and royalty.
A famous briolette diamond necklace bought at Christie's Auction in Hong Kong sold for $11.1 million. Weighing more than 75 carats, the briolette diamond necklace also included a purple-pink marquise shaped diamond.
The largest D color flawless diamond ever auctioned (weighing 163.41 carats) was part of a diamond and emerald necklace designed by de Grisogono. It went for $25-30 million in 2001 at Christie's.
Celebrities often found wearing diamond pendants: Mila Kunis, Kate Middleton and Kim Kardashian.
Finding a Diamond Pendant
To find a diamond pendant that will 'wow' the one you love, search the collection or create your own from a highly reputable vendor.
Use the Build Your Own Pendant tool from Blue Nile or Design Your Own Pendant tool from James Allen.
Want assistance in reviewing diamonds or jewelry pieces? Contact our experts.
James Allen

James Allen is the leader in online diamond sales. Their imaging technology is the same as inspecting a diamond with a jeweler's loupe. They have the largest exclusive loose diamond inventory online and fantastic prices. They also have the nicest collection of lab created diamonds online. Now save 25% off settings AND 3% off Earth Diamonds during James Allen HUGE limited time sale!
What we love about them:
No questions asked returns within 30 days of shipment. James Allen will send you a paid shipping label to return the ring.
Lifetime Warranty
Free International Shipping
Free prong tightening, repolishing, rhodium plating and cleaning every 6 months
Provide insurance appraisals
One free resizing within 60 days of purchase
Free ring inscriptions
Best-in-class high quality imagery of all diamonds in stock
24/7 Customer Service
Best-in-class packaging

---
Blue Nile

Blue Nile is the largest and most well known internet jewelry seller. They have a very large exclusive online inventory. Their high quality images are catching up to James Allens' and their prices are amazing. Blue Nile have generously offered our readers an exclusive one-time use coupon.

(Click Here to save $100 off engagement ring settings)
What we love about them:
No questions asked returns within 30 days of shipment. Blue Nile will send you a paid shipping label to return the ring.
Lifetime Warranty
Free Shipping
Free prong tightening, repolishing, rhodium plating and cleaning every 6 months
Provide insurance appraisal
One free resizing within the first year of purchase
High quality images of about half of their diamonds
24/7 Customer Service
100% credit towards future upgrades (must be at least double in value)
Best in class fulfillment

---
Still afraid of getting ripped off?
Before you buy a diamond, get personal buying advice from industry veterans. We'll help you get the best diamond for the money.
Ask your diamond purchase question here
DISCLAIMER: We don't use your email for marketing. Period.