We are reader-supported. Buying through links on our site may earn us commissions. Learn More.
Deal Alert! Huge James Allen Sale- 3% off Earth Diamonds AND 25% off settings or

15% off at Blue Nile!



March Birthstones: Aquamarine and Bloodstone

What Is The Birthstone For March?
The birthstones for March birthdays are Aquamarine and Bloodstone. The color for March's birthstone is blue with a green tint for aquamarine and light to dark green with splashes of rusty red for bloodstone. Aquamarine gemstones range from a pale to deep blue that resembles the sea. The green and red tones of bloodstone offer a darker alternative to light blue aquamarine jewelry.
Aquamarine Birthstone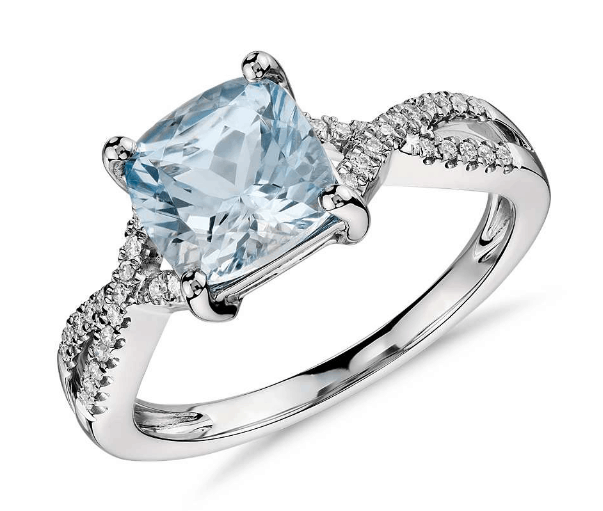 Aquamarine Symbolism and Meaning
The meaning of the aquamarine birthstone like this example from Blue Nile is a reflection of a calm sea. Aquamarine symbolizes healing and relaxation. The cool blue and blue-green colors generate a feeling of tranquility and peacefulness.
Europeans in the Middle Ages thought it could save someone who had been poisoned. Others ground the stone into powder to cure all sorts of ailments and diseases.
Coming from the Latin aqua marinus, meaning "water of the sea," aquamarine was a natural talisman to protect seafarers and served as an exquisite adornment for mermaids. Seers also associated aquamarine with the moon, perhaps connecting the lunar orbit, the tides and this gem of the sea.
New Age believers continue to cultivate the meditative powers of aquamarine, which is said to bring about harmony. It is connected to the throat chakra, soothing the fear of speaking and allowing the speaker to express their truth and wisdom.
Aquamarine was once a traditional bridal gift, symbolizing life-long love. Some believe it can also rekindle lost love.
Aquamarine Color
The color of the aquamarine birthstone is blue with a hint of green, ranging from nearly transparent to a sky blue. Deeper blue Aquamarine stones are deemed more valuable. Light-colored stones are more common, while some rare specimens will exhibit a cat-eye effect.
The aquamarine March birthstone is made of beryllium and aluminum silicate and comes from the beryl mineral family, same as emeralds. The difference in colors is based on the other minerals present when the gem forms. In effect, iron gives aquamarine its blue or cyan shades.
Aquamarine is a hard stone, scoring between 7.5 and 8 on the Mohs scale of hardness, with hexagon-shaped crystals. The crystals can grow to be quite large, which can be cut into impressive pieces fit for a queen. In fact, Queen Elizabeth II has a set of aquamarine jewels that include a diamond-and-aquamarine brooch.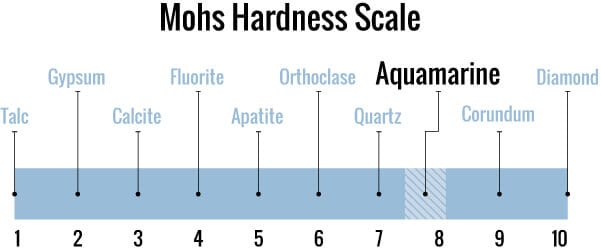 Aquamarine Origins
Aquamarine is found throughout the world in mountainous regions. Brazil is a noted producer of this gemstone, and the largest aquamarine stone of quality was discovered there more than a century ago, weighing about 240 pounds. Pakistan has a reputation for producing high-quality aquamarine, but it can also be found in the United States, Colombia and in parts of Africa, including Zambia, Tanzania and Kenya.
Tips for Buying Aquamarine Birthstone Jewelry
Aquamarine happens to be one of the most popular semi-precious stones for good reason. This gemstone belongs to the beryl family which also includes emeralds. While aquamarine is the birthstone for March, it is also the gemstone typically gifted to celebrate sixteenth and nineteenth year anniversaries.
When purchasing aquamarine stones, first consider the color of the stone. The color is the most important factor. The deeper the color of the stone, the more valuable it will be.
Pay close attention to the intensity of the color as well. A valuable aquamarine stone will have a pure, almost clear blue appearance.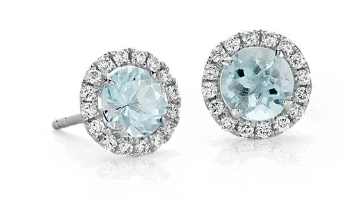 Aquamarine stones are also great in smaller sizes and can be used as a brilliant way to adorn and accent a much larger center stone on a ring.
Most aquamarine stones are clean and lack any visible inclusions or imperfections. Examine the stone and make sure it's eye-clean before you purchase, so you know you will be buying a stone with good transparency and clarity.
Cleaning and Caring for Your Aquamarine Birthstone Jewelry
Aquamarine jewelry like this selection from Blue Nile will always last much longer when it is properly cared for. This means using only warm water and soap to clean your jewelry. Avoid ultrasonic cleaners and steam cleaning, as they could damage and crack the stone. Let the jewelry air dry before storing it safely in a soft cloth or container.
You will also want to keep aquamarine stones out of extreme heat and keep them from extended amounts of light exposure to help retain their color.
Bloodstone: Secondary Birthstone
Bloodstone: Symbolism and Meaning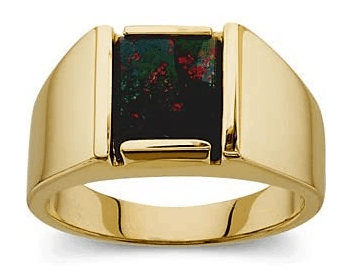 The meaning of the bloodstone birthstone is courage and healing. Bloodstone symbolizes strength and vitality, often thought to bring healing benefits. In ancient times, bloodstone was believed to improve circulation and cure blood disorders and wounds.
This March birthstone has been called the Martyr's Stone or Christ's Stone, as legend has it that blood from Jesus Christ flowed onto some jasper during the crucifixion, forever staining it crimson. The ancient Greeks called it by another name: heliotrope, meaning sunstone, for the way it reflects light. The Babylonians used it to make seals and amulets, with other references and bloodstone artifacts, such as decorative vessels, dating back 5,000 years.
Bloodstone: Color
The color of the bloodstone birthstone like this from Amazon is light to dark green, with splashes of rusty red. The gemstone resembles the colors of a molten lava lake. Some bloodstone has yellow inclusions or almost no color at all. The stones can be polished to a high luster, with an appearance that can be described as waxy.
Bloodstone is a variety of quartz. It rates 6.5 to 7.0 on the Mohs scale of hardness, making it slightly less durable than aquamarine.
Bloodstone: Origins
Bloodstone March birthstones are found all over the world, primarily India, but also in Brazil, China, Australia, the United States, Russia, and the Czech Republic. Large stones are not uncommon, making bloodstones more affordable than other gems.
Purchasing Bloodstone Birthstone Jewelry
Bloodstone is a semi-precious stone most commonly associated with Christianity and is said to carry healing powers. Before you buy bloodstone jewelry, it is important to examine the stones closely so as not to be misled into purchasing something that is not genuine.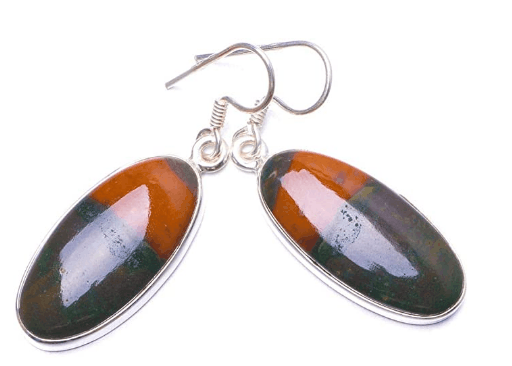 One of the biggest characteristics to look for when it comes to bloodstones is the brightness and how well it shines. This is a good indication of whether it is a natural gemstone. Bloodstone is typically opaque and nonporous, so the clarity of the gemstone isn't a large factor in assessing its quality.
Bloodstone is best complimented by yellow gold or sterling silver to make the darker and richer color of the stone stand out. This March birthstone makes a beautiful pendant piece and can be cut into several different shapes to adorn any type of ring. Its size and color make it particularly appealing for men's rings, while its spiritual associations make it a popular stone for religious items like crucifixes and for alternative healing purposes.
Bloodstone jewelry is typically harder to locate but can be found at specialty jewelry stores.
Caring for Your Bloodstone Birthstone Jewelry
Clean your bloodstone jewelry with warm, soapy water and a soft cloth or brush. Avoid wearing your bloodstone jewelry when you're cleaning, working with chemicals, or doing hands-on work like gardening. Store this March birthstone in a soft cloth or container to avoid damage and scratches.
Fun Facts
Aquamarine jewelry is a traditional gift for 18th and 19th (primary) wedding anniversaries, while bloodstone is favored for the 14th wedding anniversary.
The official stone of Colorado is aquamarine.
Celebrities certainly favor aquamarine for its stunning color and style, but perhaps none is more well known than Princess Diana, who owned an exquisite aquamarine and diamond ring.
David Beckham favors gemstones, including the bloodstone, which he may wear for its reputation to promote physical endurance.
Gift Ideas
Aquamarine jewelry is chic and stylish. Whether you have a March birthday or just enjoy the look of this gemstone, there are plenty of stunning options.
The size and cut of aquamarine is similar to that of a diamond, making it an excellent choice for a ring.  This light-colored aquamarine stone set in white gold from Blue Nile is as simple as it is beautiful.
Aquamarine rings seem to shine especially bright when matched with diamonds. You could be bold and choose an aquamarine surrounded by diamonds like this example from James Allen as an engagement ring. And here's a one with a twist from Blue Nile.
Aquamarine and diamonds pair equally well with these white gold pendants:
As well as these studded earrings:
Read More About Birthstones:
James Allen

James Allen is the leader in online diamond sales. Their imaging technology is the same as inspecting a diamond with a jeweler's loupe. They have the largest exclusive loose diamond inventory online and fantastic prices. They also have the nicest collection of lab created diamonds online. Now save 25% off settings AND 3% off Earth Diamonds during James Allen HUGE limited time sale!
What we love about them:
No questions asked returns within 30 days of shipment. James Allen will send you a paid shipping label to return the ring.
Lifetime Warranty
Free International Shipping
Free prong tightening, repolishing, rhodium plating and cleaning every 6 months
Provide insurance appraisals
One free resizing within 60 days of purchase
Free ring inscriptions
Best-in-class high quality imagery of all diamonds in stock
24/7 Customer Service
Best-in-class packaging

---
Blue Nile

Blue Nile is the largest and most well known internet jewelry seller. They have a very large exclusive online inventory. Their high quality images are catching up to James Allens' and their prices are amazing. Blue Nile have generously offered our readers an exclusive one-time use coupon.

(Click Here to save $100 off engagement ring settings)
What we love about them:
No questions asked returns within 30 days of shipment. Blue Nile will send you a paid shipping label to return the ring.
Lifetime Warranty
Free Shipping
Free prong tightening, repolishing, rhodium plating and cleaning every 6 months
Provide insurance appraisal
One free resizing within the first year of purchase
High quality images of about half of their diamonds
24/7 Customer Service
100% credit towards future upgrades (must be at least double in value)
Best in class fulfillment

---
Still afraid of getting ripped off?
Before you buy a diamond, get personal buying advice from industry veterans. We'll help you get the best diamond for the money.
Ask your diamond purchase question here
DISCLAIMER: We don't use your email for marketing. Period.