Diamond Pro is reader-supported. When you buy through links on our site, we may earn an affiliate commission. Learn More.
Deal Alert! 25% off James Allen settings
and
15% off Blue Nile settings!
Skinny Band Engagement Rings Buyers Guide
Thin band engagement rings continue to gain popularity. Their slender design makes the diamond a brilliant focal point. Skinny band engagement rings, like this pave diamond setting from James Allen, offer a sophisticated appeal and a classic look.
Before you buy a thin band engagement ring, review the pros, cons and our expert buying tips. We'll also share the best places for finding a skinny band engagement ring.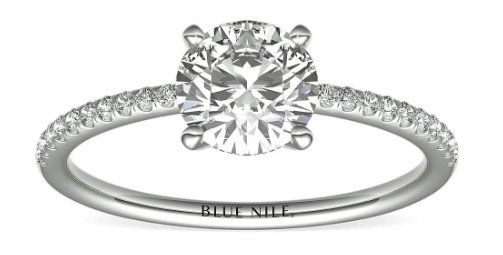 What is a Skinny Band Engagement Ring?
A skinny band engagement ring is a setting style featuring a slender band that measures 2mm wide or less. Many thin bands fall in the range of 1.6mm to 2mm wide. Thin band engagement rings can be made with rose gold, yellow gold, white gold or platinum. Skinny band rings come in a variety of styles, but solitaire settings, pave settings and halo settings are the most popular. Some rings with slender bands are even considered "extra thin band engagement rings" and "whisper thin engagement rings."
Skinny band engagement rings are eye-catching because they make the diamond appear larger. For example, the band in this six-prong solitaire ring from James Allen helps the 0.8 carat diamond look bigger. A thin band also offers elegance and simplicity while maintaining durability. A high-quality thin band engagement ring will hold up well with everyday wear.
A variety of ring designers make thin band engagement rings and wedding rings. You can find them in some bricks and mortar stores, although we recommend shopping online for an engagement ring. With a reputable online vendor, like James Allen or Blue Nile, you can find a beautiful ring at a fraction of the price.
Pros and Cons of a Thin Band Engagement Ring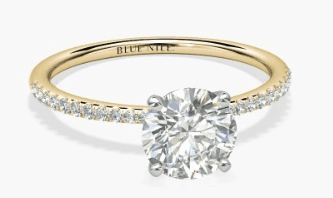 Some people fall in love with skinny band engagement rings, while others prefer a wider style. For those with romantic or minimalist fashion, the "less is more" spirit of a thin band appeals to them.
Like with any setting, consider the pros and cons before making a decision.
Pros of a Thin Band Engagement Ring
Dainty, feminine appearance
Makes the center stone appear larger
Simple design
Makes the diamond the focal point of the ring
Stacks well with a wedding band or anniversary band
May be lower in price
Compliments small hands and slender fingers
Cons of a Thin Band Engagement Ring
Susceptible to bending and losing their shape
May become weak or crack over time
May not be durable enough for those who work with their hands
Less ability to create an intricate or vintage ring
More difficult to resize because there's less precious metal
7 Tips for Buying a Thin Band Engagement Ring
The simple beauty of skinny band engagement rings has made them popular. A thin band isn't for everyone, though. Review these tips to ensure you're making a purchase that you'll be happy with for years to come.
1. Consider your partner's lifestyle
If your partner works with their hands or enjoys active hobbies, a thin band might not be best. While skinny bands with a width of 1.6mm-2mm are durable, they can become weakened or bent with extended use. For someone with an active lifestyle, consider a band between the 2.0mm-3.5mm range for added security, like this channel set ring from James Allen or this four-prong solitaire setting. These styles keep the diamond safe even with frequent hands-on activities.
2. Don't go too thin
An engagement ring with a band (or shank) of at least 1.6mm-2.0mm provides a stable foundation for a center stone. Shanks thinner than 1.6mm may not hold up in the long-run. That's why we recommend going no smaller than a 1.5mm band. If the band is too thin, it's likely to crack or bend over time.
3. Opt for simple beauty
A thin band is made with less precious metal—making a complex ring design more challenging. Embrace the simple style with a classic look, like this pave engagement ring from James Allen. By limiting the intricate details, you're allowing the skinny band to do what it does best: showcase the center stone.
4. Lower your carat weight
A skinny band often makes a diamond appear larger. Even a 0.9 Carat diamond, like this whisper thin engagement ring from James Allen, appears big on the slender band. While a bigger diamond is often thought of as better, a skinny band can be overpowered by a diamond that's 2 or 3 carats. If the diamond is too big, it will cover most of the band—defeating the purpose of a skinny ring.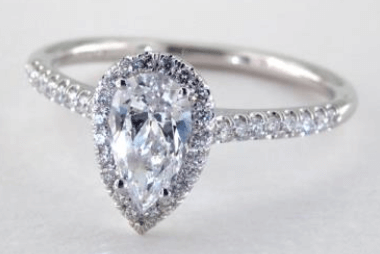 Rather than trying to maximize the carat weight, focus on the cut quality of the diamond. A diamond's cut is the characteristic that most greatly impacts its beauty. By putting more of your budget into the cut quality, you'll end up with the most brilliant diamond. If you want to add more sparkle to your thin band, consider a pave band with small side stones like this yellow gold ring from James Allen or a halo ring, like this stunning round cut engagement ring also from James Allen.
5. Stabilize your stone
Ensure your diamond is completely secure in its setting. For example, with a pear-shaped diamond, like in this yellow gold halo setting from James Allen, the pointy end of the diamond is protected. Prong settings, like this rose gold solitaire setting from James Allen, helps ensure the corners of the diamond don't chip.
6. Remember that thin bands aren't always an option
If you spot a ring you adore but would prefer a skinny band, ask the jeweler if they offer a thinner alternative in the same style. Sometimes a thin band may be available, but not always. Ask if they can send you a photo of what a skinnier band would look like, so you know exactly what you're ordering.
7. Pair it with a skinny wedding band
You can partner a thin engagement ring with any wedding band, but it will look better with a complimentary skinny band. To make shopping easy, the width of both bands should be similar, so the set has a harmonious look. For instance, this skinny pave band from James Allen pairs well with this halo thin band engagement ring.
Pro tip: Ask your jeweler for recommendations on wedding bands that complement the engagement ring you pick out.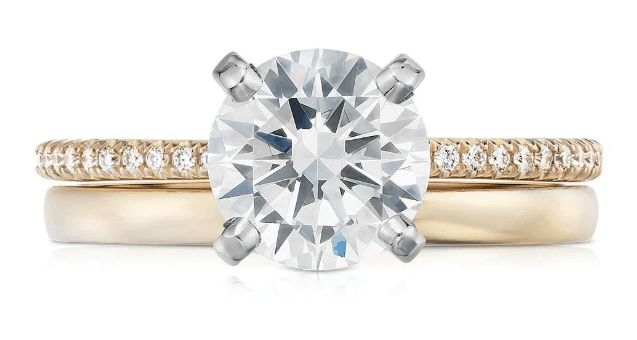 Thin Band Engagement Ring Styles
While thin bands tend to be more simple in style, there are still several designs that can bring your personality to life.
Here are a handful of beautiful thin band engagement rings to inspire you—from elegant solitaire settings to pave bands.
Solitaire Thin Band Engagement Rings
Pave Thin Band Engagement Rings
Halo Thin Band Engagement Rings
Where is the Best Place to Get a Thin Band Engagement Ring?
Throughout our years of experience, we've vetted hundreds of jewelers around the world. We've found that the best value and quality is found through reputable online vendors. With a top-notch online vendor, you receive excellent customer service and the ability to shop an enormous inventory at low prices. The overhead costs for an online vendor are less and they have a more expansive inventory.
Here are the vendors that we've found to be the most trustworthy. They offer thin band diamond rings in a variety of styles.
James Allen: Provides exceptional customer service, high-quality images on all diamonds, and hassle-free returns.
Blue Nile: Offers the largest online inventory of diamonds and rings, along with custom designs.
Brian Gavin Diamonds: One of the best diamond cutters in the world. Provides custom settings and excellent service.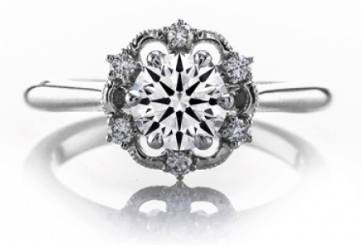 How Thick Should An Engagement Ring Be?
Your engagement ring setting should support your diamond's carat weight and shape. In general, we recommend a band that measures at least 1.5mm. Those with a more active lifestyle should aim for a ring width between 2mm and 3.5mm. For example, this pave band from Blue Nile is on the thicker side, measures 3.2mm, and holds the diamond nicely.
What Are the Different Engagement Ring Styles?
There are several styles of engagement ring settings, but the most common are solitaire, pave, and halo settings. The styles range from simple designs like this six-prong solitaire ring from Blue Nile to more intricate settings like this vintage twist cathedral ring also from Blue Nile.
When designing an engagement ring, it's best to match your partner's style and desires. Follow our guide to finding an engagement ring your partner will adore for many years to come.
Can You Add Gold to a Ring to Make it Thicker?
Yes, you can make a ring thicker by adding gold. To make a ring wider or to restore a worn-down ring, the jeweler will remove the thinnest part of the band. The thin portion is replaced with a thicker band of gold and soldered together with the other part of the ring. The extra gold strengthens and restores the ring and makes it more stable. Often times family heirloom rings go this process—helping them to last for more years and future generations.
What Size Wedding Ring Should I Get?
You should measure your ring size using a free ring sizer or copying the size of an existing ring. By choosing the right size, you reduce the need to resize the ring—saving time, money and wear on the ring. Figure out your partner's ring size by reading our complete sizing guide.
Want help finding a beautiful diamond ring for your budget? Contact our experts.
James Allen

James Allen is the leader in online diamond sales. Their imaging technology is the same as inspecting a diamond with a jeweler's loupe. They have the largest exclusive loose diamond inventory online and fantastic prices. They also have the nicest collection of lab created diamonds online. Save 10% off select Lab Grown Diamonds and 25% on setttings!
What we love about them:
No questions asked returns within 30 days of shipment. James Allen will send you a paid shipping label to return the ring.
Lifetime Warranty
Free International Shipping
Free prong tightening, repolishing, rhodium plating and cleaning every 6 months
Provide insurance appraisals
One free resizing within 60 days of purchase
Free ring inscriptions
Best-in-class high quality imagery of all diamonds in stock
24/7 Customer Service
Best-in-class packaging

---
Blue Nile

Blue Nile is the largest and most well known internet jewelry seller. They have a very large exclusive online inventory. Their high quality images are catching up to James Allens' and their prices are amazing. Blue Nile have generously offered our readers an exclusive one-time use coupon.

(Click Here to save $100 off engagement ring settings)
What we love about them:
No questions asked returns within 30 days of shipment. Blue Nile will send you a paid shipping label to return the ring.
Lifetime Warranty
Free Shipping
Free prong tightening, repolishing, rhodium plating and cleaning every 6 months
Provide insurance appraisal
One free resizing within the first year of purchase
High quality images of about half of their diamonds
24/7 Customer Service
100% credit towards future upgrades (must be at least double in value)
Best in class fulfillment

---
Still afraid of getting ripped off?
Before you buy a diamond, get personal buying advice from industry veterans. We'll help you get the best diamond for the money.
Ask your diamond purchase question here
DISCLAIMER: We don't use your email for marketing. Period.