We are reader-supported. Buying through links on our site may earn us commissions. Learn More.
Deal Alert! Huge James Allen Sale- 3% off Earth Diamonds AND 25% off settings or

15% off at Blue Nile!



Verragio Engagement Rings Reviews: Beautiful Designer Settings
Brand History
Russian-born Barry Verragio started as an apprentice to a master jeweler and embarked upon his career out of a desire to create something beautiful "from nothing". After graduating from the Fashion Institute of Technology in New York City, he spent twenty years designing fine jewelry for some of the world's most renowned jewelry houses.
Distinctions
Verragio's signature style revolves around using a crown and bezel head (which you can see clearly on this understated solitaire from James Allen). This exposes the diamond to light from all angles and maximizes its "fire". In addition to taking the back seat and letting the center stone steal the show, the Lumino setting gives the ring itself an air of lightness that makes it unobtrusive on the hand.
In addition to the Lumino, Verragio employs a level of ornamentation that has established them as a leading designer the world over. In addition to their trademark bents, their rings also boast some of the most intricately detailed sides and twists, very often encrusted with diamond dust. Take this unique take on a double halo white and rose gold ring from James Allen. Verragio uses the distinct look that appears to be a ring within a ring.
Most popular settings
The Insignia collection is the original collection from Verragio's portfolio, and was inspired by the ring Barry Verragio gave to his wife. With delicate features, this line has the Verragio logo nestled into the ring's crown, with two diamond pave scrolls leading to the center diamond.
This was one of the rings I decided to go with when I was secret shopping Verragio. This is a perfect example of the incredible level of ornamentation Verragio uses in their designs. The twists and side accents flow flawlessly together and the workmanship is beyond superior.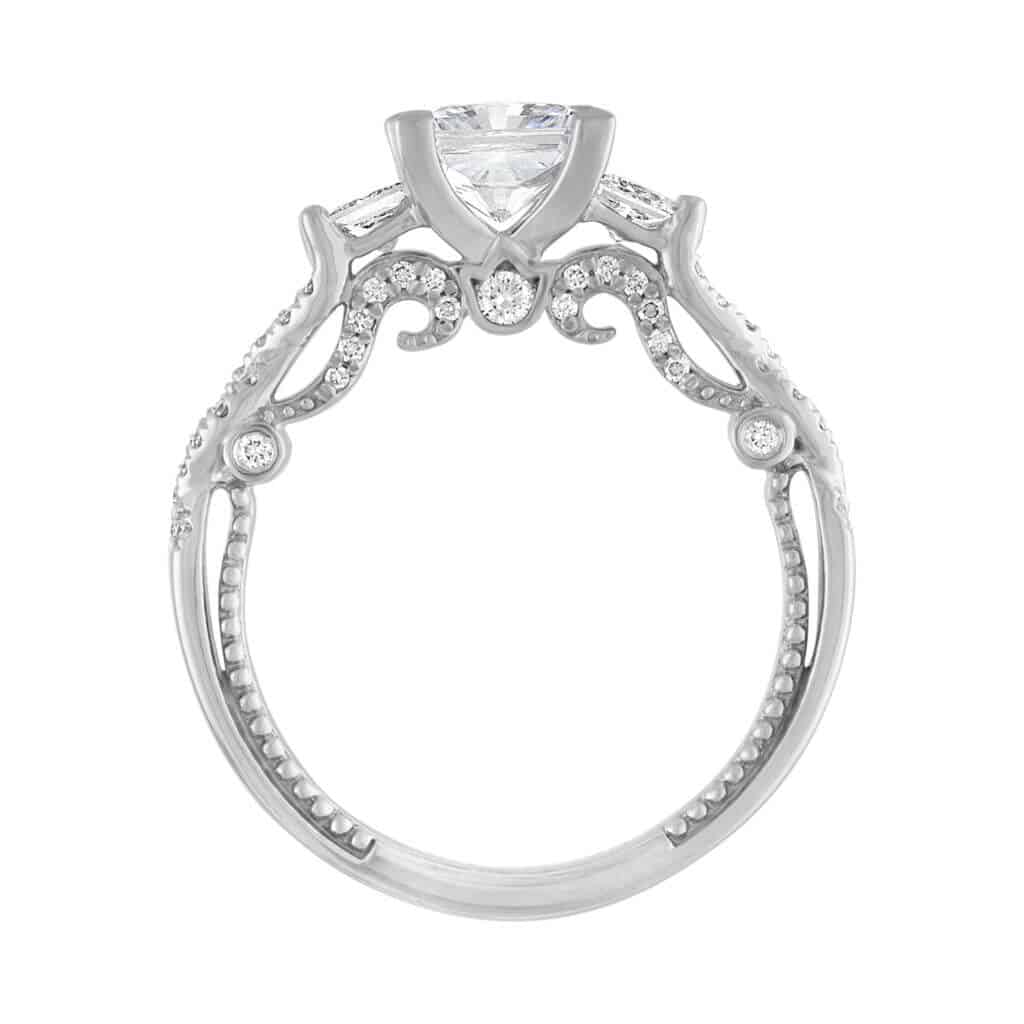 The Classic setting is the latest to be added to Verragio's selection. While still conveying all the beauty the brand is known for, this style comes at a fraction of the cost of some of their more diamond-heavy designs. The clean, single-accent diamond is similar to Insignias, and the rings' inner faces are lined with micro-French beading (as you can see here).
The Venetian collection is the flagship of the brand, with lace scrolling around the outside of the rings' shanks and shoulders, and French beading along the inside. Many of the designs make use of contrasting metals for added effect. This collection can be customized with 5 different styles of foundation: Venetian Lace, Euro, Lido, Centro, and Classic.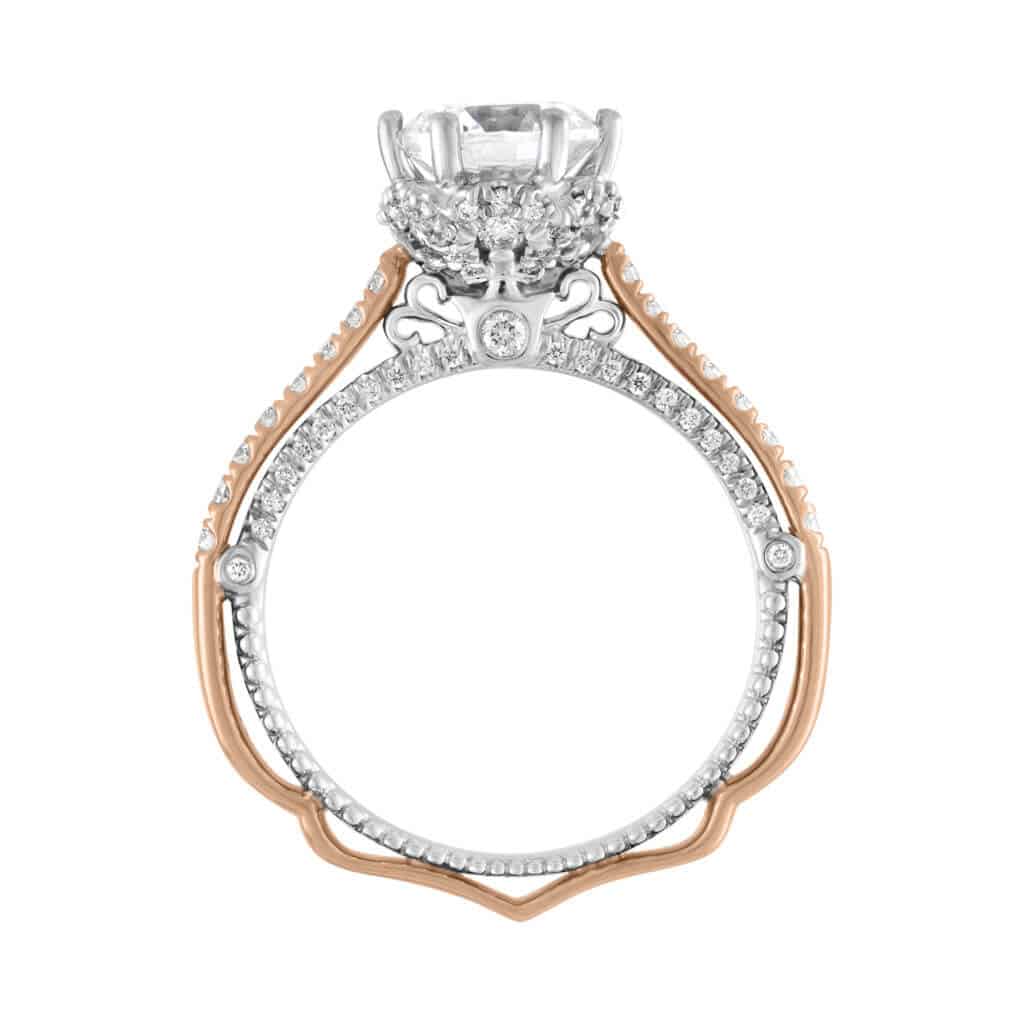 When testing Verragio, I went with a Centro engagement ring from this line. As you can see from the picture, the signature ring-within-a-ring approach is beautifully highlighted by the contrasting white and rose gold.
If you're in the market for a Verragio, go with a diamond that follows our color guidelines. Most of their settings would require an I+ center if you are getting a round diamond. If you are going with one of their halo settings, however, you are best off sticking with H+.
Every authentic Verragio ring is stamped with the brand's name on the inside of the ring. This is the first step to verifying that you are purchasing an authentic engagement ring. That said, the best way to guarantee you are getting a genuine Verragio, is to buy from a reputable retailer, like James Allen, who will take care of you. Have a look at our review to read more on that.
Bottom Line Recommendation
Verragio is one of the most stunning designers and a fine choice for our readers who are looking for intricate and unique pieces. If you're looking to showcase a really nice diamond in one of their settings, James Allen's outstanding customer service, wide selection, and intuitive selection process are sure to give you a center stone worth showing off.
James Allen

James Allen is the leader in online diamond sales. Their imaging technology is the same as inspecting a diamond with a jeweler's loupe. They have the largest exclusive loose diamond inventory online and fantastic prices. They also have the nicest collection of lab created diamonds online. Now save 25% off settings AND 3% off Earth Diamonds during James Allen HUGE limited time sale!
What we love about them:
No questions asked returns within 30 days of shipment. James Allen will send you a paid shipping label to return the ring.
Lifetime Warranty
Free International Shipping
Free prong tightening, repolishing, rhodium plating and cleaning every 6 months
Provide insurance appraisals
One free resizing within 60 days of purchase
Free ring inscriptions
Best-in-class high quality imagery of all diamonds in stock
24/7 Customer Service
Best-in-class packaging

---
Blue Nile

Blue Nile is the largest and most well known internet jewelry seller. They have a very large exclusive online inventory. Their high quality images are catching up to James Allens' and their prices are amazing. Blue Nile have generously offered our readers an exclusive one-time use coupon.

(Click Here to save $100 off engagement ring settings)
What we love about them:
No questions asked returns within 30 days of shipment. Blue Nile will send you a paid shipping label to return the ring.
Lifetime Warranty
Free Shipping
Free prong tightening, repolishing, rhodium plating and cleaning every 6 months
Provide insurance appraisal
One free resizing within the first year of purchase
High quality images of about half of their diamonds
24/7 Customer Service
100% credit towards future upgrades (must be at least double in value)
Best in class fulfillment

---
Still afraid of getting ripped off?
Before you buy a diamond, get personal buying advice from industry veterans. We'll help you get the best diamond for the money.
Ask your diamond purchase question here
DISCLAIMER: We don't use your email for marketing. Period.