Diamond Pro is reader-supported. When you buy through links on our site, we may earn an affiliate commission. Learn More.
Deal Alert! 25% off James Allen settings
and
15% off Blue Nile settings!
Diamonds Direct Reviews: For B&M, As Good as it'll Get
Overall Score:

3.83

Price:

3

Selection:

3.5

Customer Service:

5

Pros

Nice Diamonds
Excellent Service

---

Other Recommended Retailers
Bottom Line Recommendation
Diamonds Direct has a great business going. Their customer service was everything you need it to be: Helpful, friendly and informative. They had a decent selection of products and the ambiance, though room for improvement, was fine.
That said, Diamonds Direct prices were in no way unreasonable. It looks like you'll end up paying about 20 – 25% more than if you purchase from a reputable online jeweler like Blue Nile or James Allen. But that is not an unreasonable premium to pay if you are one of those customers that prefers to buy in person. If a reader of ours mentions they are getting a diamond from Diamonds Direct, we have no reservations (we are happy to comment on specific diamonds from them or any other company if you contact us directly) endorsing them.
The History
There are large retail chains (most of those chains are now owned by Sterling, the parent company for Zales, Kay and Jared to name a few). There are some smaller regional chains. And then there are independent jewelers. The largest retail chains have the advantage of buying such large quantities which saves money. The independent jewelers have the advantage of being a fabric of the local community and tend to have longer tenured staff that are better trained.
Diamonds Direct is a unique independent retailer. In 1995 a diamond manufacturer based in Tel Aviv decided to remove the middlemen and opened up his own store in Charlotte, North Carolina. Their business model seemed to be successful, and they have grown to seven locations around the country. In late 2015 Diamonds Direct was acquired by a major investment fund, Blackstone.
The Experience
On our most recent secret shopping trip, Annie and I needed to come up with an excuse to visit Franklin's BBQ in Austin. San Antonio was close enough to justify a trip. Fortunately, Diamonds Direct has a nice free-standing store on the edge of The Shops At La Cantera. The store looked very nice from the outside. Walking in (after the brief pause in their super secure entrance-way), we made our way into the store. The receptionist greeted us warmly, welcomed us in and notified a salesperson.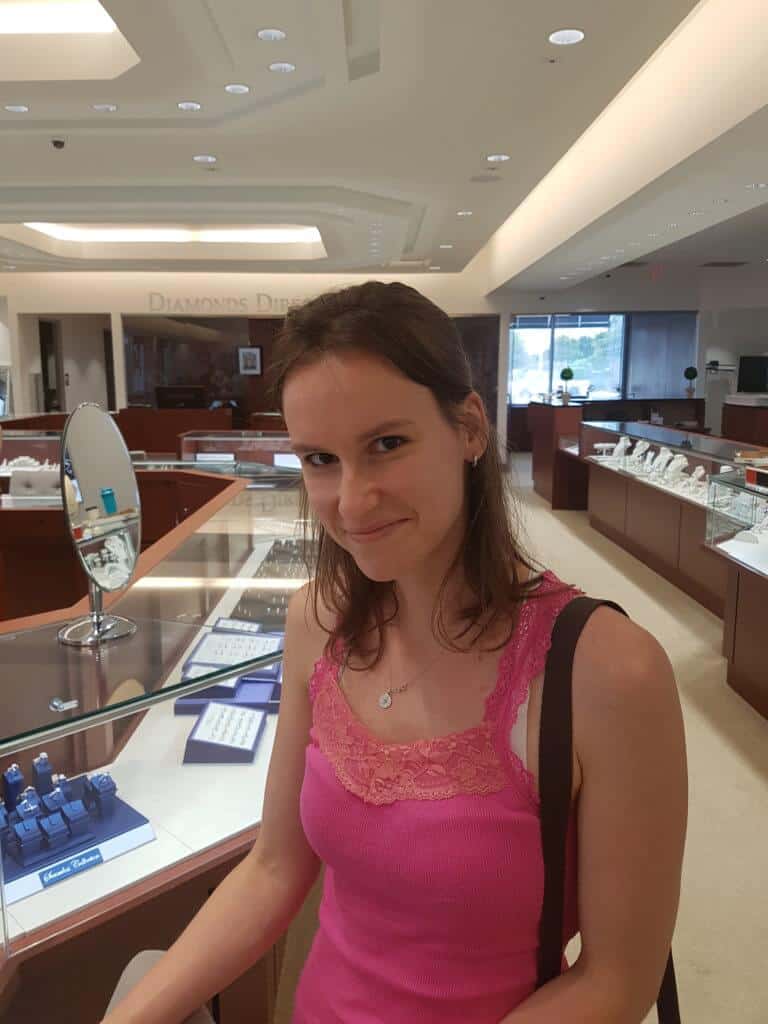 There was nothing particularly noteworthy about the store. It was very nice, clean and bright, but it did not have a particularly luxurious feel to it. It was what a typical independent store should look like. It would have been nice if the experience had a slightly more luxurious feel. I don't mean to be nitpicky, I'm just trying to give a little constructive criticism. While Diamonds Direct was definitely the best overall experience for us in San Antonio, in this particular area they lagged behind the competition a bit.
David, promptly made his way over to us. He was very helpful and made us feel like he has been there for ages, helping countless couples find the perfect ring. We had a nice chat about our expectations and a general idea of what we want. He also put us at ease, by ensuring that the overwhelming majority of diamonds were GIA certified. He said a few of them were "certified" in house. I presumed these were smaller diamonds, or very cheap diamonds, and we didn't come across any of them while secret shopping.
The Diamond Direct Rings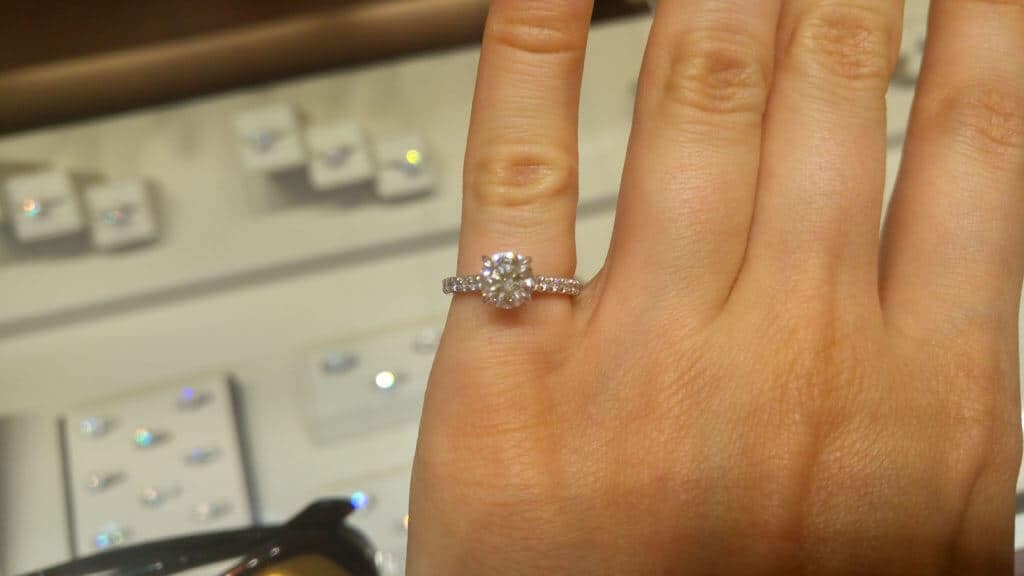 After a little perusing of the showcases, we settled on two different rings. The first ring was a 1.21ct round E VS2, in a platinum pave setting (with 0.60cts worth of sidestones) for $16,950. This diamond had its merits. It was by no means a bad diamond. But the diamond was missing a little something in terms of sparkle. For a very good cut, the specs were pretty good. But I would have liked something better.
The second diamond was fantastic. It was a 1.61ct K SI1 round diamond in a white gold split shank pave settings (with 0.40cts worth of sidestones). This ring would cost $11,900. Annie was instantly enamored with this ring. We saw several dozen rings on this trip to this point and I never saw such a positive reaction from Annie.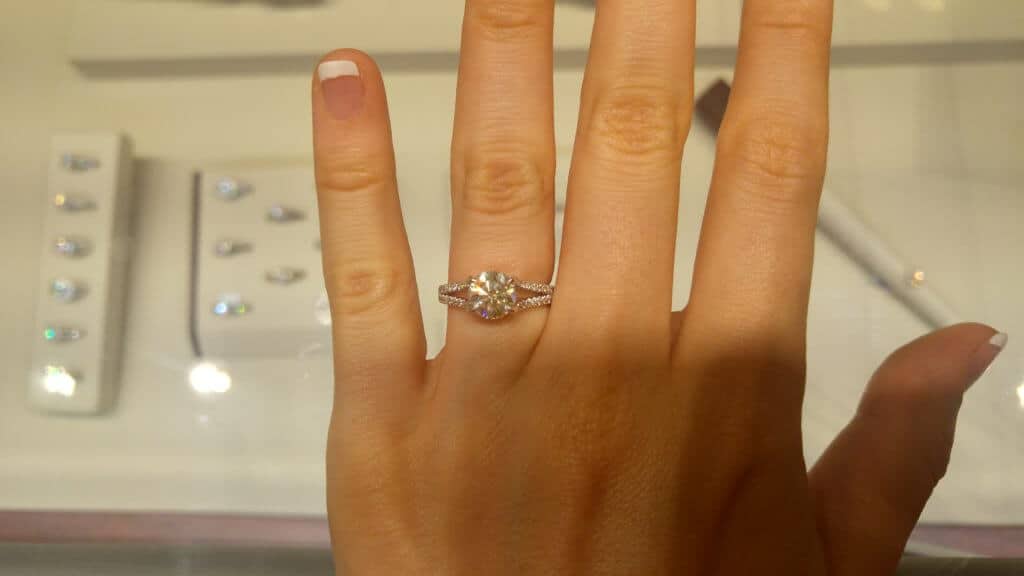 I should note that we generally do not recommend a K color diamond with a white gold pave setting. You should keep in mind that those are guidelines. Did we notice the yellow? Yes, we did. But the diamond was very brilliant and we did not think the color was distracting. Overall, we much preferred this ring to the "higher quality" 1.21ct ring we previously looked at.
Comparing Diamond Direct Engagement Rings
Starting with the first ring we looked at, here is a gorgeous 1.26ct E color, VVS2 clarity excellent cut round diamond from Blue Nile for $11,039. This diamond is far superior both in cut and in clarity. It will look larger and have more brilliance than the diamond from Diamonds Direct. I found this similar setting on Blue Nile's website. Adding the two together, you'll end up shelling out $13,942. That is a savings of 20% while getting a far superior diamond.
Now let's move on to the second diamond we looked at in Diamonds Direct. Here is a beautiful 1.61ct K color, VS1 clarity excellent cut round diamond from James Allen for $7,870 (at the time we wrote the article). As you can see from the photo, the diamond is incredibly bright for a K color and the GIA certificate confirms the diamond is superbly cut. I decided to add that diamond to this split shank ribbon engagement ring that is similar to the one we saw at Diamonds Direct. The total cost for the ring would $8,930. So you would be getting a comparable (in fact, the James Allen choice is slightly better given the higher carat weight and clarity grade) diamond ring for 25% less.
The actual product was almost fantastic. While I didn't love the cut on one of their diamonds, they were pretty nice overall. The jewelry looked fantastic and seemed to be fairly priced. As we've mentioned, there is simply no way a physical retailer can compete with an online retailer when it comes to price (or selection for that matter). It's just the nature of the beast.
James Allen

James Allen is the leader in online diamond sales. Their imaging technology is the same as inspecting a diamond with a jeweler's loupe. They have the largest exclusive loose diamond inventory online and fantastic prices. They also have the nicest collection of lab created diamonds online. Save 10% off select Lab Grown Diamonds and 25% on setttings!
What we love about them:
No questions asked returns within 30 days of shipment. James Allen will send you a paid shipping label to return the ring.
Lifetime Warranty
Free International Shipping
Free prong tightening, repolishing, rhodium plating and cleaning every 6 months
Provide insurance appraisals
One free resizing within 60 days of purchase
Free ring inscriptions
Best-in-class high quality imagery of all diamonds in stock
24/7 Customer Service
Best-in-class packaging

---
Blue Nile

Blue Nile is the largest and most well known internet jewelry seller. They have a very large exclusive online inventory. Their high quality images are catching up to James Allens' and their prices are amazing. Blue Nile have generously offered our readers an exclusive one-time use coupon.

(Click Here to save $100 off engagement ring settings)
What we love about them:
No questions asked returns within 30 days of shipment. Blue Nile will send you a paid shipping label to return the ring.
Lifetime Warranty
Free Shipping
Free prong tightening, repolishing, rhodium plating and cleaning every 6 months
Provide insurance appraisal
One free resizing within the first year of purchase
High quality images of about half of their diamonds
24/7 Customer Service
100% credit towards future upgrades (must be at least double in value)
Best in class fulfillment

---
Still afraid of getting ripped off?
Before you buy a diamond, get personal buying advice from industry veterans. We'll help you get the best diamond for the money.
Ask your diamond purchase question here
DISCLAIMER: We don't use your email for marketing. Period.