Diamond Pro is reader-supported. When you buy through links on our site, we may earn an affiliate commission. Learn More.
Deal Alert!
$100 off settings when you spend $1000 at Blue Nile!
Cheap Engagement Rings: How to Find a Beautiful Diamond Ring for Less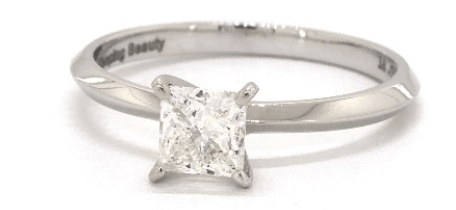 An engagement ring is one of life's most special purchases. But that doesn't mean it has to break the bank. There are many affordable options for engagement rings—and ways to reduce the cost without sacrificing beauty.
No matter what you plan to spend on a ring, learn how to make the most of your budget.
How to Find a Beautiful Diamond Ring For Less
An engagement ring symbolizes your relationship and the special bond you share. That's why it's important to find one with lasting beauty. Follow these steps to find the most exquisite ring for the best price. 
How Can I Get a Cheap Diamond?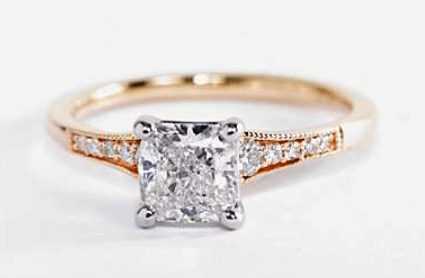 You can find a stunning diamond without paying more than you should by knowing what to look for and what to avoid. There are ways to get your dream engagement ring without breaking the bank. In general, we recommend searching for a beautiful, well-cut diamond, even if that means reducing your carat weight.
We've also found that buying an engagement ring online is a more affordable route than purchasing one in a store. Online vendors don't have as much overhead cost, don't need to store an inventory or hire as many workers. That's why online ring prices are typically 30-40% less than what you can find at a brick and mortars jewelry store. 
If you're looking for very cheap engagement rings, you may wish to seek an alternative to a diamond ring. Some gemstone rings, like sapphire and emerald, can offer lower price points while still offering timeless beauty.
How Can I Get a Cheap Engagement Ring?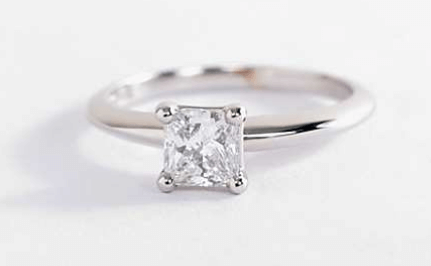 The price of an engagement ring depends on the style, type of metal used and how customized it is. For example, you can find a cheap engagement ring like this 0.31 carat solitaire ring from Blue Nile for $545, or this 1.01 carat solitaire ring from James Allen for $2,990. The first ring is made with 14k gold, which is cheaper than the platinum in the second ring. The first ring is also a significantly lower carat weight than the second stone.
Most importantly, you want to look for a ring that matches your style, has a well-cut diamond and is made by a jeweler you can trust. We suggest shopping with reputable online vendors, like Blue Nile and James Allen, to find high-quality rings at a fraction of the cost. 
Inexpensive Engagement Rings (Click a Ring for More Information)
Load More
How Much Do You Spend on An Engagement Ring?
Determine how much to spend on an engagement ring by looking at your financial situation—not certain "rules" that suggest you should spend a certain amount of your salary. Factor in your regular expenses and upcoming expenditures like a wedding. You'll also want to consider the desired style of your fiancé-to-be.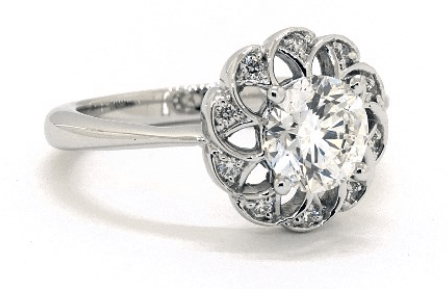 Remember that an expensive ring doesn't mean that you're more thoughtful or more in love. You can find a stunning engagement ring—whether it's a gorgeous 0.9 Carat Round Diamond in a vintage setting like this one from James Allen or a 2.01 Carat Round Diamond in a halo setting like this one from Blue Nile.
No matter how large your budget is, the thoughtfulness you put into the ring is what matters most. Take time and effort to find an engagement ring your partner will love. 
Where Can I Get the Best Deal on an Engagement Ring? 
The best place to buy an engagement ring is through a reputable online vendor like Blue Nile, James Allen or Leibish & Co (for colored gemstones). With lower overhead costs and no need to store inventory, their prices are typically 30-40% less than what you can find in a jewelry store. They also offer free shipping and free returns—making your shopping experience easy and secure.
What To Do If You Can't Afford an Engagement Ring
If you're ready to propose but don't have the funds for an engagement ring, here are a few solutions. 
Find an heirloom ring: Does your mom or grandma have a ring they'd love to pass down to you? Is there a family diamond sitting in a jewelry box collecting dust? Transform it into a sentimental engagement ring for your beloved. You can get a ring resized or order a custom setting for a diamond or gemstone. Your costs will be significantly less—maybe even zero—while the special meaning behind the ring will be at its highest.
Adjust your budget and/or expectations: The size of your ring doesn't equal the size of your love. Consider reducing your budget to a cost that's more manageable. Your partner might also have to adjust their expectations in order to make a proposal a feasible option for both of you. 
Wait until you can afford one: While you may be excited to propose now, it could be best to wait. A wedding and marriage often come with additional costs—making it best to save up for a ring and other expenses. Start looking for a ring now so that when you do have the funds available, you're able to pull the trigger as soon as possible.
If you want help finding the cheapest engagement ring for your budget, reach out to our experts. We'll do a complimentary search to find a stunning ring that falls within your price range. 
Blue Nile

Blue Nile is the largest and most well known internet jewelry seller. They have a very large exclusive online inventory. Their high quality images are catching up to James Allens' and their prices are amazing. Blue Nile have generously offered our readers an exclusive one-time use coupon.

(Click Here to save $100 off engagement ring settings)
What we love about them:
No questions asked returns within 30 days of shipment. Blue Nile will send you a paid shipping label to return the ring.
Lifetime Warranty
Free Shipping
Free prong tightening, repolishing, rhodium plating and cleaning every 6 months
Provide insurance appraisal
One free resizing within the first year of purchase
High quality images of about half of their diamonds
24/7 Customer Service
100% credit towards future upgrades (must be at least double in value)
Best in class fulfillment

---
James Allen

James Allen is the leader in online diamond sales. Their imaging technology is the same as inspecting a diamond with a jeweler's loupe. They have the largest exclusive loose diamond inventory online and fantastic prices. They also have the nicest collection of lab created diamonds online. Save 10% off select Lab Grown Diamonds
What we love about them:
No questions asked returns within 30 days of shipment. James Allen will send you a paid shipping label to return the ring.
Lifetime Warranty
Free International Shipping
Free prong tightening, repolishing, rhodium plating and cleaning every 6 months
Provide insurance appraisals
One free resizing within 60 days of purchase
Free ring inscriptions
Best-in-class high quality imagery of all diamonds in stock
24/7 Customer Service
Best-in-class packaging

---
Still afraid of getting ripped off?
Before you buy a diamond, get personal buying advice from industry veterans. We'll help you get the best diamond for the money.
Ask your diamond purchase question here
DISCLAIMER: We don't use your email for marketing. Period.