We are reader-supported. Buying through links on our site may earn us commissions. Learn More.
Deal Alert! Huge James Allen Sale- 3% off Earth Diamonds AND 25% off settings or

15% off at Blue Nile!



Diamond District LA: Where To Shop And What To Avoid
Despite the fact that New York is the largest market for diamonds, there's no place more befitting to write a guide than in Los Angeles. 

The city of glamour has an abundance of places to buy an engagement ring — and the customers are as varied as the choices. It's also great to have the opportunity to visit LA while it's snowing in my hometown. 

Buying Online Vs. Buying from an Online Retailer

We strongly recommend buying a diamond online instead of at a jewelry store. Why? Because you get a wider selection and much better prices. For example, even after negotiating, the diamond rings in LA's Jewelry District were 30-40% more expensive than the comparable rings we found online. 

There are several online vendors to choose from. The most reliable vendors are Blue Nile and James Allen, because they offer excellent customer service, superb diamond selection, and competitive pricing. 

We understand that some people don't want to buy a diamond online. They want the experience of buying in person. To give our readers expert insight, we go secret shopping in places like Los Angeles.
Where is the Jewelry District in Los Angeles?
The Los Angeles Jewelry District (also known as the Diamond District) are the six blocks located between 5th and 8th street with Olive and Broadway as perimeter streets. Most of the 5,000 jewelry stores in the Diamond District are located on Hill Street.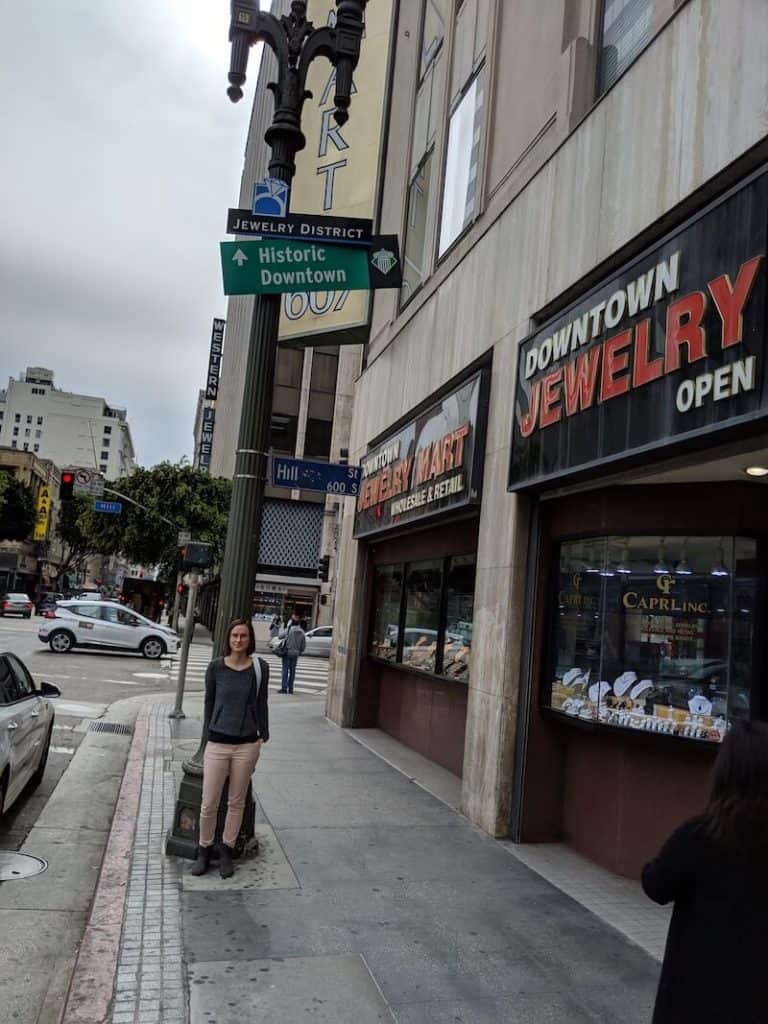 As the largest jewelry district in the United States, it's a bustling area with hundreds of displays. The buildings were constructed in the 1920s and boast stunning art-deco architecture. The shops sell everything from engagement rings to loose diamonds to colored gemstones.
When I visited the diamond district, the area gave off a sketchy vibe to me. I'm not exactly sure who is compelled to buy a diamond here. 
It's true that you can get a pretty decent deal, but there are also loads of diamonds with certificates that inflate the quality claims and plenty of diamonds with "issues" that severely devalue the diamond. 
You're far more likely to end up falling into one of these traps than you are to get a nice diamond engagement ring and save a small percent. The Jewelry District located in Downtown Los Angeles doesn't seem like the right value bet in my opinion.
Best Places to Buy in the LA Diamond District
If you decide to shop in the Los Angeles' diamond district, here are the most popular stores.
Icing On The Ring

We were certainly not fans of downtown Los Angeles, but Icing on Ring stood out as the best option there. They had a phenomenal inventory of setting options and an interesting diamond selection. Be sure to limit yourself to GIA-certified diamonds and feel free to contact us for an opinion on a specific diamond.
Eli's Jewelry
607 S. Hill St, Ste 200
Established in 1978, Eli's jewelry specializes in diamond engagement rings, wedding rings and bands. They also carry a large selection of loose diamonds that are all GIA certified. Eli and his brother Raffi run the family-owned business. Raffi designs the jewelry and has over 20 years of experience.

M & D Jewelry
650 S Hill St, Ste C-18
This family-run business opened in 1979 and specializes in high-quality fine jewelry. They carry GIA and EGL certified diamonds and engagement rings. We recommend only GIA and AGS diamonds, so be sure to steer clear of their EGL stones. They have many engagement ring styles to choose from along with earrings, necklaces and bracelets.
Ritz Jewelers
625 S Hill St, Ste 101
Ritz Jewelers opened in 1985 and have a large inventory of custom jewelry, diamonds and watches. Many of their diamonds are GIA certified.
Oscar's Design Jewelry
550 S Hill St, Ste 725
Newer to the diamond district, Oscar's opened in 1997. They custom-design engagement rings and wedding bands. Their diamonds are GIA certified and often ideal cut. They also have an online store for those who don't live in or visit LA.
National Gold & Diamond Center
609 S Hill St
Established in 1986, this family-owned jewelry store provides a wide selection of fine jewelry, engagement rings and loose diamonds. They specialize in custom-designed rings.
Golden String
601 S Hill St, Booth D1
Originally founded overseas in the Middle East, the Golden String opened its LA store in 1987. The family-owned business focuses on custom jewelry, diamond rings and friendly service.
Other Places to Buy Diamonds in Los Angeles
Outside of the diamond district, there are other hotspots in LA to look for a diamond. These areas will give you more options as you look for the perfect engagement ring.
Rodeo Drive
It's the place that puts everyone else's glamour to shame.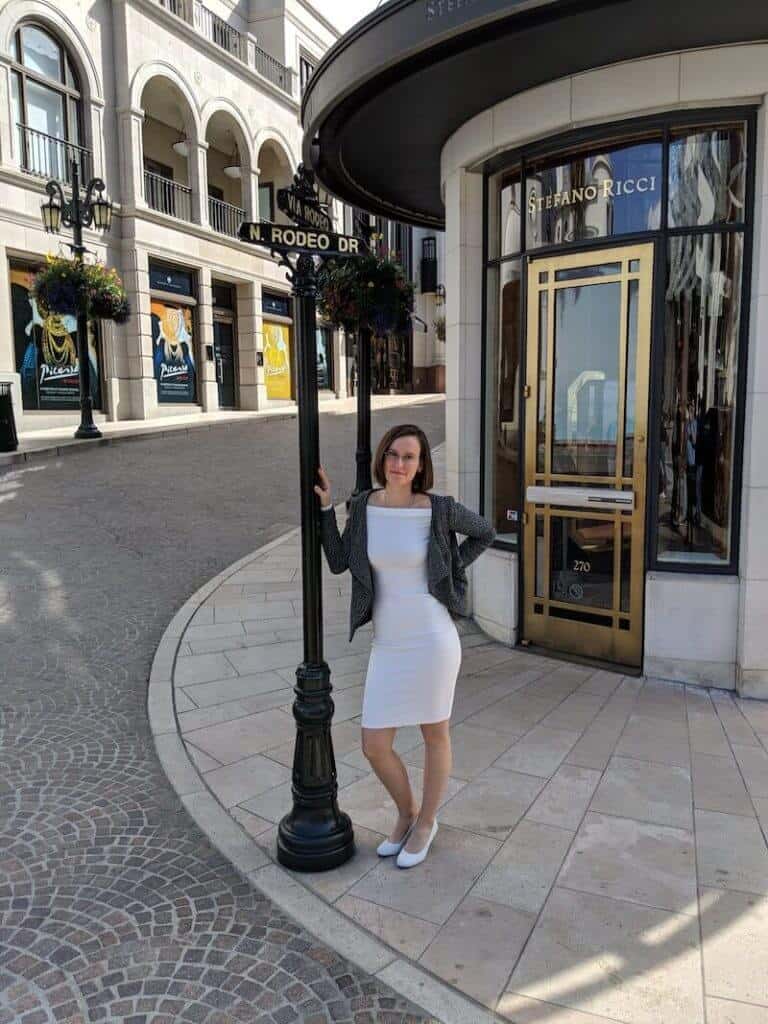 There are two things you can be sure of when shopping on Rodeo Drive: the diamonds have the highest quality standards and the prices will be through the roof. At least if you're spending that much, you can be sure you're getting something fantastic. 

To be honest, I was surprised at how much I enjoyed shopping on Rodeo Drive. When I visited last year, we had a terrible experience at Van Cleef & Arpels. You can read the review here. This time around we had fantastic experiences at every store we went to. Not a single snobby salesperson. Everyone was extremely friendly and helpful.

Shopping at the Mall
Like any place in America, the large chain retailers dot the mall landscape in Los Angeles. You can find any of these places pretty easily. We went to a few malls — most notably the Westfield in Culver City. The quality is generally not up to snuff and there is very little value offered there.

Notable Diamond Retailers in LA

It should be no surprise that Harry Winston is on this list. They are luxury and elegance personified. Of course, the prices are incredibly high. But if you are set on purchasing from a top luxury name, Harry Winston is the way to go. 

If you're buying a diamond at a mall, we'd recommend going with Ben Bridge. The last couple of times we've secret shopped them, we've been impressed with their quality. You can still get a better deal shopping online, but they were pretty impressive. 

5 Expert Tips for Buying a Diamond on Your Own in LA

As you shop for a diamond, it's important to know what to look for. Based on our years of experience in the industry, we put together top tips for finding a stunning diamond at an excellent price.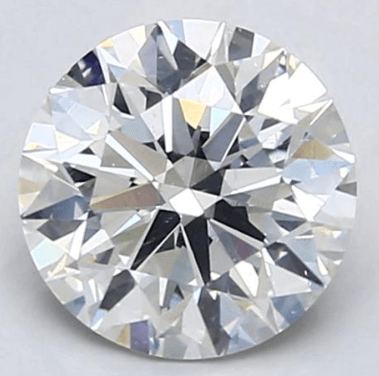 1. Evaluate the Cut: What feature most greatly impacts the beauty of a diamond? How well it is cut. That's why we recommend only considering excellent and ideal cut diamonds. But beyond its grading, you need to make sure the diamond has plenty of brilliance (sparkle). For round cut diamonds, the depth percentage is best below 62.5% and the table percentage should be below 60%. Read more about choosing the ideal depth and table for your diamond.

If you're shopping for a different shape, review our diamond shapes guide for recommendations. 

2. Verify the Certification: Every diamond you consider should come with either an AGS or GIA certificate. The GIA and AGS are the most reliable lab entities in the industry. A certificate from one of these labs ensures you're getting what you pay for. If someone is encouraging you to buy a diamond with a certificate from a different lab entity, it's best to shop elsewhere. 

3. Opt for Eye-Clean: Any diamond you consider should be eye-clean. What does that mean? No blemishes or inclusions should be noticeable to the naked eye. Evaluate a diamond by moving it away from the bright lights in the jewelry store. Can you see any imperfections? If you can, the diamond is not eye-clean. 

The eye-clean component is more important than the Clarity grading on the lab report. But you'll also want to look at the report to see what the grading is. Typically, VS1 and VS2 diamonds will be eye-clean. While you could pay more for a VVS1 or VVS2 diamond, you'll get the same eye-clean beauty with a much higher price tag. 
We have recently developed Ringo, a patented artificial intelligence model, that can examine videos of diamonds and determine if they are eye-clean. Ringo will also filter for other parameters like making sure the diamond is well-cut, doesn't have fluorescence issues and will match the style setting you choose. This tool can help you learn about eye-cleanliness and how to determine it.
Ringo

™

Approved Eye Clean Diamonds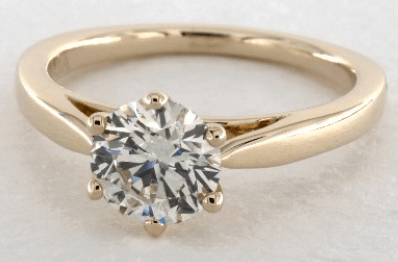 4. Study the Color: You want to end up with a diamond that appears white in relation to its setting. Look at the diamond to see if it contains any yellow or brown tinting. Most often, diamonds in the G-I range will appear colorless, but cost far less than a diamond in the D-F range. 

5. Slow Down: Shopping for a diamond should be exciting — but also wisely done. Feeling pressure from a salesperson or rushing a decision could cause you to end up with a diamond that's less than ideal. Take your time shopping. Compare what you see in the store to diamonds online. Ask for the help of an expert to ensure you're making a smart choice. 

Options for Buying a Diamond Online
Through our experience, we've found that buying a diamond online gives you the best selection and the best prices. Here we offer details on top-tier online vendors.
Blue Nile is the world's largest online diamond retailer. They offer high-quality diamonds and settings at competitive prices. The Blue Nile website provides a seamless shopping experience where you can tailor your jewelry to your style.
With Blue Nile, you'll receive exceptional customer service and a satisfaction guarantee. They're also fast: diamond rings usually arrive at your door within a week.
James Allen offers an extensive collection of diamonds and settings at competitive prices. The James Allen website features the best diamond imagery in the industry. You can view every diamond up-close before purchase. You'll also benefit from top-notch customer service and a lifetime warranty.  

Finding a Beautiful Engagement Ring
No matter where you shop — whether in Los Angeles' Diamond District or online — your ring should be stunning. Follow the steps to buying a diamond to choose a stone that offers plenty of brilliance. You can also use our 2 carat ring buying guide or contact our experts for help.
James Allen

James Allen is the leader in online diamond sales. Their imaging technology is the same as inspecting a diamond with a jeweler's loupe. They have the largest exclusive loose diamond inventory online and fantastic prices. They also have the nicest collection of lab created diamonds online. Now save 25% off settings AND 3% off Earth Diamonds during James Allen HUGE limited time sale!
What we love about them:
No questions asked returns within 30 days of shipment. James Allen will send you a paid shipping label to return the ring.
Lifetime Warranty
Free International Shipping
Free prong tightening, repolishing, rhodium plating and cleaning every 6 months
Provide insurance appraisals
One free resizing within 60 days of purchase
Free ring inscriptions
Best-in-class high quality imagery of all diamonds in stock
24/7 Customer Service
Best-in-class packaging

---
Blue Nile

Blue Nile is the largest and most well known internet jewelry seller. They have a very large exclusive online inventory. Their high quality images are catching up to James Allens' and their prices are amazing. Blue Nile have generously offered our readers an exclusive one-time use coupon.

(Click Here to save $100 off engagement ring settings)
What we love about them:
No questions asked returns within 30 days of shipment. Blue Nile will send you a paid shipping label to return the ring.
Lifetime Warranty
Free Shipping
Free prong tightening, repolishing, rhodium plating and cleaning every 6 months
Provide insurance appraisal
One free resizing within the first year of purchase
High quality images of about half of their diamonds
24/7 Customer Service
100% credit towards future upgrades (must be at least double in value)
Best in class fulfillment

---
Still afraid of getting ripped off?
Before you buy a diamond, get personal buying advice from industry veterans. We'll help you get the best diamond for the money.
Ask your diamond purchase question here
DISCLAIMER: We don't use your email for marketing. Period.