Diamond Pro is reader-supported. When you buy through links on our site, we may earn an affiliate commission. Learn More.
Deal Alert! 25% off James Allen settings
and
15% off Blue Nile settings!
Harry Winston Reviews: Great Service, Super High Prices
Overall Score:

3

Price:

1

Selection:

3

Customer Service:

5

Pros

Beautiful Jewelry
Brand name recognition
Superb customer experience

---

Cons
Other Recommended Retailers
Bottom Line Recommendation
Harry Winston's jewelry is beyond exquisite. There isn't a piece of jewelry that leaves their shop being less than awe-inspiring. That said, you can save tens of thousands (or hundreds of thousands) of dollars if you are more interested in getting a beautiful piece of jewelry and less on being able to say which company it came from.
For example, we have worked with Abe Mor Jewelers to help readers of ours create gorgeous diamond jewelry pieces from $30,000 to $2,000,000. The pieces they have created have matched the world leaders in refinement and quality. The diamonds have been exactingly cut and match the most rigorous parameters.
There is no question that if you buy a Harry Winston jewelry piece that it will be a show stopper. But when you are purchasing diamond engagement rings that are less than $500,000, its hard to see Harry Winston as being a place that offers good value.
A Force is Born
Harry Winston's name has been synonymous with luxury for longer than I've been around. Following his father's, Jacob, footsteps who opened a jewelry business when immigrated from Ukraine, Harry opened his own business in 1920 with his first store opening up in New York City in 1932.
The jewelry business was always in Harry Winston's blood. When he was twelve years old, Harry noticed a 2ct Emerald in a pawn shop and bought it for 25 cents. He quickly sold that gem for $800. His business really took root when he managed to acquire Arabella Huntington's jewelry collection for $1.2 million in 1926.
The Man, The Myth, The Legend
Harry Winston redesigned pieces for all the gems that were in the Huntington collection (mostly from major Parisian jewelers). From the start, his craftsmanship and eye for detail were easily recognizable. His stature grew steadily as he managed to acquire many notable diamonds. His first major acquisition was the Jonker diamond, a 726ct rough diamond.
The crown jewel in his collection was the Hope Diamond. The Hope Diamond is 45.52ct and has a storied past. The diamond has an incredible deep blue hue. Owned by various Kings and Sultans, bouncing around European royalty and others, Harry got his hands on it in 1947. Harry Winston owned it for about a decade before donating it to the Smithsonian who describes it as "the most famous diamond in the world."
Harry Winston's name is even mentioned in the song "Diamonds are a Girl's Best Friend" from the musical "Gentlemen Prefer Blondes."
The OG Jeweler to the Stars
Harry Winston was giving jewelry pieces to celebrities for the red carpet back before it was cool. Liz Taylor was often seen wearing a stunning jewelry designed by Harry Winston. The most iconic was her necklace that included the 69.42ct Taylor-Burton diamond that Harry cut himself.
Madonna rocked out on stage at the 1991 Academy Awards weighed down by $20 million of Harry Winston diamonds. J-Lo, Helen Mirren, Amal Clooney and Natalie Portman are just a few others that walked the red carpet wearing Harry Winston masterpieces.
A New Day
Following Harry Winston's death in 1978, there was a protracted legal battle over who would run the company. After many years his son Ronald, along with Fenway Partners, bought out his brother Bruce for $54.1 million.
They currently have 40 locations around the world, covering four continents. Their pieces can also be found in many high end boutique jewelers as well.
The Experience
I was recently in Houston meeting with some folks in the industry and decided to do a little secret shopping. One of them mentioned that Harry Winston recently opened up a shop in the Luxurious River Oaks District. I had a little free time, so I hopped in an uber and headed over there. I called ahead and was surprised that appointments weren't necessary.
Even from the outside, you can tell this is no ordinary shop. The building reeks elegance even from the outside. I was definitely self conscious of how I was dressed (my luggage was lost the day before and I was definitely not wearing my finest duds). I have done quite a bit of secret shopping and have found that some of the more upscale places tend to be a bit snooty if you come into the store "underdressed."
Upon entering, I can see that the inside was just as elegant as the outside. I was very impressed with the ambiance of the place. What also impressed, and surprised, me was their attitude. As I mentioned, many of the upscale places tend to look down on some people. I did not get that feeling at all. The people were downright friendly.
I sat with a sales consultant named Ahmpi. She was a gem to work with. She listened to what I was looking for and made a genuine effort to find the right rings for me. Her knowledge of diamonds and jewelry was also very apparent. Normally I have to bite my tongue as I listen to inaccurate facts about diamonds. Usually this isn't meant as deception from the jewelers, just that your typical shop assistant doesn't have the education or experience to really help you buy a diamond.
Ahmpi seemed quite knowledgeable. It was more about what she didn't say than what she did say. It was clear to me that she had the underlying knowledge and experience when she talked about what type of diamonds she recommends and why. I may not agree (for example, we don't agree with their feelings on color and clarity as we explain in our articles), but she knew what she was talking about and it was just a difference in opinion; something I respect.
The Product
I asked them to see some options for round diamond engagement rings in the $40,000 range. I was shown three choices. The first one was a beautiful halo ring with a 1.13ct F VVS1 from The One collection. The other two were solitaires. One was 1.54ct D VS1 and the last was 1.22ct E VVS1. The 1.22 was in the HW logo collection. All three diamonds were absolutely stunning. They brilliance was very noticeable and the craftsmanship on the rings were superb.
Most people actually buying at Harry Winston are probably looking at diamonds in the 5 carat range, but I'm guessing most of our readers here are looking to spend less than half a million dollars on a ring.
Ringo™ Approved Eye Clean Diamonds
Load More
The Comparison
Here is where the wheels start coming off the bus. I get that Harry Winston is a brand whose mere name adds value to the purchase. But I never thought that $40,000 wouldn't be enough to get in the door there. Technically they had something for me, but the value was ridiculous.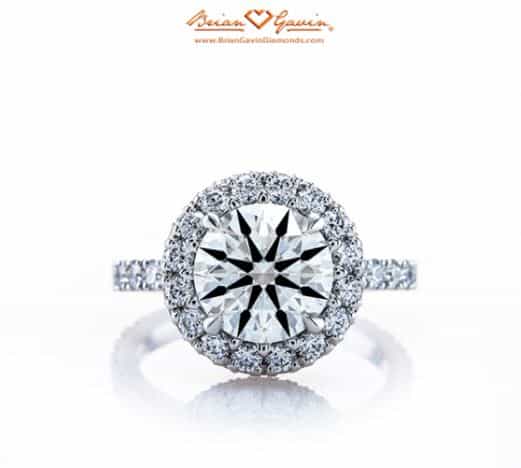 Let's start with the halo ring which cost $37,000. Let's get the obvious out of the way. Both the diamond and the ring were fantastic. The craftsmanship on the ring was superb and the diamond was very brilliant. But there is nothing particularly special about the setting they put it in. In fact, Brian Gavin Diamonds has a gorgeous halo setting that is very similar. As we explain in our BGD review, Brian Gavin cuts the most brilliant diamonds I have ever seen. So you can pair that ring with this stunning 1.17 F VS1 Black by Brian diamond and get a virtually identical looking ring for 55% cheaper.
Two points I should make. One is that we aren't talking about comparing higher quality to lower. Brian Gavin's craftsmanship and diamond quality are every bit as luxurious as that ring from Harry Winston was. Also, it's not just about saving money. It's about getting the best bang for your buck. You are sacrificing big time on what you can get.
Here is a stunning 2.07ct Black by Brian diamond from Brian Gavin. You can buy this diamond with the same setting and it still comes in cheaper than Harry Winston halo. That means you are sacrificing almost half the size for the Harry Winston name. That just doesn't add up to me.
Let's talk about the 1.54 D VS1 which cost $54,000. This was in a fairly straightforward setting that virtually every higher end jeweler has. You can go with this superb 1.53 D VS1 Black by Brian from Brian Gavin and it will cost you about half of what the Harry Winston ring will cost you.
The Value
There are two-tiers of Harry Winston customers. For anyone spending less than $1,000,000 on a ring, it just doesn't make sense. You end up sacrificing so much in terms of size, you'll end up with a ring that looks underwhelming.
For example, we had a reader who was looking at an engagement ring for $140,000 from Harry Winston. Eric from Abe Mor created a gorgeous ring with a diamond that was 1 carat larger than the one from HW for $85,000.
For those spending more than $1,000,000, you'll end up with a beautiful ring. But you are still paying an enormous premium for the brand name. You can get an even more intricate piece with even higher quality or larger diamonds in it for the same price. That's up to you to decide.
James Allen

James Allen is the leader in online diamond sales. Their imaging technology is the same as inspecting a diamond with a jeweler's loupe. They have the largest exclusive loose diamond inventory online and fantastic prices. They also have the nicest collection of lab created diamonds online. Save 10% off select Lab Grown Diamonds and 25% on setttings!
What we love about them:
No questions asked returns within 30 days of shipment. James Allen will send you a paid shipping label to return the ring.
Lifetime Warranty
Free International Shipping
Free prong tightening, repolishing, rhodium plating and cleaning every 6 months
Provide insurance appraisals
One free resizing within 60 days of purchase
Free ring inscriptions
Best-in-class high quality imagery of all diamonds in stock
24/7 Customer Service
Best-in-class packaging

---
Blue Nile

Blue Nile is the largest and most well known internet jewelry seller. They have a very large exclusive online inventory. Their high quality images are catching up to James Allens' and their prices are amazing. Blue Nile have generously offered our readers an exclusive one-time use coupon.

(Click Here to save $100 off engagement ring settings)
What we love about them:
No questions asked returns within 30 days of shipment. Blue Nile will send you a paid shipping label to return the ring.
Lifetime Warranty
Free Shipping
Free prong tightening, repolishing, rhodium plating and cleaning every 6 months
Provide insurance appraisal
One free resizing within the first year of purchase
High quality images of about half of their diamonds
24/7 Customer Service
100% credit towards future upgrades (must be at least double in value)
Best in class fulfillment

---
Still afraid of getting ripped off?
Before you buy a diamond, get personal buying advice from industry veterans. We'll help you get the best diamond for the money.
Ask your diamond purchase question here
DISCLAIMER: We don't use your email for marketing. Period.