We are reader-supported. Buying through links on our site may earn us commissions. Learn More.
Deal Alert! Huge James Allen Sale- 3% off Earth Diamonds AND 25% off settings or

15% off at Blue Nile!



How Much to Spend on a Wedding Ring
---
Somewhere in the planning process, you need to determine how much to spend on a wedding ring. As with every detail—from your venue to your flowers—you need to decide how much of your budget to spend. 
A large percentage of people go with a ring like this from Blue Nile which goes for under $200 (depending on the metal). But some people may drop 5 digits on a show stopper like this ring also from Blue Nile.
Review our guide to learn about the average cost of wedding rings and what to consider when buying a wedding ring. We'll also provide inspiration with the best wedding bands for various wedding ring price ranges.
Average Cost of Wedding Bands in 2019 – Male and Female
In 2019, the average wedding ring cost for males was $510 and the average cost of a female wedding band was $1,100. According to the Brides' American Wedding Study, wedding rings on average made up three percent of a couple's wedding budget. Engagement rings made up 14 percent of the wedding budget.
How much should a wedding ring cost?
Wedding ring prices range from $180 to $2,000 and higher. The cost of wedding rings depends on the precious metal, the setting design, the number of diamonds and where you buy the ring. For example, this classic 14K white gold ring from James Allen is $240 while this micro pave diamond ring also from James Allen costs $1,080.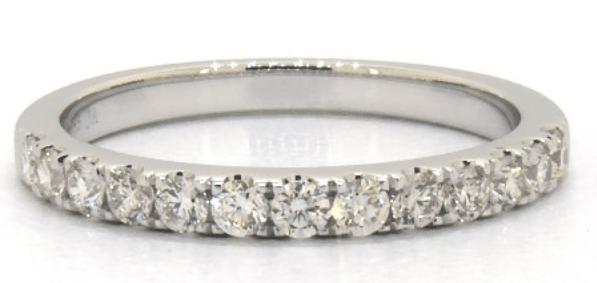 How much should you spend on a wedding ring?
How much you should spend on a wedding ring depends on a few factors, like your preferred setting style and wedding budget. Opt for a ring you'll love wearing for years and that's reasonable for your wallet. Here are 5 things to consider when buying a wedding band.
1. Rings that complement each other
Many couples want their rings coordinate so they look like a pair when side by side. For instance, you might both choose rose gold for your rings. Or you might opt for rings that feature similar designs, like this Princess Cut channel set for women from Blue Nile, and this one for men also from Blue Nile.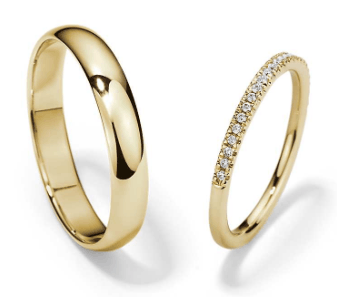 Blue Nile even offers couple rings that are designed to match each other.
Some couples, though, don't care about coordinating with their spouses. They might have a white gold ring and a yellow gold ring that aren't similar in design.
Talk with your spouse-to-be to determine if you want your rings to complement one another. This will help with choosing styles and determining the cost of your wedding rings.

2. Wedding bands that match the engagement ring
Because an engagement ring is usually picked out first, it's important to find a wedding band that matches. For females, the cost of a wedding ring can be as high as $2,000 or more. Finding a wedding band that coordinates is time and money well-spent. 
For example, if your engagement ring is white gold, your band should be white gold as well. Consider the thickness of your band and ensure it doesn't overpower your engagement ring. Choose a simple band without diamonds or include diamonds to add more brilliance. You can use tools like Blue Nile's Wedding Ring Matcher to pair your engagement ring with the right wedding band.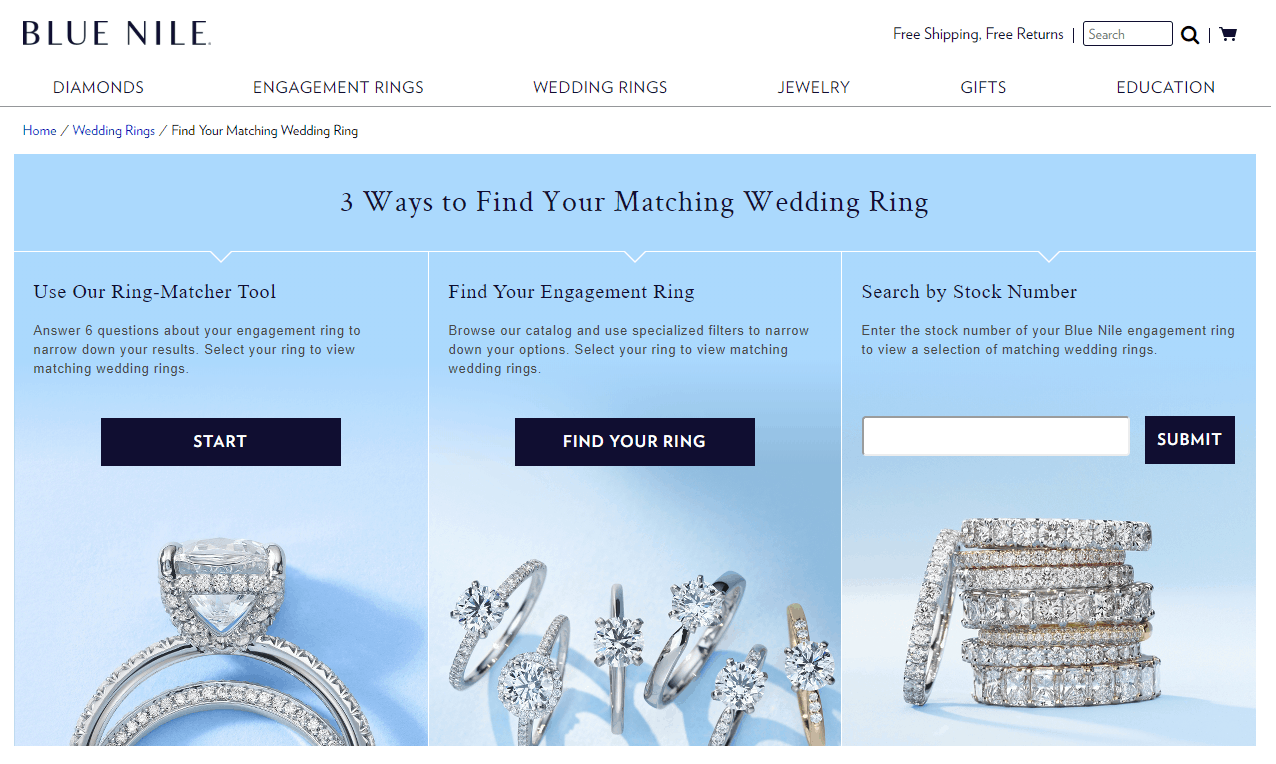 Some people keep their engagement and wedding rings separate, while others solder the two together. The choice depends on your personal preference and how the rings fit together. Soldering them might prevent the rings from spinning and getting out of sync with one another.
You can also match his and hers wedding band. Check out our guide on how to do that in this link.
Round Cut Engagement Rings for Inspiration (Click a Ring for More Information)
Load More
3. Durability
Your wedding ring will be worn every day, so be sure it holds up. 14K and 18K gold and platinum are popular precious metals for wedding rings. 14K gold is the most durable and the least expensive. 18K gold has a higher percentage of gold in its mixture and is more like to scratch, but is still durable enough for everyday wear. Platinum is the most expensive option and is more durable than gold but also requires more maintenance.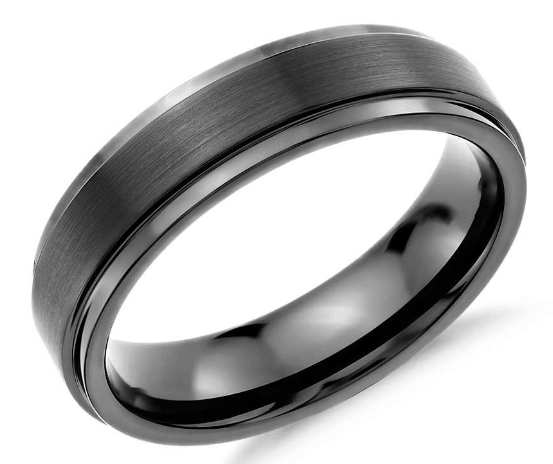 Titanium and tungsten carbide are popular for men's wedding bands. Tungsten carbide is extremely durable and scratch-resistant. Titanium is very durable, but still can be scratched like gold or platinum. Both titanium and tungsten carbide are in line with gold wedding ring prices and are sometimes even cheaper than gold. See more about wedding ring metals in our guide.
All wedding rings need proper care, like regular cleaning and polishing.
4. Style
How your ring looks and feels to you is the most important element. If you're into classic styles, you might want a petite milgrain ring like this one from Blue Nile. If you want something unique, you might opt for a twist micropavé wedding band like this one also from Blue Nile. Your wedding ring symbolizes your love and commitment to one another. It also showcases your personal style.
The most popular wedding band material for women is white gold and tungsten for men.
Our guide to Men's Wedding Bands will help you pick the right one.
5. Your overall wedding budget
How much to spend on a wedding ring depends on your wedding budget. There isn't a wedding ring cost rule. On average, couples spend three percent of their budget on wedding rings. For example, if your wedding costs $25,000, three percent would be $750.
You might decide you want to spend five percent of your budget on rings, and a little less on dessert or music. Each couple has to decide how to breakdown their wedding budget. Discuss with your fiancé how much of your budget you'd like to put toward rings. Find an amount you both feel comfortable with.
Best Wedding Bands – Female
The best wedding bands for women range from simple bands to decorative diamond-studded rings. Here are the top wedding band designs for each wedding ring price range.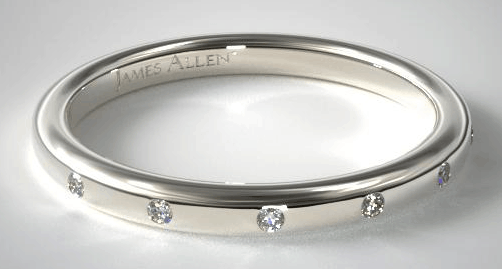 $500 or less
$500-$750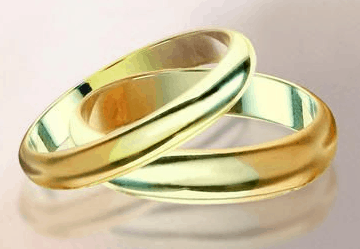 $750-$1,000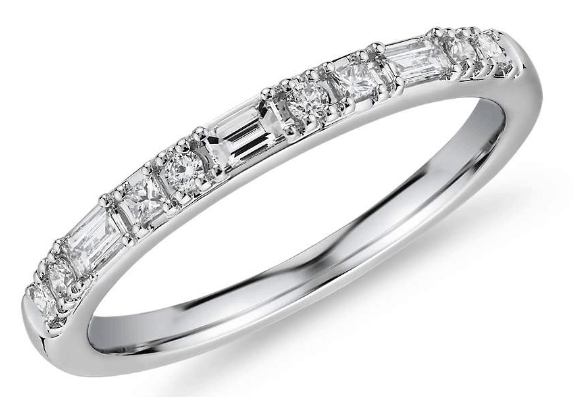 $1,000+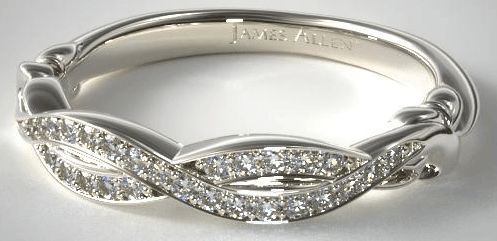 Best Wedding Bands – Male
The best wedding bands for men include those made of tungsten carbide and white gold. No matter your budget, you can find vintage designs and modern styles. Check out these top choices for men divided by wedding ring prices.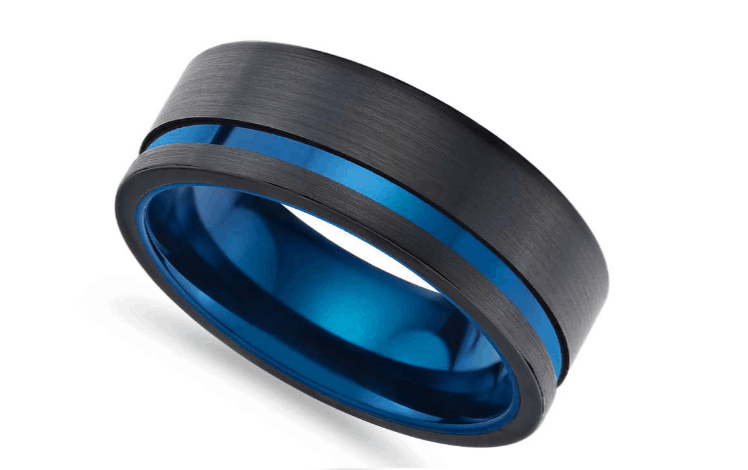 $400 or less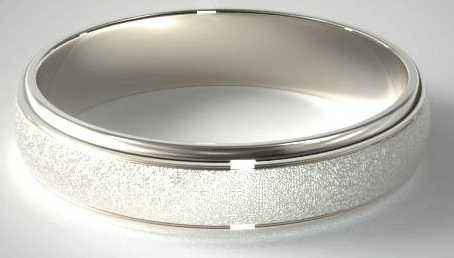 $400-$800
$800-$1,200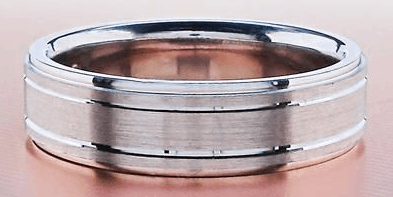 $1,200+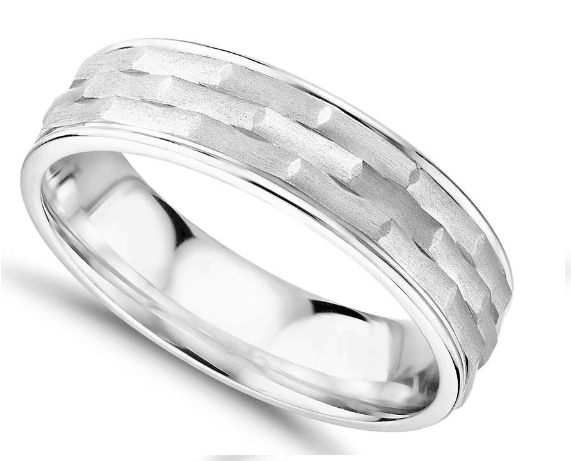 For help in selecting wedding bands, reach out to our experts.
James Allen

James Allen is the leader in online diamond sales. Their imaging technology is the same as inspecting a diamond with a jeweler's loupe. They have the largest exclusive loose diamond inventory online and fantastic prices. They also have the nicest collection of lab created diamonds online. Now save 25% off settings AND 3% off Earth Diamonds during James Allen HUGE limited time sale!
What we love about them:
No questions asked returns within 30 days of shipment. James Allen will send you a paid shipping label to return the ring.
Lifetime Warranty
Free International Shipping
Free prong tightening, repolishing, rhodium plating and cleaning every 6 months
Provide insurance appraisals
One free resizing within 60 days of purchase
Free ring inscriptions
Best-in-class high quality imagery of all diamonds in stock
24/7 Customer Service
Best-in-class packaging

---
Blue Nile

Blue Nile is the largest and most well known internet jewelry seller. They have a very large exclusive online inventory. Their high quality images are catching up to James Allens' and their prices are amazing. Blue Nile have generously offered our readers an exclusive one-time use coupon.

(Click Here to save $100 off engagement ring settings)
What we love about them:
No questions asked returns within 30 days of shipment. Blue Nile will send you a paid shipping label to return the ring.
Lifetime Warranty
Free Shipping
Free prong tightening, repolishing, rhodium plating and cleaning every 6 months
Provide insurance appraisal
One free resizing within the first year of purchase
High quality images of about half of their diamonds
24/7 Customer Service
100% credit towards future upgrades (must be at least double in value)
Best in class fulfillment

---
Still afraid of getting ripped off?
Before you buy a diamond, get personal buying advice from industry veterans. We'll help you get the best diamond for the money.
Ask your diamond purchase question here
DISCLAIMER: We don't use your email for marketing. Period.