We are reader-supported. Buying through links on our site may earn us commissions. Learn More.
Deal Alert! Huge James Allen Sale- 3% off Earth Diamonds AND 25% off settings or

15% off at Blue Nile!



How to Properly Care for Your Engagement Ring
Bottom Line Recommendation:
Taking proper care of your engagement ring will increase its lifespan and preserve its beauty. As diamond experts, we recommend cleaning your ring four times a year and having the setting checked for stability twice a year. When storing your ring (like during overseas travel), make sure it's in a secure place. 
We also recommend insuring your ring for its full replacement value. Consider purchasing your engagement ring from a vendor that offers a lifetime warranty like Blue Nile or James Allen. Follow all of our recommendations below for caring for your engagement ring and protecting your investment.
Your engagement ring is undoubtedly one of your most prized possessions. The combination of the sentimental value and the monetary value make it truly precious—and definitely worth protecting.
Taking care of your engagement ring is critical to maintaining its beauty and longevity. Proper maintenance also helps ensure you won't lose your diamond or gemstone due to a weakened prong. Diamonds are durable materials, but they aren't invincible. Follow our expert guide below to make sure you take proper care of your engagement ring at all times.
Your Engagement Ring: Care Recommendations
Caring for your engagement ring isn't rocket science, but it is important. Follow these expert recommendations to keep your diamond ring both stable and brilliant.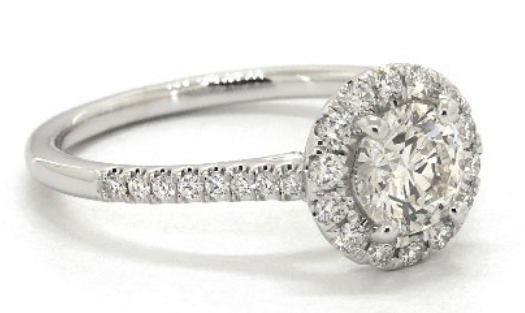 Have your ring checked professionally twice a year.
Everyday wear can cause your prongs to loosen or bend. Prevent any stones from accidentally falling out by ensuring the prongs are securely holding your diamond. Almost every jeweler will do this check for free, even if you didn't buy your ring at their store.
Clean your ring four times a year.
Dirt, oil and residue can lodge itself into your diamond. If you don't clean it regularly, your ring will end up looking dull instead of brilliant. Even the slightest film can alter how light reflects off of the diamond. To keep your diamond shining brightly, you'll want to clean your engagement ring several times a year.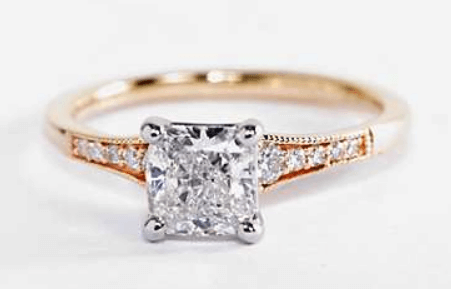 You can have your ring cleaned at a jeweler's (usually for free) or send it in to online jeweler like Blue Nile or James Allen. Stores also sell jewelry cleaners, such as this Dazzle sticks for diamonds from Amazon. You can also clean your engagement ring easily at home by the following these steps.
Step 1: Fill a small bowl with lukewarm water, then add one full drop of dish detergent. Stir the water and dish detergent with a spoon. Do not use chlorine-based cleaner as it may react chemically with the precious metal of your ring.
Step 2: Place your ring in the soapy water for 10 minutes to break down grim and oil.
Step 3: Remove your ring and clean it with a soft bristle brush.  Gently brush each side, especially the edges and the back of the ring.
Step 4: Set your ring back in the bowl of water and detergent. Continue brushing the ring to wash off any loosened dirt and grim.
Step 5: Rinse your engagement ring with clean running water. Remember to plug the drain!
Step 6: Use a lint-free cloth or hair dryer to dry your ring. If you let it air dry instead, you may notice water stains on your diamond.
Keep in mind: Avoid using bleach and other abrasive chemicals when cleaning your jewelry. You could damage the metal and your ring's finish. If you're not confident in cleaning the ring yourself, just stop into a jeweler's. It only takes a few minutes for a cleaning.
Another cleaning jewelry kit you could use is this one from Amazon.
Give your metal setting a refresh every few years.
Depending on the type of precious metal of your ring, you'll want to follow the care instructions to ensure it stays shiny and in great shape. Over time, every type of metal will tarnish due to oxygen and moisture coming into contact with your ring.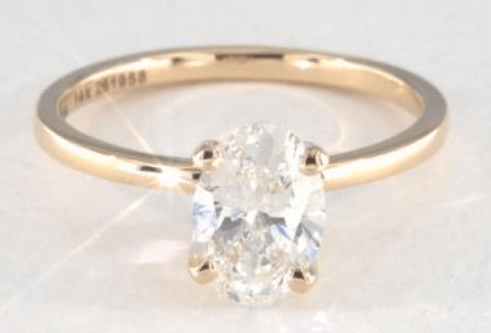 Platinum and yellow gold require polishing every couple of years to maintain its smooth surface and shine.
White gold needs to be dipped every few years to replace the rhodium plating and to retain its color and luster. This process is inexpensive and many jewelers even offer the service for free.
Choose a ring with a warranty.
Reputable diamond vendors will usually offer a warranty for their jewelry products. Blue Nile's lifetime warranty, for example, offers repair and replacement for any manufacturer defects for the life of the ring. James Allen also provides a lifetime manufacturer warranty along with free prong tightening, re-polishing, cleaning services and rhodium plating.
By choosing a reputable vendor, you can have peace of mind knowing that you'll receive care for your ring even years later.
Store your engagement ring safely.
If you're not wearing your ring everyday, or decide to leave it behind when you go vacation, be sure you have a safe spot for your ring.
Choose a fabric-lined jewelry box with dividers, so your ring won't rub against your other jewelry. Consider placing the jewelry case in a lock box or a fireproof safe for extra security.
Avoid having your ring resized more than once.
During different life stages, like pregnancy and postpartum, hands tend to swell and change sizes. Rather than continually resizing your ring, store it away in a safe place until it fits again. While you can always resize a ring, having it adjusted often can make the metal more fragile and subject to long term damage.
Remove your ring during hands-on activities.
Take off your engagement ring during hand-heavy activities like moving furniture, gardening, lifting weights and doing manual labor. You may also want to remove your ring when you swim, kayak or paddle board. You'll not only increase the longevity of your ring, but you'll reduce the chances of it getting lost.
We also recommend keeping a ring dish near your kitchen sink so you can remove your ring before you wash dishes. By taking off your ring, you're limiting its exposure to harsh chemicals and knocking it against hard surfaces. The less wear and tear on your ring, the better.
While it may be tempting to remove your ring while washing your hands in a public restroom, it could slide down the drain or you might forget it altogether.
Try to refrain from taking off your ring in public places. Plan in advance for workouts or manual activity by storing your ring safely at home before the day begins.
Insuring Your Engagement Ring
Your engagement ring's sentimental value can't be replaced. But you can be eligible for the full financial investment should your ring ever be lost, stolen or damaged.
Have your ring appraised by a credentialed appraiser and then insure it for its full replacement value. Review a couple of insurance plan options before settling on the one that's best for you (and gives you the most value for what you're paying).
Because the cost of diamonds and metals tend to rise over time, have your ring appraised every five years. With an appraisal that's a decade old or more, the value will likely be far less than what it's currently worth.
If you'd like help with appraising a ring or finding a diamond that's truly brilliant, contact our experts today.
James Allen

James Allen is the leader in online diamond sales. Their imaging technology is the same as inspecting a diamond with a jeweler's loupe. They have the largest exclusive loose diamond inventory online and fantastic prices. They also have the nicest collection of lab created diamonds online. Now save 25% off settings AND 3% off Earth Diamonds during James Allen HUGE limited time sale!
What we love about them:
No questions asked returns within 30 days of shipment. James Allen will send you a paid shipping label to return the ring.
Lifetime Warranty
Free International Shipping
Free prong tightening, repolishing, rhodium plating and cleaning every 6 months
Provide insurance appraisals
One free resizing within 60 days of purchase
Free ring inscriptions
Best-in-class high quality imagery of all diamonds in stock
24/7 Customer Service
Best-in-class packaging

---
Blue Nile

Blue Nile is the largest and most well known internet jewelry seller. They have a very large exclusive online inventory. Their high quality images are catching up to James Allens' and their prices are amazing. Blue Nile have generously offered our readers an exclusive one-time use coupon.

(Click Here to save $100 off engagement ring settings)
What we love about them:
No questions asked returns within 30 days of shipment. Blue Nile will send you a paid shipping label to return the ring.
Lifetime Warranty
Free Shipping
Free prong tightening, repolishing, rhodium plating and cleaning every 6 months
Provide insurance appraisal
One free resizing within the first year of purchase
High quality images of about half of their diamonds
24/7 Customer Service
100% credit towards future upgrades (must be at least double in value)
Best in class fulfillment

---
Still afraid of getting ripped off?
Before you buy a diamond, get personal buying advice from industry veterans. We'll help you get the best diamond for the money.
Ask your diamond purchase question here
DISCLAIMER: We don't use your email for marketing. Period.