We are reader-supported. Buying through links on our site may earn us commissions. Learn More.
Deal Alert! Huge James Allen Sale- 3% off Earth Diamonds AND 25% off settings or

15% off at Blue Nile!



Best Men's Wedding Bands to Buy in 2022
While most time, effort and money is devoted to picking out the perfect engagement ring, wedding rings are just as important, and perhaps even more symbolic. The exchange of wedding bands between spouses is one of the most meaningful parts of the wedding ceremony, and the ring should remain a symbol of both parties' love and devotion for a lifetime.
In particular, wedding rings for men are often forgotten when talking about wedding jewelry. 
Men's wedding bands can come in a range of different styles. They can be simple and subdued, or stylish and flashy. They can also be made from a variety of materials, from precious metals like gold or platinum, to more affordable metals such as titanium or tungsten.
The classic image of a man's wedding band is a plain, no-fuss gold or silver colored ring. But today, it's not uncommon to see men's wedding rings decked out with diamonds, or other modern designs. There are high-quality options available to suit any taste or style preferences.
Read on and we'll help you pick out the ideal men's wedding band in 2022.
Here are the Best Wedding Bands You Can Buy in 2022
There are many factors that go into the buying decision for men's wedding rings. Each man has different preferences, and different lifestyles, which should be considered when picking out a ring.
Material is usually one of the first choices you have to make. Some materials match the groom's skin tone and dressing style better than others. Then there are some materials that are more durable, and better suited for a man with a more active lifestyle.
Many couples also want their rings to match, in which case you should pick out a metal that matches that of the bride's engagement ring.
We've divided the men's wedding bands into different metal categories so you can quickly find the best choice based on your metal preference. You can learn more about differences and benefits of various metal types in this guide to the best metals for wedding rings and engagement rings.
1. Best Gold Men's Wedding Bands
Gold is a classic and timeless choice for engagement rings, wedding bands, and indeed all types of jewelry. Gold is versatile, easily maintained, and carries an allure that is matched by few other precious metals.
Gold wedding bands can come in three different shades of gold – yellow gold, white gold and rose gold. Each type of gold has its own unique appeal, that will stand out more or less for different people.
Here are our top rated men's wedding bands in yellow gold, white gold and rose gold: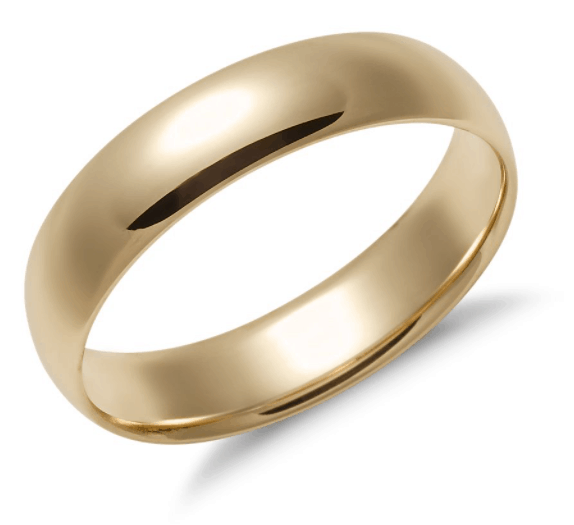 This simple, classic wedding band delivers a timeless look in polished yellow gold. The ring features curved edges for comfort, making it easy to slide on and off, and a mid-weight style that is lightweight, slightly lighter than the classic comfort fit.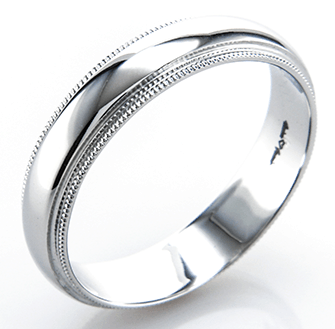 This ring delivers a little more flair in a wedding band, with the dotted milgrain design lining the edges of the ring, while the center of the band features an elegant, shiny finish.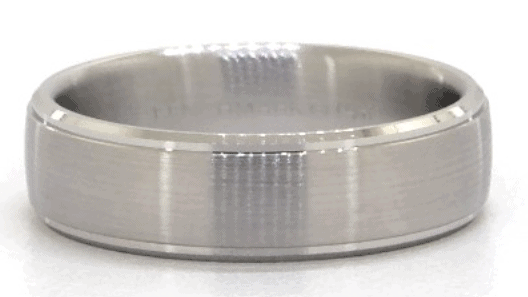 This is an ideal ring for those who want something with a little personality, but not too flashy, with polished edges and a muted satin finish on the center of the band.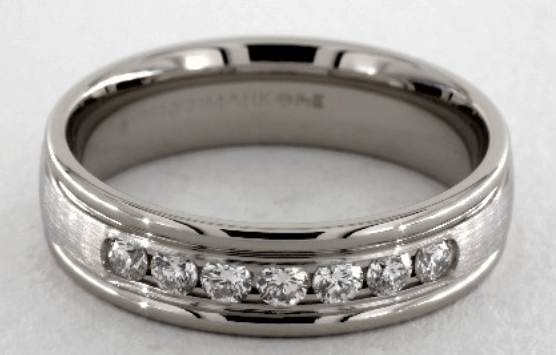 A diamond wedding ring is perfect for men who want to show off with a little more flair and style. This ring features 7 small channel set round diamonds with a total weight of 0.42ct. The rest of the ring is a beautiful contrast of strong, round, polished edges bordering a satin finish.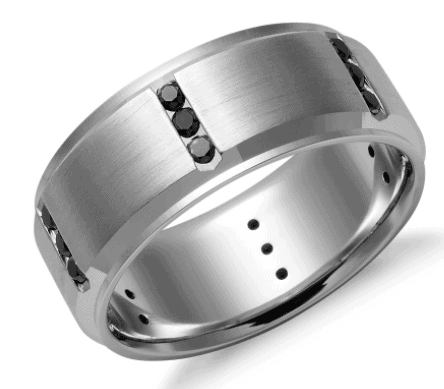 Stunning black diamonds give this ring an appeal like few others. 6 vertical rows of 3 black diamonds each makes a total of 18 diamonds and 0.47ct, which contrasts beautifully with a white gold satin finish. A stylish design for men who want something a little different.
2. Best Platinum Men's Wedding Bands
Platinum is a rare, valuable metal, often used for jewelry like wedding rings and engagement rings. Its value comes from durability, beauty and rarity. Platinum is a strong, heavy-duty material that is more durable than white gold. At the same time, the natural color and sheen of platinum gives it an elegant and luxurious appearance.
Here are the top men's wedding bands in platinum: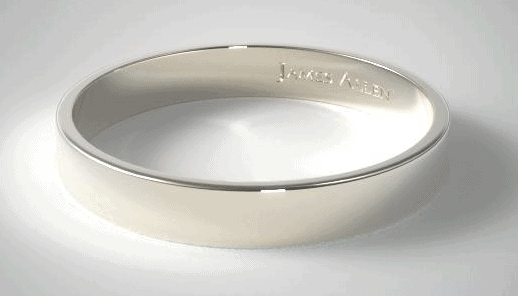 The beauty and durability of platinum lends itself perfectly to a classic, simple ring. The natural shine of platinum is brought to the fore, while platinum's resistance to scratches means your ring will stay clean and unblemished.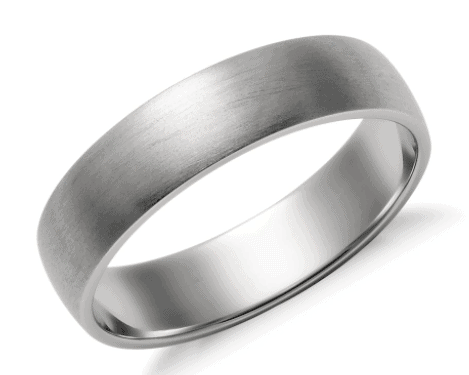 For a classic look with a lower profile, a matte finish like this is perfect. It gives a look that is classy, elegant, but does not stand out more than necessary.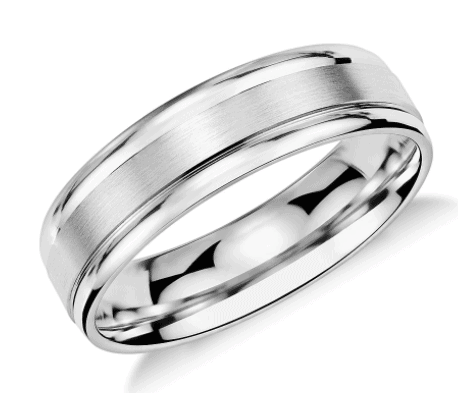 This design offers a little more style, while retaining subtlety and class. The center band is a smooth, brushed finish, contrasting beautifully with the polished outer edges.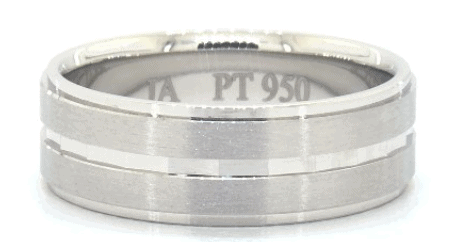 This ring again plays on contrasts, with two bands of satin finish, alternating with grooves of high-polish platinum. This allows it to reflect light and shine in a unique and alluring manner.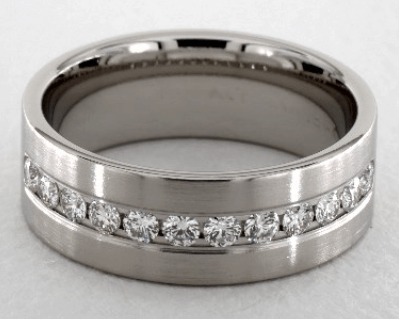 For a little more flair, go with this wide 8mm comfort-fit band, which rocks 12 channel-set diamonds totaling 0.96 carats. The satin finish directs all the attention to the diamonds, allowing them to shine even brighter.
3. Best Titanium Men's Wedding Bands
Titanium offers a more affordable alternative to classic precious metals like gold and platinum. It can give a shiny polished appearance, or a brushed matte finish, with equally stylish results. Titanium's more masculine appearance lends itself well to men's jewelry, as does its durability. Titanium rings are perfect for a spouse-to-be with an active and hands-on lifestyle.
Here are some of the best options for titanium wedding bands: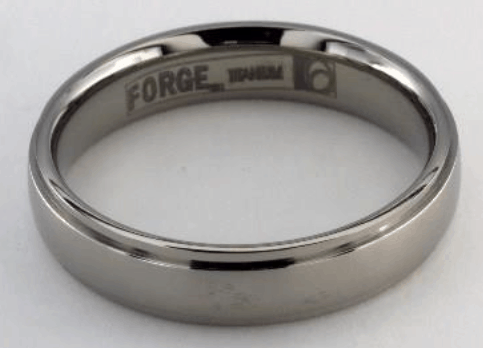 This comfort fit titanium ring prioritizes making it easy to wear and slide on and off regularly, with stepped edges making it stand out just enough.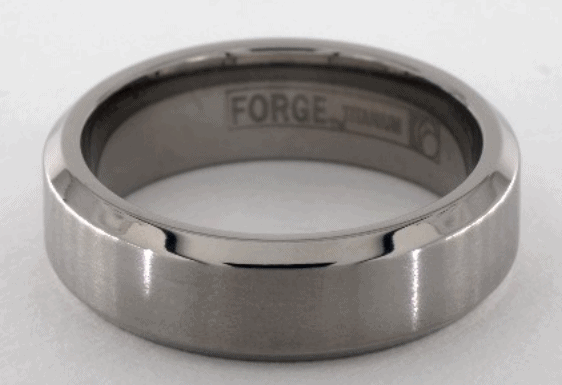 At 7mm, this titanium band is a little bulkier, while maintaining a focus on comfort and wearability. The shiny beveled edges and satin finish of the main band contrast well to give it again a subtle, but stylish appearance.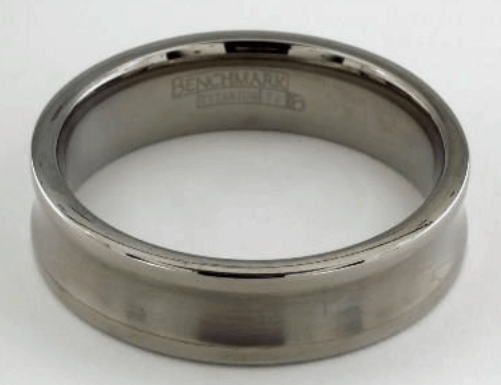 This ring features a concave design that makes it stand out in a different way, with a more masculine appearance to fit the wearer's style.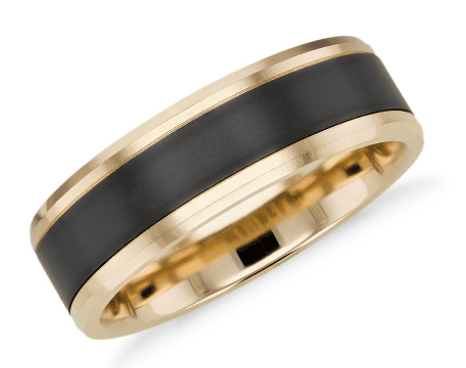 This ring showcases titanium as used in a more stylish and elegant setting. Satin-finished black titanium is a great balance with either white or yellow gold on the edges, giving this ring an interesting and contemporary look.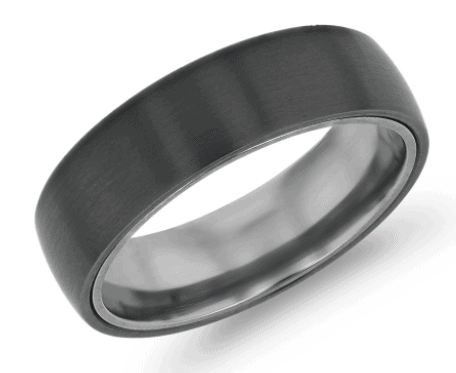 This is a classy, yet practical take on the classic wedding band design. The outer is sleek, durable black titanium, while the inner is made from strong and comfortable tantalum.
4. Best Tungsten Carbide Men's Wedding Bands
Tungsten carbide (tungsten, bonded with various other metals such as titanium, carbon and nickel) is, like titanium, a durable metal that wears well and is resistant to scratches. It fits well for men with an active lifestyle, who are after something practical and affordable, more understated than a flash gold or platinum ring.
Check out some of the top tungsten carbide wedding bands for men: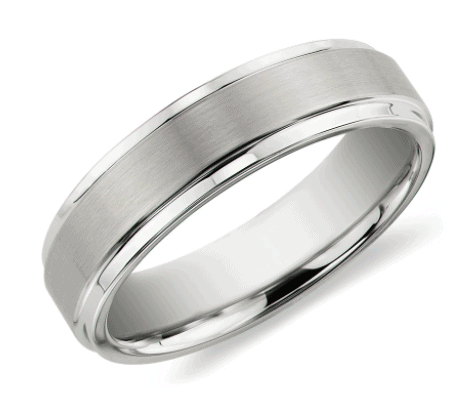 This ring has the comfort and affordability of tungsten carbide, with the subtlest hint of style in the contrasting polished edges and brushed inner band.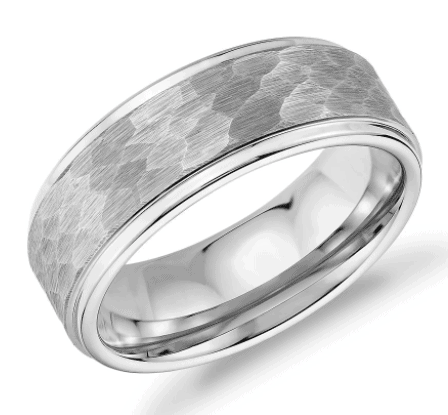 This ring again features polished rounded edges for comfort and wearability, but offers a unique look with the hammered satin finish along the middle of the ring's exterior. The result is a rustic, rugged appearance.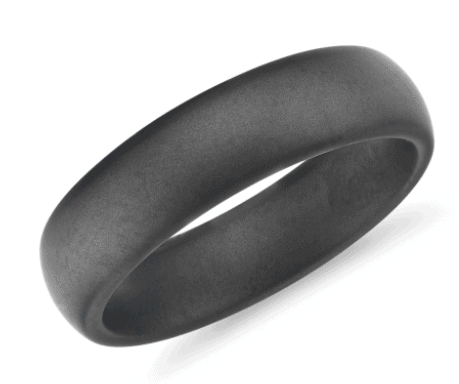 The classic plain comfort fit works great with a tungsten carbide ring. The style of this ring is described as "industrial and masculine", with its matte grey finish. The priority is comfort and wearability, yet the look is subtle but classic.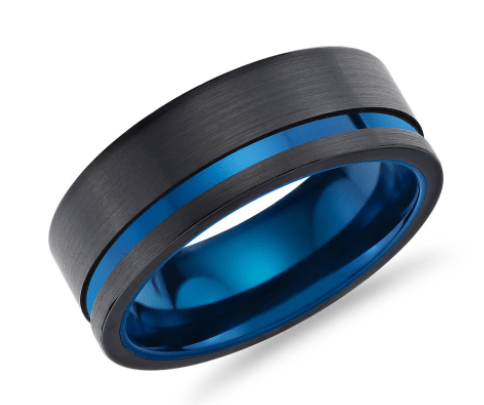 For a more modern, stylish take on the man's wedding ring, consider this tungsten ring. Black tungsten carbide is contrasted with a blue inlay and a stripe off-center, to give a truly different and unique look.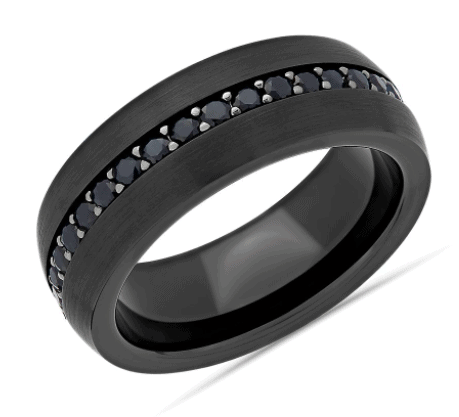 This mixes the durability, affordability and comfort of tungsten carbide with a touch of style, in deep blue sapphires channel-set in an eternity pattern through the center of the band. A truly mesmerizing take on the male wedding ring.
5. Best Cobalt Men's Wedding Bands
Cobalt is hard, scratch-resistant and affordable, making it a nice alternative to more expensive metals for wedding rings. It has a similar look to white gold, at a fraction of the price, so fits for those with a more practical taste and needs.
Here are some of the best wedding bands for men in cobalt: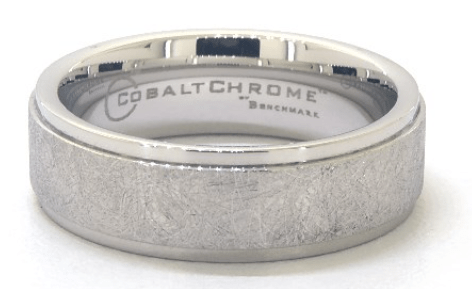 This swirl finish ring has an old rustic charm. It's a thick 7mm, with rounded drop edges that add to its comfort and wearability.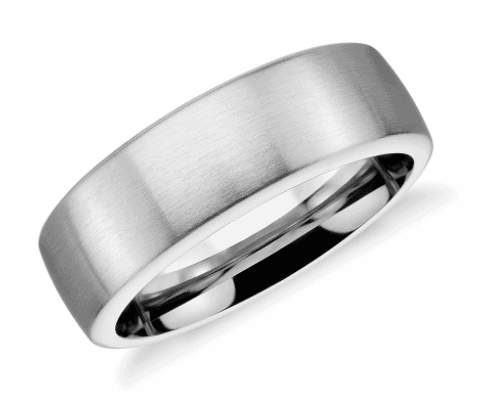 This ring features a brushed matte finish, resulting in a modern look, simple yet elegant, stylish yet masculine.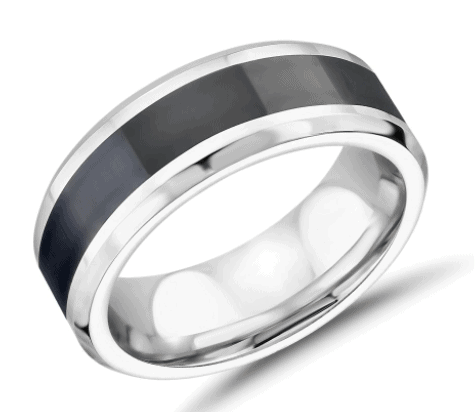 This is a nice combination of the practicality and comfort of cobalt, with a touch of style from the black ceramic center band. It works for those who want an affordable yet modern and stylish ring.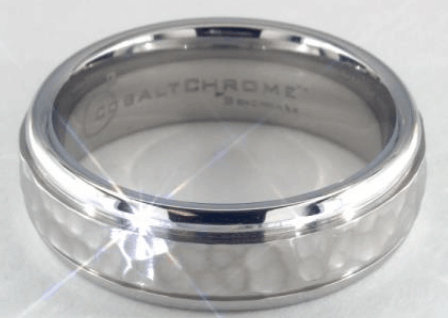 The cobalt comfort fit design of this ring combines beautifully with the hammered finish inner band, which offers a unique vintage style.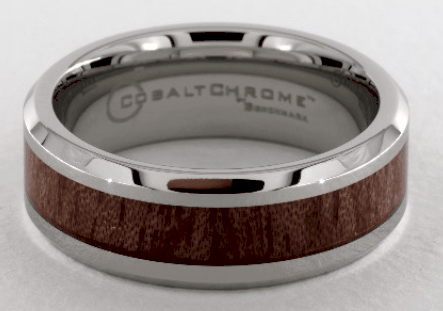 The unconventional wood grain pattern of this ring suits a man whose tastes call for something masculine, sleek but more understated than some of the more classic precious metals used for jewelry.
6. Best Palladium Men's Wedding Bands
Palladium is a metal very similar to platinum in its appearance. It has the same silvery-white color, and is extremely strong and durable. Palladium is quite rare, and thus rings made from it tend to be a little more expensive, and offer a slimmer selection.
Brian Gavin Diamonds is one of the best places to find rare palladium wedding bands for men. They carry a large range of rare wedding rings, including designs from high-end jewelry designers like Furrer Jacot and Sholdt.
Here are some options if you're looking for a palladium wedding band: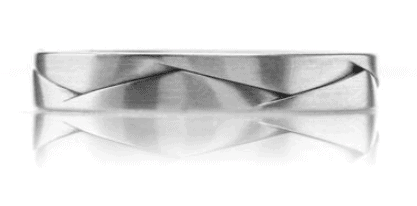 The Folds wedding band by Furrer Jacot is a contemporary take on the classic wedding band with a simple "modern art" design.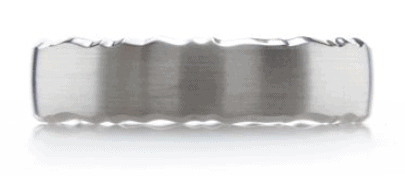 The Furrer Jacot Serrated ring takes a classic brushed design, and spices it up with an uneven serrated design on the edges, for a truly unique look.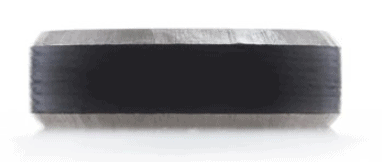 This design goes for more of an elegant style, with sloped outer edges with a brushed finish, and a black carbon fiber inner band. The result is a clean look, masculine yet stylish.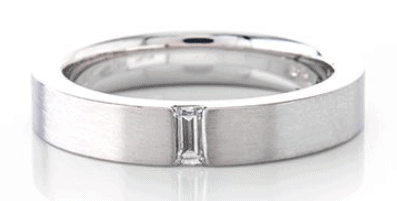 From the Brian Gavin Signature collection, this flat wedding band in brushed palladium features a single 0.17ct baguette diamond to add the smallest bit of flair.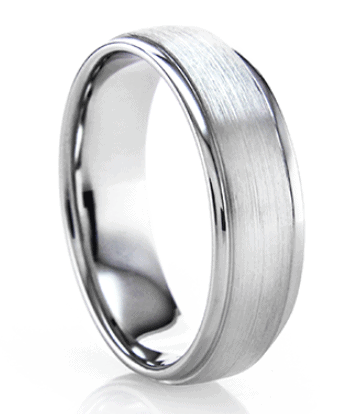 This is a simpler, classic look, with the contrast of a satin finish inner band and rounded, shiny edges that allow palladium's natural beauty to be shown off in full glory.
7. Best Tantalum Men's Wedding Bands
One more metal that's begging to see use in men's wedding bands is tantalum. Tantalum is a nice mid-range option as a material for wedding bands. Not as expensive as platinum or palladium, it is a higher quality choice than titanium or tungsten carbide.
Tantalum is durable, scratch-resistant and malleable, making it a very practical material. Its dark hue gives it a rustic, masculine appearance, making it perfect for men's wedding rings.
Check out some of the best tantalum wedding bands for men: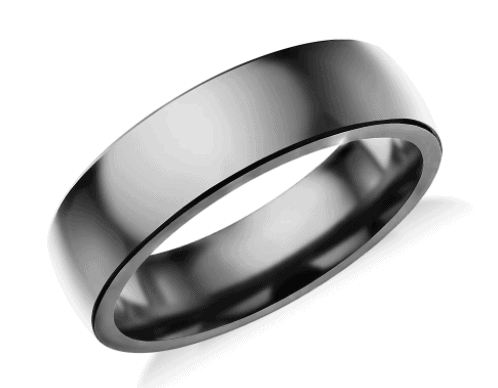 Tantalum works beautifully here with the classic high polish comfort fit design. It's a simple and timeless look, made a little more elegant and unique with tantalum's trademark dark grey color.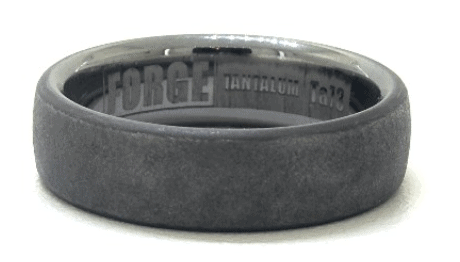 The swirl fiberglass finish goes great with tantalum's natural color, making for a simple, rustic, masculine design.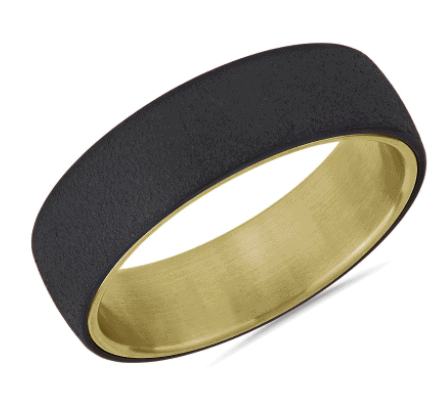 This design uses sharp contrast to mix bold, dark black tantalum with 14K yellow gold on the interior for a simple, yet stunning ring.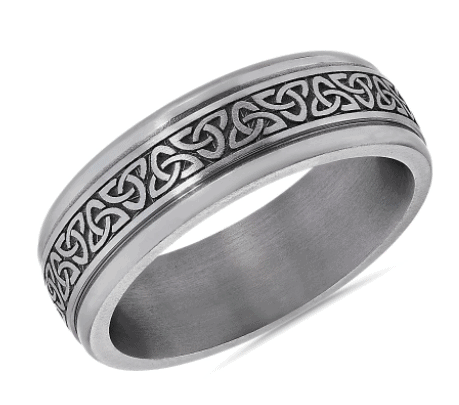 Tantalum's rustic appeal and rugged durability is perfect for this ring, which displays a traditional Celtic knot pattern all around the band.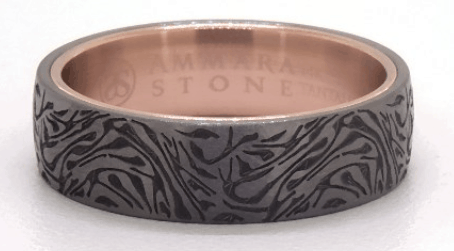 This again plays on the rustic, natural appeal of tantalum with a mokume pattern on the ring's exterior, and a contrasting rose gold interior, for a truly artistic design.
Best Wedding Rings and Wedding Bands for Men – Final Thoughts
While many consider shopping for men's wedding bands easier than shopping for a diamond engagement ring, it's not always the case. It can actually be quite difficult if your partner does not often wear jewelry.
Luckily there is a large range of different styles, metals and designs to choose from today with men's wedding rings. From elegant and stylish rings in gold or platinum, to affordable, durable and practical titanium and tungsten carbide, there is an option to suit just about any man.
Browse our recommendations above to get an idea of what options are presented to you, and pick out the perfect symbol for you and your spouse-to-be's love.
James Allen

James Allen is the leader in online diamond sales. Their imaging technology is the same as inspecting a diamond with a jeweler's loupe. They have the largest exclusive loose diamond inventory online and fantastic prices. They also have the nicest collection of lab created diamonds online. Now save 25% off settings AND 3% off Earth Diamonds during James Allen HUGE limited time sale!
What we love about them:
No questions asked returns within 30 days of shipment. James Allen will send you a paid shipping label to return the ring.
Lifetime Warranty
Free International Shipping
Free prong tightening, repolishing, rhodium plating and cleaning every 6 months
Provide insurance appraisals
One free resizing within 60 days of purchase
Free ring inscriptions
Best-in-class high quality imagery of all diamonds in stock
24/7 Customer Service
Best-in-class packaging

---
Blue Nile

Blue Nile is the largest and most well known internet jewelry seller. They have a very large exclusive online inventory. Their high quality images are catching up to James Allens' and their prices are amazing. Blue Nile have generously offered our readers an exclusive one-time use coupon.

(Click Here to save $100 off engagement ring settings)
What we love about them:
No questions asked returns within 30 days of shipment. Blue Nile will send you a paid shipping label to return the ring.
Lifetime Warranty
Free Shipping
Free prong tightening, repolishing, rhodium plating and cleaning every 6 months
Provide insurance appraisal
One free resizing within the first year of purchase
High quality images of about half of their diamonds
24/7 Customer Service
100% credit towards future upgrades (must be at least double in value)
Best in class fulfillment

---
Still afraid of getting ripped off?
Before you buy a diamond, get personal buying advice from industry veterans. We'll help you get the best diamond for the money.
Ask your diamond purchase question here
DISCLAIMER: We don't use your email for marketing. Period.