This post contains references to products from one or more of our affiliates. We may receive compensation when you click on links to those products. Learn More.
Engagement vs. Wedding Rings: Here's What You Should Know
Scared of getting ripped off? Don't want to waste your money? Confused by all the choices? Contact us. Blue Nile is one of our favorite vendors and they have generously offered our readers an exclusive one-time use coupon.

(Click Here to get $50 off)
Bottom Line Recommendation: Both engagement rings and wedding rings carry significant meaning. Choosing rings that match your unique style and taste allows you to own jewelry you'll want to wear for a lifetime. Decide on a matching set like this French pavé diamond eternity ring in 14k white gold or select a stunning engagement ring like this Round Cut diamond in 18K yellow gold and pair it with a wedding ring later.
Engagement Ring VS. Wedding Ring
Since ancient Egyptian times, engagement rings have been regarded as a symbol of love and commitment. Their first rings were crafted out of plants growing along the Nile River. The ancient Romans were the first to place the engagement ring on the left ring finger, believing it directly connected to the heart.
In 1477, Archduke Maximillian presented the first recorded diamond engagement ring to his beloved Mary of Burgundy. Before this event, engagement rings consisted mostly of plain metal bands or less expensive gemstones. Maximillian's diamond ring sparked a trend in Europe and across the world. During these earlier centuries, diamond engagement rings represented who the woman was committed to—it showcased the social and financial status of the man she was marrying.
The ring, which is in the form of a circle, is a sacred symbol. With no beginning and end, the circular ring signifies wholeness, completeness and eternity.
Giving the gift of a beautiful engagement ring is a special and exciting opportunity. By choosing an engagement ring that matches the style and personality of the one you love, you're creating a piece they'll cherish forever. 
If you need some tips in how to choose a perfect engagement ring, visit our tips for buying in this article.
In addition to an engagement ring, you and your fiancé may decide to choose wedding rings as well. Wedding rings are generally exchanged during the wedding ceremony and represent the official bond of marriage. If a person has an engagement ring, the wedding ring is placed closest to the hand and, therefore, closest to the heart.
In most cases, wedding rings have a less intricate design than an engagement ring. They may contain no large gemstones, no gemstones at all or only small ones like in this white gold eternity band.
Many brides choose a plain, pavé, or channel set band to complement their engagement ring, though the decision is primarily based on personal preference. Matching engagement and wedding rings, also known as bridal sets, are available through online dealers. The sets are designed to fit together seamlessly and usually match metal colors perfectly, or near perfectly.
Wedding Ring VS. Wedding Band
The terms "wedding band" and "wedding ring" are interchangeable, though this wasn't always the case. Women used to receive a family ring to signify the man's intention to marry, and wedding bands referred to the ring he received at the ceremony. Male wedding bands were normally a plain band of metal, different from some of the more intricate bands worn today.
As women began wearing wedding bands, and not family rings, these designs became more decorative and intricate. This transformation led to the current day wedding rings that tend to be more elaborate in nature.
Engagement and Wedding Ring Combinations
Pairing an engagement ring with a wedding ring—that were bought separately—requires some careful comparisons. The metal color, style and fit need to be a near match, in order to look like a cohesive unit and avoid unwanted rubbing between rings. Most jewelers are happy to assist with such a matching request and can help in designing a beautiful pair.
An alternative to matching the rings on your own is to select a matching wedding and engagement ring set, also known as a bridal set. This ensures the metal colors are identical and that the rings will fit together perfectly.
We suggest looking for matching wedding rings—or any rings, for that matter—from trusted and reputable online vendors. Our years of experience have taught us that when customers work with a reliable dealer, their experience is exponentially better.
We recommend Blue Nile to our readers, as they're an industry leader for diamonds and jewelry. They offer a range of matching engagement and wedding ring sets. A few excellent examples of Blue Nile's offerings:
You can even build your own matching set with the exact setting you want, using Blue Nile's Build Your Own Ring tool.
James Allen is another diamond vendor we highly recommend. James Allen provides high-end customer service and boasts an expansive inventory of exceptional diamonds and settings.
James Allen offers a wide range of matching wedding ring sets, including:
You can also build your own matching set with James Allen's bridal set tool.
Engagement Rings for Men
The majority of men choose to wear only a wedding band, though some desire an engagement ring to display their commitment. Engagement rings for men are distinct in style from women's rings, and a variety of options exist. Many online dealers list their engagement rings as wedding rings, though they can be used for either occasion.
For example, this platinum engagement ring offers style, while this classic ring is smoother and sleeker. These two designs are on the simple side of the spectrum and don't contain any gemstones.
On the other hand, some male engagement rings are more intricate than a plain metal band. Ring styles with diamonds like this channel set ring or this bevel setting combine masculinity and decorative stones. Other styles are fashioned from a mix of metals or contain an inlay color that's different than the outside color, similar to this brush inlay ring.
For those with an active lifestyle looking for a durable option, consider a band like this titanium one from James Allen or this tungsten carbide design from Blue Nile.
Wedding Rings for Men
Wedding rings for men, also known as wedding bands, range from intricate to more simple in style (similar to engagement ring styles). More than anything else, personal preference is the most important factor when it comes to choosing a wedding ring for men.
Lifestyle and favorite activities should also be taken into consideration. If he has an active hobby or job where he frequently uses his hands, it may be better to purchase a sleek and smooth band like this classic white gold ring or this tantalum band. For someone who appreciates more flair, a channel set ring like this one made of 14K white gold or this satin finish one may be more suitable.
Some couples also try to choose rings that complement their fiance's ring. For instance, if a woman has a white gold solitaire ring like this one, a men's ring like this traditional white gold one may be a complementary match. Again, this choice comes down to personal preference.
Deciding on engagement and wedding rings gives you the opportunity to consider what is most important to you and create symbols of love that will last a lifetime.
If you'd like assistance with choosing rings or selecting diamonds, contact one of our experts today.
James Allen

James Allen is the leader in online diamond sales. Their imaging technology is at the point where it's almost the same as inspecting a diamond with a jeweler's loupe. Their customer experience is best in class, and they have recently upgraded their non-engagement jewelry inventory as well. They have the largest exclusive loose diamond inventory online and fantastic prices.
What we love about them:
No questions asked returns within 30 days of shipment. James Allen will send you a paid shipping label to return the ring.
Lifetime Warranty
Free International Shipping
Free prong tightening, repolishing, rhodium plating and cleaning every 6 months
Provide insurance appraisals
One free resizing within 60 days of purchase
Free ring inscriptions
Best-in-class high quality imagery of all diamonds in stock
24/7 Customer Service
Best-in-class packaging

---
Blue Nile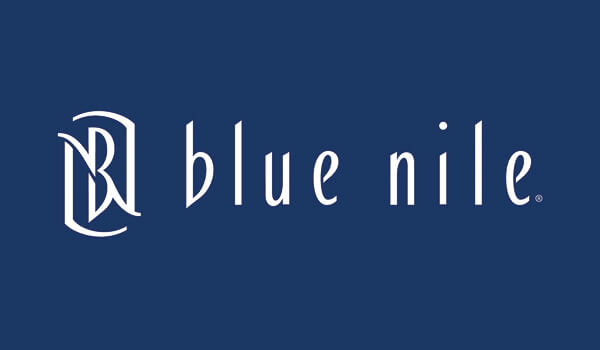 Blue Nile is the largest and most well known internet jewelry seller. They have a very large exclusive online inventory. Their high quality images are catching up to James Allens' and their prices are amazing.

(Pick Up a Blue Nile Coupon Here for $50 off)
What we love about them:
No questions asked returns within 30 days of shipment. Blue Nile will send you a paid shipping label to return the ring.
Lifetime Warranty
Free Shipping
Free prong tightening, repolishing, rhodium plating and cleaning every 6 months
Provide insurance appraisal
One free resizing within the first year of purchase
High quality images of about half of their diamonds
24/7 Customer Service
100% credit towards future upgrades (must be at least double in value)
Best in class fulfillment

---
Still afraid of getting ripped off?
Before you buy a diamond, get personal buying advice from industry veterans. We'll help you get the best diamond for the money.
Ask your diamond purchase question here
DISCLAIMER: We don't use your email for marketing. Period.