Diamond Pro is reader-supported. When you buy through links on our site, we may earn an affiliate commission. Learn More.
Deal Alert! 25% off James Allen settings
and
15% off Blue Nile settings!
11 Alternatives to the Diamond Engagement Rings
Alternative engagement rings feature a main element that's not a center diamond, such as a colored gemstone. Alternative rings stand out from mainstream diamond engagement rings and offer a unique personal style. 
Compared to diamond rings, alternatives provide an increased opportunity for a personal touch. They give the wearer the feeling that the ring is truly designed for them, not just a ring that follows tradition. Some alternatives to diamond engagement rings are also less expensive, depending on the gemstones.
Those who buy alternatives to diamond rings have a personal style or color they desire, such as green (emerald) or yellow (citrine). Others choose an alternative engagement ring because it costs less. 
Alternative engagement rings are increasingly popular. Expressing your unique style through your engagement ring is a growing trend, even for celebrities. For example, Prince William proposed to Kate Middleton with his mother's famous sapphire engagement ring and Eva Longoria received a ruby engagement ring from Jose Antonio Baston.
In general, you can find alternative engagement rings in the range of $500-$20,000. The value and price of alternative rings depend on the gemstones and precious metal. Some alternative gemstones, such as amethysts and morganite, are less expensive than diamonds. Other gemstones are more closely priced to diamonds, and some rare colorful gemstones, such as a vibrant red ruby, can even cost more than a diamond.
Engagement Ring Alternative
With engagement ring alternatives, there are a variety of styles and gemstones to choose from. Use the jump-to links below to learn about each type and to see ring examples in a variety of price ranges.
Emerald Engagement Rings
Emeralds are beautiful green gemstones of the beryl family that range in tone from light green to rich, vivid green. They are a stunning focal point of any engagement ring, and can be surrounded by smaller diamonds, such as in this halo ring from Blue Nile. Emeralds rank 7.5 to 8 on the Mohs scale of hardness, making them a durable gemstone for everyday wear. Emeralds are also the birthstone for May.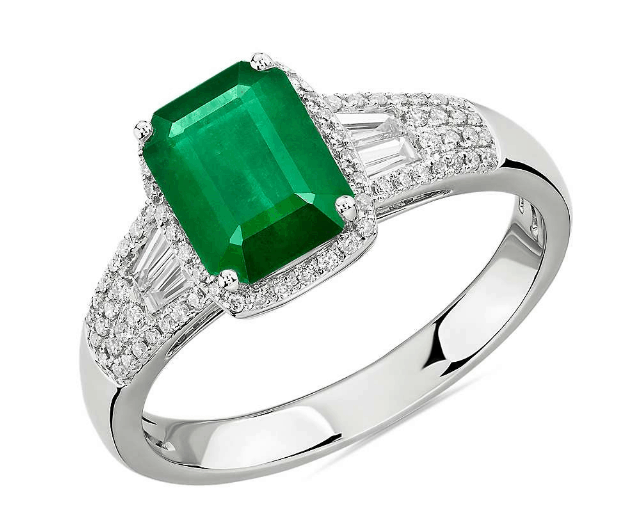 Check out this stunning emerald engagement ring example: Oval and Baguette Emerald Engagement Ring from Blue Nile
Sapphire Engagement Rings
While sapphires come in a variety of colors, blue sapphire is the most popular, especially for engagement rings. The striking blue color offers exceptional character and style. The richness of a stone's color dictates its beauty, desirability, and price. For instance, the more vivid the blue, the more expensive it will be. Sapphires score a 9 on the Mohs scale of hardness, making it a very durable stone. Royalty has been wearing sapphires for generations. Sapphire is also the September birthstone.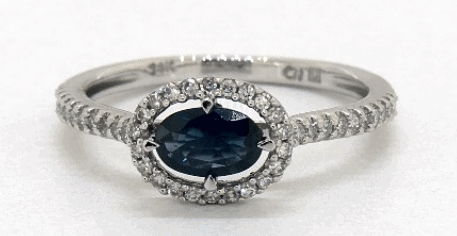 Here is a sapphire engagement ring to inspire you: Three Stone Sapphire Ring with Diamond Halos from Blue Nile
Ruby Engagement Rings
A stunning red ruby is an eye-catching gemstone for an alternative engagement ring. Rubies also symbolize passion and courage, making it a meaningful choice for the one you love. Rubies are formed of mineral corundum and are durable stones that have been revered for centuries. They rank a 9 out of 10 on the Mohs scale of hardness. Rubies are also the birthstone of July.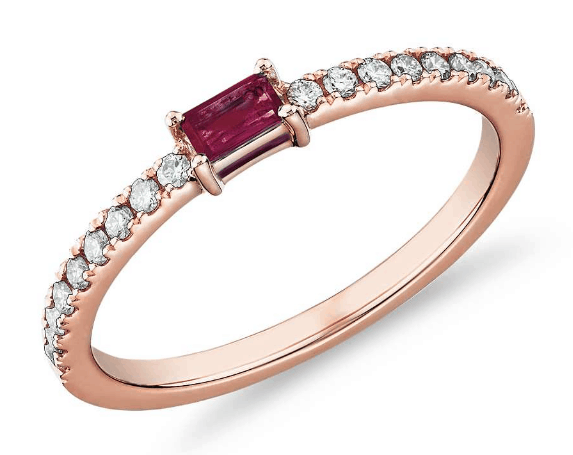 Ruby engagement ring you might love: Oval Cut Ruby with Diamond Halo from James Allen
Amethyst Engagement Rings
Amethyst is a variety of quartz and ranges from pinkish lilac to a deep violet color. Its vivid hue makes it stand out from diamond engagement rings. Amethysts have long been worn by royalty and symbolize a balanced mindset. They're also February's birthstone. Ranking a 7 on the Mohs scale of hardness, amethysts are durable, long-lasting stones for engagement rings.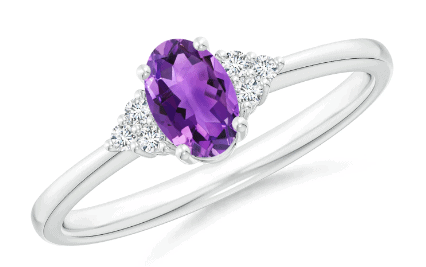 Here is an amethyst engagement ring to consider: Cushion Cut Amethyst Swirl Halo Ring from Blue Nile
Citrine Engagement Rings
Citrine offers a unique color to engagement rings, ranging from pale yellow to brownish orange. Citrine is thought to bring healing, comfort, and peace. As a variety of quartz, citrine ranks a 7 on the Mohs scale of hardness, great for everyday wear. Citrine is also the birthstone of November.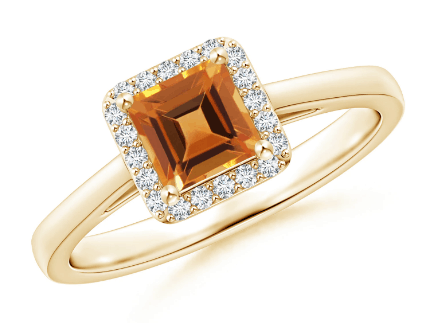 Citrine engagement ring that you'll fall in love with: Citrine Cushion Cocktail Ring from Blue Nile
Rose Quartz Engagement Rings
Rose quartz symbolizes universal love, making it a special choice for an engagement ring. Its color ranges from soft to medium dark pink. This feminine beauty ranks a 7 on the Mohs scale so it's durable enough for everyday wear. The delicate color of rose quartz is graceful and unique but not overpowering.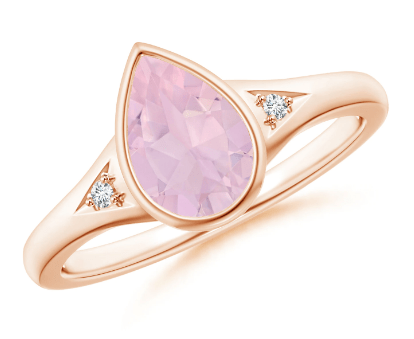 Check out this beautiful rose quartz engagement ring: Rose Quartz Cabochon Ring from Blue Nile
Moissanite Engagement Rings
Moissanite is a gemstone composed of silicon carbide that's nearly colorless. From a distance, it can look similar to a diamond. Due to the rarity of natural moissanite, almost all moissanite for jewelry is lab-created. Moissanite is distinct from a diamond and is a much less expensive alternative. Moissanite is a durable gemstone (9.25 on the Mohs scale) and can offer sparkle to your engagement ring.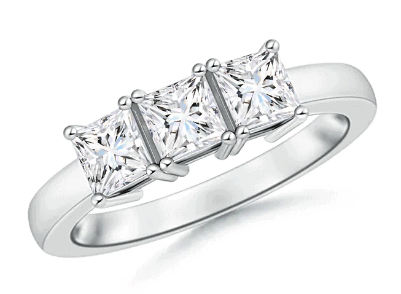 Here is a moissanite engagement ring and what it costs: Three Stone Moissanite Engagement Ring 
Morganite Engagement Rings
Morganite is a gemstone in the beryl family and is a pink to orange-pink stone. Its delicate color offers personality for those looking for a beautiful alternative to a diamond. It ranks a 7.5 to 8 on the Mohs scale of hardness.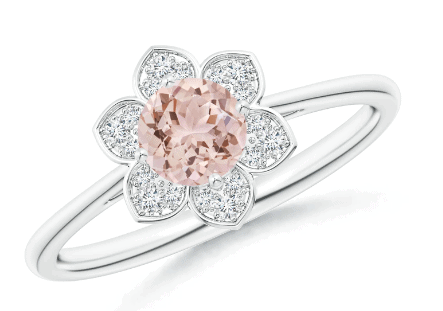 Check out this morganite engagement ring for inspiration: Vintage Inspired Cushion Cut Morganite Ring
Lab-Created Diamond Engagement Rings
Lab-created diamonds are man-made diamonds that mirror the chemical and optical properties of natural diamonds. Lab-grown diamond engagement rings are available in a range of shapes and styles, just like diamond engagement rings. They offer a less expensive alternative to natural diamonds, although their resale value is very little.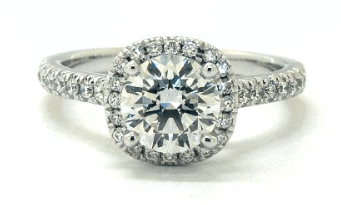 Here is an example of a beautiful setting for lab-created diamonds from James Allen: Cluster Halo Engagement Ring from James Allen
Heirloom Engagement Rings
Heirloom engagement rings are rings passed down from previous generations, such as a mother or grandmother's ring. These rings provide a meaningful touch but also often feature a vintage, one-of-a-kind style. Heirloom engagement rings are an environmentally-friendly option, as they are recycled from a previous wearer. Style can range from art deco rings to floral rings, depending on the specific piece.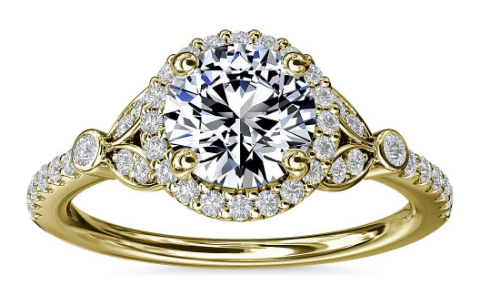 While an heirloom ring comes from family or close friends, they often have an antique style, like this vintage engagement rings: Hexagon Baguette Diamond Engagement Ring from Blue Nile
Eternity Bands
Instead of a large center stone, eternity bands feature a complete loop of diamonds or gemstones around the band. The endless circle of stones represents the never-ending love of a marriage. Eternity bands are made with diamonds, colored gemstones, or a combination of the two. You can find eternity bands made of platinum, white gold, yellow gold, or rose gold.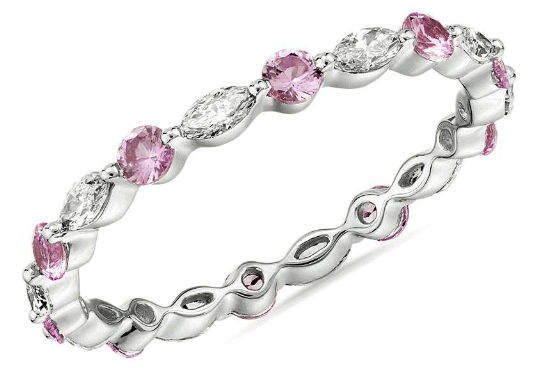 Check out this eternity band style: Pavé Diamond Eternity Ring from James Allen
James Allen

James Allen is the leader in online diamond sales. Their imaging technology is the same as inspecting a diamond with a jeweler's loupe. They have the largest exclusive loose diamond inventory online and fantastic prices. They also have the nicest collection of lab created diamonds online. Save 10% off select Lab Grown Diamonds and 25% on setttings!
What we love about them:
No questions asked returns within 30 days of shipment. James Allen will send you a paid shipping label to return the ring.
Lifetime Warranty
Free International Shipping
Free prong tightening, repolishing, rhodium plating and cleaning every 6 months
Provide insurance appraisals
One free resizing within 60 days of purchase
Free ring inscriptions
Best-in-class high quality imagery of all diamonds in stock
24/7 Customer Service
Best-in-class packaging

---
Blue Nile

Blue Nile is the largest and most well known internet jewelry seller. They have a very large exclusive online inventory. Their high quality images are catching up to James Allens' and their prices are amazing. Blue Nile have generously offered our readers an exclusive one-time use coupon.

(Click Here to save $100 off engagement ring settings)
What we love about them:
No questions asked returns within 30 days of shipment. Blue Nile will send you a paid shipping label to return the ring.
Lifetime Warranty
Free Shipping
Free prong tightening, repolishing, rhodium plating and cleaning every 6 months
Provide insurance appraisal
One free resizing within the first year of purchase
High quality images of about half of their diamonds
24/7 Customer Service
100% credit towards future upgrades (must be at least double in value)
Best in class fulfillment

---
Still afraid of getting ripped off?
Before you buy a diamond, get personal buying advice from industry veterans. We'll help you get the best diamond for the money.
Ask your diamond purchase question here
DISCLAIMER: We don't use your email for marketing. Period.