We are reader-supported. Buying through links on our site may earn us commissions. Learn More.
Deal Alert! Huge James Allen Sale- 3% off Earth Diamonds AND 25% off settings or

15% off at Blue Nile!



Melee Diamonds: Everything You Need To Know
Bottom Line Recommendation:
Melee diamonds make a beautiful compliment to a larger center diamond and can take a plain, simple ring and make it dazzle. Melee diamonds are what make halo and pavé settings so alluring.
When buying melee diamonds or rings with melees, just be sure to buy from a reputable vendor, such as James Allen for rings or Abe Mor for loose diamonds. Otherwise, you run the risk of getting low-grade melee diamonds, or worse yet, diamond chips.
What Are Melee Diamonds?
Melee diamonds are tiny diamonds used in diamond jewelry, often used to accentuate a single center stone on an engagement ring.
The little diamonds used for settings like a halo, pavé or channel setting? These are almost always melee diamonds.
Officially, the Gemological Institute of America (GIA) defines melee diamonds as diamonds that are less than 0.2 Carats. While this is the biggest melee diamonds get, they can come as small as 0.001 carats.
A melee diamond is very small and thus not much on its own. However, a group of melee diamonds clustered together can add a stunning sparkle to an otherwise plain ring.
Melee Diamond Cuts
Melee diamonds are often cut the same way as larger brilliant cut diamonds. Many melees will appear exactly like a scaled-down version of the kind of round brilliant diamond that would be used as a center stone.
Single Cut vs. Full Cut
Most melee diamonds are cut the same way as larger diamonds. This produces a finished product with 57-58 facets, a perfect downsized version of the kind of diamonds used as center stones.
These are known as Full Cut melees. There is another type of melee diamond known as Single Cut. These are produced through much simpler cutting methods, and only have 17 facets – 8 on the crown, 8 on the pavilion, plus the table. Single Cut melees don't have the fire and sparkle that a Full Cut Brilliant diamond has.
Today, Single Cut diamonds are rarely used. Modern diamond cutting technology has advanced to the point that there is little reason to produce Single Cut melee diamonds. Thus the overwhelming majority of melee diamonds are Full Cut melees.
Melee Diamonds Prices
As with larger diamond cuts, the price of a melee diamond depends on the quality of the cut and the size of the diamond. As melee diamonds are much smaller diamonds, they are not very valuable individually.
Melee diamonds are rarely, if ever, sold individually or commercially. They are usually bundled in parcels containing hundreds of small diamonds and sold wholesale to jewelry designers or repairers. The price of melee diamonds is then calculated by total carat weight of the parcel, rather than for each individual stone.
Melee diamonds commonly cost between $300-400 per carat, for melees with an average grade. Higher graded diamonds, such as those with VVS/VS in clarity and higher than H or I in color may cost up to $1,000 per carat.
Melee Diamond Ring Settings
Melee diamonds are used in ring settings to provide dazzling sparkle, fire and brilliance to an engagement ring.
Popular ring settings with melee diamonds include pavé, halo and channel settings. Melee diamonds are perfect to add volume and all-round shine, without taking away from the diamond at the center.
Melee diamonds are often placed along the ring's band, as with this French Pavé Crown Setting from Blue Nile.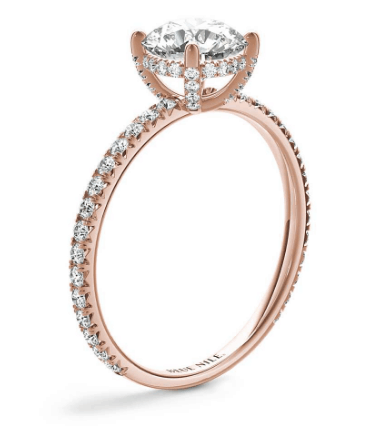 They can also be channel set: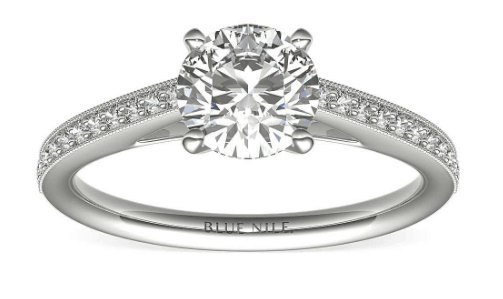 They are also often set around the center stone in a halo setting such as this from James Allen. A halo setting is a great way to accentuate the size of a center stone, without paying a premium for a high-carat diamond.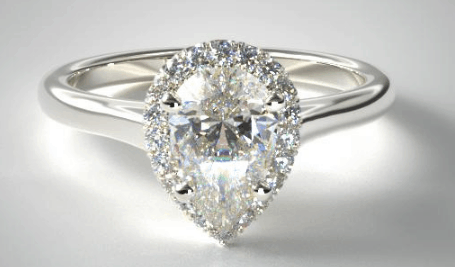 Buying a Ring With Melee Diamonds: What to Look For
Most times, when you're buying a ring, there won't be much opportunity to customize the melee diamonds used for your ring. However, you should still be sure the melee diamonds on your ring are a high enough grade, or it may end up detracting from the center stone.
Grading reports are available for the center stone, but not the smaller diamonds encircling it. Because of this, some jewelers may make false claims about the melee diamonds used in their jewelry, and use low-quality diamonds to cut down on prices. The best way to avoid this is to shop with reputable vendors such as James Allen and Blue Nile.
You generally want to make sure the melee diamonds don't overshadow the center stone. While a collection of Brilliant melee diamonds can give an exquisite shine to a ring, you usually want the eye drawn to the larger diamond in the middle.
Also, consider that melee diamonds are more prone to becoming dislodged. There's no better way for a diamond ring to lose its allure than to have an empty hole where a melee used to be. A ring with a lot of melee diamonds may need regular maintenance over time.
Diamond Chips
Diamond chips are small diamonds that can be used in the same settings as melee diamonds but are not fully faceted. This means that they haven't been cut and polished the way diamonds usually are. This results in uneven, jagged shapes, compared to a properly cut melee diamond.
Diamond chips often come from little bits that come away when cutting a larger stone. They could also simply be very small diamonds that have not been cut.
Regular, professionally-cut diamonds have more than 50 facets, which is what gives them their alluring shine and sparkle. Without these facets, diamond chips don't have the same impact. The only shine that comes is from light reflecting off the surface which can come at odd and uneven angles.
Diamond Chip Prices
Diamond chips are rarely used today. However, if they are, it's often as a low-cost substitute for melee diamonds, or other accent diamonds. Since they haven't been cut and processed like other diamonds, they are quite a bit cheaper.
If cut melee diamonds cost anywhere from $300 and up per carat, you can expect diamond chips to be much cheaper. However, if you're having a ring made with accent diamonds, it's not worth skimping on price by using diamond chips. They can easily detract from the center stone, and the sharp and jagged shape can also be dangerous. Well-cut melee diamonds make your ring stand the test of time.
James Allen

James Allen is the leader in online diamond sales. Their imaging technology is the same as inspecting a diamond with a jeweler's loupe. They have the largest exclusive loose diamond inventory online and fantastic prices. They also have the nicest collection of lab created diamonds online. Now save 25% off settings AND 3% off Earth Diamonds during James Allen HUGE limited time sale!
What we love about them:
No questions asked returns within 30 days of shipment. James Allen will send you a paid shipping label to return the ring.
Lifetime Warranty
Free International Shipping
Free prong tightening, repolishing, rhodium plating and cleaning every 6 months
Provide insurance appraisals
One free resizing within 60 days of purchase
Free ring inscriptions
Best-in-class high quality imagery of all diamonds in stock
24/7 Customer Service
Best-in-class packaging

---
Blue Nile

Blue Nile is the largest and most well known internet jewelry seller. They have a very large exclusive online inventory. Their high quality images are catching up to James Allens' and their prices are amazing. Blue Nile have generously offered our readers an exclusive one-time use coupon.

(Click Here to save $100 off engagement ring settings)
What we love about them:
No questions asked returns within 30 days of shipment. Blue Nile will send you a paid shipping label to return the ring.
Lifetime Warranty
Free Shipping
Free prong tightening, repolishing, rhodium plating and cleaning every 6 months
Provide insurance appraisal
One free resizing within the first year of purchase
High quality images of about half of their diamonds
24/7 Customer Service
100% credit towards future upgrades (must be at least double in value)
Best in class fulfillment

---
Still afraid of getting ripped off?
Before you buy a diamond, get personal buying advice from industry veterans. We'll help you get the best diamond for the money.
Ask your diamond purchase question here
DISCLAIMER: We don't use your email for marketing. Period.