We are reader-supported. Buying through links on our site may earn us commissions. Learn More.
Deal Alert! Huge James Allen Sale- 3% off Earth Diamonds AND 25% off settings or

15% off at Blue Nile!



Triple Excellent (GIA XXX) Diamonds: What You Need to Know
Bottom Line Recommendation:
Triple Excellent GIA Certified diamonds are the Cadillacs (or Mercedes, depending on your tastes) of diamonds. A GIA triple excellent diamond will have superb fire and brilliance. Take a look at this stunning XXX diamond and compare it to this diamond from Blue Nile that does not score excellent in any category. The difference is palpable.
Just because a diamond is classified as triple excellent, it doesn't always mean that it's worth buying. There's more to a diamond than just its cut quality, meaning you shouldn't rush to buy any certain diamond just because it falls within the triple excellent standards.
With this said, choosing a diamond that's triple excellent is a good idea, as long as it also has the right proportions, color, clarity, fluorescence and other features.
If you're looking to buy a triple excellent cut diamond, we recommend buying from a reputable online vendor such as James Allen or Blue Nile, both of whom offer massive selections of GIA excellent cut diamonds at competitive prices. 
For exceptionally well-cut diamonds — the cream of the crop — we recommend taking a look at Brian Gavin Diamonds. You can read our full review of their inventory and shopping experience here.
---
If you've searched online for information about buying a diamond, you may have come across terms such as "triple excellent," "three excellent," "triple ex" or "triple x" to describe some types of diamonds. 
In the diamond industry, the term triple excellent is generally used to refer to diamonds with an excellent rating in cut, polish and symmetry.
As we explained in our guide to diamond cut, the cut of a diamond is one of the most important factors for determining its appearance. However, there's much more to diamond cut than just a triple excellent rating, as we've explained in more detail below.
What is a GIA Triple Excellent Diamond?
As we mentioned above, the term triple excellent is used for diamonds that have been graded by the GIA as excellent in three categories: cut, polish and symmetry.
The GIA grades diamonds for features such as cut quality using a scale that runs from poor to excellent. In between, there are grades such as fair, good and very good, all of which are used to assess and summarize a diamond's cut quality after it's examined in a lab.
Excellent is the highest grade that the GIA offers for cut quality. It's given to diamonds that are sorted into the top category for all grade-setting determinants related to cut. The GIA uses the same scale to grade diamonds for polish and symmetry — two factors related to cut quality. 
For example, this 1.00 carat round diamond from James Allen is graded "excellent" in all three categories, according to its GIA report, making it a triple excellent diamond:

If you step into a jewelry store and look at diamonds, you'll often see terms like "triple excellent" and "GIA Triple X" on promotional signage, usually for premium diamonds sold at a higher price than those without triple excellent grading. 
This has led to a widespread belief amongst buyers that purchasing a triple excellent diamond is an assurance that they'll be getting a diamond that's exceptionally well cut. 
In reality, this isn't always true. While triple excellent diamonds will typically have a good level of brilliance and a high-quality cut, buying a triple excellent diamond is no guarantee that you'll get the most brilliant diamond. 
In fact, many triple excellent diamonds have other characteristics that may affect their brilliance and light performance. 
For example, look at this 1.00 carat, H color, VVS1 clarity diamond from Blue Nile. By looking at the GIA report for this diamond, you can see that it has been graded as excellent for cut, polish and symmetry, making it a triple excellent diamond: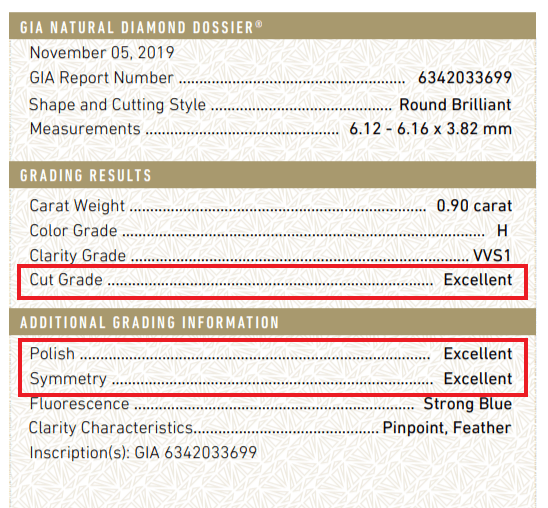 At first glance, this diamond looks like a good choice if you're looking for optimal brilliance and light performance. However, when you look at its proportions, you can see that it's actually far from ideal when it comes to the diamond's light performance: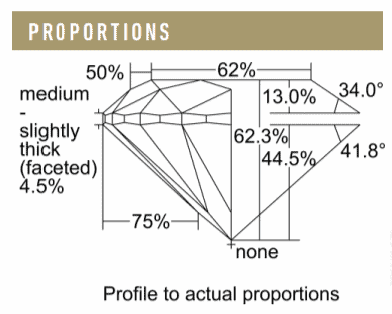 As we've explained in our guide to diamond depth and table, the proportions of a diamond — for example, its height (referred to as "depth" in the diamond industry), its width and the total size of the diamond's table (the flat facet at its top) — all play major roles in how it reflects light.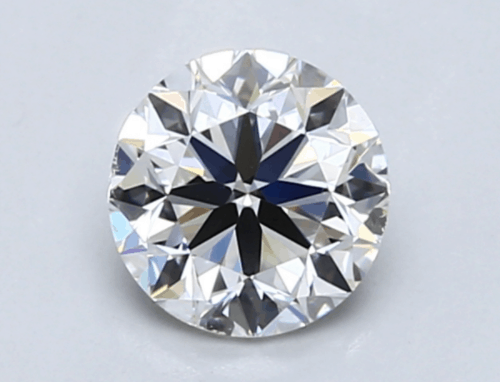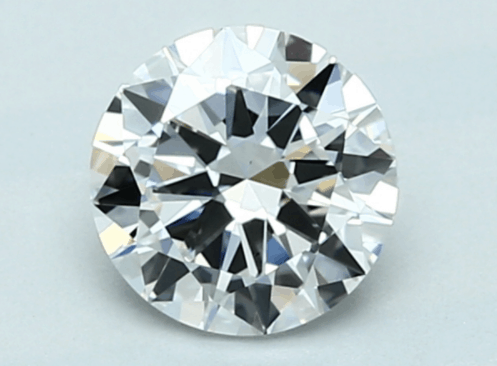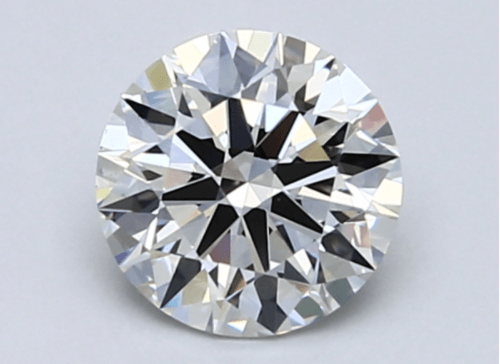 There's no single optimal depth and table ratio for every type of diamond. Instead, optimal depth and table vary from one cut to another. What's great for a cushion cut, for example, can be far from ideal for a round cut diamond.
Looking at the diamond above, we can see that its depth is exactly in the ideal range for a round brilliant cut diamond at 62.3 percent. However, its table is way outside the ideal range — a factor that will significantly affect its light performance. 
For a round cut diamond, an ideal table size is usually in the 54 to 57 percent range. Even if we stretch it a bit more and get a diamond with a table of 58-59%, it will still look great.
Despite being graded triple excellent, the diamond above has a very large table, measuring in at 62 percent of its total width. This overly large table can affect the amount of light that's refracted onto the upper facets of the diamond, compromising its brilliance.
This diamond also has strong blue fluorescence, a factor that's likely to give it a hazy look when it's viewed in person.
This is a great example of how relying on something such as triple excellent grading to identify a high-quality diamond can fall short. While it meets the criteria to be considered triple excellent, it isn't necessarily the best choice within its price bracket. 
To use an analogy to simplify this, imagine you have 100 athletes trying out for sports teams. To sort the athletes into different teams based on their ability, you assess their performance using a range of different tests, such as sprinting, weightlifting, endurance running and agility tests.
Based on each athlete's performance, you can sort them into your A team, B team, C team and so on, with each team made up of athletes that scored within a certain range.
Even though these teams are sorted based on performance, you'll still have major variations in skill level within each team. For example, the best player on your A team might be significantly better than the next best, and so on.
While athletic performance is obviously very different from diamond quality, the general principle is the same — just like not every player on the A team will be the best overall, not every diamond that earns the triple excellent grade will necessarily be the best stone available. 
This extends beyond factors that affect a diamond's cut. For example, it's very common to see diamonds that are graded triple excellent (and as such, would often be marketed at a premium) that have mediocre color and clarity that negatively affect their appearance. 
For example, this 1.14 carat round brilliant cut diamond from Blue Nile is graded triple excellent thanks to its cut quality, polish and symmetry. However, it has an SI2 clarity grade with obvious inclusions that make it less than ideal compared to other diamonds.
Should You Buy a Triple Excellent Diamond?
As a general rule, yes. Although a triple excellent grade isn't the only thing that you should look for when choosing a diamond, the majority of triple excellent diamonds look great and are high above the average in terms of cut quality. 
However, as we've explained above, it's essential to check that any diamond possesses other important characteristics before you decide to make a purchase.
When it comes to cut quality, this means paying attention to factors such as a diamond's depth and table, as well as its length-to-width ratio. These can vary depending on a diamond's shape, making it important to check the ideal range before deciding on a diamond. 
With this said, you don't need to look exclusively at triple excellent diamonds in order to find a high-quality stone. Many diamonds that receive an overall cut grade of excellent have polish or symmetry grades that are below excellent — typically, in the very good range. 
Placed side by side, it's virtually impossible to perceive any difference in cut quality between a triple excellent diamond and a similar diamond that's graded excellent without perfect polish or symmetry with the naked eye. 
It's also important to pay attention to factors beyond a diamond's cut quality, such as the three other quality factors that make up the four Cs:
Color. Poor color can negatively affect the appearance of a diamond, even if it's graded as triple excellent. This is particularly true for diamond shapes that don't hide color well, such as many fancy shape diamonds.

As we've explained in our guide to diamond color, you should look for a diamond with a color grade that makes it appear colorless in relation to its setting.
Clarity. As we mentioned above, a diamond with a poor clarity grade can have obvious, visible inclusions that affect its appearance. Even a triple excellent cut diamond can look dull and lifeless if it has large inclusions.

Our diamond clarity guide lists the different clarity grades and explains what you should look for.
Carat weight. While there's no "ideal" carat weight for a diamond, the choices you make when it comes to color and clarity will have an effect on the amount you can put towards a diamond's carat weight, as we've explained in our carat weight guide.
As always, we highly recommend following the steps in our guide to buying a diamond to ensure you get the best possible stone and optimal value for money. You can also contact us for expert, personalized advice and recommendations.
Where to Buy Triple Excellent Diamonds
If you'd like to purchase a triple excellent diamond, we highly recommend buying from an online diamond vendor instead of a brick-and-mortar jewelry store.
The reason for this is simple: reputable online vendors are able to offer significantly better value than their offline, brick-and-mortar counterparts thanks to their lower operating costs and more efficient business model. 
As we've explained in our reviews of diamond jewelers, you can usually expect to pay anywhere from 30 to 100% more for a diamond offline compared to a diamond of identical quality available online. 
When it comes to triple excellent diamonds, we recommend three online vendors above others: Blue Nile, James Allen and Brian Gavin Diamonds.
Blue Nile offers outstanding value for money and has one of the largest selections of diamonds of any diamond jeweler. Their selection is vast and features diamonds of virtually every shape, carat weight and price range.
One significant advantage of Blue Nile is that their website allows you to view the GIA certificate for each GIA-certified diamond they stock. This makes it easy to quickly check if a diamond has been graded as triple excellent by viewing its GIA cut quality, polish and symmetry grades.
You can learn more about Blue Nile in our full Blue Nile review, or view Blue Nile's selection of loose diamonds here.
We highly recommend James Allen if you're looking for a high-quality diamond engagement ring or other diamond jewelry. Their diamond inventory is the largest in the world, their prices are the best in the industry and their customer service is some of the best in class.
One huge advantage of James Allen is their photo quality. All diamonds in James Allen's online inventory are photographed in incredible quality, with 360° photos that allow you to look at each diamond under magnification to check for inclusions and light performance. 
James Allen allows you to search for diamonds that are certified by the GIA, which you'll want to do if you're looking for a triple excellent diamond.
You can learn more about James Allen in our full James Allen review or view James Allen's selection of loose diamonds here.
If you're looking for an exceptionally well-cut, highly brilliant diamond, you'll want to look at Brian Gavin Diamonds. They specialize in diamond cutting and offer one of the best selections of very high-quality diamonds in the industry.
Compared to vendors such as James Allen and Blue Nile, you will pay a premium for a diamond from Brian Gavin Diamonds. However, if you're hyper-focused on cut quality and want to choose a diamond that's exceptionally brilliant, Brian Gavin Diamonds is the way to go.
You can learn more in our full Brian Gavin Diamonds review or view Brian Gavin Diamonds' full selection of loose diamonds here. 
For more information on where to buy a diamond online, feel free to view our full list of the best online engagement ring brands.
---
If you need help choosing a triple excellent diamond, or simply want expert advice on the best choice of diamond for your tastes and budget, feel free to contact us. Our diamond experts are always happy to answer your questions and provide you with personalized help.
James Allen

James Allen is the leader in online diamond sales. Their imaging technology is the same as inspecting a diamond with a jeweler's loupe. They have the largest exclusive loose diamond inventory online and fantastic prices. They also have the nicest collection of lab created diamonds online. Now save 25% off settings AND 3% off Earth Diamonds during James Allen HUGE limited time sale!
What we love about them:
No questions asked returns within 30 days of shipment. James Allen will send you a paid shipping label to return the ring.
Lifetime Warranty
Free International Shipping
Free prong tightening, repolishing, rhodium plating and cleaning every 6 months
Provide insurance appraisals
One free resizing within 60 days of purchase
Free ring inscriptions
Best-in-class high quality imagery of all diamonds in stock
24/7 Customer Service
Best-in-class packaging

---
Blue Nile

Blue Nile is the largest and most well known internet jewelry seller. They have a very large exclusive online inventory. Their high quality images are catching up to James Allens' and their prices are amazing. Blue Nile have generously offered our readers an exclusive one-time use coupon.

(Click Here to save $100 off engagement ring settings)
What we love about them:
No questions asked returns within 30 days of shipment. Blue Nile will send you a paid shipping label to return the ring.
Lifetime Warranty
Free Shipping
Free prong tightening, repolishing, rhodium plating and cleaning every 6 months
Provide insurance appraisal
One free resizing within the first year of purchase
High quality images of about half of their diamonds
24/7 Customer Service
100% credit towards future upgrades (must be at least double in value)
Best in class fulfillment

---
Still afraid of getting ripped off?
Before you buy a diamond, get personal buying advice from industry veterans. We'll help you get the best diamond for the money.
Ask your diamond purchase question here
DISCLAIMER: We don't use your email for marketing. Period.