We are reader-supported. Buying through links on our site may earn us commissions. Learn More.
Ask a Diamond Pro: Buying Online vs. Buying in a Store
One of the most common questions we get from our readers is whether it's better to shop for a diamond locally or online. The simple answer is that we almost always recommend purchasing a diamond online, for several reasons that we've detailed below.
A few years ago, a reader contacted us with the following questions:
"I'm looking for a princess cut diamond around 1.25 ct (+- .25 ct) set into a channeled band with diamonds only going halfway down on either side. Have made my mind up on clarity, color, etc. My budget is 8000. 
I want a combination of quality and size. I live near Miami's diamond district and was told to look there for a good deal. I plan to go to a Jared's or local store first so I can just look at a variety of diamonds to get an idea of what to look for. 
Is all this a good idea or am I still more likely to get the best deal online? Anything to look out for? Your site was highly recommended by a friend. Thanks."
Our answer to these is almost always the same. Not only will you get a better deal by shopping online instead of locally, but you'll also have access to a much larger and more diverse range of diamonds and settings. 

This is true regardless of your location. Even in cities famous for their diamond vendors, such as New York City or Antwerp, buying a diamond locally almost certainly means overpaying.

In this reader's case, we recommended several diamonds from James Allen. The reader ended up purchasing a gorgeous 1.24 carat, VS1 clarity, H color princess cut diamond in a channel set band for $5,640 — significantly less than the $8,000 he had originally budgeted for the ring.
Since this type of question is so common, let's look at the economics of buying locally vs. online to clear up why online is just about always the better choice.
Just like with books, consumer electronics and just about any product, the diamond industry has been transformed by e-commerce.
Due to the efficiencies and economies of scale that are made possible by doing business online, buying a diamond online will get you more for your money than buying a diamond from any local vendor.

This remains true even when local diamonds are sold at a discount. Outside of extremely good promotions and closing down sales, you just don't see the same kind of value in local diamond jewelry stores as you do online.
This is easy to understand once you're aware of the economics of the diamond industry from a retail perspective and from an online perspective.
Let's use the reader's location of Miami as an example. Rent in Miami is expensive, especially for a downtown location like the diamond district. Any jeweler in this area needs to account for the cost of rent in their pricing.
There's also the cost of actually operating the store. This includes paying the staff, running ad campaigns, as well as paying for services like security and insurance for the store's contents.
Finally, there's the cost of stocking the store. Diamonds and other precious stones are costly to purchase, meaning even a mid-sized jewelry store likely has a couple of million dollars worth of loose diamonds, settings and other items in its inventory at any one time.
To finance this, most jewelry stores either use loans or take the diamonds on consignment from a wholesaler, both of which come with certain associated costs.
All of these costs are baked into the price you pay for a diamond when you buy it from an offline vendor.
Now, let's look at the economics of selling diamonds from the perspective of an online diamond vendor, such as James Allen or Blue Nile.
Since these vendors operate almost entirely online, they're able to price their diamonds without having to factor in the cost of renting a network of retail locations.

They're also able to avoid the costs of carrying lots of inventory. This is because Blue Nile and other online vendors list inventory directly from major diamond manufacturers and wholesalers instead of buying and holding their own inventory of loose diamonds.

The result of this is that Blue Nile can sell diamonds on razor thin margins, while a jewelry store in any major city needs to charge a 30 to 50% margin just to stay in business.

Whether your budget is $2,000, $8,000 or $20,000, this difference in gross margins has a huge impact on what you get in exchange for your money.


A second reason to buy online is that you have access to a much larger inventory of diamonds than you do offline, as well as better opportunities to compare them.

For example, let's say you're looking for a diamond similar to the one our reader purchased — a princess cut diamond with a weight of between 1.1 and 1.4 carats, VS1 or VS2 clarity, excellent cut and a color grade of either G, H, or I.

Using the search feature on James Allen, we can view 35-40 GIA or AGS certified loose diamonds

that meet these specifications. We can also compare them side by side and under magnification to look for inclusions and other issues that might make one diamond better than another.

Even in a very large retail jewelry store, it's unlikely that you'll find more than a handful of loose diamonds within this range. This is especially true when it comes to fancy diamond shapes.

Beyond pricing and availability, the third reason to buy online is that you're far less likely to get taken advantage of than by shopping for a diamond in a retail jewelry store.

This statement surprises a lot of people, since there's a perception that shopping for a premium item like a diamond online is much riskier than buying it in person.


In reality, buying online gives you access to a huge amount of information about each diamond, as well as the opportunity to move through the purchasing process at your own pace.
When you use a site like Blue Nile or James Allen, it's easy to switch between a diamond you're interested in and our diamond education resources to check that what you're looking at is truly a high quality diamond.
You can check its cut quality, clarity and color against our suggestions for each diamond shape, as well as specific factors such as fluorescence and culet.
This allows you to get an objective understanding of the diamond without ever feeling rushed or pressured into making a purchase.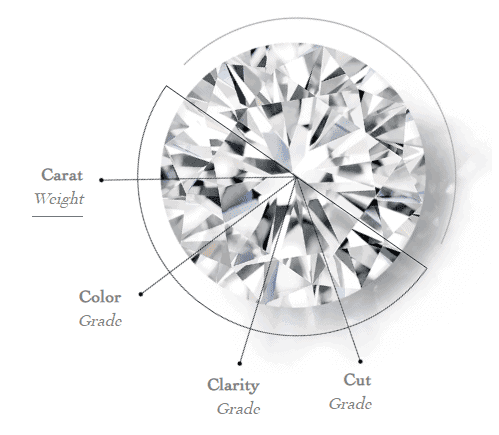 In a brick-and-mortar jewelry store, moving slowly through the process in a step-by-step manner isn't always possible. Instead, you're likely to spend your time talking to a salesperson who both knows more about the store's inventory than you and has a clear incentive to close the deal.
We've also found that a lot of brick-and-mortar diamond vendors try to draw their customers into sales traps using techniques that aren't always totally ethical.
For example, as we often mention, not all diamond certificates are equal. Although labs like GIA and AGS apply strict standards when grading diamonds, other organizations apply much looser standards, resulting in artificially high clarity and color grades for certain diamonds.
Diamond salespeople are very much aware that the average consumer isn't that knowledgeable about diamond grading, so they use tricks like relying on less reputable grading organizations to make their diamonds look better than they really are.
Online, it's easy to verify if a diamond has a reliable certificate. In the fast-paced and sometimes pushy environment of a brick-and-mortar jewelry store, you're much more likely to overpay for a diamond that isn't as good as it seems.
Our Recommendation
If you're interested in buying a diamond ring, you'll almost always get a higher quality stone at a better price by shopping online rather than locally.
For this reader, buying online allowed him to purchase a stunning diamond engagement ring for almost $2,400 less than his original budget. That's a major saving that can be put towards their wedding, their honeymoon or simply invested for their future together.
If you're looking for help with buying an engagement ring online, make sure to read our guide to buying a diamond online.
It lists our favorite online diamond vendors and shares a simple nine-step process that you can use to evaluate a diamond's quality, select the right type of setting and end up with a ring that's perfect for your spouse-to-be.
If you need more personalized help finding the right diamond, you can also contact our experts for assistance.
James Allen

James Allen is the leader in online diamond sales. Their imaging technology is the same as inspecting a diamond with a jeweler's loupe. They have the largest exclusive loose diamond inventory online and fantastic prices. They also have the nicest collection of lab created diamonds online. Now save 25% off settings AND 3% off Earth Diamonds during James Allen HUGE limited time sale!
What we love about them:
No questions asked returns within 30 days of shipment. James Allen will send you a paid shipping label to return the ring.
Lifetime Warranty
Free International Shipping
Free prong tightening, repolishing, rhodium plating and cleaning every 6 months
Provide insurance appraisals
One free resizing within 60 days of purchase
Free ring inscriptions
Best-in-class high quality imagery of all diamonds in stock
24/7 Customer Service
Best-in-class packaging

---
Blue Nile

Blue Nile is the largest and most well known internet jewelry seller. They have a very large exclusive online inventory. Their high quality images are catching up to James Allens' and their prices are amazing. Blue Nile have generously offered our readers an exclusive one-time use coupon.

(Click Here to save $100 off engagement ring settings)
What we love about them:
No questions asked returns within 30 days of shipment. Blue Nile will send you a paid shipping label to return the ring.
Lifetime Warranty
Free Shipping
Free prong tightening, repolishing, rhodium plating and cleaning every 6 months
Provide insurance appraisal
One free resizing within the first year of purchase
High quality images of about half of their diamonds
24/7 Customer Service
100% credit towards future upgrades (must be at least double in value)
Best in class fulfillment

Read More