We are reader-supported. Buying through links on our site may earn us commissions. Learn More.
18 Remarkable Valentine's Day Gifts Under $1,000
When February 14th rolls around, ensure you have a gift that's extraordinary — one that will dazzle your partner and express how much they mean to you. Luckily, there are plenty of diamond gifts and jewelry ideas under $1,000 that are beautiful and high-quality. From pendants to eternity rings, here we share the best Valentine's Day jewelry gifts under the $1,000 mark. 
Table of Contents
1. Diamond Pendants
2. Diamond Bracelets
3. Diamond Earrings
4. Diamond Rings
5. Other Gift Ideas
6. Gemstone Jewelry
Diamond Pendants Under $1,000
When she sees the diamond necklace that you handpicked for her, she'll feel that you love her. Choose a beautiful pendant from simple designs to ornate with these selected choices from top diamond vendors.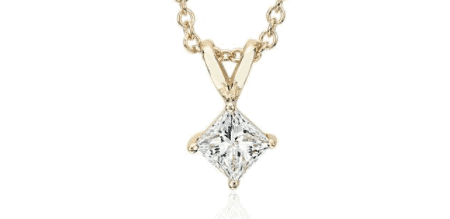 Set with four prongs on a simple chain, this pendant allows light to enter the diamond for maximum reflection and brilliance. Choose from yellow gold or platinum for a beautiful combination with a princess cut diamond.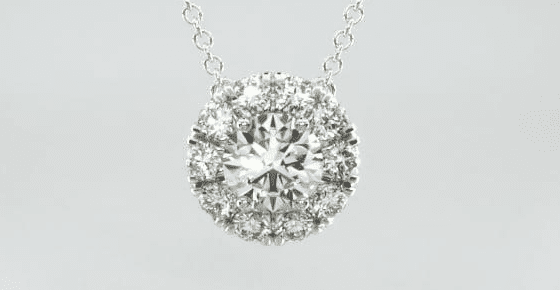 Showcasing a halo of sparkling diamonds, this pendant is full of elegance and class. The best part? The halo makes the center diamond appear even larger.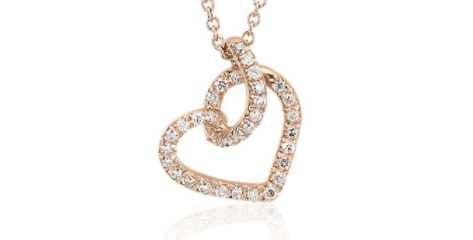 Opt for a heart pendant this Valentine's Day to demonstrate your love and commitment. With 33 sparkling pavé diamonds and two metals to choose from (yellow and rose gold), this pendant is bound to win her heart. 
Diamond Bracelets Under $1,000
Adorn her wrist with something truly special this Valentine's Day. From bar bracelets to flex bangles, here are top choices for diamond bracelets that come in under a grand.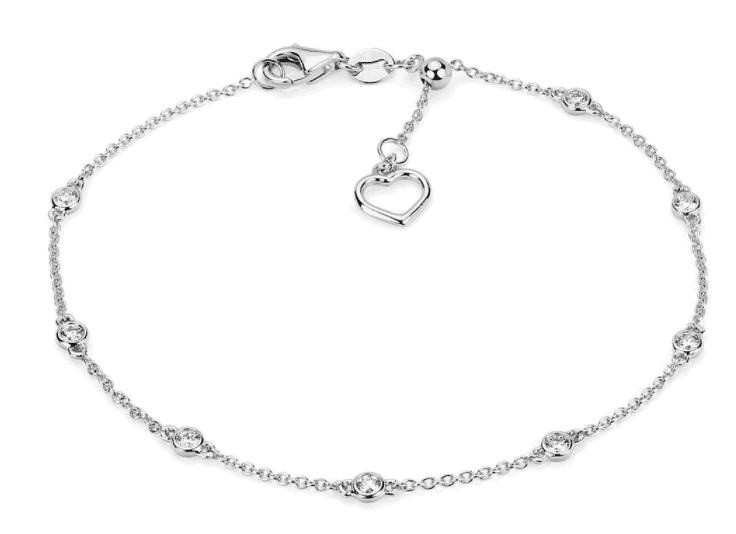 Make her heart skip a beat this Valentine's Day with this diamond station bracelet. Eight petite bezel-set diamonds are set in yellow or white gold with a heart accent. When you pull on the heart, it adjusts the length of the bracelet for easy modifications. 

She can slip on and off this open bar bangle with ease. Featuring five diamonds on either side, this flex bangle in white or yellow gold gives a sparkly touch to any occasion.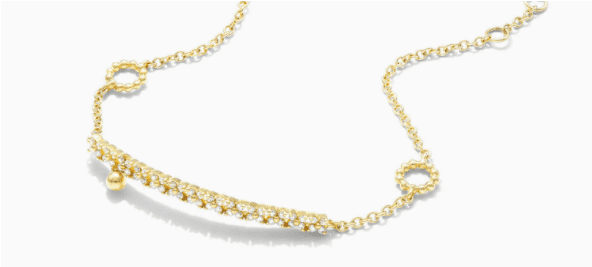 Available in yellow gold, this diamond bar bracelet features 52 small round diamonds, creating a showcase for the wearer and onlookers. This clean design pairs well with a variety of outfits and styles.
Diamond Earrings Under $1,000
Imagine the look on her face when she opens the box with a brilliant set of diamond earrings. These hand-selected pairs offer plenty of style for Valentine's this year.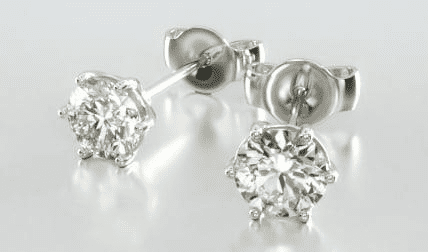 With six prongs holding each diamond in place, these earrings have an almost floral feel. The pair of round cut diamonds brings beauty and elegance to this charming set. These earrings could be worn daily or saved for more special occasions.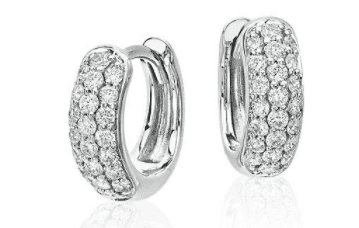 Looking for pizzazz and charm? These tiny diamond hoop earrings bring a sense of elegance with three rows of illuminating diamonds. Set in 14K white gold, these earrings are as timeless as they are gorgeous.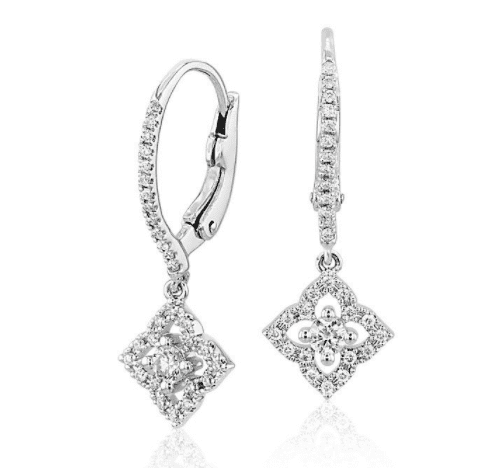 A delicate combination of vintage and modern, these earrings offer a floral flair with sophistication. With a micropavé diamond frame surrounding the center stone, there's no doubt this pair will turn heads.
Diamonds Rings Under $1,000
There's hardly anything better than a diamond ring to express your love. Whether you've been married one or 20 years, these stunning diamond rings will remind her that you love her as much as ever.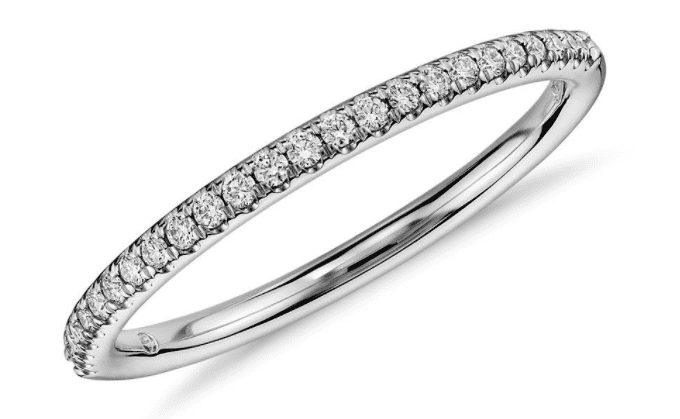 Made with 25 diamonds, this micropavé ring radiates elegance and love. Set in the metal color of your choice, this ring is a great complement to a wedding ring or engagement ring—or stands beautifully on its own.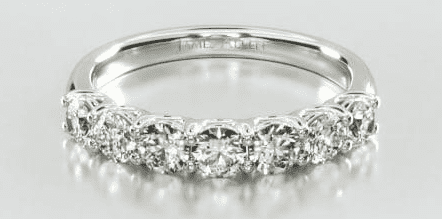 Celebrating an important anniversary this year? With an exquisite display of diamonds, this low dome basket ring offers both brilliance and maximum comfort.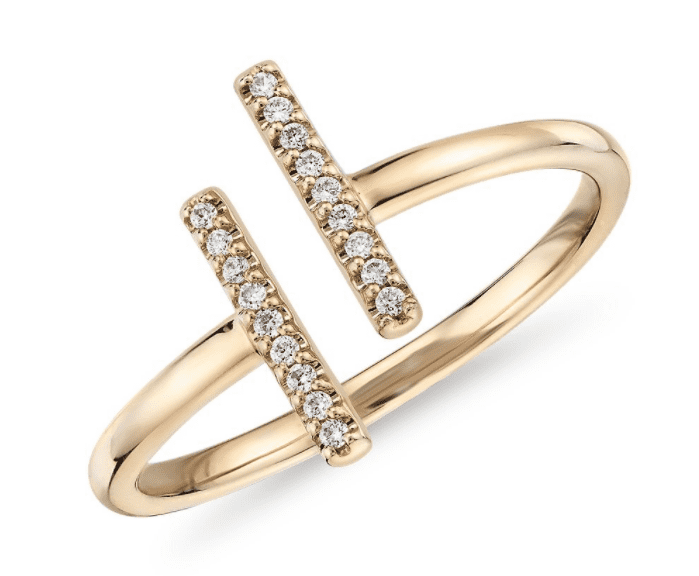 Add a unique ring to her collection this Valentine's Day with a split bar ring. Eighteen diamonds shine on two offset golden bars, making this a statement piece that's bound to become a favorite. 
Other Valentine's Gift Ideas
Besides diamond necklaces and rings, there are other gift options for Valentine's Day this year. Here are a few of our favorites. 
Give a keepsake this Valentine's Day with a locket crafted from 14K gold. The intricate floral design opens to two photos. You can even engrave it for an extra personal touch.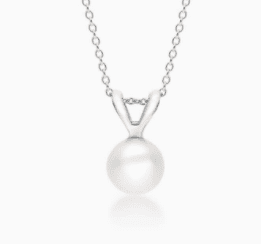 Simple and stunning, pearl jewelry makes for a sophisticated gift that can be dressed up or down. Made of 14K White Gold, this necklace holds up well to regular wear and can even be paired with other necklaces.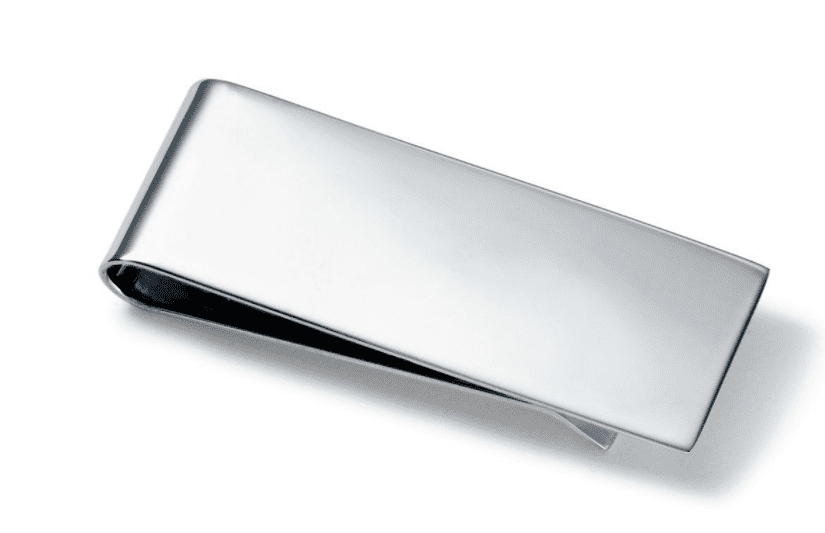 The polished surface of this money clip offers a smooth, appealing shine. Engrave it with your partner's name, the date you got together, or a favorite song quote. Not only is this gift beautiful, it's also perfectly practical. 
Gemstone Alternatives
Instead of a diamond, add a pop of color to your Valentine's Day gift. From birthstones to semi-precious stones, here's a selection of beautiful choices for your partner.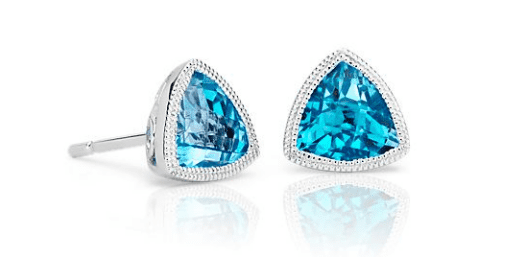 The triangled-shaped blue topaz stones create a tropical azure-sea appeal in these earrings. The shape itself is unique that can't be found on every woman out there.  

Crafted with a mix of garnet, blue topaz, and amethyst stones, this rainbow-style bracelet is ideal for someone who loves to showcase a bit of personality. Or you can choose a single-colored gemstone to fill the bracelet. No matter how you design it, this colorful piece will win her heart and turn heads.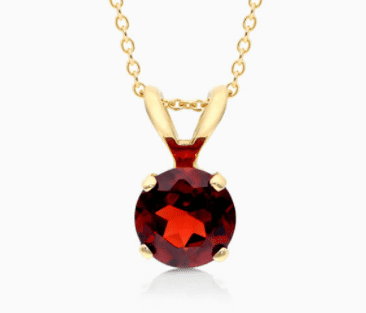 Whether she was born in February or August, a birthstone necklace makes for a personalized Valentine's Day gift. Simple and classic in style, this pendant allows the gemstone to take center stage. 
Looking for more gift ideas? Check out these jewelry guides: 
James Allen

James Allen is the leader in online diamond sales. Their imaging technology is the same as inspecting a diamond with a jeweler's loupe. They have the largest exclusive loose diamond inventory online and fantastic prices. They also have the nicest collection of lab created diamonds online. Now save 25% off settings AND 3% off Earth Diamonds during James Allen HUGE limited time sale!
What we love about them:
No questions asked returns within 30 days of shipment. James Allen will send you a paid shipping label to return the ring.
Lifetime Warranty
Free International Shipping
Free prong tightening, repolishing, rhodium plating and cleaning every 6 months
Provide insurance appraisals
One free resizing within 60 days of purchase
Free ring inscriptions
Best-in-class high quality imagery of all diamonds in stock
24/7 Customer Service
Best-in-class packaging

---
Blue Nile

Blue Nile is the largest and most well known internet jewelry seller. They have a very large exclusive online inventory. Their high quality images are catching up to James Allens' and their prices are amazing. Blue Nile have generously offered our readers an exclusive one-time use coupon.

(Click Here to save $100 off engagement ring settings)
What we love about them:
No questions asked returns within 30 days of shipment. Blue Nile will send you a paid shipping label to return the ring.
Lifetime Warranty
Free Shipping
Free prong tightening, repolishing, rhodium plating and cleaning every 6 months
Provide insurance appraisal
One free resizing within the first year of purchase
High quality images of about half of their diamonds
24/7 Customer Service
100% credit towards future upgrades (must be at least double in value)
Best in class fulfillment

Read More