We are reader-supported. Buying through links on our site may earn us commissions. Learn More.
Ask a Diamond Pro: Why Brand Names Rarely Offer Good Value
We're often contacted by readers interested in engagement rings and other jewelry from luxury brands, such as Tiffany & Co. Many are curious about whether it's possible to build an identical ring — or at least similar — without the usual luxury brand price tag.
The short answer is that it's very possible and offers huge advantages, including far better value for money.
For example, a few years ago, a reader emailed us asking for help finding a setting similar to a Tiffany ring with graduated side stones. Their budget was $20,000 for the diamond alone. One of their emails is below:
"Thanks for the prompt response and the cushion cut article was great. I finally feel like I have some confidence in my diamond search.
…
I already have another question. She is in love with this ring from Tiffany's — Tiffany Legacy® With Graduated Side Stones. 
I would like to build a similar one. Would you say this cushion is a crushed ice look or chunky? Also if you know where I can find a setting just like this w/out the Tiffany's price tag that would be great as well."
This reader's question is a common one. Tiffany & Co. offer beautiful, high quality settings, but they come with a hefty price tag. In this case, we referred the reader to James Allen, who were able to create a stunning custom engagement ring inspired by the Tiffany & Co. setting. They ended up with a diamond twice the size than what they would have received from Tiffany for the same budget. 

If you're considering a diamond ring from a high-end brand name, such as Tiffany & Co. or Van Cleef & Arpels, you'll almost always be able to get an equally beautiful ring for a better price by shopping online.
We've explained why below and shared how you can use reputable online diamond jewelry vendors to get Tiffany & Co. quality at a significantly lower price.
Why Brand Name Diamonds Aren't Worth It
Think of high-end diamond jewelry and several well-known brand names will probably pop into your mind, from Tiffany & Co. to Harry Winston and others.
These companies offer gorgeous engagement rings, luxurious boutiques in prime locations and extremely attentive service. They use excellent quality diamonds and beautiful settings that are sure to impress even the most discerning customers.
Even the packaging from brands like Tiffany feels luxurious. From start to finish, these high-end brands go out of their way to make discovering and buying their products a real experience, and their efforts are definitely noticeable.
However, when it comes to the diamonds available from high-end brands, you can get the same quality elsewhere for a fraction of the price.
In our review of Tiffany & Co., we visited the company's flagship store on Fifth Avenue to buy an engagement ring. We purchased a Tiffany Novo ring with a cushion cut diamond with the idea to compare it to a similar Art Nouveau ring available from James Allen.
The ring, which featured a 0.53 carat, H color, VVS2 clarity cushion cut diamond, cost $6,859 in total, including just over $550 in sales tax.
Before we get into why this ring cost almost $7,000, let's quickly look at how much a similar ring costs online.
This 18K white gold pavé engagement ring setting from James Allen is available for $1,680. Add this cushion cut diamond, which has the same characteristics as the one from Tiffany & Co., and you have a visually identical ring for a total price of just $2,720.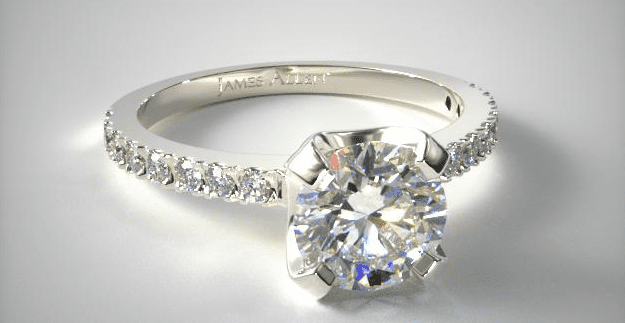 So, why is there such a big difference in price between these two similar diamond rings? Part of it is undoubtedly because many people are willing to pay a premium for the Tiffany brand name, as well as the experience that Tiffany & Co. offers.
In short, the Tiffany ring is more expensive because it can be more expensive and still sell. But another reason for the difference in price is that Tiffany & Co., like other luxury brands that sell their products in brick-and-mortar stores, needs to price its products this way to be viable.
Part of the magic of a brand like Tiffany is the company's age. Tiffany & Co. has been operating since the mid-19th century, and it has a unique, storied history. As Holly Golightly said, it's "the best place in the world, where nothing bad can take place."
But another part of the magic of luxury brands is marketing. Every year, companies like Tiffany & Co. spend a huge amount of money on advertising campaigns, brand ambassadors, special events and other marketing efforts to remind you that they are the very, very best.
They also spend big on premium retail locations. Search for any iconic high-end shopping area, from Fifth Avenue in New York City to Mayfair in London, the Champs-Élysées in Paris or Ginza in Tokyo and there's a good chance you'll find Tiffany & Co. and similar brands there.
This marketing spending is essential for positioning these brands as aspirational — brands that people want to own. But it doesn't have any effect on the objective quality of the diamonds they sell.
When you buy an engagement ring from a high-end brand, you're essentially paying for these marketing efforts, for the cost of renting these premium retail locations and for everything else that's involved in maintaining a luxurious brand image.
What you are not paying for is a higher-quality diamond.
Now, this doesn't mean that Tiffany & Co. and similar brands don't make good jewelry. They do — very good, in fact. But the higher price tag doesn't necessarily translate into any real step up in terms of quality.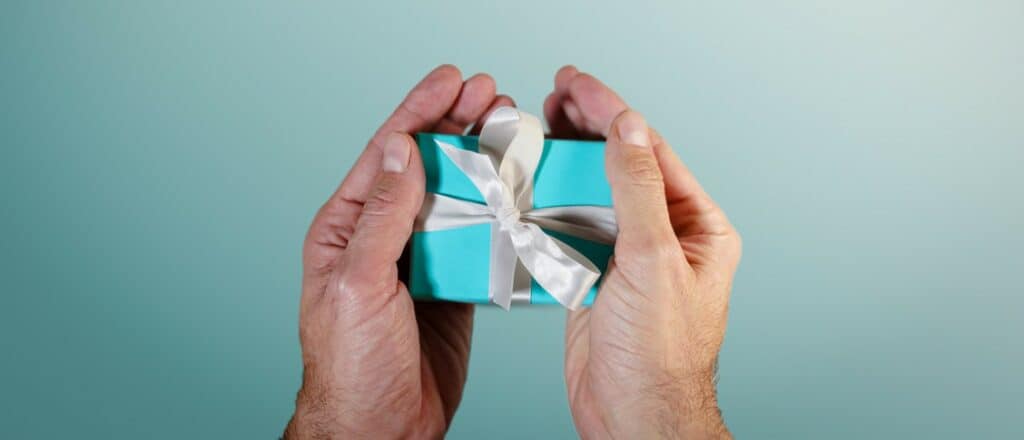 As we discussed in our guide to the evolution of the diamond market, we generally believe that the brick-and-mortar jewelry business model is a dying one.
Since brick-and-mortar retailers need to pay for rent, staff and inventory, they just aren't able to compete with online vendors on price. Because of these costs, any diamond purchased from a brick-and-mortar store will always be more expensive than a similar diamond bought online.
Luxury brands, which spend the most on rent and marketing, are the most extreme example of this difference in price. Because the cost of operating and promoting a network of boutiques is so high, they're forced to compete on things other than value for money.
So, what does this mean for you as a consumer? If you have the budget and value the Tiffany brand name, or if you want the special experience and customer service that high-end brands offer, by all means buy an engagement ring from a luxury brand like Tiffany & Co. You won't be disappointed.
However, if you care solely about the quality you're getting, it's much smarter to buy your ring from an online vendor like James Allen, Blue Nile, or Leibish & Co.
Take the Tiffany & Co. ring we mentioned above. It featured a 0.53 carat, H color, VVS2 clarity cushion cut diamond in an 18K gold pavé setting and cost $6,859 after tax.
With the same budget, you can buy this engagement ring from James Allen, which features a much more impressive 1.20 carat diamond of the same shape, cut quality, clarity and color.
It's a similar story with other brands, such as Harry Winston or Van Cleef & Arpels. There's no question that their products are excellent, but the premium you pay for the brand name makes the purchase very difficult to justify.
Our Recommendation
Sometimes, spending more for a certain brand name makes sense. But since diamonds can be graded objectively, there's no reason to spend twice as much for a diamond from a brand name jeweler than you would for an identical stone available online.
In the end, our reader opted for a custom engagement ring setting from James Allen with a 1.6 carat, H color, VS1 clarity cushion cut diamond. He loved it, and he paid substantially less than he would have for a similar ring from Tiffany & Co.
If you're interested in a brand name engagement ring but want better value for money, you can learn more about getting superior quality for a better price in our guide to buying a diamond.
You can also reach out to us for personalized advice on the best diamonds or settings for your tastes and budget.
James Allen

James Allen is the leader in online diamond sales. Their imaging technology is the same as inspecting a diamond with a jeweler's loupe. They have the largest exclusive loose diamond inventory online and fantastic prices. They also have the nicest collection of lab created diamonds online. Now save 25% off settings AND 3% off Earth Diamonds during James Allen HUGE limited time sale!
What we love about them:
No questions asked returns within 30 days of shipment. James Allen will send you a paid shipping label to return the ring.
Lifetime Warranty
Free International Shipping
Free prong tightening, repolishing, rhodium plating and cleaning every 6 months
Provide insurance appraisals
One free resizing within 60 days of purchase
Free ring inscriptions
Best-in-class high quality imagery of all diamonds in stock
24/7 Customer Service
Best-in-class packaging

---
Blue Nile

Blue Nile is the largest and most well known internet jewelry seller. They have a very large exclusive online inventory. Their high quality images are catching up to James Allens' and their prices are amazing. Blue Nile have generously offered our readers an exclusive one-time use coupon.

(Click Here to save $100 off engagement ring settings)
What we love about them:
No questions asked returns within 30 days of shipment. Blue Nile will send you a paid shipping label to return the ring.
Lifetime Warranty
Free Shipping
Free prong tightening, repolishing, rhodium plating and cleaning every 6 months
Provide insurance appraisal
One free resizing within the first year of purchase
High quality images of about half of their diamonds
24/7 Customer Service
100% credit towards future upgrades (must be at least double in value)
Best in class fulfillment

Read More