We are reader-supported. Buying through links on our site may earn us commissions. Learn More.
Deal Alert! Huge James Allen Sale- 3% off Earth Diamonds AND 25% off settings or

15% off at Blue Nile!



Buying Guide: Diamonds & Engagement Rings in Atlanta
Shopping for an engagement ring in Atlanta? Although Atlanta doesn't quite have a diamond district comparable to Chicago, Los Angeles or New York City, there are numerous jewelers throughout the city that are well known for their diamond jewelry.
Like anywhere else, getting the best possible deal on a diamond engagement ring in Atlanta can depend on a range of factors, from where you shop to the characteristics you look for in a center stone and setting. 
Below, we've put together a detailed guide to shopping for engagement rings and other fine diamond jewelry in Atlanta, covering everything from the best places to buy locally to the key features you should look for when comparing engagement rings.
Buying Online vs. Buying From a Jewelry Store
As we've covered frequently on this website, we strongly recommend buying an engagement ring online instead of from a brick-and-mortar jewelry store.
The reason for this is simple: by buying online, you'll be able to choose from a larger range of diamonds, as well as a larger range of settings. You'll also pay a significantly lower price than you would for a comparable diamond from an Atlanta area jeweler.
As we've covered in our guide to the evolution of the diamond market, the economics of selling diamonds online allow trusted online vendors to offer far better prices to you as a consumer. 
In our experience, the engagement rings we found in Atlanta's jewelry stores were about 30 to 40% more expensive than comparable rings available online from trusted vendors such as Blue Nile and James Allen.
In short, you'll almost always get the best deal by shopping online. However, with this said, we understand that not everyone wants to buy a diamond online. To give you some expert insight, we've provided our guide to shopping offline for diamond engagement rings in Atlanta below. 
Where is the Best Place to Buy an Engagement Ring in Atlanta?
Unlike Chicago, Los Angeles and NYC, Atlanta doesn't really have a diamond district with numerous merchants that specialize in diamond jewelry (although the AmericasMart Atlanta comes fairly close). Instead, a variety of diamond jewelers are spread out throughout the Atlanta area.
We visited numerous jewelers in the Atlanta area and found four that stood out from the others: Solomon Brothers, Worthmore Jewelers, Shane Co. and D. Geller & Son. 
Solomon Brothers Fine Jewelry
Tower Place 100 Suite 1700, 3340 Peachtree Rd NE
Founded in 1982, Solomon Brothers Fine Jewelry is one of the best known places in the Atlanta area to buy an engagement ring. 
Solomon Brothers was our favorite secret shopping experience in Atlanta. Their showroom is located on the 17th floor of Tower Place 100, a high-rise office building in Buckhead. It was a unique experience being in a showroom with such stunning views.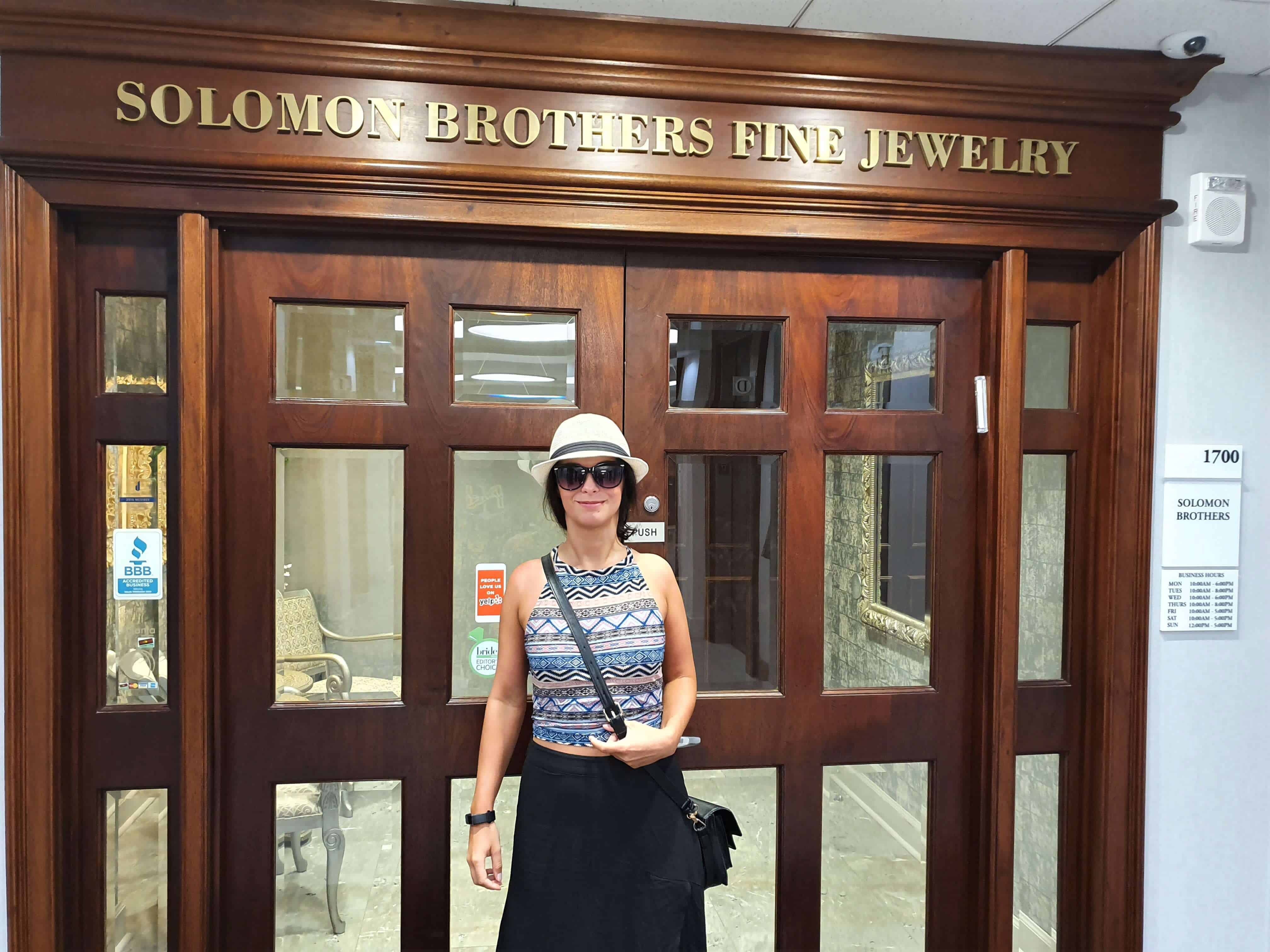 The selection of jewelry available at Solomon Brothers is vast. They have a huge, diverse range of engagement ring settings in just about every imaginable style, as well as a large selection of pre-made engagement rings and designer settings.
As for diamonds, Solomon Brothers have a large range of GIA and AGS certified diamonds for you to choose from. As we've covered in our guide to diamond certification, AGS and GIA are the two most consistent and reliable diamond grading entities. 
Overall, our impressions of Solomon Brothers were very positive. With this said, there's one issue that we think deserves pointing out, if only for constructive criticism purposes.
During our visit to Solomon Brothers, we thought the sales pitch was a little too high pressure. There's no need to get every little detail of personal information from the customer within a few minutes of introducing yourself. 
This minor criticism aside, Solomon Brothers was our favorite secret shopping experience in Atlanta overall. Their collection of diamonds and settings is vast and, provided you stick with the GIA and AGS certified diamonds, you can find a nice diamond at a reasonable price. 
Worthmore Jewelers
Amsterdam Walk, 500 Amsterdam Ave NE
Worthmore is another well-known name in Atlanta jewelry. They have two branches in Atlanta — one at Decatur Square and another at Amsterdam Walk. We visited the Amsterdam Walk store to look at their selection of loose diamonds and engagement ring settings.
Overall, Worthmore Jewelers is an excellent place to buy jewelry gifts. They stock a large range of settings covering just about every style, from elegant solitaire settings to a selection of pavé, halo and side stone engagement rings.
They also have a good selection of loose diamonds. Most of the loose diamonds available from Worthmore Jewelers come with GIA certification, although there are a few EGL diamonds mixed in. We recommend sticking to the GIA certified diamonds only. 
As with other brick-and-mortar jewelers, not all of the diamonds for sale at Worthmore Jewelers were outstanding. However, if you want to shop in person, you can buy a high-quality diamond ring here, provided you limit your selection to the GIA certified diamonds.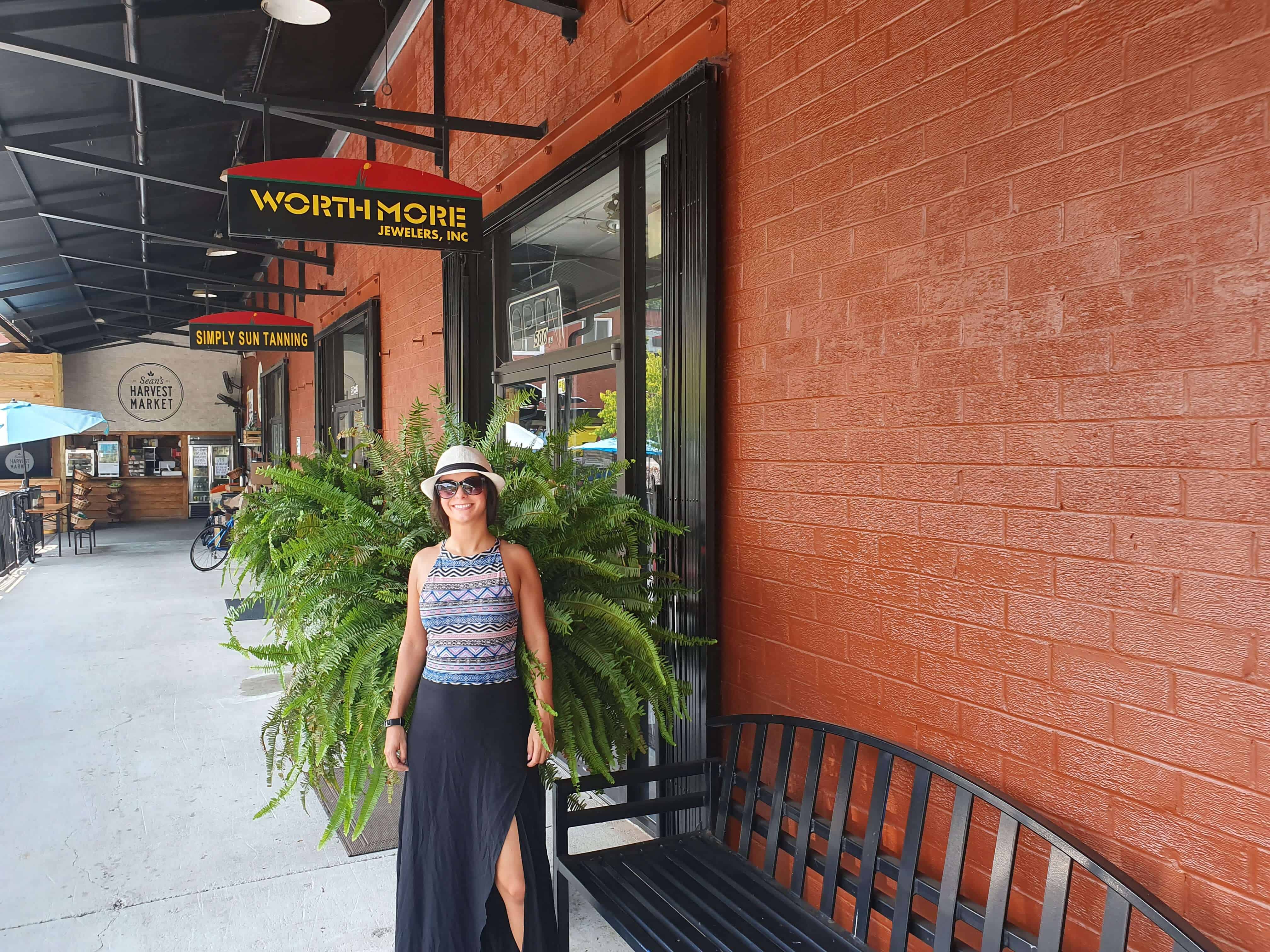 Shane Co. 
Shane Company have several stores throughout the Atlanta area, the most popular of which is their location at 3300 Steve Reynolds Blvd in Duluth. 
As we've previously covered in our review of Shane Co., we generally recommend avoiding this chain. The diamonds at Shane Co. are typically mediocre in quality and priced much higher than comparable (or even superior) diamonds available online.
There's also the issue of certification. While Shane Co. do sell GIA certified diamonds, they also sell a lot of non-certified diamonds. Many of these diamonds have terrible cuts and would earn a poor rating from a reputable lab like GIA or AGS.  
Overall, we do not recommend buying an engagement ring from Shane Co. You can learn more about our reasoning in our full review. While some stores offer personal service and extra value that makes up for the higher pricing over online vendors, this isn't one of them. 
D. Geller & Son
Akers Mill Square, 2955 Cobb Pkwy SE Suite 230
Founded in 1939, D. Geller & Son is a Georgia jewelry retailer with stores in Atlanta, Kennesaw and Sandy Springs. They specialize in diamond jewelry and sell a range of loose diamonds and engagement ring settings, as well as a selection of designer rings, earrings, bracelets and more. 
There are several things we like about D. Geller & Son. First, they have a great selection of GIA certified diamonds. Second, they have a large, diverse selection of settings to choose from, with options in a variety of styles and metals.
Third, their staff is friendly, professional and welcoming. Great customer service goes a long way when you're shopping for an engagement ring, and D. Geller & Son get it right. 
Overall, D. Geller & Son stock a great selection of loose diamonds and settings, complete with friendly and professional customer service. 
5 Expert Tips for Buying a Diamond in Atlanta
If you're interested in buying an engagement ring offline, it's important that you go into the store with an understanding of what to look for.
The unfortunate truth of the diamond industry is that many retailers understand that consumers aren't well informed on factors like diamond cut, color, clarity and carat weight — the key factors that make a diamond valuable.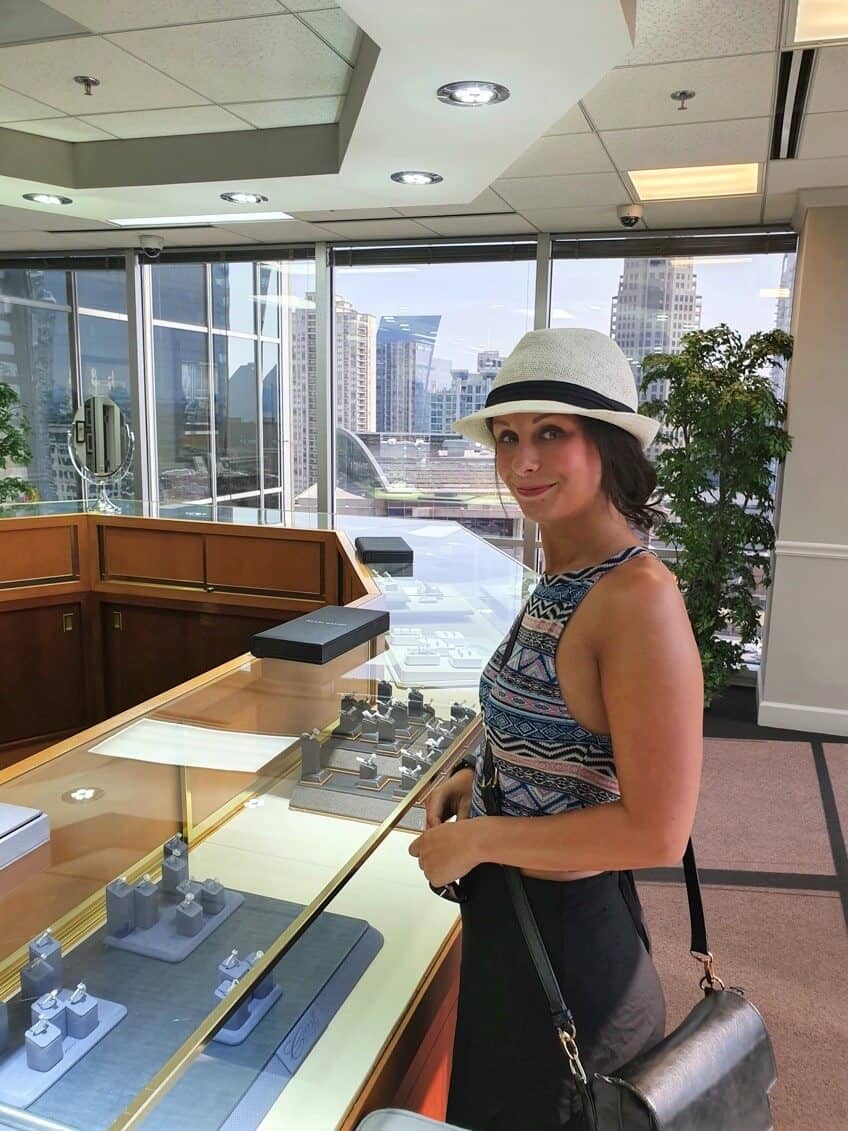 We mentioned this above in our review of Shane Co., where the staff played down the value of diamond certification.
The end result is that consumers are often pushed towards diamonds with flaws that are hard for a beginner to spot but obvious to an expert. This could mean a diamond with poor color, a non-certified stone with obvious inclusions or just a diamond with a poor quality certificate. 
To help you avoid these common traps, we've shared five expert tips below that will help you make sure you're buying a quality diamond and engagement ring setting at the right price.
Check the Diamond's Cut
The cut of a diamond is the most important factor for determining its brilliance, fire, beauty and overall appearance. Simply put, diamonds that are cut to a high standard look significantly more attractive than diamonds with a poor cut quality.
To avoid buying a subpar diamond, we recommend only choosing a diamond with an excellent or ideal cut. We also recommend checking a diamond's depth and table to make sure it has an ideal ratio for its shape. 
You can find this information on the diamond's certificate. If you're considering a fancy shape diamond, use our diamond shapes guide to find the optimal depth, table and length-to-width ratio for the specific shape you're looking for. 
Stick to High Quality, Certified Diamonds
You should never, ever buy a diamond that doesn't come with a certificate from a reliable and trusted grading entity. Without a certificate, it's impossible to verify that a diamond's color, cut quality, clarity and carat weight actually match the claims made by the business selling it.
When you're comparing diamonds, ask to see each diamond's GIA or AGS certificate. These are the two most reliable grading entities in the diamond industry. Their certificates provide an objective, reliable assessment of the diamond's appearance and value. 
In general, it's best to avoid diamonds that are sold with IGI or EGL certificates. These grading labs have a reputation for overstating the quality of the diamonds they grade. As such, they're not recommended. 
Look for an Eye-Clean Diamond, Not a Flawless One
As part of the evaluation process, every diamond receives a clarity grade. This refers to how free the diamond is of visible inclusions and blemishes that affect its appearance. This grade can range from I1 (1st-degree inclusions) to IF (internally flawless).
Flawless diamonds are not only very rare — they're also extremely expensive. In general, the higher the diamond's clarity grade, the more you'll pay, even if the improved clarity isn't visible to the naked eye.
To avoid wasting money, we recommend opting for a diamond that's eye-clean instead of one that's close to flawless. "Eye-clean" means that a diamond has no inclusions or blemishes that are visible to the naked eye. In short, any clarity issues are invisible without magnification.
You can check a diamond for eye-cleanliness by moving it away from any bright lights inside a store, then examining it with your naked eye. If you can't make out any inclusions, the diamond is eye-clean.
For most diamonds, a VS1 or VS2 clarity grade will be eye-clean. At higher grades, you're often wasting money for a feature you'll never notice, especially once the diamond is set in a ring and worn on your fiancé-to-be's finger. 
Choose a Diamond of Suitable Color
Every certified diamond receives a color grade. The higher a diamond's color grade, the more colorless it is. Colorless diamonds receive a grade of D-F, while nearly colorless, faintly tinted and lightly tinted diamonds receive lower grades.
Just like with clarity, there's no need to buy a perfectly colorless diamonds. Instead, it's best to choose a diamond that will look relatively colorless after it's set in an engagement ring.
White metals such as white gold and platinum will display a diamond's color more than darker metals. As such, if you choose a setting made from a white metal, it's best to select a diamond with a color grade of H to J.
For an Asscher, princess or emerald cut diamond, a color grade of G to I is recommended, as these diamond shapes display color more readily than round brilliant cuts. 
Metals like yellow gold and rose gold will slightly tint the color of a diamond, meaning you can get away with a slightly lower color grade. For a round brilliant cut diamond in a yellow or rose gold solitaire setting, choose a K to M color grade; for other cuts, look for a color grade of J to K. 
Of course, if you want to choose a diamond with a higher color grade than these, you're free to do so. Just be aware that the difference in appearance may not be as obvious as the difference in price. 
Finally, if you prefer a pavé, halo or side stone setting, go a bit higher in color to avoid any possible yellowness.  
Don't Feel Pressured or Obligated to Buy
Buying an engagement ring shouldn't be a stressful experience. Instead, it should be an exciting and enjoyable one. You're purchasing a symbol of the love between you and your fiancé-to-be — a precious item that symbolizes your next step in life.
Unfortunately, many jewelry salespeople treat a customer buying an engagement ring as a fast, easy opportunity to push someone into making an expensive purchase. 
If you ever feel pressured by a salesperson, it's best to step back and reassess. Take your time and know exactly what you're looking for before you buy anything, whether online or offline. This way, you'll be best prepared to get a good deal when you decide you're ready.
Options for Buying a Diamond Online
You'll get a much better deal by buying an engagement ring online than from a brick-and-mortar retailer. Because of their lower operating costs, online vendors can charge a significantly lower markup than their brick-and-mortar counterparts, reducing the price for consumers. 
In general, we recommend two online diamond vendors: Blue Nile and James Allen. Both offer highly competitive pricing, great customer service and fast delivery.
As the world's largest online diamond retailer, Blue Nile have a vast selection of diamonds in all sizes, shapes and price ranges. They also stock a huge selection of settings, making it easy to create an engagement ring that suits your fiancé-to-be's style. 
All Blue Nile diamonds come with GIA or AGS certification, giving you peace of mind that you're receiving a diamond with accurate grading. Blue Nile offer fast, reliable delivery and even offer a satisfaction guarantee for their diamond jewelry. 
James Allen are another great option for buying diamonds online. They carry a large selection of diamonds in all price ranges, almost all of which come with an AGS or GIA certificate. They also have HD 360° images for their diamonds, giving you a great view before you buy. 
Like Blue Nile, James Allen offer a diverse selection of engagement ring settings, allowing you to design an engagement ring to suit your fiancé-to-be's tastes. Delivery is fast, their prices are highly competitive and they even offer a lifetime warranty on all engagement rings.
Conclusion
There are several good places to shop for engagement rings in the Atlanta area, with Solomon Brothers Fine Jewelry our personal favorite secret shopping experience. With this said, you will get better value online than from any brick-and-mortar jeweler in the Atlanta area. 
Need help choosing the right engagement ring? For personalized advice, feel free to contact our experts. We can help you find the perfect engagement ring and other fine jewelry for your tastes and budget. 
James Allen

James Allen is the leader in online diamond sales. Their imaging technology is the same as inspecting a diamond with a jeweler's loupe. They have the largest exclusive loose diamond inventory online and fantastic prices. They also have the nicest collection of lab created diamonds online. Now save 25% off settings AND 3% off Earth Diamonds during James Allen HUGE limited time sale!
What we love about them:
No questions asked returns within 30 days of shipment. James Allen will send you a paid shipping label to return the ring.
Lifetime Warranty
Free International Shipping
Free prong tightening, repolishing, rhodium plating and cleaning every 6 months
Provide insurance appraisals
One free resizing within 60 days of purchase
Free ring inscriptions
Best-in-class high quality imagery of all diamonds in stock
24/7 Customer Service
Best-in-class packaging

---
Blue Nile

Blue Nile is the largest and most well known internet jewelry seller. They have a very large exclusive online inventory. Their high quality images are catching up to James Allens' and their prices are amazing. Blue Nile have generously offered our readers an exclusive one-time use coupon.

(Click Here to save $100 off engagement ring settings)
What we love about them:
No questions asked returns within 30 days of shipment. Blue Nile will send you a paid shipping label to return the ring.
Lifetime Warranty
Free Shipping
Free prong tightening, repolishing, rhodium plating and cleaning every 6 months
Provide insurance appraisal
One free resizing within the first year of purchase
High quality images of about half of their diamonds
24/7 Customer Service
100% credit towards future upgrades (must be at least double in value)
Best in class fulfillment

---
Still afraid of getting ripped off?
Before you buy a diamond, get personal buying advice from industry veterans. We'll help you get the best diamond for the money.
Ask your diamond purchase question here
DISCLAIMER: We don't use your email for marketing. Period.