We are reader-supported. Buying through links on our site may earn us commissions. Learn More.
Deal Alert! Huge James Allen Sale- 3% off Earth Diamonds AND 25% off settings or

15% off at Blue Nile!



Chicago Diamond District: Buyer's Guide to Jewelers Row
Chicago's diamond district, or Jewelers Row, is the most well known and popular place in the city to shop for diamond engagement rings and other fine jewelry. 
Although it's not quite as well known as New York's Diamond District, Jewelers Row is home to numerous large jewelry stores. The commercial center of the area is the Jewelers Center — an iconic Chicago building that's home to almost 200 different jewelers. 
Just like shopping for diamonds elsewhere, getting the best deal on a diamond ring or other fine jewelry from Jewelers Row isn't always simple. Below, we've put together a detailed guide to the Chicago Diamond district, covering everything from the area itself to specific stores and more.
Buying Online vs. Buying From a Jewelry Store
We strongly recommend buying a diamond online instead of at a jewelry store. By buying from a trusted online vendor, you'll get access to a larger selection of diamonds and much better prices than you would from a brick-and-mortar jewelry store. 
This is true regardless of the city you shop in. For example, the prices in most jewelry shops in Chicago's diamond district tend to be anywhere from 30 to 50% higher than what you'd pay for a comparable diamond online. 
If you're looking for the best pricing, we recommend buying a diamond engagement ring from James Allen or Blue Nile. Both of these vendors offer competitive pricing, an excellent range of diamonds and engagement ring settings, as well as outstanding customer service. 
Of course, we understand that not everyone wants to buy a diamond online. Buying in person offers a unique, more personalized experience. If you prefer to shop for jewelry offline, you can find our full guide to Chicago's diamond district below. 
Where is the Diamond District in Chicago?
Chicago's diamond district is referred to locally as Jewelers Row. You can find it on Wabash Avenue, covering the area from East Washington Street to East Monroe Street. The street is home to countless jewelry stores, including the massive Jewelers Center.
Like many other parts of Downtown Chicago, Jewelers Row is worth a visit even if you aren't interested in buying jewelry. The short stretch of Wabash Avenue is home to several beautiful early 20th century buildings and is one of several official landmark areas in the city.
Getting to Jewelers Row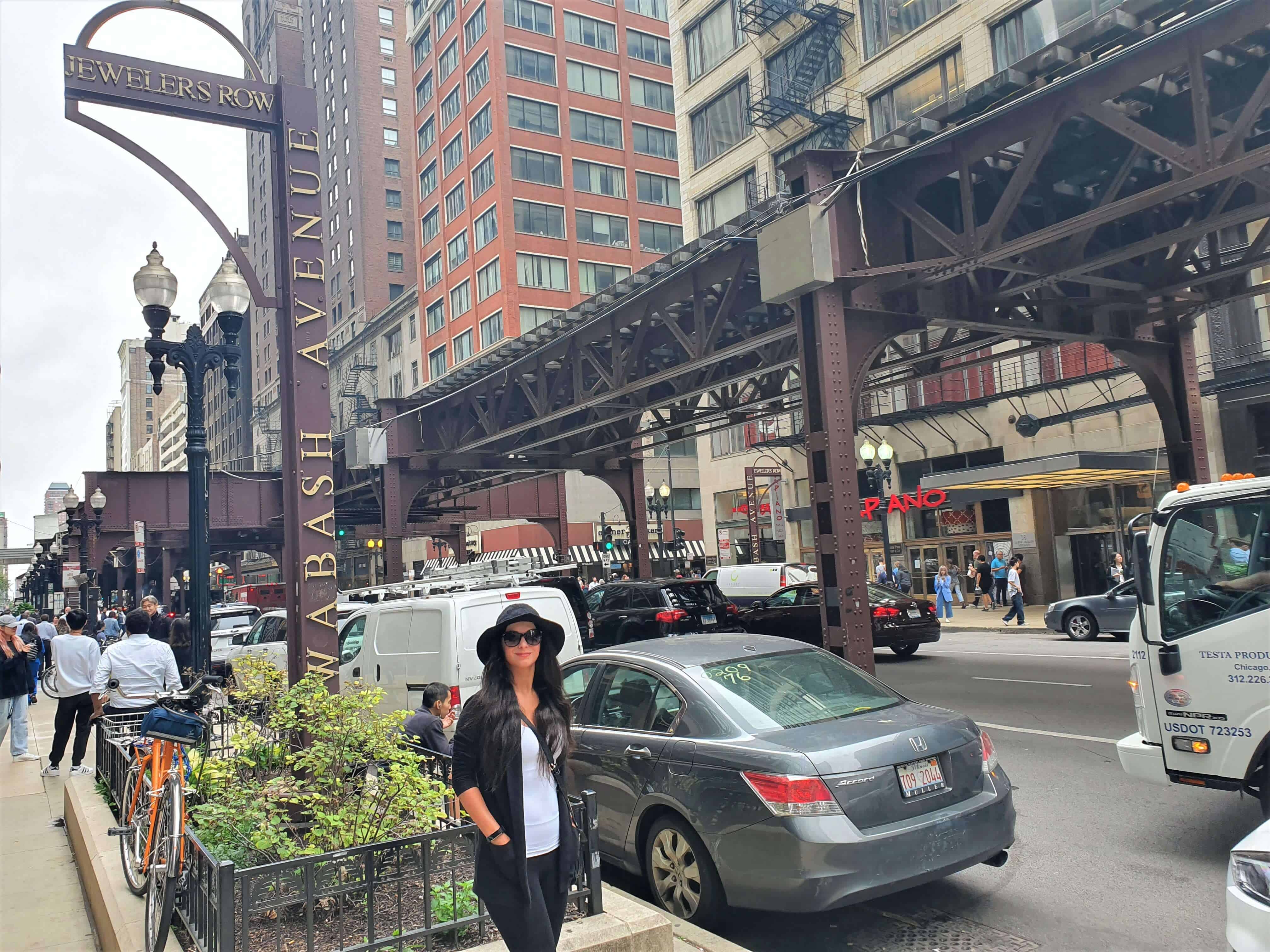 Jewelers Row is located right near the center of the Loop, making it easy to access. There are several ways to get here:
Adams/Wabash and Washington/Wabash station are both located a short walk from Jewelers Row, making it easy to get to the area using the L. These stations service the Orange, Green, Purple, Pink and Brown lines.

Of these stations, Washington/Wabash provides disabled access. Jewelers Row is also within walking distance of Monroe/Dearborn station.

Parking near Jewelers Row is readily available, although parking fees in the Loop are very much on the expensive side. If you'd like to drive, there's an Adams & Wabash Self Park a short walk away, another Self Park at 55 East Monroe, plus the Grant Park North Garage at 25 Michigan Ave.
Jewelers Row is a bustling area with lots going on. If you're visiting specifically to shop for an engagement ring or other fine jewelry, we recommend making a list of places to visit ahead of time. Once you arrive, you'll find that there are simply too many stores to visit in one day.
Shopping at the Chicago Diamond District
There are numerous diamond and fine jewelry retailers in Chicago's diamond district. If you're looking for a loose diamond, engagement ring, other diamond jewelry or even a ruby, sapphire or other colored gemstones, you'll have no problems finding it here.
Getting an excellent deal on a diamond engagement ring or other jewelry, on the other hand, isn't guaranteed. 
In general, the shopping experience at Chicago's diamond district is similar to the experience at New York or Los Angeles' diamond districts. There are many excellent diamonds available here, as well as some decent deals, but there are also plenty of subpar diamonds and poor deals. 
By this we mean diamonds sold with certificates that don't accurately reflect their real quality, as well as diamonds with visible "issues" such as inclusions and coloration that make them far less valuable than they appear. 
As we've covered in our guide to the diamond industry's recent history and evolution, it's much more expensive for a retailer to sell diamond jewelry in a brick-and-mortar store than it is to sell the same diamonds online. 
This is particularly true in Jewelers Row, where the rents paid by many of these jewelry stores are astronomically expensive.
At the end of the day, you're far more likely to end up paying too much here, or end up with a flawed diamond sold as a "great" deal, than you are to save a few percentage points compared to buying online. As such, buying a diamond here isn't a great value bet in our opinion. 
If you do decide to buy here, we've included a few practical tips further down the page to help you avoid overpaying for a subpar diamond. 
Best Places to Buy in the Chicago Diamond District
If you decide to shop in the Chicago diamond district, here are a few of the most popular stores.
Windy City Diamonds
Mallers Building, 1 S Wabash Ave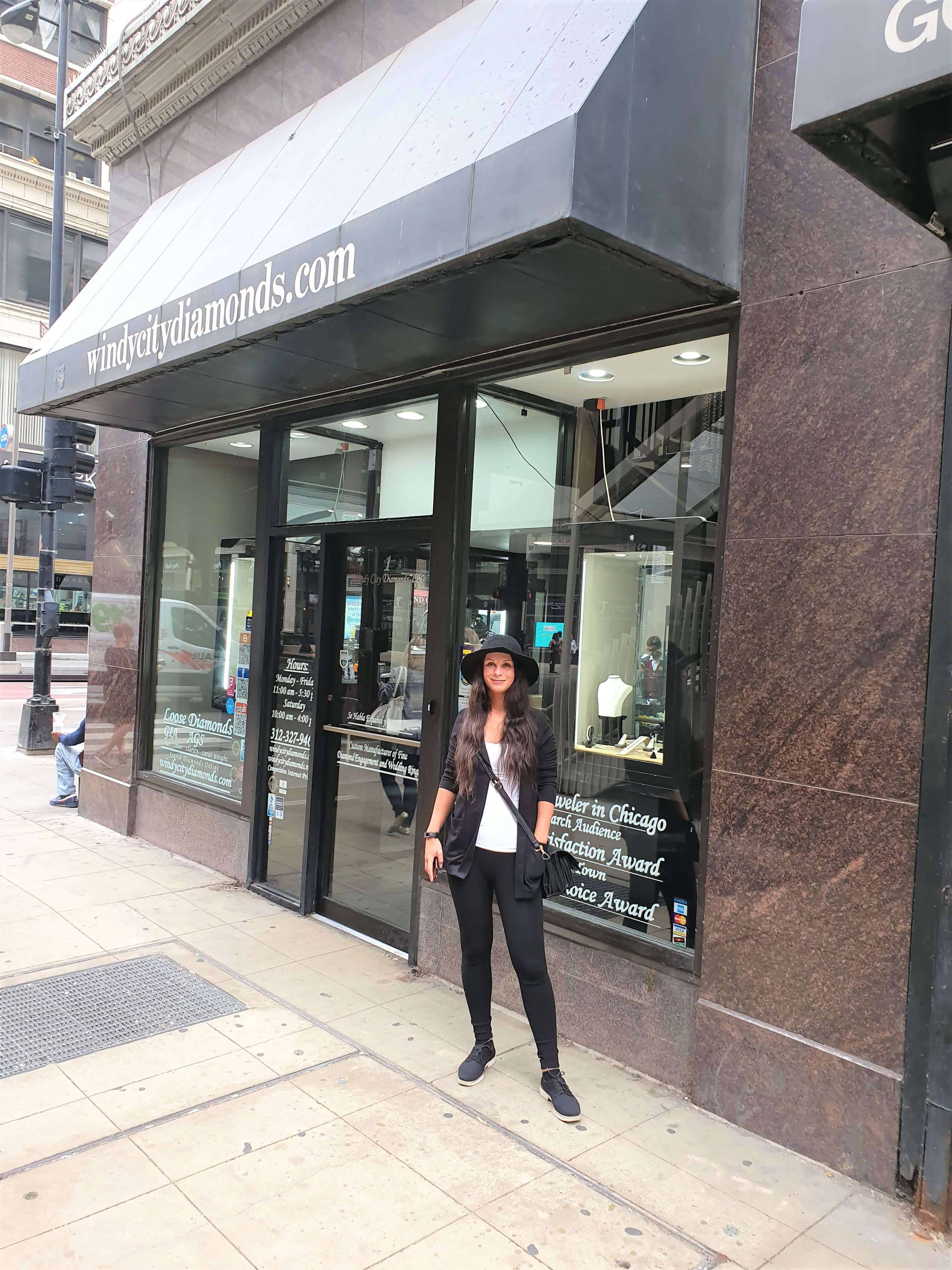 Located in the Mallers Building, Windy City Diamonds is a popular family-owned jeweler. They stock a diverse range of GIA certified diamonds in all of the most popular shapes, from round brilliants to countless others (we've explained why GIA certification is so important here). 
Overall, Windy City Diamonds have a good selection of diamonds and friendly, professional customer service. Their diamonds and settings are gorgeous and high quality, making them worth a visit if you prefer to shop offline for fine jewelry. 
Ethan Lord Jewelers
Jewelers Center at the Mallers Building, Suite 208, 5 South Wabash Ave
Ethan Lord Jewelers is located inside the Jewelers Center on the second floor. They offer a decent range of GIA certified diamonds as well as engagement ring settings, with a focus on custom engagement rings. 
Overall, the service at Ethan Lord Jewelers is friendly and professional, making it a good option if you want to shop in the area. 
Donna Jewelry
Wabash Jewelers Mall, Suite 1, 21 N Wabash Ave
Operating for over 30 years, Donna Jewelry is a family-owned jewelry business located in the Wabash Jewelers Mall. They offer custom engagement rings, wedding bands and sell a good range of GIA certified diamonds.
dimend SCAASI
Mallers Building, 5 S Wabash Ave
Another popular Chicago jeweler, dimend SCAASI specializes in diamond engagement rings and wedding pieces, as well as earrings and other diamond jewelry. The service here is friendly and professional, although it's recommended to book an appointment ahead of time. 
The Magnificent Mile
Although Jewelers Row is the best-known place in Chicago to shop for diamonds, it's far from the only place to buy a diamond engagement ring or other jewelry. 
If you're looking for a high-quality diamond and have the budget to match, it's worth making a visit to the Magnificent Mile. Chicago's upscale shopping district doesn't have as many small jewelers as the diamond district, but it does have several upscale boutiques and brands.
Tiffany & Co.
730 N Michigan Ave
Arguably the world's most famous jewelry store, Tiffany & Co. have a large boutique at 730 N Michigan Ave, right in the heart of the Magnificent Mile. As we've covered in our Tiffany & Co. review, their diamond jewelry is of exceptional quality, albeit with equally exceptional pricing.
Razny Jewelers
109 E Oak St
Razny Jewelers are an independent Chicago jeweler founded in the 1950s. Today, the family-owned business operates several locations throughout Chicago, selling high-quality diamond engagement rings, fashion jewelry and timepieces from brands like Rolex and Patek Philippe. 
Their Magnificent Mile store is located at 109 E Oak St, a short walk from Cartier. The staff at Razny are well trained, professional and eager to answer any questions you may have about engagement rings, watches and other jewelry.
5 Expert Tips for Buying a Diamond in Chicago
It's important to know what to look for when you're shopping for a diamond, especially if you're buying by yourself from a brick-and-mortar retailer. 
Unfortunately, many diamond jewelers are fully aware that the average customer isn't very well versed in what makes one diamond more or less valuable than another. Because of this, it's far from uncommon for jewelers to push diamonds that simply aren't worth the money. 
This could mean attempting to sell you a diamond with a certificate from a low-quality grading entity or just selling a diamond with small, difficult-to-spot flaws. 
While this isn't likely to happen if you opt for one of the retailers we listed above (or if you buy online), it's still important to be aware of what to look for. Below, we've shared five tips to help you avoid common traps and make sure you end up with a stunning, high-quality diamond. 
Evaluable The Cut
The number one factor that affects a diamond's beauty, fire and brilliance is the way it's cut. A large diamond with a poor quality cut can look dull and lifeless, while a smaller diamond that's cut to a higher standard can easily look more eye-catching, brilliant and impressive.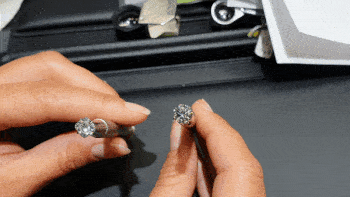 Because of this, we recommend only considering diamonds with an excellent or ideal cut. It's also important to check that a diamond's depth and table are within the recommended levels before you make a purchase. 
Cut quality, depth and table can vary from one diamond shape to another. If you're shopping for a fancy shape diamond, such as a cushion or Asscher cut, check our diamond shapes guide to make sure you choose a stone of optimal cut quality.  
Verify the Diamond's Certification
Diamonds are certified before they go on sale. A diamond's certification lists factors such as its carat weight, clarity, color and cut quality, giving you an objective analysis of the overall value of the diamond.
Unfortunately, not all diamond certifications are equally reliable. Some grading entities, such as the IGI, are well known for using lax and inconsistent grading criteria. This means that diamonds sold with an IGI certificate may not be as high in quality as their certificate makes them seem.
Many jewelers are aware of this and use it to their advantage by pushing diamonds certified by the IGI and other less consistent labs on their customers. 
To avoid being sold a poor quality diamond, only consider diamonds that come with either a GIA or AGS certificate. These two labs are the most reliable grading entities in the industry, with both known for giving accurate, objective grades to the diamonds they analyze.
Focus on Eye-Cleanliness, Not Flawless Clarity
All diamonds receive a clarity grade. This refers to how free the diamond is of visible inclusions and blemishes. Diamonds with few or no inclusions receive a high grade, while diamonds with large, obvious inclusions receive a lower grade.
You don't need to purchase a diamond that's totally free of inclusions. Instead, it's best to look for a diamond that's eye-clean, meaning it has no inclusions or blemishes that are visible to the naked eye. 
To check that a diamond is eye-clean, move it away from any bright lights inside the store and check it with your naked eye. If you can't see any inclusions, it's eye-clean; if you can, it's best to ask for a diamond with a higher clarity grade.
Most of the time, diamonds with a VS1 or VS2 clarity grade will be eye-clean, although certain diamond shapes can look eye-clean with a lower or higher grade. Beyond the eye-clean level, any improvements in clarity offer negligible benefits and simply increase adiamond's price. 
Check the Diamond's Color
A diamond's color has a huge impact on its appearance. Diamonds with a lower color grade can have a slight yellow or brown tint, whereas diamonds with a higher color grade have a colorless appearance. 
Like with clarity, there's no need to overpay for a diamond with flawless color. Instead, it's more important that the diamond looks colorless in comparison to its setting.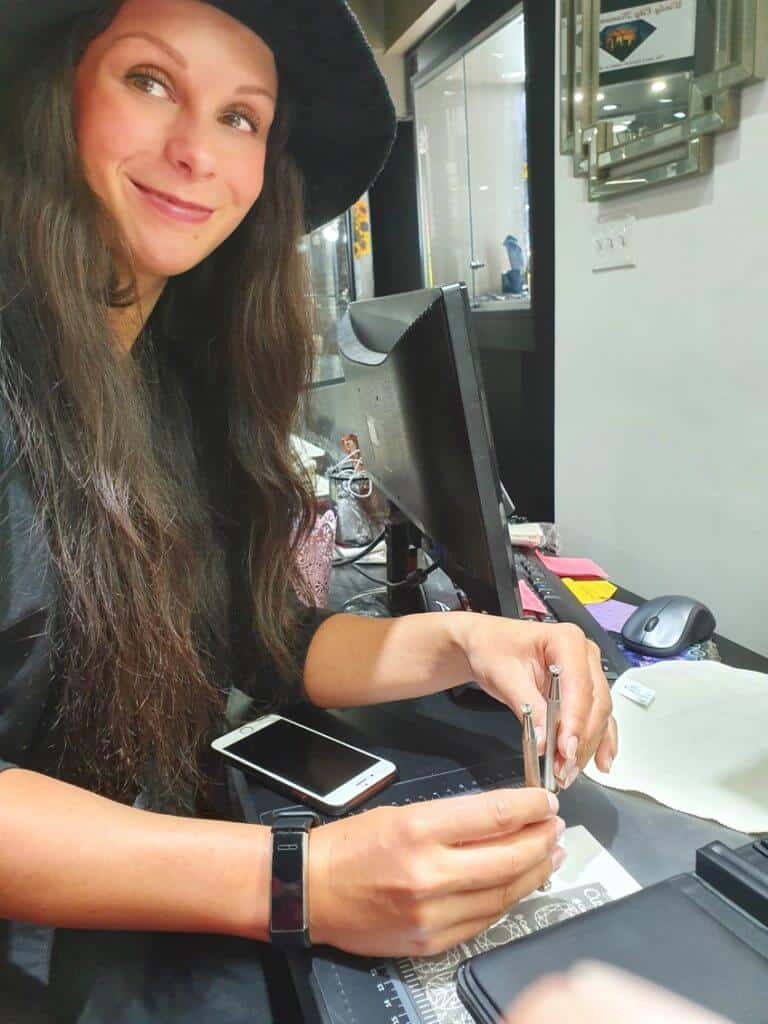 If you're looking for an engagement ring made of white metal, such as white gold or platinum, look for a diamond with a color grade of H to J, or G to I if you're considering a diamond with an Asscher, emerald or princess cut.
With yellow and pink metals, the color of the metal will be partially absorbed into the diamond, meaning flawless color is a waste of money. For a round diamond mounted in a yellow or rose gold solitaire setting, look for the K to M color grades, or J to K for Asscher, emerald or princess cuts.
If you're considering a pavé, halo or side stone setting, it's important to match the color of your center stone to the other diamonds used in the setting. We've covered this in more detail in our diamond color guide. 
Take it Easy and Enjoy the Experience
Shopping for a diamond can be an enjoyable experience, as well as an exciting one. After all, you're buying something extremely special for your fiancé-to-be — a purchase that's going to change both of your lives forever.
This makes it easy to feel pressured into making a quick decision — something many diamond salespeople are fully aware of. If you ever feel pressured into acting quickly, or uncomfortable because a diamond doesn't match what you're looking for, it's important to take your time.
To get the best deal, compare what you see in the stores to what's available online and think it over carefully before you make a purchase. If you're not sure what to do, contact us and we'll give you expert advice on the best options for your tastes, expectations and budget. 
Options for Buying a Diamond Online
As we've mentioned several times above, you'll get by far the best deals by buying a diamond engagement ring online instead of in a brick-and-mortar jewelry store. 
Online vendors simply have lower operating costs than their brick-and-mortar counterparts. As their business is based online, they don't have to pay expensive rents, salaries for sales staff or many of the other costly expenses that can inflate the price of a diamond.
Just like offline jewelers, not all online diamond vendors are equally good. We've listed our top recommendations below, both of which offer outstanding value for money and quality service.
Blue Nile are the world's largest online diamond retailer. Their selection of diamonds is absolutely massive, with options available at every price point. All of their loose diamonds are either GIA or AGS certified, giving you confidence that you're buying exactly what you expect.
In addition to their diamonds, Blue Nile offer a huge range of beautiful engagement ring settings, allowing you to create and order your own engagement ring with ease. Their customer service is outstanding and they offer a satisfaction guarantee on all diamonds sold. 
Deliveries from Blue Nile are quick and efficient — you'll usually receive your diamond ring, even if it's made from a separate loose diamond and setting, within one week. 
Another excellent option for buying online, James Allen offer one of the most extensive ranges of diamonds of any online vendor. Their imagery is also fantastic, giving you a 360° view of any diamond or gemstone in exceptional detail before you order. 
James Allen also have a great selection of engagement ring settings, providing everything from classic solitaire rings to pavé settings and more. 
As with Blue Nile, James Allen offer professional service. Their deliveries arrive quickly and they provide a lifetime warranty on all of their jewelry. Almost all of their diamonds are sold with AGS or GIA certification, giving you peace of mind that you'll receive exactly what you order. 
Ringo

™

Approved Eye Clean Diamonds
Conclusion
Chicago's Jewelers Row is a great place to explore and an interesting place to shop, although it isn't the best place to buy a diamond from a value for money perspective. However, if you prefer to shop offline, you'll be best served by visiting one of the jewelers we recommend above. 
For personalized advice on buying diamonds rings and other fine jewelry, feel free to contact our experts for help. We can help you find the ideal engagement ring or other piece of jewelry to suit your tastes and budget. 
James Allen

James Allen is the leader in online diamond sales. Their imaging technology is the same as inspecting a diamond with a jeweler's loupe. They have the largest exclusive loose diamond inventory online and fantastic prices. They also have the nicest collection of lab created diamonds online. Now save 25% off settings AND 3% off Earth Diamonds during James Allen HUGE limited time sale!
What we love about them:
No questions asked returns within 30 days of shipment. James Allen will send you a paid shipping label to return the ring.
Lifetime Warranty
Free International Shipping
Free prong tightening, repolishing, rhodium plating and cleaning every 6 months
Provide insurance appraisals
One free resizing within 60 days of purchase
Free ring inscriptions
Best-in-class high quality imagery of all diamonds in stock
24/7 Customer Service
Best-in-class packaging

---
Blue Nile

Blue Nile is the largest and most well known internet jewelry seller. They have a very large exclusive online inventory. Their high quality images are catching up to James Allens' and their prices are amazing. Blue Nile have generously offered our readers an exclusive one-time use coupon.

(Click Here to save $100 off engagement ring settings)
What we love about them:
No questions asked returns within 30 days of shipment. Blue Nile will send you a paid shipping label to return the ring.
Lifetime Warranty
Free Shipping
Free prong tightening, repolishing, rhodium plating and cleaning every 6 months
Provide insurance appraisal
One free resizing within the first year of purchase
High quality images of about half of their diamonds
24/7 Customer Service
100% credit towards future upgrades (must be at least double in value)
Best in class fulfillment

---
Still afraid of getting ripped off?
Before you buy a diamond, get personal buying advice from industry veterans. We'll help you get the best diamond for the money.
Ask your diamond purchase question here
DISCLAIMER: We don't use your email for marketing. Period.