We are reader-supported. Buying through links on our site may earn us commissions. Learn More.
Deal Alert! Huge James Allen Sale- 3% off Earth Diamonds AND 25% off settings or

15% off at Blue Nile!



Best Places to Buy Loose Diamonds Online
Bottom Line Recommendation
Every diamond ring or piece of diamond jewelry starts with a loose diamond. These are diamonds that have been cut and polished, but not yet set in a piece of jewelry. Many jewelers today sell loose diamonds as well as pre-made jewelry.
When you're in the market for loose diamonds, you'll almost always find better value and a greater range by shopping online. The advantages of shopping online are explored in-depth in this article.
It's vital, however, that you choose a trusted vendor when shopping online. The best diamond retailers will offer a large range of high-quality diamonds at respectable prices. They should also offer the ability to inspect your diamond through high-quality images, so you know what exactly you're getting for your money.
Here we'll summarize the best places to buy loose diamonds online, and give a summary of what makes each retailer special.
Buying Loose Diamonds Online
If you're going to buy diamonds online, make sure you know which vendors can be trusted and which can't.
Poor quality retailers may offer diamonds priced too high, a small range of diamonds on offer, or even diamonds that don't carry certificates from reputable grading entities. This can lead you to spend a lot of money on a diamond that is worth a fraction of that price.
To ensure you have no post-purchase remorse, shop with a retailer that comes recommended across the diamond industry. Here are the best places to buy loose diamonds in 2021 (click them to get to the proper section):
Best for: all-round customer experience.
James Allen have established themselves as the go-to place to buy diamonds or diamond jewelry online. Everything they offer goes into providing the best customer experience possible and allowing you to walk away happy with your purchase. The technology James Allen provide on their site allows you to closely inspect every diamond, almost as if you were seeing it in person. Each diamond has a 360° high definition photo which can be rotated and magnified to see any small inclusion or flaw in the diamond.

On top of this, they offer a huge range of diamonds: more than 200,000 diamonds, conflict-free and certified by the GIA, AGS or IGI. They also happen to have one of the best ranges of loose lab-created diamonds, should you choose to go down that route.
Other hallmarks of the James Allen customer experience include superb 24/7 customer service, free worldwide and US shipping (each shipment is insured for extra peace of mind, and hassle-free returns within 30 days. All this makes them the first place you should go just about any time you want to buy a diamond online.
James Allen's Best Loose Diamonds Collection
Whatever your preference in shape, grade or budget, James Allen has a great selection of loose diamonds, which can be added to a ring setting or purchased on their own.
Here are some loose diamonds we picked for you from James Allen:
See our review of James Allen here.
Best for: selection.
Founded in 1999, Blue Nile was one of the first businesses to offer diamonds online. They began by operating on a business model that has been adopted by many other retailers since; they don't carry stock themselves, instead, listing diamonds on their site that are being held with various manufacturers and wholesalers.
Blue Nile's relationships with these suppliers allows them to offer an unparalleled range of diamonds, at competitive prices.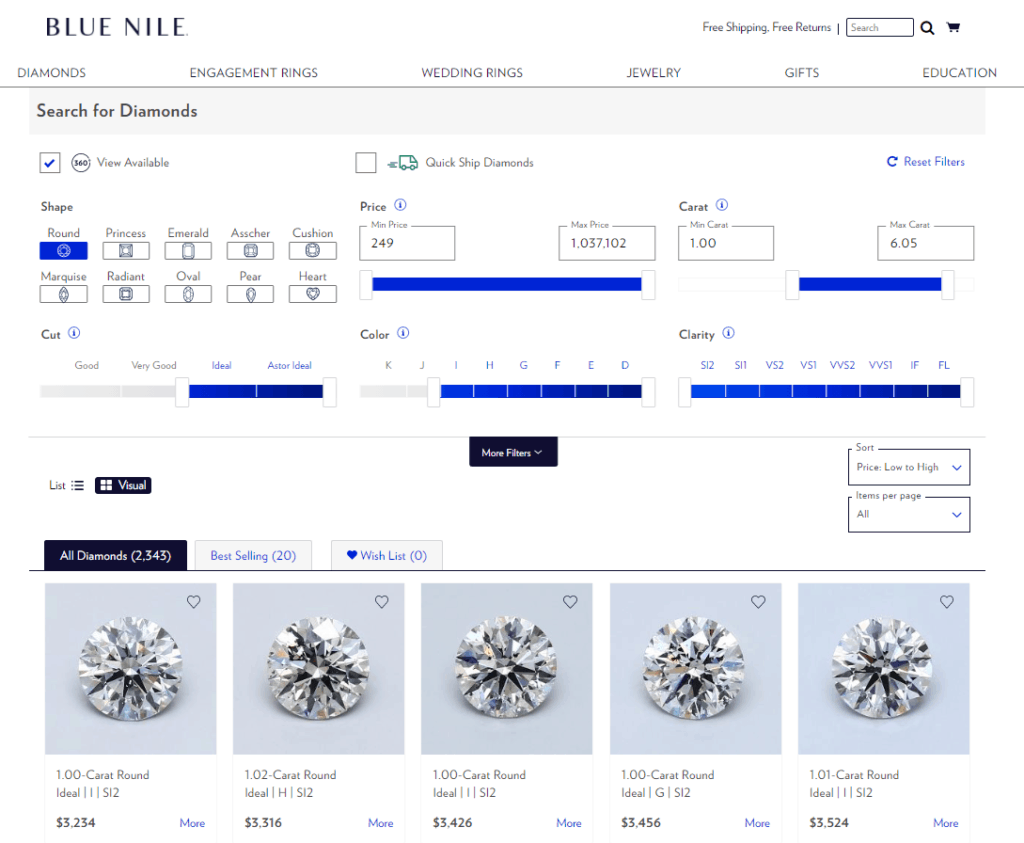 They also have the customer experience covered, with 24/7 expert advice, 30-day returns and lifetime guarantees.
The technology side of their shopping experience has also advanced massively in the last 10 years, with more than 60% of their inventory offering high-quality 360° images, helping ensure you pick a diamond that is eye-clean.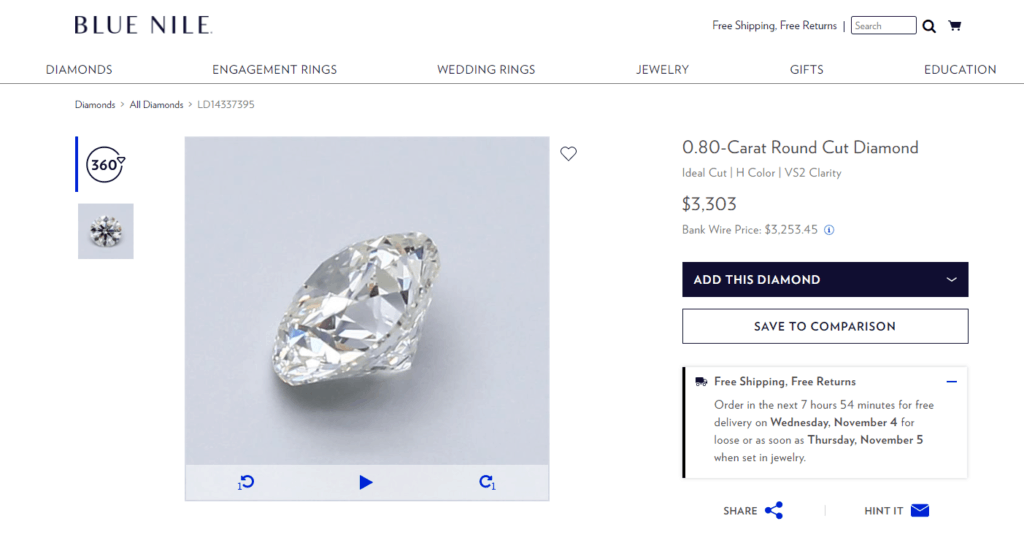 Their prices are competitive and much better than if you were to buy a diamond from a physical retailer.
Blue Nile's Best Loose Diamonds Collection
Blue Nile's huge range of GIA-certified diamonds is displayed on their website with smart filters that help you pick out the perfect diamond.
Here are some of the best diamonds Blue Nile has to offer:
See our review of Blue Nile here.
Best for: high-end diamonds, and loose melee diamonds.
Abe Mor is a diamond wholesaler, who buys and sells loose diamonds. If you're looking to sell a diamond they are your best option, but they are also an interesting choice if you're in the market to buy.
We'll qualify by saying that Abe Mor is not the place to go for your everyday diamond buying. If you're after a classic 1 carat diamond, the other names on this list are better to go for. However, for a high-end diamond and a bespoke experience, Abe Mor is a fantastic company.
They excel in rare and expensive diamonds – you'd generally consider this option if your budget is over $50,000. Abe Mor is excellent at sourcing large diamonds, where the choice on sites such as James Allen and Blue Nile may be more limited.
They also offer rarer diamonds, such as old mine cuts and old European cuts.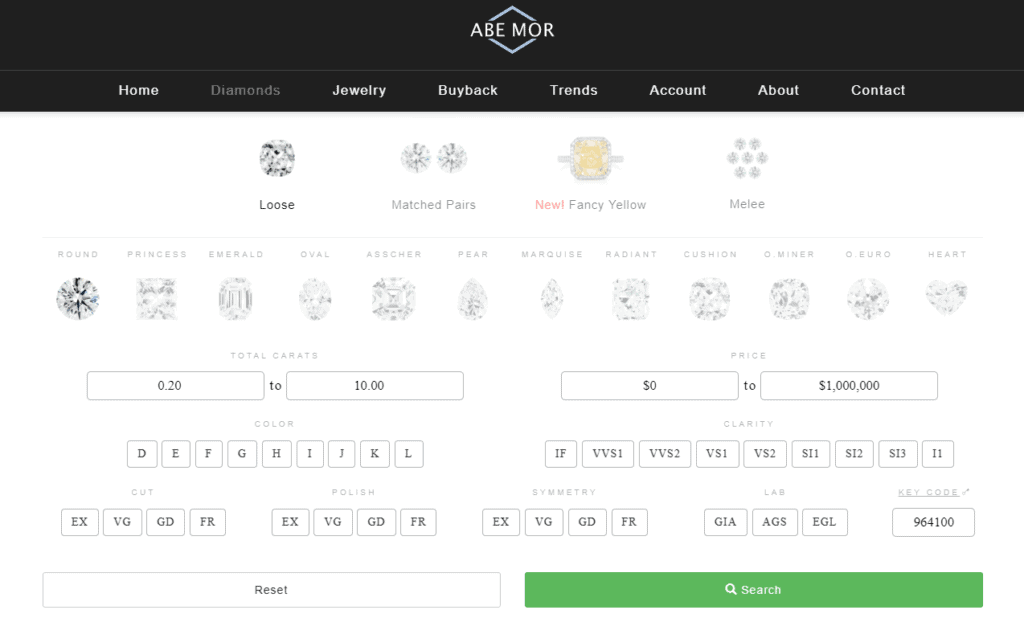 Abe Mor is also one of the few places that stock loose melee diamonds, however, this is unlikely to be a concern for everyday retail buyers.
Abe Mor's Best Loose Diamonds Collection
Abe Mor have a selection of high-quality, rare and valuable diamonds available to view on their website. They also offer Fancy Yellow diamonds and match pairs. And since they are a wholesaler, they can find almost anything. Contact them and see for yourself.
See our review of Abe Mor here.
Best for: fancy colored diamonds.
Leibish & Co are one of the oldest names in online diamond sales, having been selling to consumers online since 1995. Where they differentiate themselves from all other diamond sellers is their range of fancy colored diamonds.
If you're in the market for a fancy color diamond, Leibish & Co are without a doubt the number one place to look. At many places, your options for colored diamonds are limited. James Allen and Blue Nile do stock a selection of fancy colored diamonds, but it's nothing like the range that Leibish & Co offers. This is their bread and butter.
They are the best in this category for several reasons:
Their range is the best.
Their diamonds come with high-quality images (a must when buying online, and not always available for fancy colored diamonds at other retailers).
Being a name that is synonymous with fancy colored diamonds, their expertise in this area is better than anyone else.
The range Leibish carries includes the more common canary yellow diamonds, bold and unique black diamonds, and even incredibly rare and valuable pink diamonds and chameleon diamonds. As well as everything in between, of course.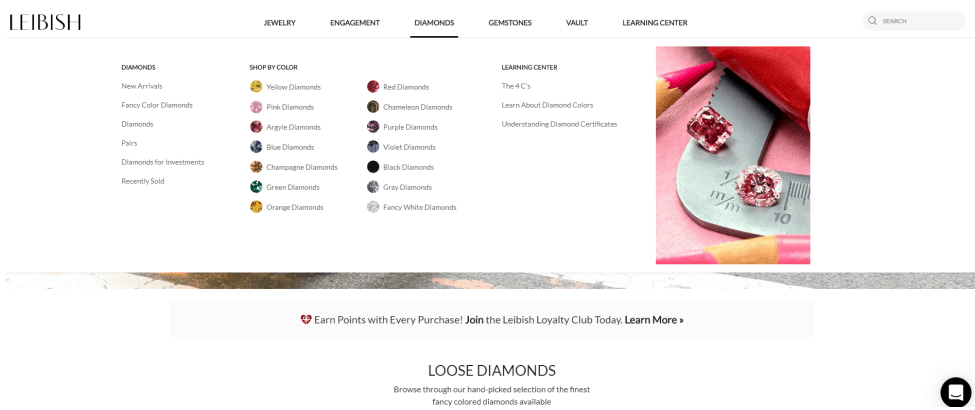 Simply put, for fancy color diamonds, Leibish is the best.
See our review of Leibish & Co here.
Best for: high-quality cuts.
Brian Gavin Diamonds is the best place to go for a truly spectacular cut. Check out this beautiful 1.09ct J VS1 Round Cut Diamond from their Blue Collection. The name behind the company, Brian Gavin is one of the industry leaders in diamond cutting, and has been since the 1990s. Any diamond you purchase from Brian Gavin Diamonds comes with the same perfectionism with which Brian's name is synonymous.
See these examples of the superb diamond cuts from Brian Gavin: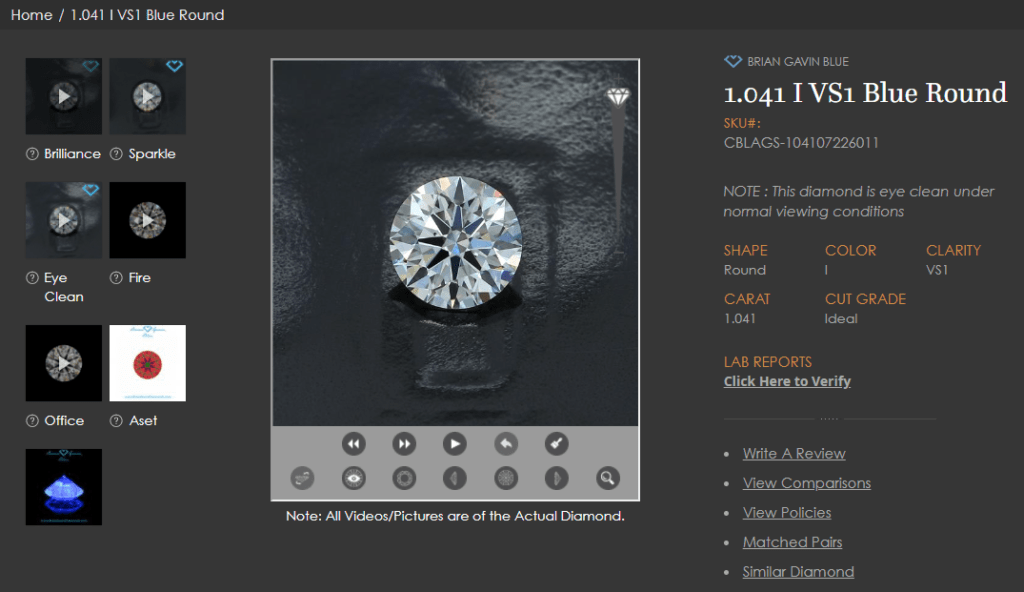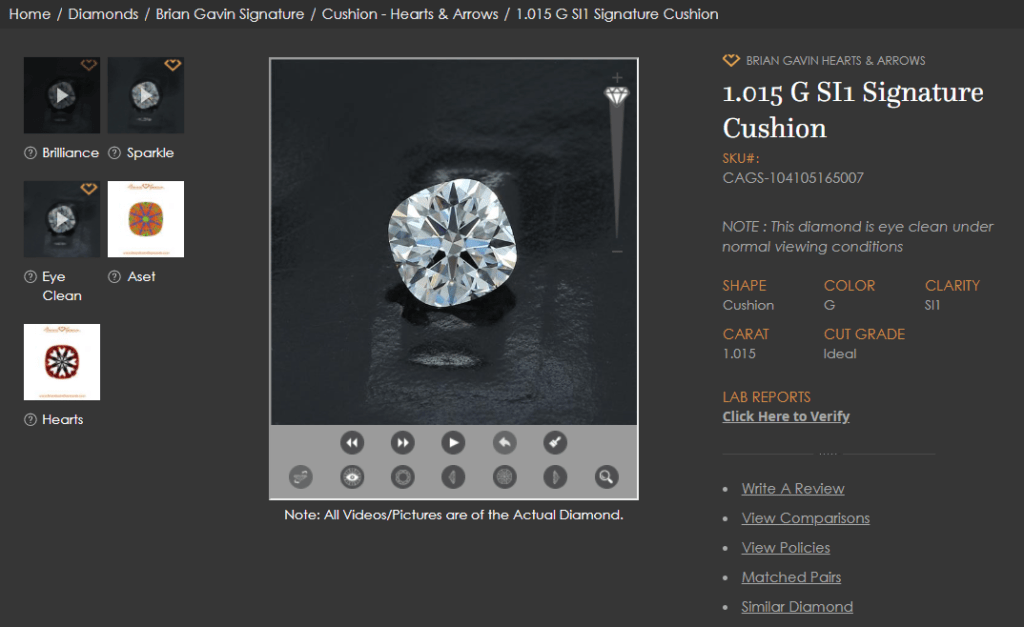 As Brian Gavin Diamonds is a vendor that actually holds their own inventory (unlike virtual listers such as James Allen and Blue Nile), they are forced to concede somewhat on range and price. Thus Brian Gavin is not for everyone. If you're looking to sacrifice on cut to get a bigger diamond for a better price, a vendor like James Allen is a better choice. But for top-end craftsmanship, and the service to match, Brian Gavin is your choice.
See our review of Brian Gavin Diamonds here.
Tips for Buying Loose Diamonds
Here are some tips to help guide you through the process of buying loose diamonds, to ensure you get the best value for your purchase.
Shop with a Reputable Vendor
The best chance of coming away with a high-quality, fairly priced diamond is to shop with an industry-trusted vendor. When you shop with vendors like Blue Nile, James Allen, and others mentioned in this article, you can be confident you're paying a fair price for your diamond.
Choose a Diamond Shape
Begin by choosing a diamond shape to narrow down your search. There are many shapes to choose from when shopping for diamonds, from your classic Round Brilliant diamonds to unique shapes like Oval, Pear or Emerald Cuts. Choose the shape you and/or your partner likes best.
Don't Compromise on Cut
Diamonds are graded on four qualities: Cut, Color, Clarity and Carat. When you're shopping for a diamond, it's good to have a fundamental knowledge of the 4 C's, to ensure you don't overpay for a poor-quality diamond.
Of the 4 C's, Cut is the one you don't want to compromise on. Some grades can be masked when the diamond is set in a piece of jewelry, but it's very hard to hide a poorly cut diamond. We recommend only Excellent or Ideal grades for Cut.
Look for Colorless and Eye-Clean
With Color and Clarity grades, there is a point where anything above that is not visible to the naked eye.
For Color, look for a diamond that appears colorless. This is generally between G and H grades (can be lower depending on the setting).
In terms of Clarity, you want the diamond to be eye-clean, where inclusions are not noticeable except under intense magnification. This should be around VS1-SI1. Any grades higher than that will command a premium price, with no immediately noticeable difference.
Check the Certificate
When checking the grades of a diamond, it's important those grades were given by a reliable, independent grading entity. Any diamond you purchase should have a report from one of these grading entities on the quality and proportions of the diamond.
Not all certificates are equal – stick to diamonds certified by the GIA or AGS, as these are the most reliable and consistent diamond grading laboratories.
Compare Multiple Diamonds
Diamonds can have a different appearance, despite having the same grade. All H Color, VS2 Clarity diamonds for example will not all look alike.
When you've settled on a style of diamond that fits your budget, compare a number of diamonds with similar grades against each other, and pick out the one that you prefer.
Set a Budget and Stick to It
Diamonds, whether loose diamonds or diamond jewelry, can be expensive. That's why it's vital you set a budget for what you want to spend on your purchase before you start shopping.
Don't take any of the standard ideas of what you should spend – such as 2-3 months' salary – seriously. This is completely down to your own preference and how much you feel comfortable spending.
Whatever your budget is, stick to it. It's too easy to push it one time, then another, and then before long you're spending far more than you originally intended.
Get an Expert Opinion
Buying a diamond is a big decision, and there's no need to make it alone. The final choice is yours, but you can make use of the opinion of experts with years of experience in the industry to help you make a purchase you're happy with.
If you'd like some help choosing the best company and a diamond, feel free to contact us for personalized help from one of our experts. Or check out guides that can help you navigate through:
Loose Diamond FAQs
Here are some of the most commonly asked questions about shopping for loose diamonds.
What does loose diamond mean?
A loose diamond is a diamond that has been cut and polished, but not yet made into a piece of jewelry, like an engagement ring. When you buy a loose diamond, you're buying just the diamond on its own.
Who buys loose diamonds?
Some buy loose diamonds with the intention to eventually have it set in a piece of jewelry. This can help you better assess the quality of the diamond before seeing it obscured by a ring setting, as well as having the flexibility to have the ring or piece of jewelry made exactly how you want it.
Loose diamonds may also be purchased for investment purposes, though traditionally diamonds aren't the best type of investment.
Where to sell loose diamonds?
While you can sell loose diamonds at pawn shops or local jewelry stores, this is not recommended. These stores will pay well below market price, and your chances of getting ripped off are quite high.
You can sell your diamonds privately, such as Craigslist or eBay, however the risk of scammers here is high, and you're again unlikely to get a decent price.
Your best option for selling loose diamonds is to a trusted online jeweler. Abe Mor has a diamond buying program, and will likely give you the best price for your diamonds.
Conclusion: Best Places To Buy Loose Diamonds
If you're in the market for loose diamonds, the most important thing to know is where to buy from. The best loose diamond sellers are those that have a good range, high-quality, certified diamonds, and can provide a stellar customer experience.
We highly recommend James Allen and Blue Nile for almost all purchases of loose diamonds. Outside of these two, Abe Mor, Brian Gavin and Leibish & Co are all great niche options if you're looking for rare and unique diamonds (Abe Mor), high-quality cuts (Brian Gavin) or Fancy Color diamonds (Leibish).
James Allen

James Allen is the leader in online diamond sales. Their imaging technology is the same as inspecting a diamond with a jeweler's loupe. They have the largest exclusive loose diamond inventory online and fantastic prices. They also have the nicest collection of lab created diamonds online. Now save 25% off settings AND 3% off Earth Diamonds during James Allen HUGE limited time sale!
What we love about them:
No questions asked returns within 30 days of shipment. James Allen will send you a paid shipping label to return the ring.
Lifetime Warranty
Free International Shipping
Free prong tightening, repolishing, rhodium plating and cleaning every 6 months
Provide insurance appraisals
One free resizing within 60 days of purchase
Free ring inscriptions
Best-in-class high quality imagery of all diamonds in stock
24/7 Customer Service
Best-in-class packaging

---
Blue Nile

Blue Nile is the largest and most well known internet jewelry seller. They have a very large exclusive online inventory. Their high quality images are catching up to James Allens' and their prices are amazing. Blue Nile have generously offered our readers an exclusive one-time use coupon.

(Click Here to save $100 off engagement ring settings)
What we love about them:
No questions asked returns within 30 days of shipment. Blue Nile will send you a paid shipping label to return the ring.
Lifetime Warranty
Free Shipping
Free prong tightening, repolishing, rhodium plating and cleaning every 6 months
Provide insurance appraisal
One free resizing within the first year of purchase
High quality images of about half of their diamonds
24/7 Customer Service
100% credit towards future upgrades (must be at least double in value)
Best in class fulfillment

---
Still afraid of getting ripped off?
Before you buy a diamond, get personal buying advice from industry veterans. We'll help you get the best diamond for the money.
Ask your diamond purchase question here
DISCLAIMER: We don't use your email for marketing. Period.