Diamond Pro is reader-supported. When you buy through links on our site, we may earn an affiliate commission. Learn More.
Deal Alert! 25% off James Allen settings
and
15% off Blue Nile settings!
Engagement Ring Consultation: Connect with Our Experts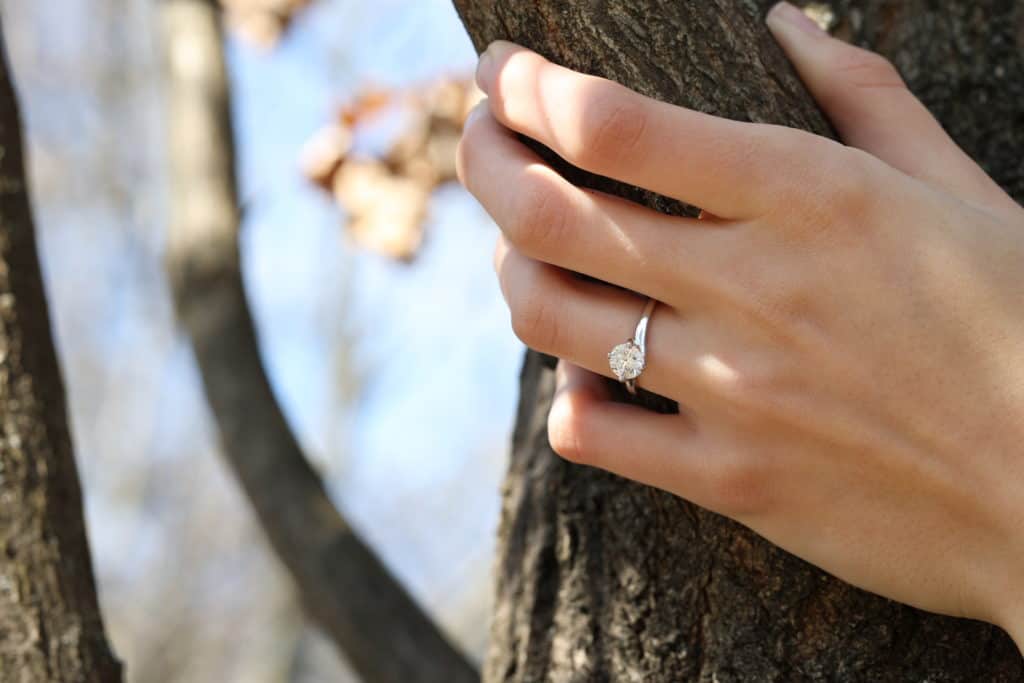 Want expert help choosing your engagement ring? With unlimited ring options available online and in person, it can feel overwhelming to shop for a diamond ring that maximizes both beauty and budget.
That's where our engagement ring consultants come in. We provide you with an engagement ring expert who will help you select everything from the cut quality of your diamond to the precious metal of your ring. With our combined 55+ years of experience in the industry, our experts know what to look for and what to avoid with an engagement ring. 
Different from other engagement ring specialists, our experts train extensively for months. They learn every facet of the diamond trade to ensure they give you the most detailed and accurate advice.
With our complimentary service, our experts answer all your questions and make personalized ring recommendations. We help you decide on one diamond over another. We help you narrow down which engagement ring setting is best for you. 
Choosing your engagement ring is an exciting step in your journey as a couple. We want you to end up with a beautiful, personalized ring that you and your partner will treasure for a lifetime.
6 Key Features of Our Complimentary Engagement Ring Consultant Service
Our engagement ring consultation service will guide you each step of the way. You'll have the knowledge and info you need to buy a high-quality engagement ring without paying for features that will go unnoticed.
Here's what's unique about our ring consultation service:
1. Engagement ring experts
You'll be paired up with an engagement ring specialist who has been carefully trained and mentored by Mike Fried (a veteran of the diamond industry). Unlike other consultation services, we go to great lengths to ensure that every member of our team is truly a diamond expert before they begin helping our readers. Our team members have daily training for six to ten months, meaning they've seen thousands of rings and helped thousands of readers before they work with you.
2. One-on-one experience
When you reach out to us, you'll be connected with one of our engagement ring consultants. They'll work with you each step of the way to help you decide on the best diamond, ring setting, and other features. They'll work with you until you settle on a ring you love. Our engagement ring experts have helped over 60,000 readers find beautiful engagement rings within their budgets without sacrificing on quality.
3. Specialized services
Here are just some of the ways we can help you in the engagement ring buying process:
Provide an expert opinion on whether a diamond is a good value or not
Help you select a style and setting you love
Choose an online vendor that supplies high-quality diamonds and settings
Recommend the best quality diamonds for your budget
Answer unlimited questions
Double check important details like the diamond's certification 
Discuss your engagement ring needs (we also assist with wedding bands, anniversary gifts, and other special jewelry items)
Share ring alternative ideas, including colored gemstones and lab-created diamonds
Offer general guidance on what to look for in a diamond ring
4. Easy access and availability
All interactions with our engagement ring consultants happen over email, so you can conveniently get in touch with us from anywhere in the world. We'll usually respond to your request within 24 hours so you can be one step closer to being proposal-ready.
5. Help with special requests
Looking for a personalized ring design or a modification to a family heirloom? We'll connect you with custom jewelers who will take your vision and transform it into reality. Contact us here if you have a custom jewelry request.
6. Remarkable end result
At the end of your consultation with our engagement ring specialists, you'll have the exact diamond and ring picked out for your engagement ring. You'll have the confidence behind your purchase, knowing it's backed by an expert opinion.
What The Diamond Pro Does Differently
Unlike other engagement ring consultants, we aren't a jewelry company. We don't make a profit off of selling diamond rings on our website. Instead, we recommend the best diamonds and rings across several vendors. We get commissions for purchases made from our affiliates through links on our website. As an educational affiliate, we recommend the best engagement rings for your specific situation. We teach you how to identify scams and avoid spending money on features you can't see.
Examples of Readers We've Helped
We've been fortunate to help tens of thousands of readers find rings that match their personal style and budget. Here are a few examples of readers we've helped.
The Diamond Pro Reviews
Read reviews about The Diamond Pro and how happy readers are with our engagement ring consultations.
Our Library of Educational Articles
At The Diamond Pro, we offer educational information on everything about diamonds and engagement rings. Check out some of our most popular articles to learn more about how to select a high-quality diamond engagement ring. 
James Allen

James Allen is the leader in online diamond sales. Their imaging technology is the same as inspecting a diamond with a jeweler's loupe. They have the largest exclusive loose diamond inventory online and fantastic prices. They also have the nicest collection of lab created diamonds online. Save 10% off select Lab Grown Diamonds and 25% on setttings!
What we love about them:
No questions asked returns within 30 days of shipment. James Allen will send you a paid shipping label to return the ring.
Lifetime Warranty
Free International Shipping
Free prong tightening, repolishing, rhodium plating and cleaning every 6 months
Provide insurance appraisals
One free resizing within 60 days of purchase
Free ring inscriptions
Best-in-class high quality imagery of all diamonds in stock
24/7 Customer Service
Best-in-class packaging

---
Blue Nile

Blue Nile is the largest and most well known internet jewelry seller. They have a very large exclusive online inventory. Their high quality images are catching up to James Allens' and their prices are amazing. Blue Nile have generously offered our readers an exclusive one-time use coupon.

(Click Here to save $100 off engagement ring settings)
What we love about them:
No questions asked returns within 30 days of shipment. Blue Nile will send you a paid shipping label to return the ring.
Lifetime Warranty
Free Shipping
Free prong tightening, repolishing, rhodium plating and cleaning every 6 months
Provide insurance appraisal
One free resizing within the first year of purchase
High quality images of about half of their diamonds
24/7 Customer Service
100% credit towards future upgrades (must be at least double in value)
Best in class fulfillment

---
Still afraid of getting ripped off?
Before you buy a diamond, get personal buying advice from industry veterans. We'll help you get the best diamond for the money.
Ask your diamond purchase question here
DISCLAIMER: We don't use your email for marketing. Period.