We are reader-supported. Buying through links on our site may earn us commissions. Learn More.
Deal Alert! Huge James Allen Sale- 3% off Earth Diamonds AND 25% off settings or

15% off at Blue Nile!



Jewelers Row Philadelphia: How to Get the Best Deal
Philadelphia is home to America's oldest diamond district. Located in the Center City, Jewelers' Row is home to more than 300 retailers specializing in everything from loose diamonds to fine jewelry.
While Philadelphia's Jewelers' Row doesn't quite match NYC's diamond district in size, it's still home to a diverse selection of diamond vendors. Unfortunately, like other diamond districts, not all vendors in Philadelphia's diamond and jewelry district offer equal value for money.
Below, we've put together a complete guide to shopping for diamonds and engagement rings in Philadelphia, covering everything from recommended vendors to expert tips to help you get the best possible deal.
Buying Online vs. Buying From a Brick-and-Mortar Jeweler
Before we get into the specifics of Jewelers' Row, it's important to clear one thing up: in general, we strongly recommend buying engagement rings and other diamond jewelry online instead of from a brick-and-mortar store.
Buying online lets you choose from a much wider selection of diamonds. For example, while a brick-and-mortar jewelry store in Jewelers' Row might stock several hundred loose diamonds, the industry-leading online diamond vendors stock hundreds of thousands of diamonds.
This gives you a much larger pool of diamonds to choose from. Because of the economics of an online business, it also means you'll be able to buy a diamond and engagement ring setting at a much lower price.
There are numerous online diamond vendors. We recommend buying from Blue Nile or James Allen. Both of these vendors have huge selections of diamonds and provide highly competitive pricing — on average, about 30 to 40% less than what you'd pay in a brick-and-mortar store.
They also offer comparable customer service to what you'd receive from an offline jeweler, from easy returns and refunds to a lifetime guarantee.
With this said, we understand that some people prefer the experience of shopping for diamonds and other jewelry offline. To provide some expert insight, we've shared our thoughts on buying a diamond in Philadelphia's diamond district below.
Where is the Diamond District in Philadelphia?
Jewelers' Row, as Philadelphia's diamond district is known, is located in the Center City area of Philadelphia. The district spams from Walnut to Market Street and 7th to 9th Street and includes more than 300 different jewelry vendors.
Most of the area's jewelers can be found on Sansom Street, particularly the stretch between 7th and 8th street. There are also numerous jewelry stores on the area of 8th Street that runs from Chestnut Street to Walnut Street.
Getting to Jewelers' Row
Thanks to its central location, getting to Jewelers' Row is simple. It's about a five-minute walk to Jewelers' Row from the Liberty Bell and Independence Hall, making it easy to stop by after you do some sightseeing if you're visiting Philadelphia on vacation.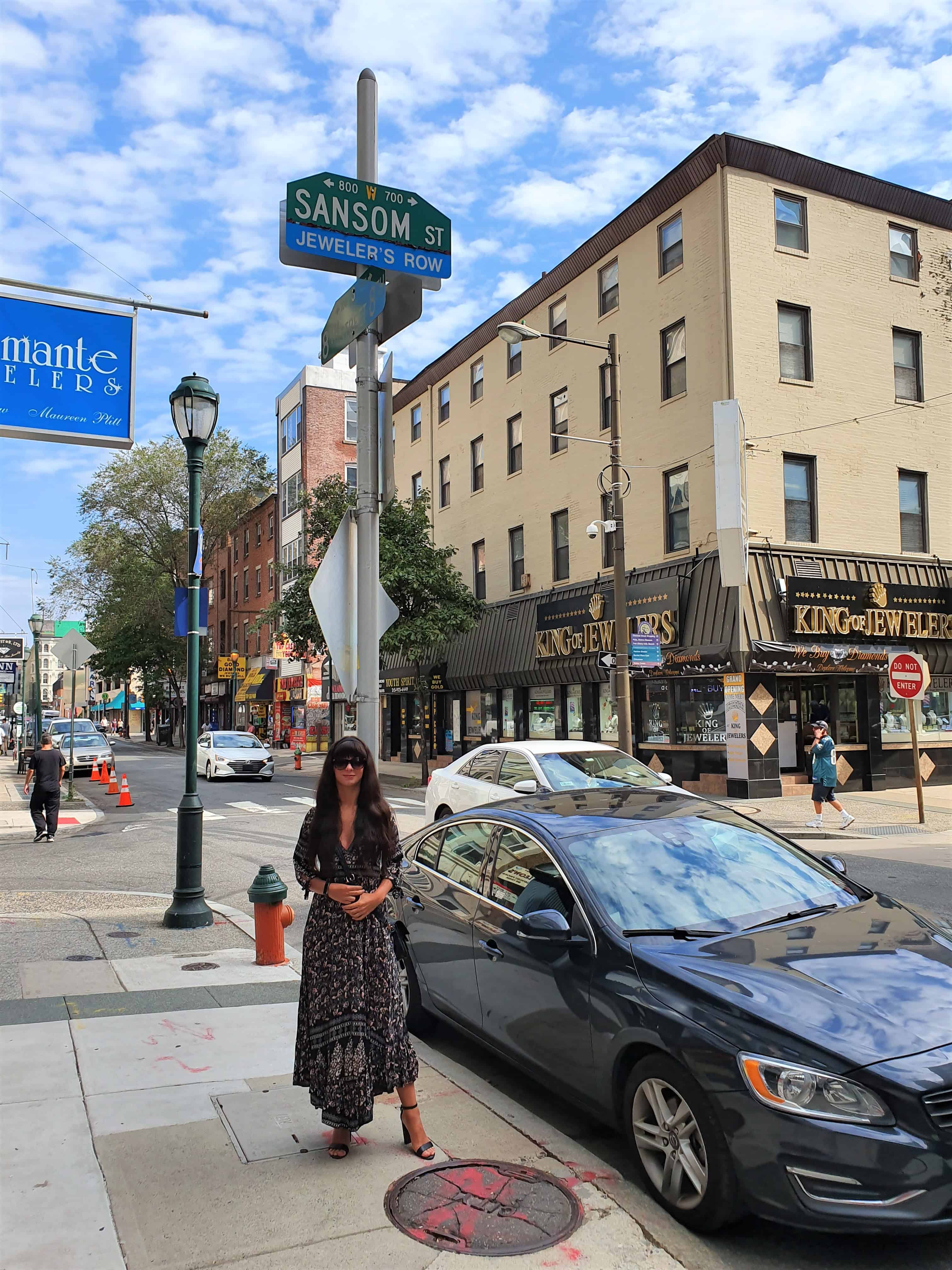 There are several ways to get to Jewelers' Row:
8th Street/8th & Market station. 8th Street (called 8th & Market on the Broad-Ridge Spur and PATCO Speedline) is the closest subway station to Jewelers' Row. From the station, it takes about a minute to walk to the main stretch of jewelry stores.

9–10th & Locust station. If you're using the PATCO Lindenwold Line, you can get off here and walk along Locust Street to S 8th Street. It's about a five minute walk to the center of Jewelers' Row.
Parking near Jewelers' Row is widely available, although it's not cheap. The closest parking garages to Jewelers' Row are Parkway Liberty Place at 44 S 16th Street and LAZ Parking at 111 S 11th Street.

Some jewelry shops in the area provide free parking, although it's best to call ahead to check that you can park your car free of charge.
Shopping at Jewelers' Row
Jewelers' Row is home to several high quality jewelry stores. If you're looking for a diamond or gemstone engagement ring or other fine jewelry, you'll have absolutely no difficulties finding it here.
With this said, getting the best price on an engagement ring or other jewelry from a vendor on Jewelers' Row isn't always easy.
Like the diamond districts in NYC and LA, the diamonds offered by jewelers in Philadelphia can vary hugely in quality. Many jewelers stock a mix of high quality, GIA or AGS certified diamonds and lower quality stones sold either with no certification or a less reliable certificate.
If you're buying a diamond for the first time and don't know what to look for, it's quite easy to get taken for a ride by an unscrupulous jeweler.
Now, this is not a suggestion that jewelers here are dishonest. Quite the opposite — almost all of the vendors here run honest businesses. But, as we covered in our guide to the evolution of the diamond industry, many brick-and-mortar jewelers are aware that their customers aren't always educated on what makes one diamond worth buying over another.
This means it's far from uncommon to get metaphorically pushed towards low quality, uncertified diamonds with poor value and large profit margins over higher quality ones. It also means that a lot of the diamonds sold here are significantly overpriced compared to those available online.
Still, if you're selective and well educated on what makes a diamond worth buying, it's possible to get a beautiful diamond here, maybe even at a reasonable price. To make this easier for you, we've provided some information on several popular, well-reviewed vendors below.
Steven Singer Jewelers
739 Walnut St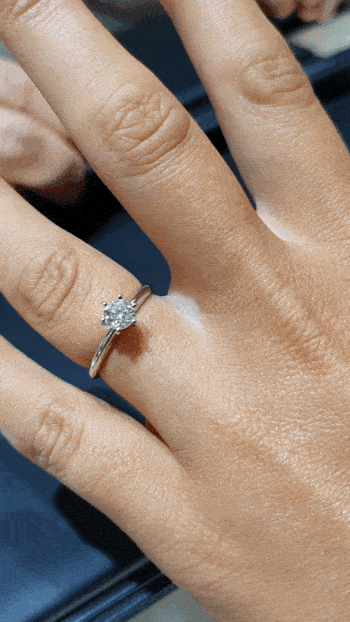 Steven Singer Jewelers are our preferred choice in Philadelphia. The salesman we spoke with seemed very knowledgeable and keen on helping us find the right diamond. Unlike many other jewelers, the experience didn't feel overly pushy or aggressive.
If you decide to shop at Steven Singer, make sure to focus on GIA certified diamonds. They do offer many diamonds that are not certified so avoid those. With this said, Steven Singer Jewelers has a nice selection of GIA certified diamonds, which are what you'll want to stick to if you shop here.
D'Antonio & Klein Jewelers
726 Sansom St #1
D'Antonio & Klein are another popular jewelry store in Jewelers' Row. Their store is located on Sansom Street, just around the corner from Washington Square and a short walk from 8th and Market Street station.
Open for almost 40 years, D'Antonio & Klein specialize in diamond jewelry. They sell a diverse range of engagement rings, bridal sets, diamond earrings, necklaces and more. They also offer custom designed engagement rings and other jewelry using CAD technology.
Marchi Jewelry
720 Sansom St

Located in the heart of Jewelers' Row at 720 Sansom St, Marchi Jewelry specialize in rustic, traditional engagement rings and other jewelry. They also offer a made-to-order engagement ring design service, letting you design your fiancé-to-be's ring from setting to stone.
Unlike other jewelers, which tend to focus on the same few ring designs, John Marchiafava — the founder of Marchi Jewelry — has set out to stock unique and different jewelry from a wide range of artists.
Most of Marchi's engagement rings have a vintage-inspired design, although they also sell a variety of stylish, contemporary pieces. If you're looking for an engagement ring that's a little difficult and original, this store is definitely worth a visit.
Barsky Diamonds
724 Sansom St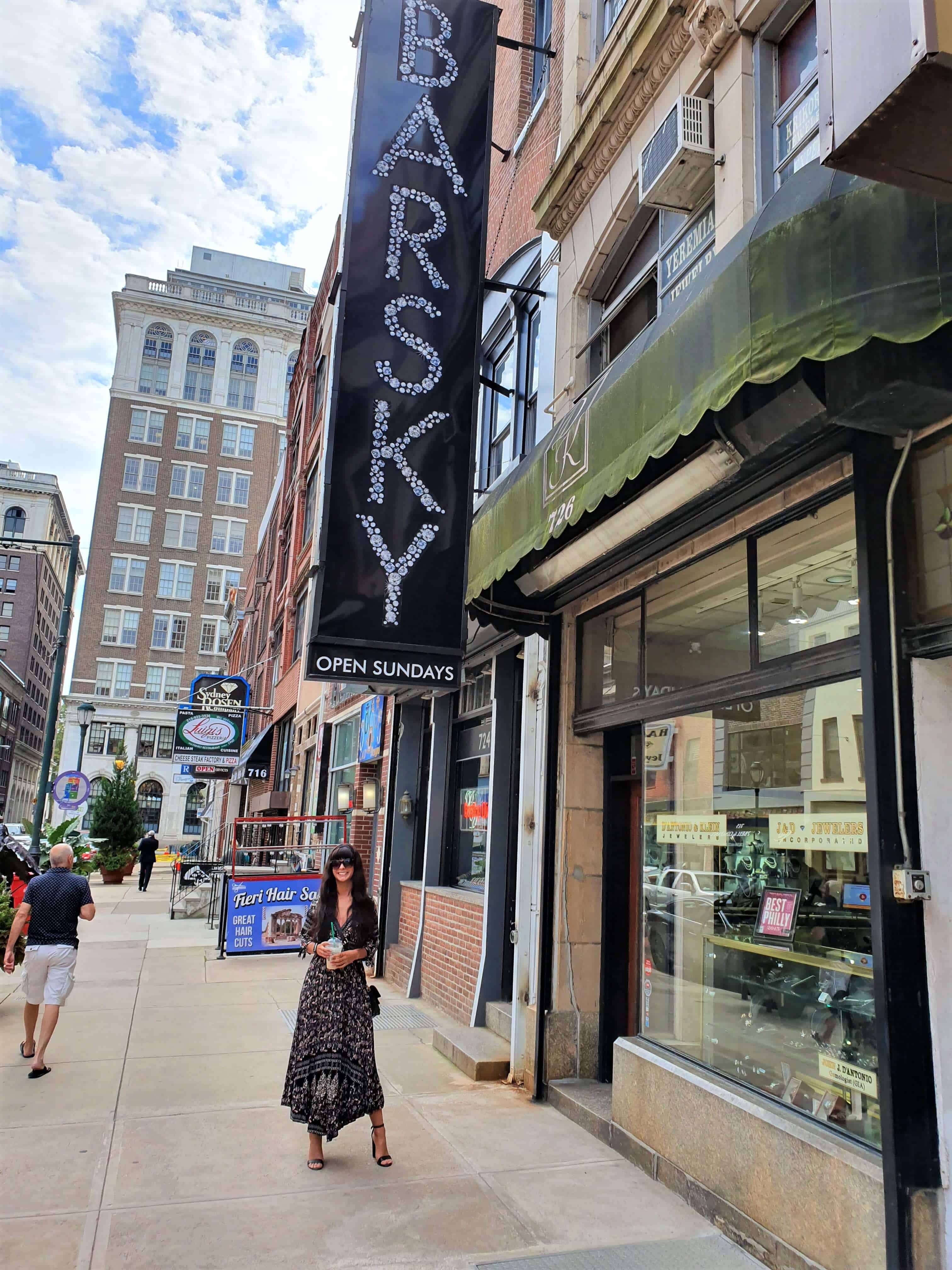 Open for business for more than a century, Barsky Diamonds is one of the most well-known jewelers in Philadelphia. Their boutique is located right in the heart of Jewelers' Row at 724 Sansom St.
Barsky Diamonds sell a good selection of engagement rings, bridal sets, wedding bands and other jewelry. They offer a money back guarantee, free engraving and provide a professional level of service. Like with other diamond jewelers, make sure you only stick to diamonds that come with a GIA or AGS certificate.
5 Expert Tips for Buying Diamond Jewelry in Philadelphia
As we've already mentioned, it's important that you know what you're looking for when you shop for diamonds at a brick-and-mortar jewelry store.
Understanding what makes a diamond valuable ahead of time will help you avoid traps that are common when shopping for diamond jewelry. It'll also make it easier for you to tell a good deal apart from one that might not be in your best interest.
Below, we've shared five expert tips to help you avoid common diamond-buying mistakes and make sure you get a fair deal when you go diamond shopping on Jewelers' Row.
Check a Diamond's Cut
When most people shop for diamonds, they focus on factors such as how many carats a stone is — a measure of its weight. While size is certainly important in a diamond, it's also essential to check that the stone has a good cut.
The quality of a diamond's cut determines its ability to reflect light. A well cut diamond will take in and reflect significantly more light than a poorly cut one, resulting in better brilliance and fire (the bright, rainbow-like sparkle that makes a diamond beautiful).
For an aesthetically pleasing diamond, we recommend only choosing a diamond that has an excellent or ideal cut grade. It's also important to check that the diamond has ideal depth and table grades, as these will affect its appearance.
Finally, if you're looking for a fancy shape diamond, make sure you familiarize yourself with the key cut parameters to look for. You can find these in our guide to diamond shapes.
Ask to Look at the Diamond's Certificate
All high-quality diamonds are sold with a certificate that lists their cut, clarity, color, carat weight and other important factors that affect their appearance and value.
Not all diamond certificates are equally reliable. We recommend only choosing diamonds with a certificate from the GIA or AGS. These labs are known for providing reliable, accurate grading of diamonds and other gemstones. Other labs, such as IGI or EGL, aren't as reliable.
Unfortunately, many salespeople try to take advantage of customers by pointing them towards lower quality diamonds that aren't certified. If this happens to you, it's best to ask only to view GIA or AGS certified diamonds or try another jewelry store.
Choose a Diamond That's Eye-Clean
Diamonds are graded for clarity, a characteristic that measures how free a diamond is of visible inclusions and blemishes. The higher a diamond's clarity grade, the fewer inclusions and visual blemishes it has.
Most inclusions are tiny, meaning you'll only ever be able to spot them under magnification. As these inclusions are so small, it's more cost-effective to buy a diamond that appears clear when it's viewed with the naked eye than one that's absolutely flawless.
Instead of buying a flawless diamond (which would be extremely expensive), check a diamond for eye-cleanliness by viewing it in-store, away from any sources of bright light. If it looks clear and free of blemishes to your naked eye, it's an eye-clean, acceptable diamond.
For the most part, diamonds with a VS1 or VS2 clarity grade will appear eye-clean (for certain shapes, an SI1 grade is also fine), making this a good range for a balance of clarity and value for money.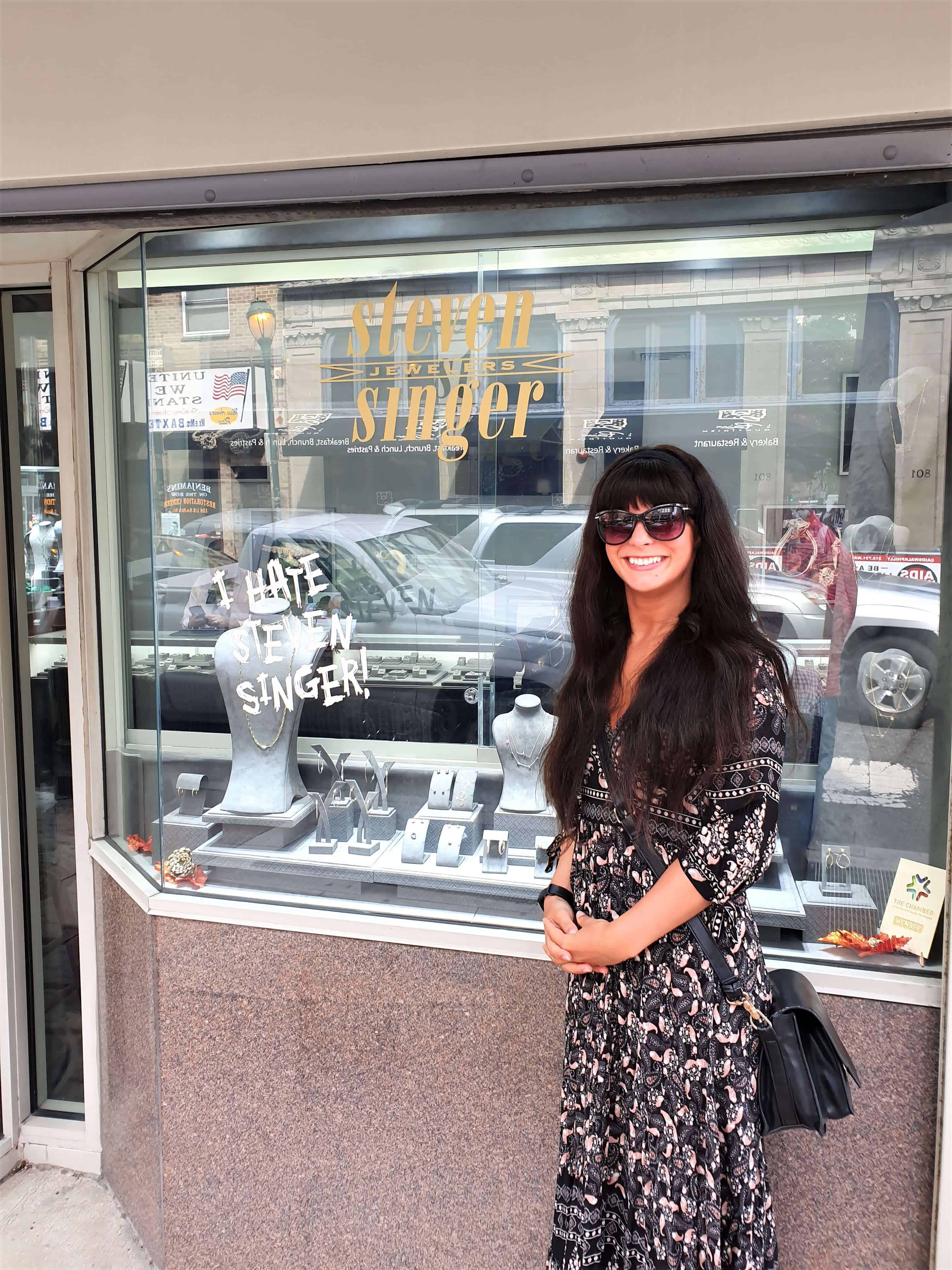 Look for a Diamond of Acceptable Color
All diamonds receive a color grade, with a perfect D grade signifying that a diamond is totally clear and free of visible color. The further you go into the alphabet, the stronger the yellow tint that's visible in a diamond becomes.
Just like with clarity, flawless D color diamonds are exceptionally rare and valuable. To get the best value for money, it's best to look for a diamond that appears colorless in comparison to its setting.
If you opt for a white gold or platinum engagement ring, it's best to pick a diamond with a color grade of H or J. For an emerald, princess or Asscher cut diamond, which show color more than a round brilliant cut, opt for a color grade of G to I for a colorless appearance.
Settings made from yellow or rose gold give diamonds a slight golden color, meaning you can afford to choose a slightly lower color grade. For most diamond shapes, a color grade in the K to M range is fine; for emerald, princess or Asscher cuts, pick something in the J to K range.
Finally, if you're buying a pavé, halo or side stone setting, make sure you match the color of the center stone to the smaller diamonds used in the setting — a topic we've covered in our guide to diamond color.
Don't Ever Feel Pressured to Buy
Buying an engagement ring or other fine jewelry should be a fun experience that should never make you feel stressed, anxious or unhappy.
If you feel pressured to buy something by a salesperson, it's best to think it over before making a decision. You're buying something special, and there's no need to rush into a decision without first doing your research.
To avoid getting a bad deal, take notes of what you see in stores, then compare it to the diamonds and settings that are available online. If you're not sure what to do, contact our experts and we'll give you free advice on the best options for your style and budget.
Options for Buying a Diamond Online
Unless you specifically want to buy an engagement ring locally, it's always best to buy diamond jewelry online. Doing so not only means that you'll get a better price — it also means that you'll be able to choose from a larger range of GIA and AGS certified diamonds.
We recommend two online diamond retailers to our customers: Blue Nile and James Allen. Both provide great customer service, offer competitive pricing and carry huge selections of diamonds and engagement ring settings.
As the world's largest online diamond retailer, Blue Nile provide an incredible selection of loose diamonds. At the time of publishing this guide, they had more than 140 thousand diamonds to choose from, with loose diamonds ranging in price from $250 to more than $1 million.
In addition to loose diamonds, Blue Nile offer a diverse selection of settings, wedding bands and other fine jewelry. Their prices are some of the best in the industry and their customer service is outstanding, with fast, insured delivery and full 30-day money back guarantee.
James Allen are another large, well-known online diamond retailer. They carry a huge selection of loose diamonds, with a large and diverse range of settings to choose from. Like Blue Nile, the prices for diamonds from James Allen are some of the most competitive in the business.
A huge advantage of James Allen is that they provide detailed, 360° photos of all of their loose diamonds, making it easy to view diamonds for quality before purchasing. Almost all diamonds sold by James Allen have a GIA or AGS certificate.
Customer service from James Allen is friendly and professional, with a lifetime warranty on all jewelry.
Conclusion
Jewelers' Row in Philadelphia is a great place to visit, especially if you're interested in seeing diamond engagement rings and other fine jewelry. If you're well informed on diamond quality and don't mind paying a premium, you can buy a beautiful engagement ring here.
However, you'll get significantly better value for money shopping online from one of the trusted vendors we recommended above.
For personalized help, please contact us. Our experts can help you find the ideal engagement ring or other fine jewelry for your tastes, preferences and budget.

James Allen

James Allen is the leader in online diamond sales. Their imaging technology is the same as inspecting a diamond with a jeweler's loupe. They have the largest exclusive loose diamond inventory online and fantastic prices. They also have the nicest collection of lab created diamonds online. Now save 25% off settings AND 3% off Earth Diamonds during James Allen HUGE limited time sale!
What we love about them:
No questions asked returns within 30 days of shipment. James Allen will send you a paid shipping label to return the ring.
Lifetime Warranty
Free International Shipping
Free prong tightening, repolishing, rhodium plating and cleaning every 6 months
Provide insurance appraisals
One free resizing within 60 days of purchase
Free ring inscriptions
Best-in-class high quality imagery of all diamonds in stock
24/7 Customer Service
Best-in-class packaging

---
Blue Nile

Blue Nile is the largest and most well known internet jewelry seller. They have a very large exclusive online inventory. Their high quality images are catching up to James Allens' and their prices are amazing. Blue Nile have generously offered our readers an exclusive one-time use coupon.

(Click Here to save $100 off engagement ring settings)
What we love about them:
No questions asked returns within 30 days of shipment. Blue Nile will send you a paid shipping label to return the ring.
Lifetime Warranty
Free Shipping
Free prong tightening, repolishing, rhodium plating and cleaning every 6 months
Provide insurance appraisal
One free resizing within the first year of purchase
High quality images of about half of their diamonds
24/7 Customer Service
100% credit towards future upgrades (must be at least double in value)
Best in class fulfillment

---
Still afraid of getting ripped off?
Before you buy a diamond, get personal buying advice from industry veterans. We'll help you get the best diamond for the money.
Ask your diamond purchase question here
DISCLAIMER: We don't use your email for marketing. Period.