We are reader-supported. Buying through links on our site may earn us commissions. Learn More.
Deal Alert! Huge James Allen Sale- 3% off Earth Diamonds AND 25% off settings or

15% off at Blue Nile!



28 Non-Traditional Diamond Engagement Rings for the Unconventional Bride
Non-traditional engagement rings are rings that offer a unique style and don't follow a classic or conventional design. They stand out from other rings and have an eye-catching feature, like an intricate setting or a colored gemstone. Many unconventional brides prefer a non-traditional engagement ring because it allows them to showcase their personal style. With a non-traditional design, you can choose a ring that represents you—without needing to follow any general "rules."
There are many types of non-traditional engagement rings, but the most popular styles are floral rings, vintage designs, or those with gemstones on the side.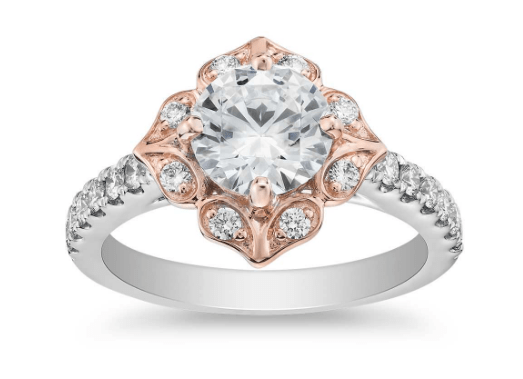 Traditional styles, on the other hand, are more classic in nature, including solitaire rings, pavé bands, or single halos. Most traditional styles also feature a round cut, princess cut, or cushion cut diamond. 
As an example, this simple solitaire four-prong setting from Blue Nile is a traditional engagement ring when set with a round cut diamond. This heart shape three-stone engagement ring from Blue Nile is non-traditional. The setting includes two sapphire pear shape side stones. With a fancy shaped diamond and unique setting, it's a prime example of a non-traditional ring. 
Let's look at another comparison. This cushion cut halo engagement ring from James Allen is a traditional ring. It offers a classic, simple style with a single halo and a smooth band. This diamond halo setting in rose gold from Blue Nile showcases a non-traditional style. With the halo forming a floral arrangement, the ring is a unique beauty. Using bigger diamonds for the halo and the prong location making it look like a flower isn't common or classic, making it non-traditional. 
Price of Non-Traditional Diamond Rings
The price of non-traditional diamond rings ranges from $1,200 to $25,000 and more, depending on your setting style, carat weight, and other features. The prices for non-traditional engagement rings are similar to traditional engagement rings but can cost more depending on the intricacy of the design and the gemstones used. 
For example, this 0.70 Carat traditional platinum pavé ring from Blue Nile costs $2,786. This non-traditional ring from Blue Nile with the same carat weight and a platinum setting with a twisted vine design costs $4,673 (much more). 
As another example, this 0.9 Carat traditional halo ring from Blue Nile with a J color and SI2 clarity is priced at $4,381, while this 0.9 Carat unique pavé ring from James Allen with a J color and a better clarity grade costs $3,890 (slightly less). 
There are many factors that impact an engagement ring's price, but in general, you can find traditional and non-traditional styles in every price range.  
On average, a couple spends between $5,000 and $7,500 on an engagement ring. Choosing a non-traditional engagement ring is more about your style preference than paying more for a ring.
Non-Traditional Engagement Ring Styles
Non-traditional engagement rings range from three-stone settings to vintage designs. By looking at a variety of non-traditional styles, you can get a better sense of which setting is right for you or your partner. From there, compare similar rings to decide on the one that you'll love for years to come.
Here is a list of styles for you (click on the style you want to jump right to the one you're interested in the most):
Split Shank Settings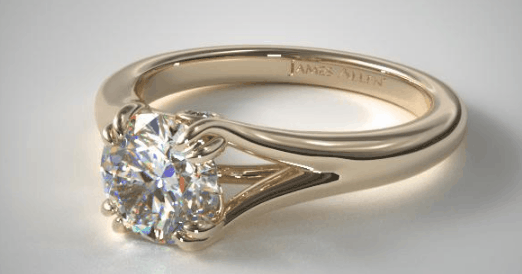 A split shank setting features a shank that diverges into two parts that stem from the center stone. Split shanks vary from halos to open split shanks. You can find split shank settings for almost every diamond shape. These settings are best for those who appreciate modern flair and a more open design. 
Check out these split shank engagement rings for inspiration.
Two-Tone Settings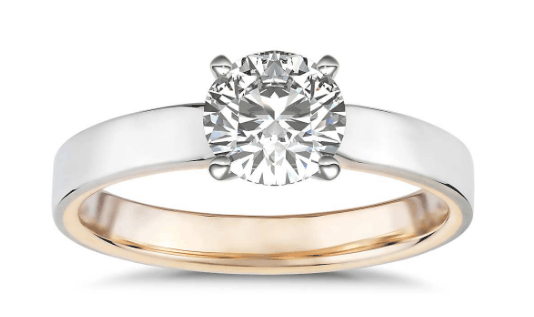 Two-tone engagement rings feature two colors of precious metal in the setting, such as yellow gold and white gold. The contrast offers character and depth to the ring. For those who prefer edgy designs that are easily noticed, a two-tone setting is a great choice. 
Check out these two-tone engagement rings to see which color combination you like best.
Floral Motif Settings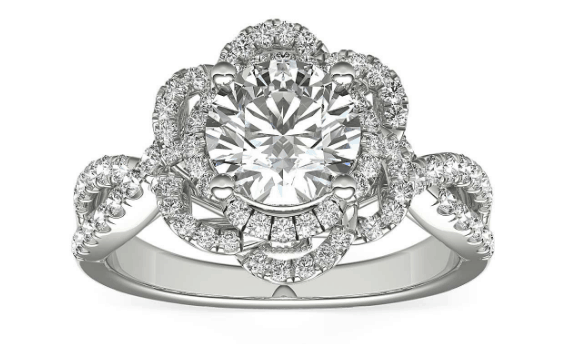 Engagement rings with a floral or nature-inspired element often draw special attention, because of their unique beauty and design. If you appreciate Mother Nature, gardening, or the petals of a flower, a floral motif could be right for you. 
From halos that resemble flowers to pavé leaf designs, here are two stunning floral rings to inspire you.
Baguette Settings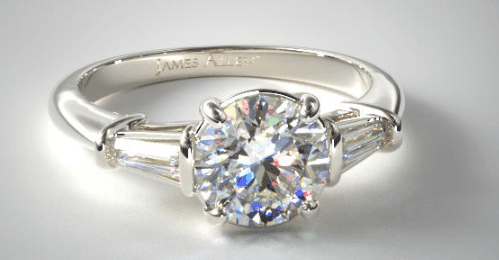 Non-traditional engagement rings may feature baguette-shaped diamond accents. The baguette side stones offer a contemporary look and can give the ring more sparkle. These engagement rings with baguettes range from halo to three-stone and often appeal to those with a modern style. 
Check out these non-traditional engagement rings with baguettes.
Vintage Settings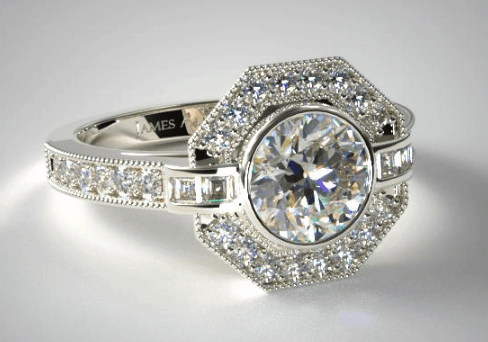 Vintage engagement rings have an antique feel and often include ornate detailing and art deco designs. Antique rings are best for those with a vintage style who enjoy having some flair in their jewelry collection and wardrobe. 
Here are intricate vintage settings to inspire you.
Gemstone Side Stones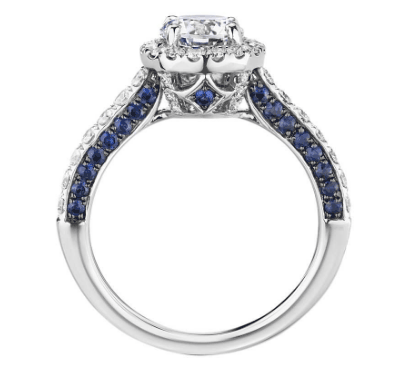 Adding colored gemstones to your engagement ring offers an immediate eye-catching element. From emeralds to rubies, there are breathtaking colors that can enhance an engagement ring and make it truly unique. If you enjoy color in your jewelry and wardrobe, a gemstone engagement ring will give you the flair you're looking for. You can even choose a gemstone as a center stone which is one of the alternatives to a diamond engagement ring.
Sapphire is the most commonly used gemstone, so we listed these beautiful gemstone engagement rings for your inspiration.
For help in choosing a non-traditional engagement ring within your budget, reach out to our experts.
James Allen

James Allen is the leader in online diamond sales. Their imaging technology is the same as inspecting a diamond with a jeweler's loupe. They have the largest exclusive loose diamond inventory online and fantastic prices. They also have the nicest collection of lab created diamonds online. Now save 25% off settings AND 3% off Earth Diamonds during James Allen HUGE limited time sale!
What we love about them:
No questions asked returns within 30 days of shipment. James Allen will send you a paid shipping label to return the ring.
Lifetime Warranty
Free International Shipping
Free prong tightening, repolishing, rhodium plating and cleaning every 6 months
Provide insurance appraisals
One free resizing within 60 days of purchase
Free ring inscriptions
Best-in-class high quality imagery of all diamonds in stock
24/7 Customer Service
Best-in-class packaging

---
Blue Nile

Blue Nile is the largest and most well known internet jewelry seller. They have a very large exclusive online inventory. Their high quality images are catching up to James Allens' and their prices are amazing. Blue Nile have generously offered our readers an exclusive one-time use coupon.

(Click Here to save $100 off engagement ring settings)
What we love about them:
No questions asked returns within 30 days of shipment. Blue Nile will send you a paid shipping label to return the ring.
Lifetime Warranty
Free Shipping
Free prong tightening, repolishing, rhodium plating and cleaning every 6 months
Provide insurance appraisal
One free resizing within the first year of purchase
High quality images of about half of their diamonds
24/7 Customer Service
100% credit towards future upgrades (must be at least double in value)
Best in class fulfillment

---
Still afraid of getting ripped off?
Before you buy a diamond, get personal buying advice from industry veterans. We'll help you get the best diamond for the money.
Ask your diamond purchase question here
DISCLAIMER: We don't use your email for marketing. Period.