We are reader-supported. Buying through links on our site may earn us commissions. Learn More.
Deal Alert! Huge James Allen Sale- 3% off Earth Diamonds AND 25% off settings or

15% off at Blue Nile!



Wallace Bishop Diamonds Review: Bad Experience and Horrible Service
Overall Score:

1

Price:

1

Selection:

1

Customer Service:

1

Cons

Bad customer service
Unknowledgeable staff
High prices

Other Recommended Retailers
Bottom Line Recommendation

Please do not buy an engagement ring from Wallace Bishop. Yes, we feel strongly that you should buy a diamond online from a reputable jeweller like Blue Nile or James Allen. But this isn't about that.

This was the worst in-store experience I have ever had. You may say I'm biased, and in some ways we are. But we have no relationships with any of the other jewellers we visited in Australia, and we wrote about far superior experiences. If you don't want to purchase online, visit a Cerrone Jewellers in Sydney or Melbourne. Or you can visit Diamonds International (a few blocks away from Wallace Bishop). Heck for the prices they charged, you can go to Hardy Brothers in Sydney.

The History
Since 1917, Wallace Bishop has been owned and managed by the same family for over 100 years.

Mr Bishop, and his son Stuart Bishop, are both skilled and fully qualified jewellers. Mr Bishop completed his watchmaking traineeship in 1950, and as CEO for much of the 1970s and 80s, Mr Bishop would complete all valuations and diamond buying himself. Stuart, the current CEO, was awarded the prestigious international DeBeers award for Jewellery Design in 1997.
The Experience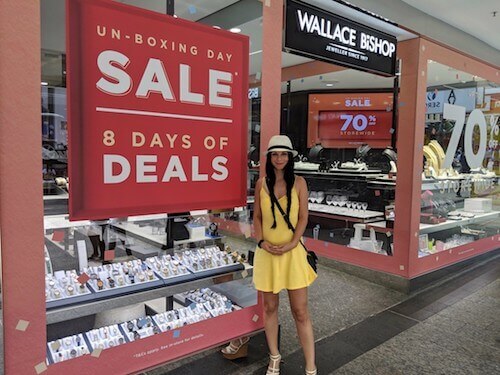 We visited Wallace Bishop during our time in Brisbane. Wandering down the bustling Queen Street, Wallace Bishop was pretty hard to miss. The store, perhaps more than any other store we visited in Australia, reminded us of an American retail experience. The location we went to was large and airy, despite being in a busy area of the city. There were plenty of displays with a varied choice of different jewellery.

We made our way towards the back and one of the salespeople showed us to the engagement ring display. I need to apologize for the lack of straightforward details and comparisons. That is because we had a bad salesperson experience and wasn't provided with basic info on the diamonds.

Did you ever have an experience while shopping where you went into a store looking for something and the people at the store just don't understand what you want? Like going to an electronics store asking for a specific cable and they have no clue what you are talking about? Or being in a health food store and the person there is baffled by you asking if something is gluten free?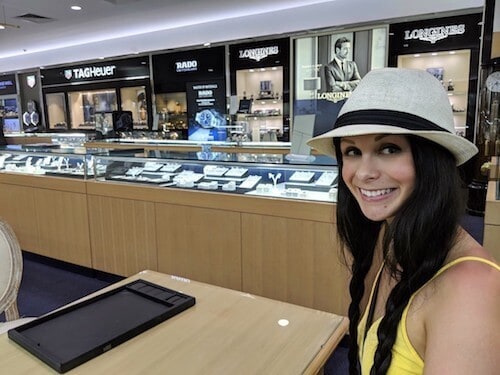 That was my experience at Wallace Bishop. Let me be clear. Modesty aside, it's a safe bet that I know more about diamonds (and the diamond market) than 99.9% of salespeople working in a given store. I have had extensive experience and education that a retailer just won't have. Yes, there are some lifetime independent jewellers that know their stuff backwards and forwards. But they are few and far between. I just wanted a positive in-store experience where the salesperson provided basic info on the diamonds.

The Product
We started off by asking for a one carat round diamond. So of course we were shown a 3/4ct princess cut. We had to adamantly ask to see some round diamonds. Finally we were shown a round one carat diamond.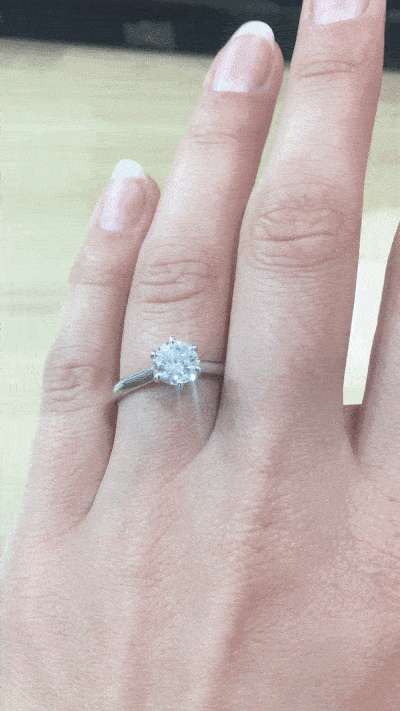 I must have asked three times what the color and clarity was before being told it was an H color SI clarity. We were not told if it is SI1 or SI2. Then we asked if the diamond was certified. The salesperson would not answer. It was like we were in a bizzaro world. I don't know if the salesperson refused to tell us or if they just didn't know.

To be fair, the diamond seemed decent (though I can't really tell without having a certificate or a loupe and color paper to grade it myself). But the price was insane. We were quoted AU$ 28,000.  

I know that many retailers work off of commission, but I never experienced such hard sales techniques. We clearly stated we were just beginning our search and were not going to buy that day. This did not deter the salesperson. First we were informed that we can get a discount if we purchased today. They would likely not give us the discount another day. We still said no thank you.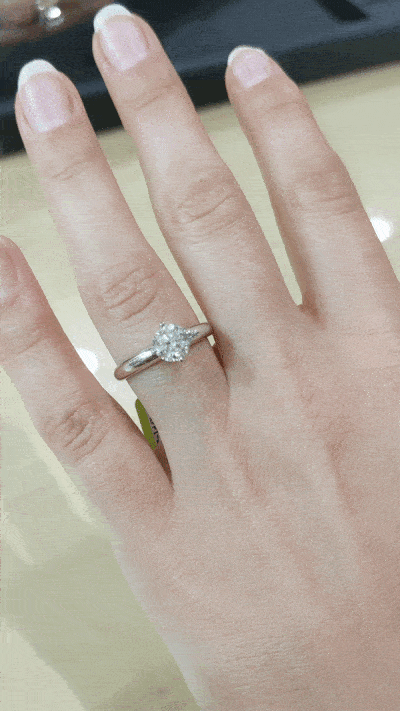 Then the salesperson told us that they may actually raise the price in the next few days so we better buy now. I'm not gonna lie; I was disgusted. I understand the pressure of working on commission, but you can't make the customer uncomfortable. Threatening to raise the price if you leave the store is not advisable. People aren't dropping 10 bucks on some deodorant. Spending so much money requires time to make a decision.

We looked at two other rings, but honestly I don't see the point in discussing them. They were equally baffling (not sure about the quality claims and seriously overpriced), so let's look at the H, SI1 one carat in an 18kt white gold solitaire setting for AU$ 28,000.

The Value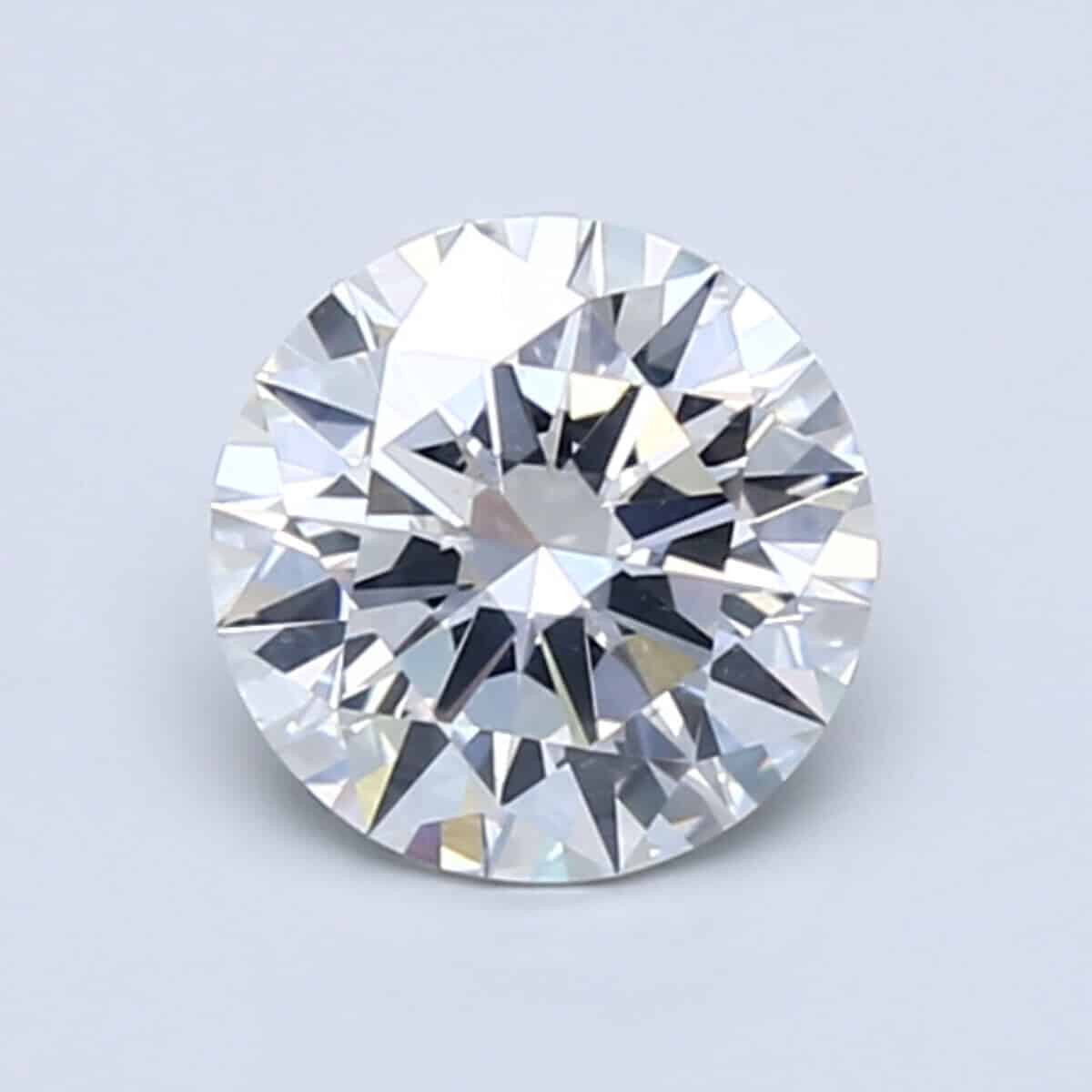 Let's be nice and assume it was GIA certified, excellent cut and no other issues. Here is an absolutely stunning 1.00ct H color, SI1 clarity excellent cut diamond from Blue Nile for AU$7,980. If you add it to this comparable setting, the total cost is AU$8,640. That is an insane 69% cheaper than what we saw at Wallace Bishop.
I know that they were offering a discount, but the salesperson also threatened that the price may be more. I don't know what discount they would offer, but even if they cut the price by 10,0000, it would still be more than double what we just showed you on Blue Nile.

James Allen

James Allen is the leader in online diamond sales. Their imaging technology is the same as inspecting a diamond with a jeweler's loupe. They have the largest exclusive loose diamond inventory online and fantastic prices. They also have the nicest collection of lab created diamonds online. Now save 25% off settings AND 3% off Earth Diamonds during James Allen HUGE limited time sale!
What we love about them:
No questions asked returns within 30 days of shipment. James Allen will send you a paid shipping label to return the ring.
Lifetime Warranty
Free International Shipping
Free prong tightening, repolishing, rhodium plating and cleaning every 6 months
Provide insurance appraisals
One free resizing within 60 days of purchase
Free ring inscriptions
Best-in-class high quality imagery of all diamonds in stock
24/7 Customer Service
Best-in-class packaging

---
Blue Nile

Blue Nile is the largest and most well known internet jewelry seller. They have a very large exclusive online inventory. Their high quality images are catching up to James Allens' and their prices are amazing. Blue Nile have generously offered our readers an exclusive one-time use coupon.

(Click Here to save $100 off engagement ring settings)
What we love about them:
No questions asked returns within 30 days of shipment. Blue Nile will send you a paid shipping label to return the ring.
Lifetime Warranty
Free Shipping
Free prong tightening, repolishing, rhodium plating and cleaning every 6 months
Provide insurance appraisal
One free resizing within the first year of purchase
High quality images of about half of their diamonds
24/7 Customer Service
100% credit towards future upgrades (must be at least double in value)
Best in class fulfillment

---
Still afraid of getting ripped off?
Before you buy a diamond, get personal buying advice from industry veterans. We'll help you get the best diamond for the money.
Ask your diamond purchase question here
DISCLAIMER: We don't use your email for marketing. Period.