Diamond Pro is reader-supported. When you buy through links on our site, we may earn an affiliate commission. Learn More.
Deal Alert! 25% off James Allen settings
and
15% off Blue Nile settings!
Hardy Brothers Diamonds Review: A Tale of Two Cities
Overall Score:

3

Price:

2

Selection:

3.5

Customer Service:

3.5

Pros

Luxurious Sydney experience

---

Cons

Inconsistent brand experience
Very high prices

Other Recommended Retailers
Bottom Line Recommendation

If you are considering going to the Sydney location, I think it's an option. As you see from the comparison, this diamond was almost double the cost of this identical diamond from Blue Nile. That said, it was a truly luxurious experience. If you are willing to pay that premium for an experience, Hardy Brothers in Sydney is a great option.
If you are in Melbourne, I would not recommend Hardy Brothers as an option. We found the quality and service to be lacking, yet the prices remained extraordinarily high.
The History
It was 1853 when Mr John Hardy arrived in Australia from Nottinghamshire in England and commenced trading as Hardy Brothers from his rooms in Jamison Street, Sydney. Two years later, he opened a showroom in Hunter Street, which became the home of Hardy Brothers for the next 80 years.
Hardy Brothers was an outstanding success, and it continued to flourish when the company introduced silver plate ware and silver cutlery to Australia. In 1894, a second Hardy Brothers showroom opened at 116 Queen Street, Brisbane, followed in 1918 by the opening of a Melbourne showroom at 298 Collins Street.
For 160 years, Hardy Brothers has been building a reputation for service, quality and design by providing a unique shopping experience for anyone looking for the very best jewellery, timepieces and giftware in Australia.
Hardy Brothers Jewellers Service and Manufacturing division also specialize in the design and manufacture of a wide range of trophies. These include the Emirates Melbourne Cup, Her Majesty Queen Elizabeth II's Queen's cup and the V8 Supercar Championship Trophies.
Royal Warrant
The Royal Warrant is recognised as a mark of excellence and quality that is conferred upon people or companies who have regularly supplied goods or services for at least five years to members of the Royal Family.
As holder of the Royal Warrant, Hardy Brothers have served all sovereigns since George V, including the reigning monarch, Queen Elizabeth II.
One of Hardy Brothers proudest moments was receiving the Royal commissions to design and supply the gold mallet and trowel for the ceremonious laying of foundations at the site of Australia's Federal capital, Canberra.
A Tale of Two Cities
This was one of the most bizarre experiences we've had while secret shopping. I have never seen such a disparity in quality, ambiance and service between two locations of the same retailer as I did with Hardy Brothers Jewellers.
Sydney
The Experience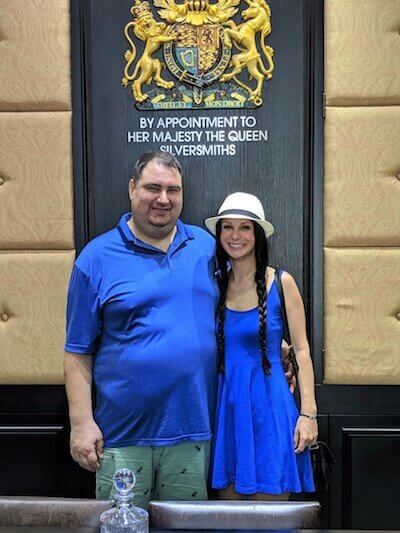 Our first stop on our Sydney leg of this trip was the Hardy Brothers location just off of Hyde Park. You don't even need to walk inside to know that it will be a luxurious experience. The store looked fantastic. Walking inside definitely lived up to the expectations you would have going into a place like this. The store was well appointed and had a charming, luxurious vibe to it.
Inside we were immediately introduced to Christine. She was the nicest, and most helpful, salesperson we interacted with in Sydney. It wasn't even close. She was quite knowledgeable and at no point did she pressure us. We felt as if they made us feel at home.
The Product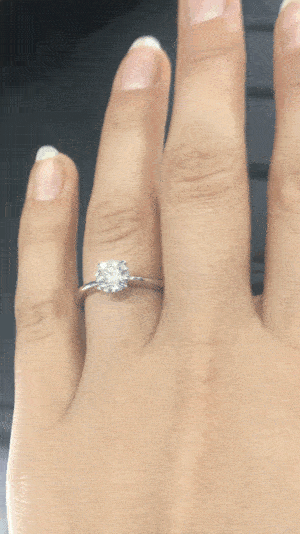 If the service and ambiance were outstanding, their diamond rings lived up to the expectations they created. The first diamond ring we saw a 1.00ct G color, VS2 clarity round diamond set in an 18kt white gold solitaire setting for AU$21,000. The diamond was an XXX cut and, though it was a tad deep, looked absolutely fantastic. The setting was exquisite and overall it was simply beautiful.
The second diamond we saw was a 1.00 H color, SI2 clarity round diamond set in a six prong solitaire setting. In all honesty, we didn't like the diamond (it had a noticeable inclusion) so Christine took it away before I managed to get the price and GIA number for the diamond. It was brilliant and she mentioned the diamond was XXX, but I can't go into the details for this one.
Melbourne
The Experience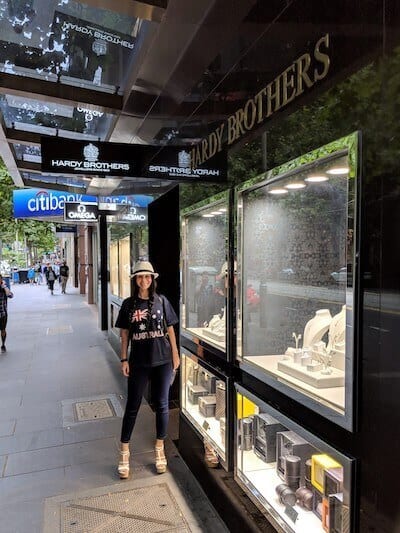 The experience at Hardy Brothers in Melbourne was about as far away from the experience we had at their Sydney location. The store had a very bland feel with large posters hanging. There was nothing luxurious about the atmosphere at all.
The service was lacking as well. It's a shame that Hardy Brothers can't clone Christine and have her work at all of the locations. While the salesman wasn't bad, it wasn't exactly a personal feel. Even the business cards are printed on shabbier material. If it weren't for the same emblem, I would have thought they were completely different companies.
Unfortunately the diamonds seemed to have been sourced by a different diamond buyer than the Sydney location. Either that or they send the better quality diamonds to Sydney. While the diamonds in Sydney were well cut and GIA certified, the same could not be said for the diamonds we saw in the Melbourne location. Not one of the diamonds we were shown had a GIA certificate.
The Importance of GIA Certification
A diamond must have a GIA certificate. There is no way to know whether you are getting a good deal unless you are certain what the diamond characteristics are. Unfortunately there are many less stringent laboratories that will inflate the quality claims. This makes it easy to fall into a trap of unknowingly overpaying for a lower quality diamond. It was very rare for us to find diamonds in Australia without GIA certification, which makes this issue even more glaring. You can read more in our article on diamond certification.
The Product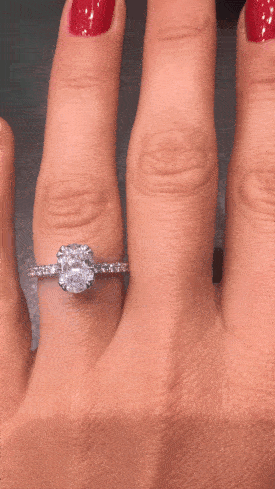 The first diamond we looked at was a 1.50ct oval cut, G color, SI2 clarity diamond. It was set in a channel cut setting with a halo underneath the diamond. There was no way for us to properly grade the diamond, and it didn't have a GIA certificate, but the inclusions were huge on the diamond. I would estimate that the diamond was I1 at best. There was also a noticeable bowtie in the diamond (you can read more about it in our oval shape diamond article). The diamond was set in a 1ctw channel setting with a halo underneath and the total cost was AU$43,500.
The second diamond we saw in Melbourne was a 2.50ct round diamond in a cushion halo setting for AU$35,000. The diamond was not certified at all and they claimed the quality was GH color and I2 clarity. The halo was 0.50ctw of diamonds in a white gold mounting.
This diamond is way below the qualities we recommend. For reference here is a 2.70ct diamond from James Allen that is GIA certified as an H color, I1 clarity. This diamond looks horrific, yet it is head and shoulders above the quality of the diamond we saw at Hardy Brothers.
The Value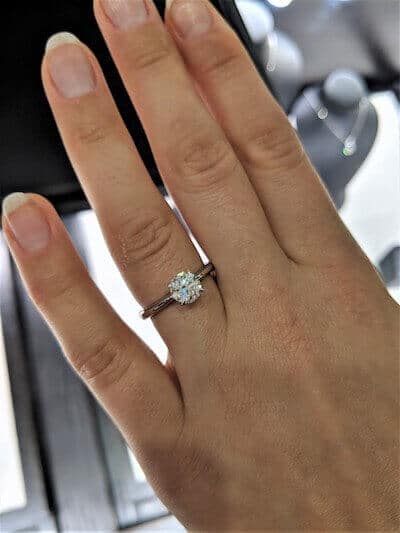 So how did the diamonds stack up with the competition? Let's start with the first, and nicest, diamond we saw; The 1.00ct, G color, VS2 clarity round diamond in Sydney for AU$21,000. Here is a comparable 1.00ct G color, VS2 clarity round diamond from Blue Nile for AU$10,357. If you add the diamond to this setting, the total price is AU$11,569.
The second diamond was a 1.50ct G color, SI2 Clarity oval cut in an intricate 1.05ctw halo setting for a total cost of AU$43,500. Here is an identical (if not better) 1.50ct G Color, SI2 clarity oval cut diamond from Blue Nile with a GIA Certificate. The diamond has no black bowtie, and the price is AU$12,970.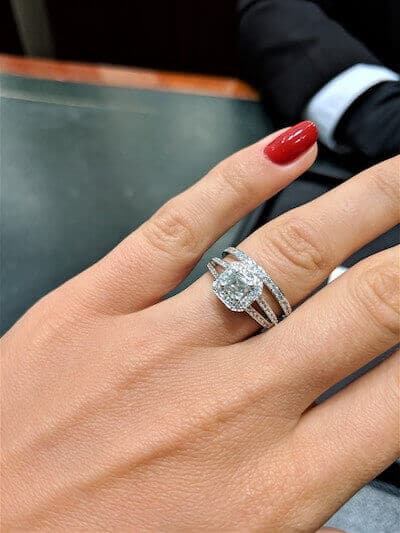 I couldn't find a similar setting from Blue Nile, but here is a halo setting with almost twice the amount of diamonds in it (2.00ctw). If you add the diamond to this setting, the total cost is AU$22,533.
I can not compare the third diamond to a similar ring as we don't recommend diamonds of such low quality to our readers. To remind you the diamond was a 2.50ct GH color, I2 clarity non-certified round diamond in a simple halo setting for AU$35,500. Instead of a straight up comparison, I will show you what you can buy for AU$35,500.
Here is a stunning 2.51ct I color, SI2 clarity round diamond from Blue Nile. It is an XXX cut and eye-clean. Despite being vastly superior to the diamond we saw at Hardy Brothers, the diamond is only AU$28,877. You can add it to this halo setting and still save 11%.
James Allen

James Allen is the leader in online diamond sales. Their imaging technology is the same as inspecting a diamond with a jeweler's loupe. They have the largest exclusive loose diamond inventory online and fantastic prices. They also have the nicest collection of lab created diamonds online. Save 10% off select Lab Grown Diamonds and 25% on setttings!
What we love about them:
No questions asked returns within 30 days of shipment. James Allen will send you a paid shipping label to return the ring.
Lifetime Warranty
Free International Shipping
Free prong tightening, repolishing, rhodium plating and cleaning every 6 months
Provide insurance appraisals
One free resizing within 60 days of purchase
Free ring inscriptions
Best-in-class high quality imagery of all diamonds in stock
24/7 Customer Service
Best-in-class packaging

---
Blue Nile

Blue Nile is the largest and most well known internet jewelry seller. They have a very large exclusive online inventory. Their high quality images are catching up to James Allens' and their prices are amazing. Blue Nile have generously offered our readers an exclusive one-time use coupon.

(Click Here to save $100 off engagement ring settings)
What we love about them:
No questions asked returns within 30 days of shipment. Blue Nile will send you a paid shipping label to return the ring.
Lifetime Warranty
Free Shipping
Free prong tightening, repolishing, rhodium plating and cleaning every 6 months
Provide insurance appraisal
One free resizing within the first year of purchase
High quality images of about half of their diamonds
24/7 Customer Service
100% credit towards future upgrades (must be at least double in value)
Best in class fulfillment

---
Still afraid of getting ripped off?
Before you buy a diamond, get personal buying advice from industry veterans. We'll help you get the best diamond for the money.
Ask your diamond purchase question here
DISCLAIMER: We don't use your email for marketing. Period.