Diamond Pro is reader-supported. When you buy through links on our site, we may earn an affiliate commission. Learn More.
Deal Alert! 25% off James Allen settings
and
15% off Blue Nile settings!
A Guide to Buying Diamonds in Sydney
Years ago I spent some time living in Sydney. It was on my way to a year and a half living in Tassie and some of the best months of my life. When we recently noticed more and more readers from Australia on our site, I didn't need much of a push to head down under for a secret shopping trip.

We came to town at the best time of year to be in Sydney: New Year's Eve. So diamond rings and flashy jewellery were not the only sparkly things we saw.

In this guide, we'll cover the main retailers where we secret-shopped on our trip. We'll also mention which areas are best for shopping as well as specific tips for buying a diamond locally in Sydney.

Buying Online Vs. At a Local Retailer in Sydney
With our extensive experience in the industry, we feel strongly that you should purchase a diamond from a reputable online retailer like James Allen or Blue Nile. Even after negotiating, the retailers we visited in Sydney were 30%-40% more expensive on average than comparable rings we found online. We provide comparisons to bricks and mortar stores below (and you can read more about specific stores in our reviews).

We cover the local Sydney options below, as we understand that not everyone wants to buy diamonds online. It's important to keep in mind, however, that you're paying a premium to purchase from a local retailer, so make sure the place where you end up justifies that premium.

Where to Buy a Diamond in Sydney

There are plenty of jewellers scattered around the city, but the highest concentration of jewellery shoppes are clustered around the shopping areas near Hyde Park. In this area, you can find everything from the ultra-luxe shoppes to your more casual retailers.

Another option is to scour some of the shopping centres. I have to say that I was surprised to find a decent jeweller there: Gregory Jewellers. More about them later.

Top Tips for Buying a Diamond

When you're buying a diamond, there are several aspects to consider, which is one of the reasons we suggest buying online. If you are walking into a jewellery store, though, there are five important things to consider:

Cut Quality – The majority of the round cut diamonds we saw in Syndey were excellent cut diamonds. In general, we recommend choosing only excellent or ideal cut diamonds, although there's a large difference in the beauty and quality of these stones. To ensure your diamond has maximum brilliance, aim for a depth percentage below 62.5% and a table percentage below 60%. If you're choosing a shape other than round brilliant, check out our shapes guide for specific buying tips.
Clarity – When it comes to Clarity, our recommendation is pretty straightforward: find a diamond that's eye clean. In other words, blemishes and inclusions shouldn't be seen with the naked eye. When you're in the store, move the diamond away from the super-bright light because it induces more sparkle and hides the inclusions. You don't want to get home with a diamond and then notice its imperfections. Often times, if you find an inclusion later, it will gnaw at you every time you look at the diamond.
Certification – Independent lab entities evaluate diamonds. They provide certificates to verify their grading. Unfortunately, there are several less stringent laboratories that inflate their quality claims. These loose and inconsistent labs make it easy to fall into the trap of overpaying for a low-quality diamond without even knowing. Fortunately for you, the overwhelming majority of places we went to in Sydney strictly offered GIA certified diamonds. There were a smattering of places that relied on the Australian laboratory GLS. Being perfectly honest, I don't know enough about GLS to comment. In general, though, we strongly recommend that any diamond you consider has a GIA or AGS certificate, because they are the most reliable and consistent lab entities.
Fluorescence – This characteristic isn't normally so high on the list, but the stores in Sydney featured better quality diamonds than other retailers we've seen around the world. Cut quality and Certification weren't as much of an issue in Sydney as in other places (but you should still be vigilant). On the other hand, fluorescence was a lingering nuisance we noticed while shopping. Many of the colorless diamonds had medium or strong fluorescence, which takes away from the beauty and brilliance of the stone.
Take it slow – It's easy to get excited and make a rash decision when it comes to a diamond. If you see "the perfect ring," you may get distracted or influenced by pushy salespeople — especially those working on commission.
Because a diamond is often a substantial purchase, it's important to take your time and compare your options. For instance, you may want to compare a ring you saw in a store to a similar one online to ensure you're getting a good deal. You can even contact us to do a comparison for you. We're happy to look at the details — try to write down the GIA certificate number — and we'll give you our honest thoughts.

Diamond Retailers in Sydney
If you read our review, you'll learn that we had a Jekyll and Hyde experience between Hardy Brothers in Melbourne and in Sydney.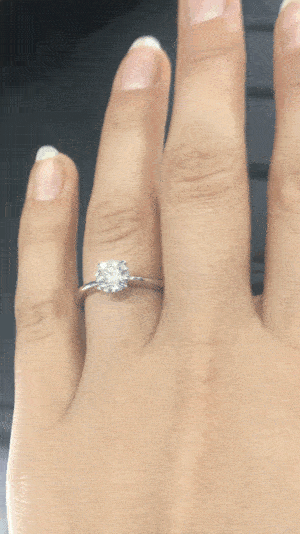 In Sydney, our shopping experience at Hardy Brothers was unparalleled. We had an incredibly luxurious experience with fantastic service and saw beautiful diamonds. With that luxury, though, comes a price. As you can see in our review, we saw this stunning diamond in a gorgeous solitaire setting for AU$21,000. We found an equally stunning Astor Cut diamond from Blue Nile with this setting for 35% less. That's quite a bit of saving, but at least Hardy Brothers in Sydney offers you an immersive experience that some shoppers might feel justifies the premium.

This one came as a surprise to me. Despite being located in shopping malls, I was very impressed with the experience at both Gregory Jewellers stores. I was doubly impressed at the Parramatta mall — considering the general ambiance of the mall.

Gregory Jewellers offered pretty good service and very nice diamonds, but there were some questionable ones as well. For example, we saw this diamond at Parramatta which was too deeply cut. On the other hand, there was a stunning 1.80ct pear shape diamond in a halo setting in the Westfield Bondi Junction that we would have recommended to readers.

When shopping with Gregory — or any Sydney jeweller — we suggest you keep in mind our recommendations for the 4 C's and compare what you find to an online dealer like Blue Nile and James Allen (to ensure you're getting the best deal).

Independent Jewellers

In addition to all of the big name jewellers, there are plenty of smaller independent shoppes around Sydney. In these places, you need to be even more vigilant about certification and other issues. But you can find some decent options. We were pleasantly surprised by GS Diamonds in the Victoria Building. They were definitely no-frills, but their premiums (compared to online jewellers) were more competitive than most jewellers we visited.

James Allen

James Allen is the leader in online diamond sales. Their imaging technology is the same as inspecting a diamond with a jeweler's loupe. They have the largest exclusive loose diamond inventory online and fantastic prices. They also have the nicest collection of lab created diamonds online. Save 10% off select Lab Grown Diamonds and 25% on setttings!
What we love about them:
No questions asked returns within 30 days of shipment. James Allen will send you a paid shipping label to return the ring.
Lifetime Warranty
Free International Shipping
Free prong tightening, repolishing, rhodium plating and cleaning every 6 months
Provide insurance appraisals
One free resizing within 60 days of purchase
Free ring inscriptions
Best-in-class high quality imagery of all diamonds in stock
24/7 Customer Service
Best-in-class packaging

---
Blue Nile

Blue Nile is the largest and most well known internet jewelry seller. They have a very large exclusive online inventory. Their high quality images are catching up to James Allens' and their prices are amazing. Blue Nile have generously offered our readers an exclusive one-time use coupon.

(Click Here to save $100 off engagement ring settings)
What we love about them:
No questions asked returns within 30 days of shipment. Blue Nile will send you a paid shipping label to return the ring.
Lifetime Warranty
Free Shipping
Free prong tightening, repolishing, rhodium plating and cleaning every 6 months
Provide insurance appraisal
One free resizing within the first year of purchase
High quality images of about half of their diamonds
24/7 Customer Service
100% credit towards future upgrades (must be at least double in value)
Best in class fulfillment

---
Still afraid of getting ripped off?
Before you buy a diamond, get personal buying advice from industry veterans. We'll help you get the best diamond for the money.
Ask your diamond purchase question here
DISCLAIMER: We don't use your email for marketing. Period.