Diamond Pro is reader-supported. When you buy through links on our site, we may earn an affiliate commission. Learn More.
Deal Alert! 25% off James Allen settings
and
15% off Blue Nile settings!
Our Review of The Jewelry Exchange
Overall Score:

2.17

Price:

3

Selection:

1.5

Customer Service:

2

Other Recommended Retailers
The History
The Jewelry Exchange and Jewelry Factory comes from humble beginnings. Bill Doddridge, founder and CEO, cut his teeth by working in his stepfather's pawnshop. After running his own pawnshop, Bill started designing his own jewelry.
In the early 90s Bill transitioned into a more traditional jewelry business model, closing his pawnshop and opening a traditional jewelry store. In many ways Bill was a visionary, taking advantage of globalisation. Other than the huge retail chains, Bill was one of the first retailers to go directly to the manufacturing companies overseas, allowing him to undercut the competition by 30%. I remember how fondly Bill was regarded by the major diamond companies in Tel Aviv (at the time, Israel was the largest exporter of polished diamonds).
Under the parent company of Goldenwest Diamond Corporation, they now operate 15 stores sprinkled around the United States. I'm not sure why, but some of the stores use the name Jewelry Exchange while others use Jewelry Factory.
The Experience at The Jewelry Exchange, Tustin
This was a new one for me. From the outside, the Jewelry Exchange in Tustin, CA looks to me like your typical strip mall store. Walking in, you notice a typical, if somewhat dated, store look. But then you start to notice some, how do I say this politely, unique aspects of the store.
A security guard ushered us over to an old school ticket dispenser. The last time I saw one of those was in an old school Hungarian bakery in Brooklyn. And that was 15 years ago as well.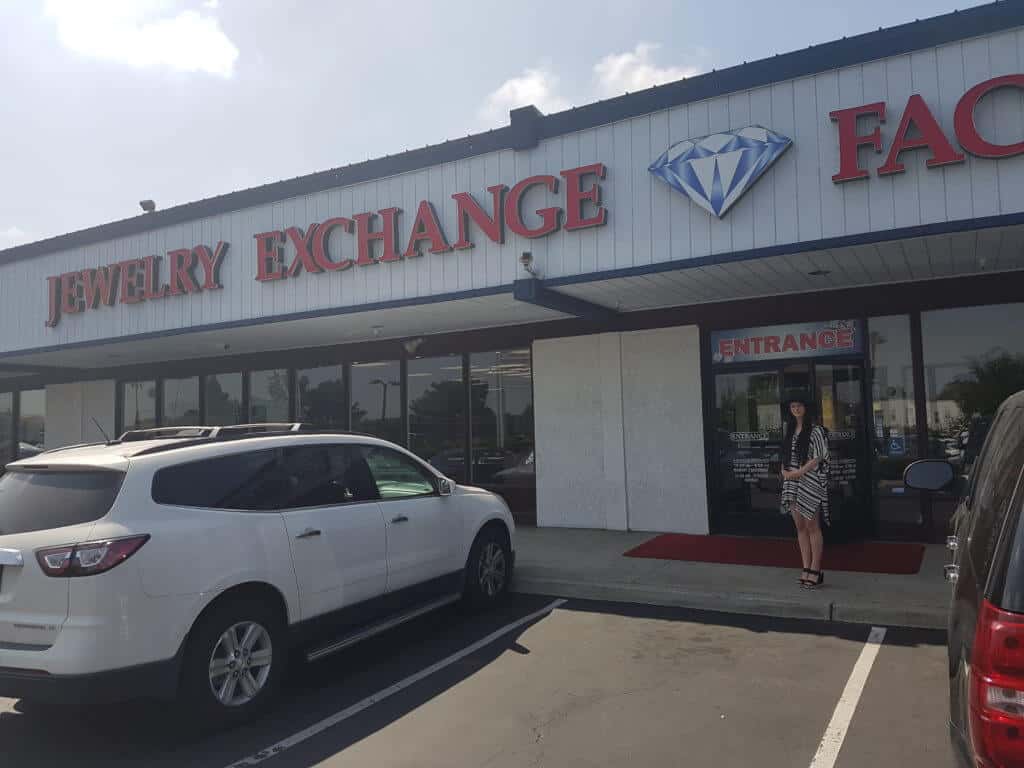 Once we took a number, the gentleman asked what we would like to see today. After saying we are looking for engagement rings, he gestured towards that section. As we turned our backs on him to head to the display, we had the crap scared out of us. Apparently they feel it's necessary to announce our presence. He did so by shouting into a megaphone right behind us. An honest to goodness megaphone.
After that, the experience settled down into a more normal jewelry store experience. The introduction surely stands out, but I'm not so sure that's exactly what you want when making such a meaningfull purchase.
The Diamond Quality
Things were a little surprising here as well. A few years ago, when I first joined Ira on this site, I made an unplanned visit to a different Jewelry Exchange location (in Hackensack, NJ). This was before I was writing reviews, so I didn't take great notes about the experience. But every diamond I was shown was not one I would recommend and, even worse, came with an EGL certificate.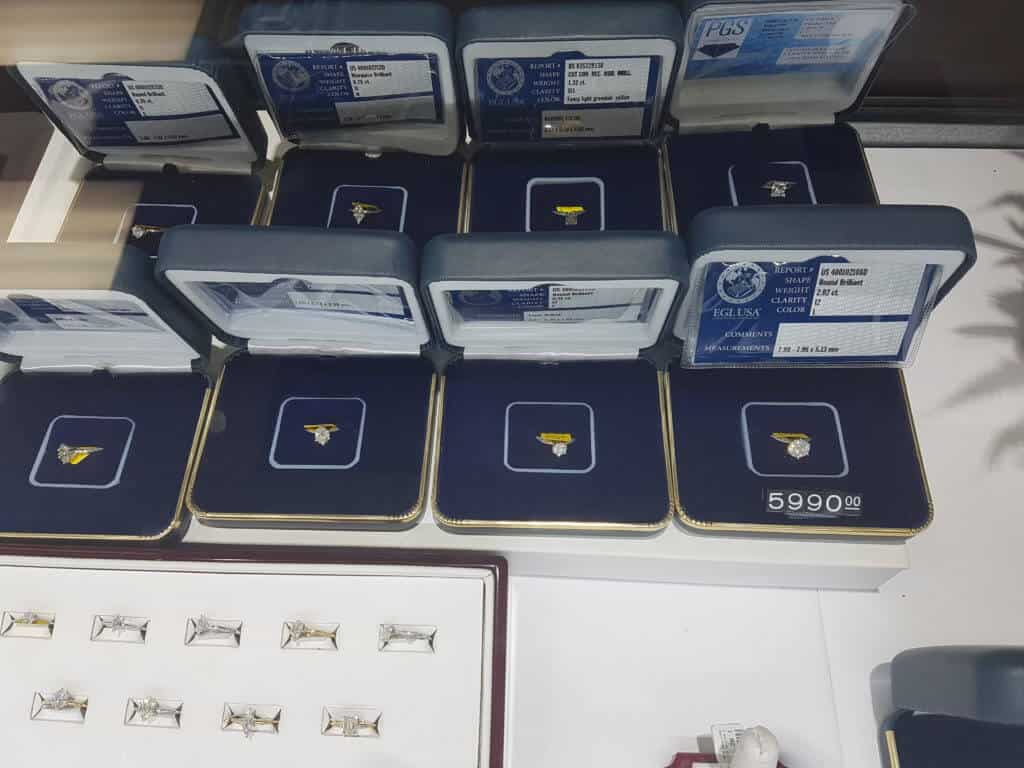 This time, the experience was markedly better. We were promptly helped by someone who seemed friendly and knowledgeable.
This time around, the diamonds were definitely more to my liking and thankfully they had GIA certificates. They still weren't at the point where I would recommend them (quality-wise), but it was a definite improvement.
They did have EGL certified diamonds proudly displayed, but the saleswoman shied away from them. The first one we looked at was a 1.09 G color I1 clarity for $4,785. We'll get to the price in a minute, but in my opinion the quality was very low. The inclusions were readily visible, and you can notice the symmetry was off (looking at the diamond, you feel like your eye-sight is crooked).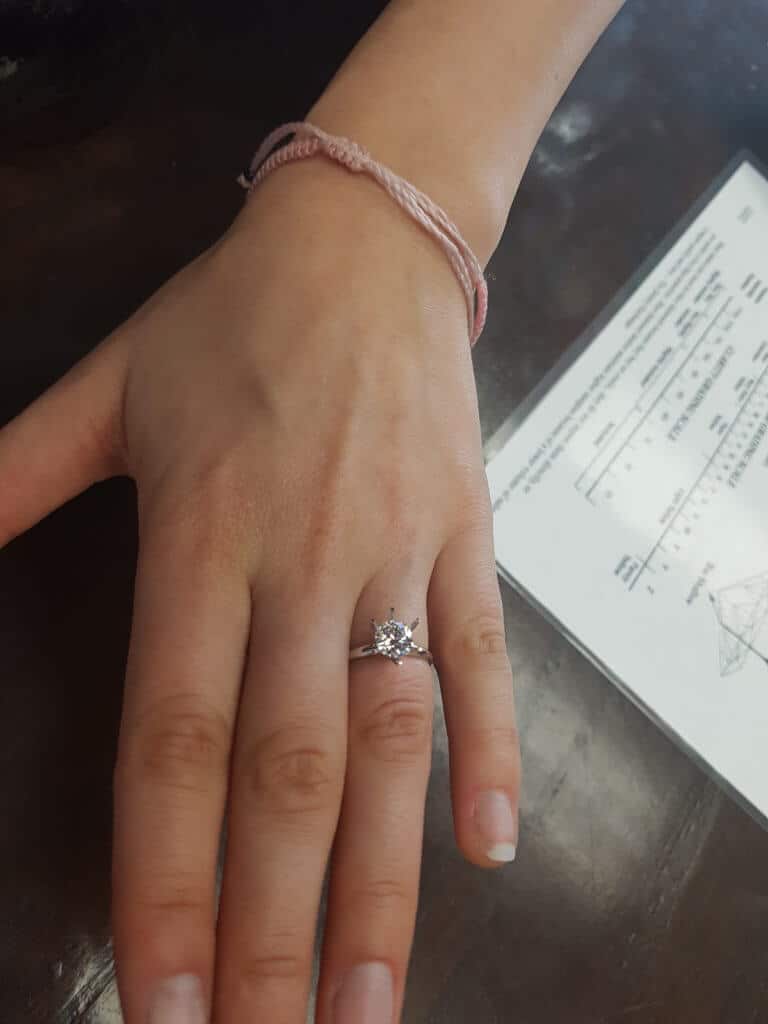 The second diamond was a bit of an improvement. It was a 1.15ct F SI2 excellent cut round diamond for $7,233. This diamond was better cut, but once again the inclusion was quite noticeable. Another major concern was the Strong Blue fluorescence grade. This is a big no-no when buying a colorless diamond.
The Value
So what did I think of The Jewelry Exhchange's prices? Let's compare and see.
The first diamond came in at $4,875 on its own (we were looking at it loose). Here is a comparable 1.14ct G I1 very good cut from James Allen. Let me be clear that I do not like this diamond, but it has the same problems the Jewelry Exchange diamond had. This one will run you $3,410. That saves you about 30%.
The second diamond was a little nicer, but still had some major flaws while clocking in at $7,233. Here is a superior 1.20ct E SI2 excellent cut from James Allen. As you can see, the inclusions are not readily visible on the James Allen diamond (it will be eye-clean) and the fluorescence grade is better. I would still be hesitant to recommend it (we don't like medium fluorescence on E colors either), but it's certainly a better choice. The James Allen choice will cost you $5,600, a savings of about 25%. This is ignoring the fact that you will save even more because the online purchase is tax free if sent to certain states.
Bottom Line Recommendation
It's not the high prices that bothered me at The Jewelry Exchange. As we explain (in our Should You Buy Online article), no physical store can compete with major online retailers like Blue Nile and James Allen. I understand (while not agreeing) with a consumer who is willing to spend a 30% premium for buying in a physical store. But usually the best place to buy an engagement ring is from a top-tier online retailer.
What makes me shy away from The Jewelry Exchange was the fact that had we not been educated diamond consumers, we might have ended up with a stone with eye-visible inclusions, noticing them only when it's too late. By all means, pay a premium for your diamonds. But at least make sure the diamond is worth your money.
Paying a premium for the in-store experience (something you feel for a few hours of your life) while sacrificing on the quality of the ring you (or your partner) will wear the rest of your life doesn't add up to me.
James Allen

James Allen is the leader in online diamond sales. Their imaging technology is the same as inspecting a diamond with a jeweler's loupe. They have the largest exclusive loose diamond inventory online and fantastic prices. They also have the nicest collection of lab created diamonds online. Save 10% off select Lab Grown Diamonds and 25% on setttings!
What we love about them:
No questions asked returns within 30 days of shipment. James Allen will send you a paid shipping label to return the ring.
Lifetime Warranty
Free International Shipping
Free prong tightening, repolishing, rhodium plating and cleaning every 6 months
Provide insurance appraisals
One free resizing within 60 days of purchase
Free ring inscriptions
Best-in-class high quality imagery of all diamonds in stock
24/7 Customer Service
Best-in-class packaging

---
Blue Nile

Blue Nile is the largest and most well known internet jewelry seller. They have a very large exclusive online inventory. Their high quality images are catching up to James Allens' and their prices are amazing. Blue Nile have generously offered our readers an exclusive one-time use coupon.

(Click Here to save $100 off engagement ring settings)
What we love about them:
No questions asked returns within 30 days of shipment. Blue Nile will send you a paid shipping label to return the ring.
Lifetime Warranty
Free Shipping
Free prong tightening, repolishing, rhodium plating and cleaning every 6 months
Provide insurance appraisal
One free resizing within the first year of purchase
High quality images of about half of their diamonds
24/7 Customer Service
100% credit towards future upgrades (must be at least double in value)
Best in class fulfillment

---
Still afraid of getting ripped off?
Before you buy a diamond, get personal buying advice from industry veterans. We'll help you get the best diamond for the money.
Ask your diamond purchase question here
DISCLAIMER: We don't use your email for marketing. Period.