We are reader-supported. Buying through links on our site may earn us commissions. Learn More.
Deal Alert! Huge James Allen Sale- 3% off Earth Diamonds AND 25% off settings or

15% off at Blue Nile!



I-Primo Diamonds Review: Small Diamonds, Unusual Business Model
Overall Score:

2.5

Price:

1

Selection:

3.5

Customer Service:

3

Pros

Nice selection
Helpful staff

---

Cons

High prices
Wait time
Certificates unavailable

Other Recommended Retailers
Bottom Line Recommendation
I-Primo was the most frustrating place we went to in Hong Kong. We hated their business model (explained below), their selection was severely limited and not particularly inspiring, and the prices were beyond obscene. They were the most overpriced store we went to on this trip.

We'll go into more detail below, but there was a diamond they offered for HK$16,600. We found an identical diamond from Blue Nile for on HK$5,116. To pay three times the price from a place where it takes five to six weeks to get your ring makes no sense to me.

If you're shopping for a diamond ring, you're far better off buying from a reputable online retailer like Blue Nile or James Allen. Barring that, pretty much any other store offered better value. The diamonds were nice and the salesperson was great, but that doesn't justify such insane prices.

The History
I-Primo is a sub-brand of Primo Japan, one of Japan's largest bridal jewelry specialty stores. It first opened in 1999 as an independent jewelry retailer in Tokyo's upmarket Ginza district before expanding to Taiwan and Hong Kong in 2007 and 2011.

Today, I-Primo has a range of locations throughout Taiwan, Hong Kong and mainland China. We visited the company's flagship store in Hong Kong's bustling Causeway Bay shopping area.

I-Primo Hong Kong: The Experience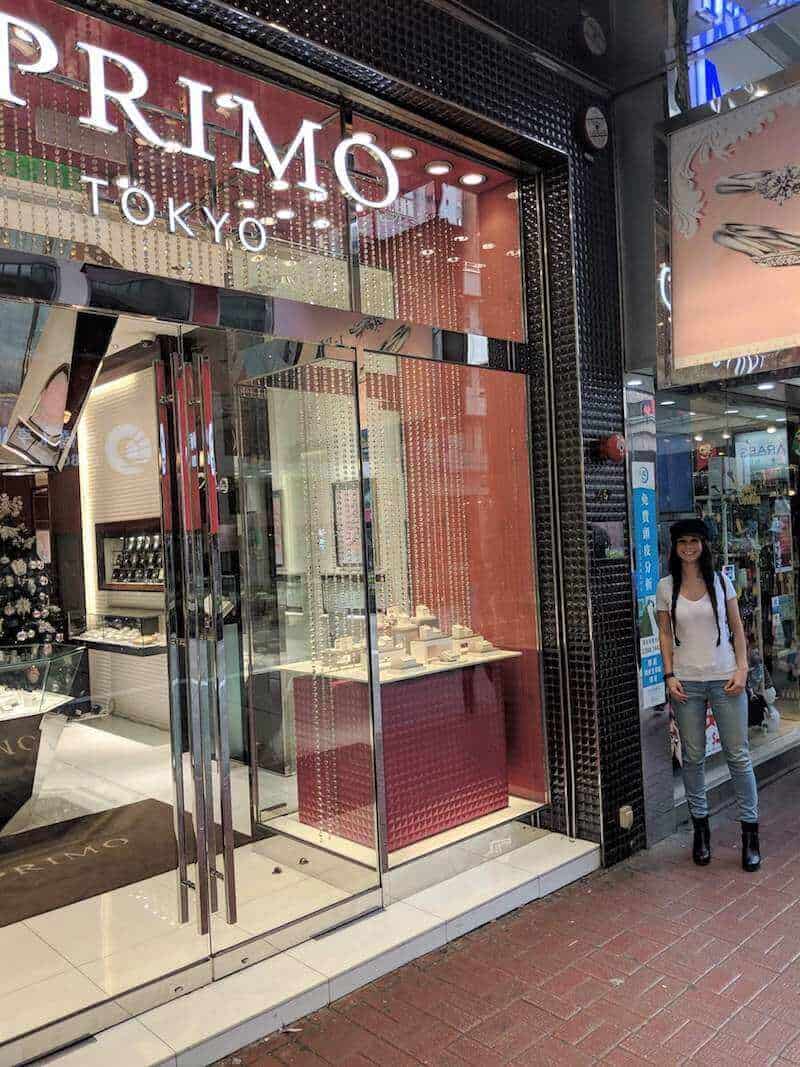 I-Primo was one of the most bizarre experiences we had on our trip. As we mentioned, they are a Japanese company. Their presence in Hong Kong was limited to one store on Hennessy Rd in Causeway Bay.

The store was small compared to most of the other places we went to. On the other hand, they did not have the typical large displays of cheaper gold jewellery. They primarily focused on diamond engagement rings. The salesperson was very polite, knowledgeable and helpful.

I-Primo's Unconventional Business Model
I think unconventional is a polite way to describe I-Primo's business model. See, you can't actually buy any rings in the store. Instead, you have to custom order the ring.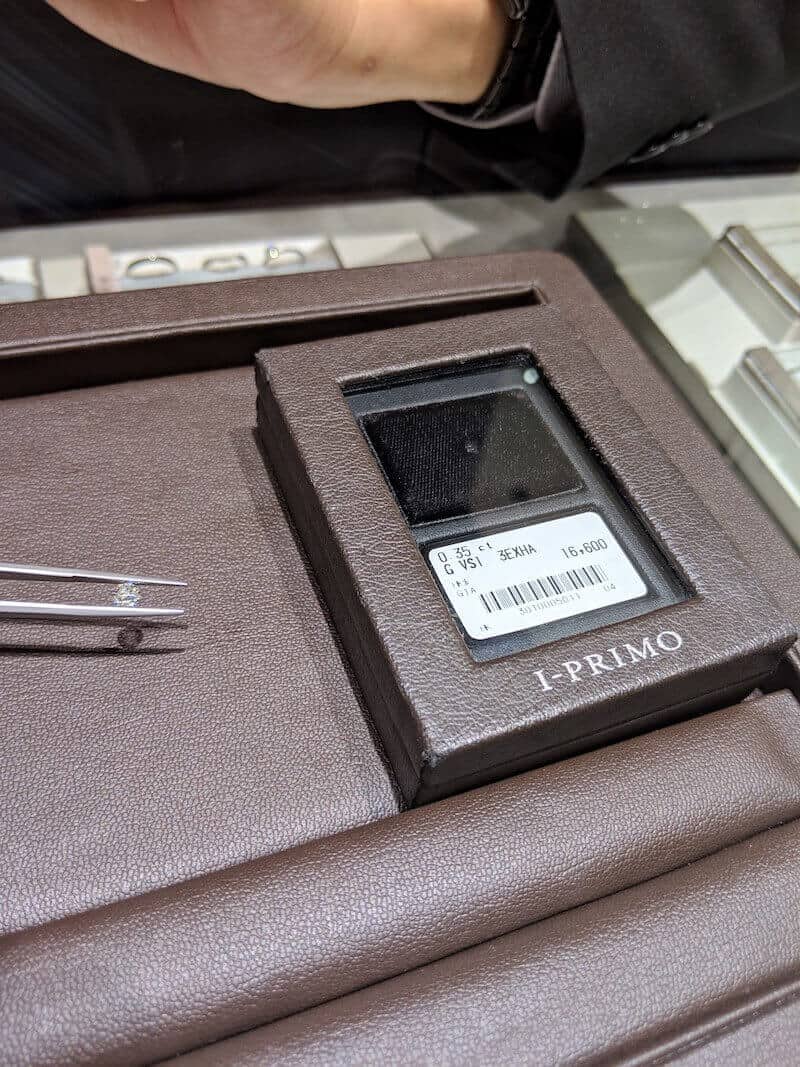 That in and of itself isn't so different. There are many places that have such a business model. Darry Ring is a common one in China. Our favorite online retailer, Blue Nile, has also started to open showrooms in the US that have the same idea.

What's different is the fact that they have the diamonds and the settings in the store. You aren't looking at samples, then picking out a diamond from their inventory. Instead, you have all of the diamonds and settings in front of you in the retail store.

A retail location with diamond and setting samples lets the business save on the enormous cost of having dead inventory sitting in every store waiting to be purchased. The biggest advantage of not selling rings that are sitting the store is the ability to cut costs on the overhead.

Theoretically that will make the rings cheaper for customers than a typical physical retailer. That, as we will see, is not the case here.

"But aren't there plenty of retailers that offer to make your ring by picking out a diamond and setting separately?" you might ask.

That is true. But those retailers either have their own jeweller in house, or a relationship with a jeweler closeby to assemble the ring quickly.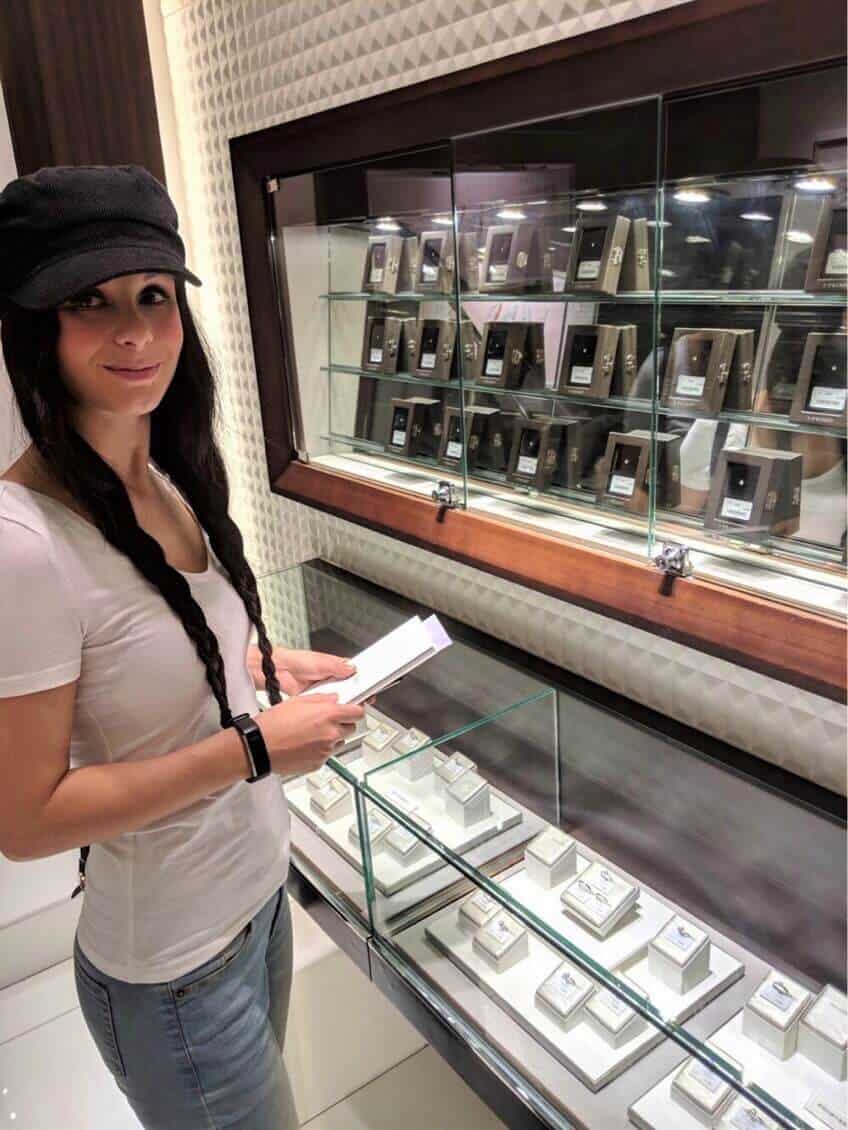 This practice wasn't so common in Hong Kong, but we've been to dozens, if not hundreds, of retailers that do this in the US, Singapore, and other countries. Typically it takes one to three business days to have the ring assembled. Many times it can be done within a few hours.

That was not the case at I-Primo. The salesperson informed us that it takes five to six weeks for the ring to be assembled. I was speechless. For the life of me, I can't fathom why this takes so long.

To be clear, we are not talking about designing a ring from scratch. They don't need to have a designer make a graphic mock-up, then make a wax mold for the ring. Even that usually takes a couple of weeks, not six. We were talking about taking the ring (already made) and the diamond (already owned by them) and putting them together.

I understand that I-Primo is a Japanese company and we were in Hong Kong. But the year is not 1920, its 2019. They don't need to send it by horse to a ship to get it to Japan.

Blue Nile is an international company. They have diamonds listed from all over the world. You can order a diamond and a setting and it takes one week to have it delivered to your door in Hong Kong or China.

The Product
So what type of diamonds did they have there? I-Primo seems to focus on smaller diamonds, but they were all fantastic.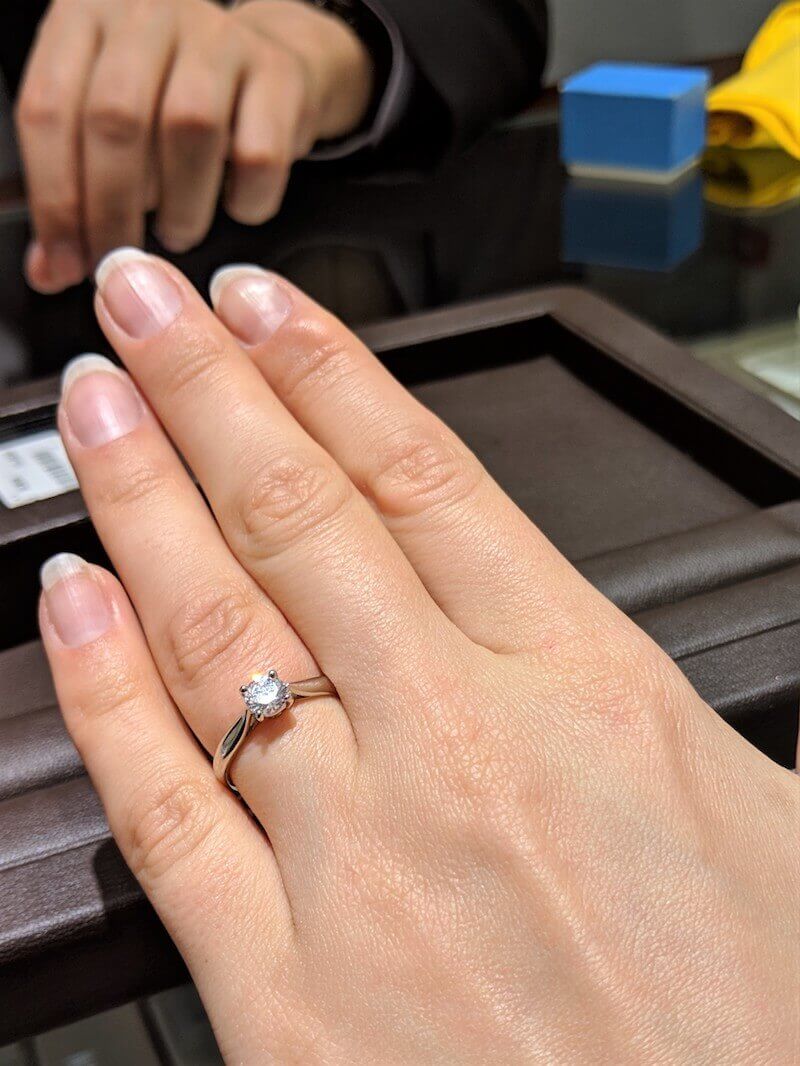 The salesperson mentioned that they only have GIA certified triple X diamonds in store. The diamonds were on a wall display and it looked like the largest ones there were about 0.35cts.

Unfortunately the certificates were not in the store so we weren't able to look at them, but the diamonds looked fantastic so I will take their word for it that they were all XXX with no strong fluorescence.

The first diamond we saw was a 0.35ct G color, VS1 round diamond for HK$16,600.

The diamond was incredibly bright and, obviously for a VS1 in a smaller diamond, was 100% eye-clean. The salesperson explained how important cut is (he was actually knowledgeable in that area, which is rare).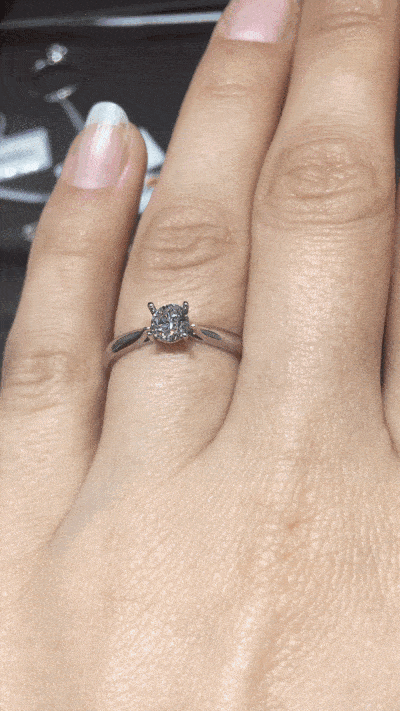 The second diamond we saw was a 0.30ct G color, SI1 clarity round diamond for HK$12,200.

Once again, the cut on the diamond was superb. Both Jenny and I were able to see the inclusion (it was a sharp white crystal just on the edge of the table) but it was barely noticeable. To be fair, the two of us are experts with very sharp eyes. I think the diamond would have been eye-clean for 90% of typical consumers.

The Value
Let's start with the 0.35ct G color, SI1 for HK$ 16,600. Here is a gorgeous 0.35ct G color, VS1 clarity XXX cut round diamond from Blue Nile for HK$ 5,116. This diamond is just as stunning as the one they had at I-Primo, yet the I-Primo diamond is more than three times the price!

The second diamond didn't fare much better. This diamond was the 0.30ct G color, SI1 clarity for HK$12,200. Here is a comparable 0.30ct, G color, SI1 clarity XXX cut round diamond from Blue Nile for HK$4,084.

Once again, I-Primo was three times the price of a comparable diamond from Blue Nile.

Here is where I-Primo loses me as a consumer. I don't get their business model, but that's neither here nor there. There is no justification for the insane premiums we saw here.

Even the top luxury brands in the world would be hard pressed to charge these prices for a 0.35ct diamond and I-Primo was nowhere near the luxury experience of walking in to a Harry Winston or Cartier.

In Conclusion
Most of the jewelry stores we visited in Hong Kong and Macau charged a premium compared to online jewelry retailers like James Allen and Blue Nile. On average, we noticed that the prices of diamonds were about 25 to 35% higher than online.

This is understandable, since physical retailers have overheads like rent, employee salaries and utilities to cover.

However, I-Primo takes premium pricing to a whole new level. The diamonds we viewed in-store were three times more expensive than comparable diamonds from Blue Nile, without anything to justify the higher price.

Final Thoughts

I-Primo's premium pricing means it isn't a good place to buy a diamond. Add an unusually long waiting time into the equation (five to six weeks for a ring to be assembled) and shopping for a diamond here just doesn't make sense.

Instead, it's better to use a reputable online jewelry retailer like Blue Nile or James Allen, or get in touch with us for personalized advice.

James Allen

James Allen is the leader in online diamond sales. Their imaging technology is the same as inspecting a diamond with a jeweler's loupe. They have the largest exclusive loose diamond inventory online and fantastic prices. They also have the nicest collection of lab created diamonds online. Now save 25% off settings AND 3% off Earth Diamonds during James Allen HUGE limited time sale!
What we love about them:
No questions asked returns within 30 days of shipment. James Allen will send you a paid shipping label to return the ring.
Lifetime Warranty
Free International Shipping
Free prong tightening, repolishing, rhodium plating and cleaning every 6 months
Provide insurance appraisals
One free resizing within 60 days of purchase
Free ring inscriptions
Best-in-class high quality imagery of all diamonds in stock
24/7 Customer Service
Best-in-class packaging

---
Blue Nile

Blue Nile is the largest and most well known internet jewelry seller. They have a very large exclusive online inventory. Their high quality images are catching up to James Allens' and their prices are amazing. Blue Nile have generously offered our readers an exclusive one-time use coupon.

(Click Here to save $100 off engagement ring settings)
What we love about them:
No questions asked returns within 30 days of shipment. Blue Nile will send you a paid shipping label to return the ring.
Lifetime Warranty
Free Shipping
Free prong tightening, repolishing, rhodium plating and cleaning every 6 months
Provide insurance appraisal
One free resizing within the first year of purchase
High quality images of about half of their diamonds
24/7 Customer Service
100% credit towards future upgrades (must be at least double in value)
Best in class fulfillment

---
Still afraid of getting ripped off?
Before you buy a diamond, get personal buying advice from industry veterans. We'll help you get the best diamond for the money.
Ask your diamond purchase question here
DISCLAIMER: We don't use your email for marketing. Period.