We are reader-supported. Buying through links on our site may earn us commissions. Learn More.
Deal Alert! Huge James Allen Sale- 3% off Earth Diamonds AND 25% off settings or

15% off at Blue Nile!



Hannoush Jewelers
Overall Score:

2

Price:

1

Selection:

2

Customer Service:

3

Pros

---

Cons
Other Recommended Retailers
Disclaimer: Hannoush Jewelers has a confusing company structure. The different locations have different owners and may operate differently. They do have some sort of shared relationship, but we don't know how that relationship affects the overall experience. We have only reviewed Hannoush Jewelers in Massachusets as noted below. 
This has been quite a trip for Annie and myself. In many ways it's been refreshing. While we feel that physical stores can never compete with reputable online retailers from a price perspective, we have been pleasantly surprised with the offerings.
From the time we reached Washington D.C. and headed up to Boston, we have been thoroughly impressed with the quality of the diamonds being offered at the shops we've been too. Virtually every diamond we've seen has had GIA certification and hasn't had any major issues.
That feel good experience ended abruptly when we got to Hannoush Jewelers. Being honest, there was nothing good about the experience. We visited Hannoush Jewelers at the Westgate Mall in Brockton, Massachusetts. There isn't much to say about the appearance of the store except that it was typical of any jeweler that would be in a Westgate Mall. Nothing noteworthy.
Nothing noteworthy, at least, until we started to look at the diamond rings. First off the diamonds had EGL certificates which, as you can read here, is a big no-no.
The Product
So what did we end up looking at? The diamonds we looked at were, in our opinion, unimpressive to say the least. The first diamond was a 1.42ct "E color, SI2 clarity" round diamond in a white gold setting for $15,950. I put the quality claims in quotes because I seriously doubt that diamond was even close to SI2 (or E color for that matter).
This is why we believe reputable jewelers only offer diamonds with GIA and AGS certification. If I had to estimate, I would say the diamond was closer to a G color and I1 clarity (in GIA terms).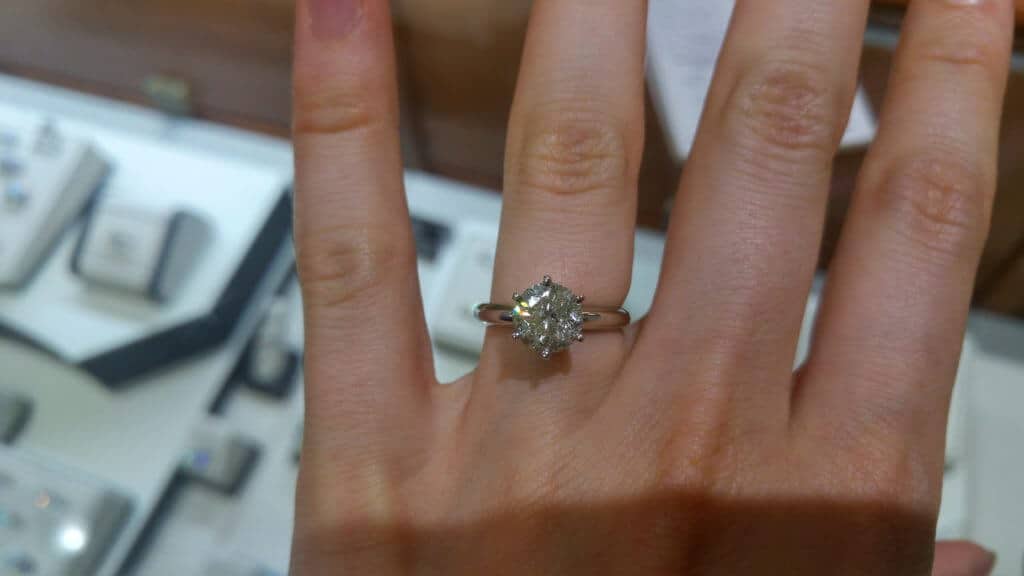 Moving on, the second diamond was a 2.09ct "IJ color, VS1 clarity" round diamond for $8,895. The diamond looked brown to us, but the salesperson couldn't find the certification for the diamond.
We will leave it out of our comparison because we weren't able to find out enough about it.
The Comparison
Obviously, there is no way for me to compare the 2.09ct as I have no idea what it was. So we'll have to focus on the 1.42ct E SI2. The reality, as we see it, is that the diamond is very overpriced when compared with the competition. I won't link to it here as we do not like driving any traffic to any company that uses certification like EGL, but I was able to find plenty of diamonds with those exact same specifications for $7,000-8,000.
In fact, you can get a far better diamond for half the price. Here is an actual D SI2 diamond certified by GIA with a reputable certificate from Blue Nile. This is a 1.40ct D color, SI2 clarity excellent cut round diamond from Blue Nile for $7,892. In our professional opinion, it is superior in every way to that diamond from Hannoush. Yet you can pair it with this similar setting and it's still half the price.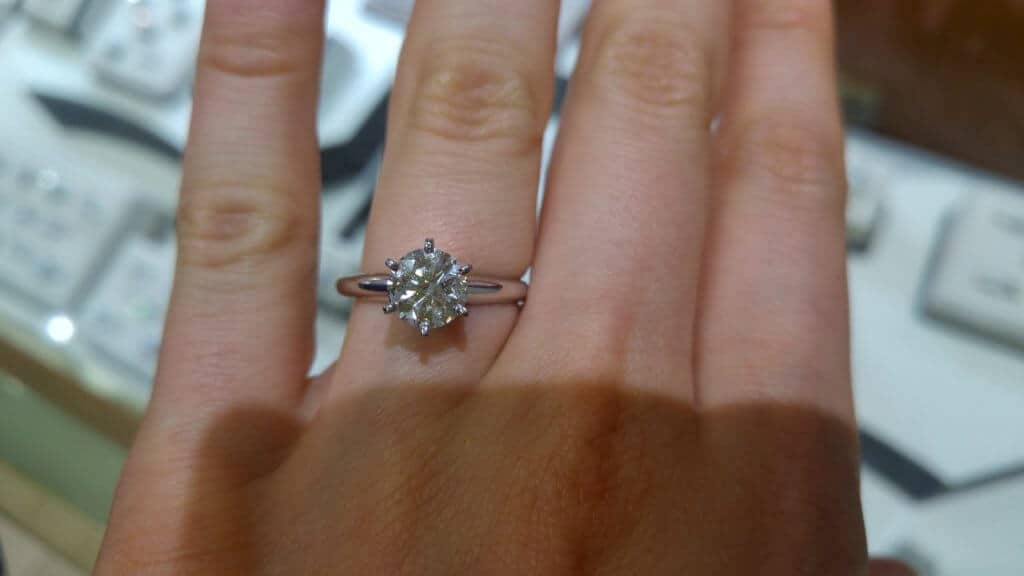 And what if the diamond is really a G I1 in quality (far more likely than it being an E SI2)? In that case, the price is even more unreasonably high in our opinion. Let's compare it to an I1 clarity diamond from James Allen.
This is a 1.50ct G color, I1 clarity round diamond from James Allen with a GIA certificate for $7,180. If you add in a solitaire setting to it, it will still be 53% cheaper than the ring from Hannoush.
Do I recommend any of these diamonds as alternatives? No, I do not. They are similar to the diamond that we saw at Hannoush Jewelers and we want to compare apples to apples.
If I were recommending a diamond, I would chose something like this stunning 1.41ct G color, VS2 clarity superbly cut diamond from James Allen for $10,520. If you pair it up with this ring, you will be getting a stunning engagement ring for 33% less than the ring from Hannoush Jewelers.
Bottom Line Recommendation
I would not recommend purchasing from Hannoush Jewelers. In our opinion, the quality was very low and the premiums were incredibly high. The only companies that I know who regularly charge such high premiums are places like Tiffany & Co. You are far better off getting a superior engagement ring for a fraction of the price from a reputable online retailer like Blue Nile or James Allen.
James Allen

James Allen is the leader in online diamond sales. Their imaging technology is the same as inspecting a diamond with a jeweler's loupe. They have the largest exclusive loose diamond inventory online and fantastic prices. They also have the nicest collection of lab created diamonds online. Now save 25% off settings AND 3% off Earth Diamonds during James Allen HUGE limited time sale!
What we love about them:
No questions asked returns within 30 days of shipment. James Allen will send you a paid shipping label to return the ring.
Lifetime Warranty
Free International Shipping
Free prong tightening, repolishing, rhodium plating and cleaning every 6 months
Provide insurance appraisals
One free resizing within 60 days of purchase
Free ring inscriptions
Best-in-class high quality imagery of all diamonds in stock
24/7 Customer Service
Best-in-class packaging

---
Blue Nile

Blue Nile is the largest and most well known internet jewelry seller. They have a very large exclusive online inventory. Their high quality images are catching up to James Allens' and their prices are amazing. Blue Nile have generously offered our readers an exclusive one-time use coupon.

(Click Here to save $100 off engagement ring settings)
What we love about them:
No questions asked returns within 30 days of shipment. Blue Nile will send you a paid shipping label to return the ring.
Lifetime Warranty
Free Shipping
Free prong tightening, repolishing, rhodium plating and cleaning every 6 months
Provide insurance appraisal
One free resizing within the first year of purchase
High quality images of about half of their diamonds
24/7 Customer Service
100% credit towards future upgrades (must be at least double in value)
Best in class fulfillment

---
Still afraid of getting ripped off?
Before you buy a diamond, get personal buying advice from industry veterans. We'll help you get the best diamond for the money.
Ask your diamond purchase question here
DISCLAIMER: We don't use your email for marketing. Period.