Diamond Pro is reader-supported. When you buy through links on our site, we may earn an affiliate commission. Learn More.
Deal Alert! 25% off James Allen settings
and
15% off Blue Nile settings!
77 Diamonds
Overall Score:

2.83

Price:

3.5

Selection:

2

Customer Service:

3

Pros

---

Cons

Disappointing selection
Could be better priced

Other Recommended Retailers
Navigating online engagement shopping can be tricky, if not treacherous. You have the industry leaders like Blue Nile and James Allen (just like shopping at traditional retailers).
You also have low rated companies, like Brilliance.
Between those, there are companies that seem to live in no-man's land. These companies are not bad companies, and it is entirely possible you can find a beautiful ring at a reasonable price from them. However there doesn't seem to be anything particularly special about them. And their prices, while competitive, can be beat.
77 Diamonds is smack dab in the middle of this category. Founded ten years ago by a couple of lifelong friends, 77 Diamonds has positioned itself to focus on the UK and European markets. To further that notion, they have a showroom in an upscale part of London.
This seemed like a fantastic excuse to spend a couple of days in one of my favorite cities, so Joy and I headed over there for a secret shopping trip.
The Website
I'm not going to dwell much on 77 Diamonds' actual website, as that should (for their sake) change soon. The site seems a bit dated and not so easy to navigate. They are definitely lacking when it comes to quality, consistency and quantity of diamonds on the site with videos.
Another concern were the diamonds listed on their site is their choice to list HRD and EGL certified diamonds. I was very disappointed to see that they are offering diamonds from labs that have been derided even by industry insiders.
One surprising note is that they don't include VAT when calculating the price. Many sites have that same problem, but 77 Diamonds seems to have targeted the UK and EU markets.
As anyone who lives there can attest to, it is weird for a retailer in Europe to list the price without taxes/fees included. Blue Nile seems to do this without a problem and it doesn't seem like a major technical issue.
The Experience
A week before heading to London, I contacted their customer service department. The conversation was pleasant and they did an excellent job getting the information they needed and helped set up an appointment.
Their location is not a retail shoppe, rather it is an appointment-only showroom. They don't have any inventory on hand. Once you make an appointment and they have an idea what you are looking for, they bring in several diamonds and settings in that range for you to inspect and compare.
Normally you would try to be as specific as possible about what you are looking for. Because I wanted to see how they would guide me (trying to act as a novice shopper), the only hard information I gave them was the setting style, the budget and the shape. I was curious to see what certification and qualities they go with on their own.
Unfortunately, they did not take down accurate notes. I was quite clear saying that I was an American living in Europe and that my budget was $7,000. I specifically said that I don't know the exchange rate or taxes and the person on the phone assured me she would work things out.
Lo and behold, when we arrived at the showroom we were shown diamonds that cost a minimum of £7,000 (including a setting) which were way out of my budget range. The fact that they don't have an inventory on hand (which would have allowed them to find something in my range) made this snafu much more frustrating.
The Showroom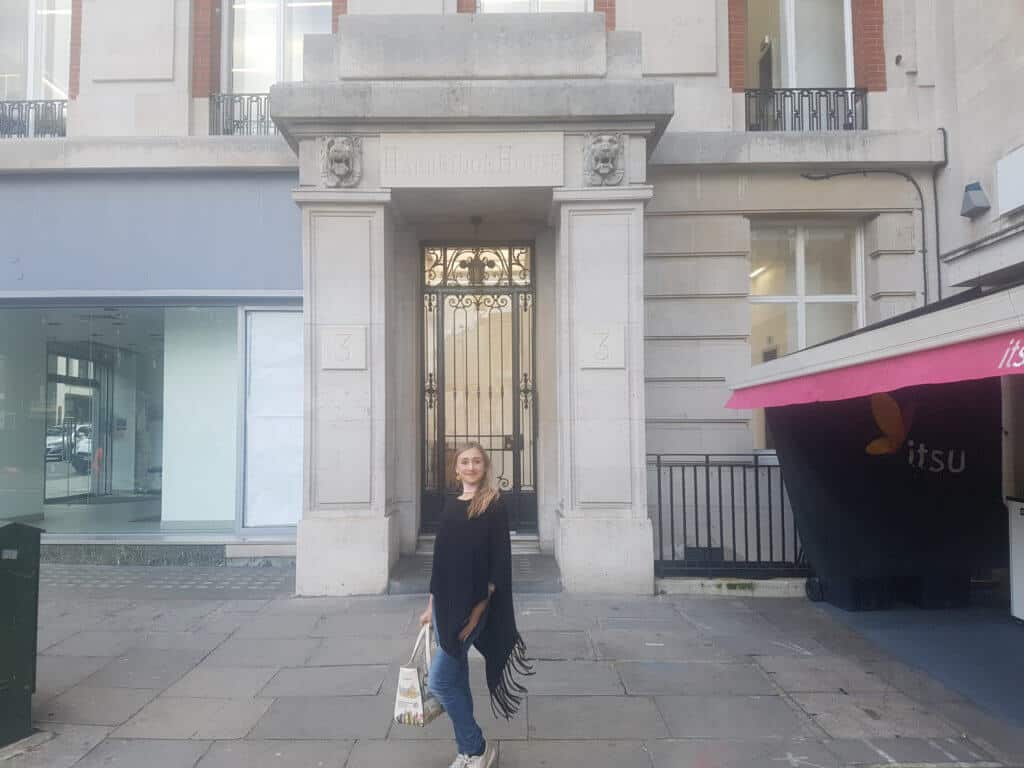 The fact that 77 diamonds has their own showroom in London seems to be their main attraction, so I guess I should say something about it. This is actually pretty hard for me because the experience was very forgettable. Their office was in a lovely part of the city (the Mayfair Quarter). The office was cozy but adequate.
The experience was in no way bad, but there was nothing great about it. We got to look at some diamonds and pick out the one we liked the most. The reason I said forgettable is that I felt no genuine attraction to going to the place.
In this day and age entering a retail store (especially one selling such high end luxury items) should be an immersive experience. I could have been entering a dental office or a notary. There was just nothing special about it. Some brick and mortar retailers seem to offer an experience (they aren't based in Europe, but see our Spence and Americus reviews) but 77 Diamonds most certainly did not.
The Product
Based on the budget and shape we provided over the phone, they prepared 4 diamonds for our showing. The biggest issue we had was with the certification.
There are some that argue that IGI is a top level certificate. We disagree.
When asked, the saleswoman at 77 Diamonds did say that IGI is a step lower than GIA and HRD. While its nice that she acceded that point, comparing GIA to HRD is a joke as the experience bore out.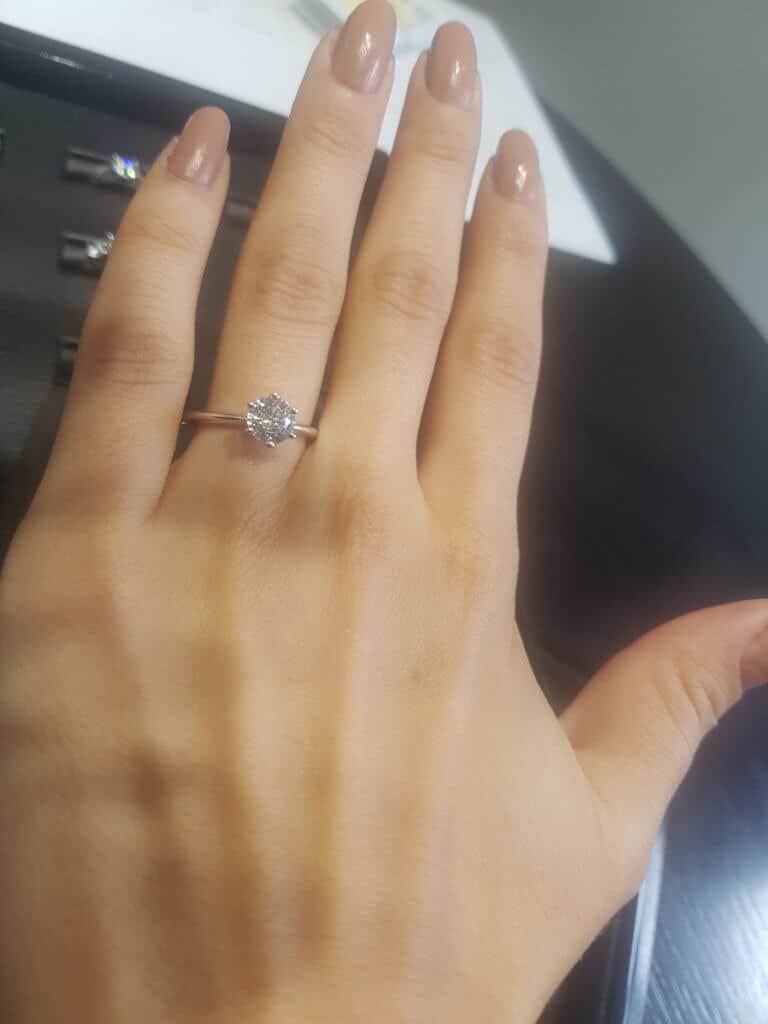 The first diamond was an IGI certified 1.20ct F SI. They had it mounted in an 18kt white gold solitaire setting and the total cost was  £7,099.
In my opinion, there is no way this diamond was an F SI1. It is difficult to judge color without comparing them on a color card, and that would have given away the fact that I'm a diamond expert. The clarity though was readily visible and looked like an SI2, at best, to me.
The second diamond we looked at was a GIA certified 1.51ct I, SI1 very good cut diamond. As you can see from the certificate, this diamond was very deep and had no brilliance whatsoever. 77 Diamonds was offering this one for £8,698
The last couple of diamonds is where it got a little weird. The third diamond they showed us was an HRD certified 1.51ct "K" VS2 very good cut for £6,078. I put the K in quotes because the color was way off. The last diamond they showed us was a GIA certified 1.60 L VS1 for £6,676.
Here's the thing. If you are going to claim that HRD is as strict as GIA, you shouldn't be comparing diamonds side to side that make your assertion laughable. The "K" color looked to be two or even three colors lower than the GIA L color. Yes, the very good cut from the HRD diamond would make it darker, but that doesn't account for the huge disparity.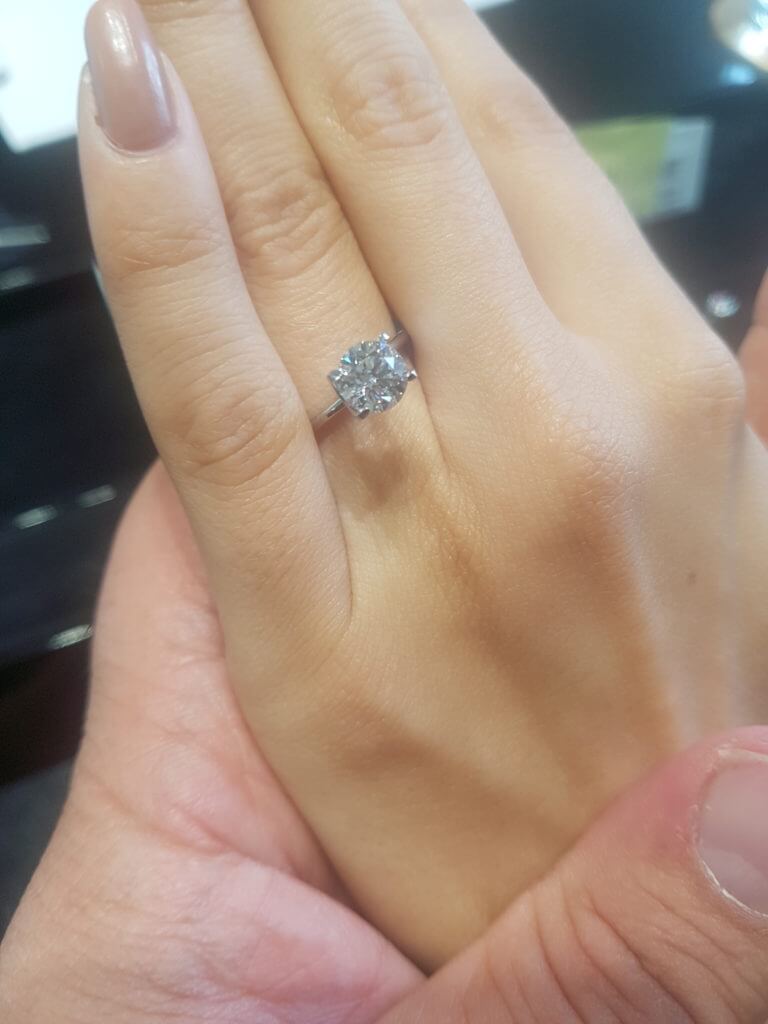 Of the four diamonds they showed us, two were absolutely terrible (the deeply cut 1.51ct and the HRD diamond). The L color diamond was nice but way too yellow for a white gold/platinum setting (which we told them we wanted).
The only diamond that was halfway decent had a certificate that we would never recommend.
The Value
So how did their diamonds stack up? I'm going to skip the HRD diamond because of the problems we described above.
Let's start with the first diamond. We won't be comparing apples to apples as the following diamond is GIA certified (better than an IGI certificate). Here is a 1.20ct F SI1 from Blue Nile that costs£6,142. If you add it to this setting on Blue Nile, the total price comes out to £6,304. That is more than 10% less than the ring from 77 Diamonds.
Next we have a 1.50ct I color, SI1 clarity Very Good cut round diamond from Blue Nile for £7,784. I would not recommend this diamond to you, but I'm trying to compare apples to apples. This time, the price difference is about 15% less if you go with the Blue Nile diamond.
Lastly, we have a 1.60ct L color, VS1 clarity excellent cut diamond from James Allen. The price is 5% cheaper, coming in around £6,300 including VAT and import taxes (at the time we wrote the review).
Bottom Line Recommendation
77 Diamonds is not a bad company. It is quite possible to find a diamond (on your own as we were unimpressed with what they showed us) that will suit your needs. Unfortunately, we didn't see any particular reason to go with them.
They weren't trying to rip us off, but we were easily able to find comparable or superior diamonds for 10% less (or better) on Blue Nile or James Allen. The service and "showroom" experience were less than stellar and certainly didn't seem to warrant a premium of any kind.
Overall I'd say that you shouldn't regret it if you purchased a ring from 77 Diamonds (unless you end up with an EGL or HRD certificate), but I wouldn't recommend them as a first, second or even third choice.
James Allen

James Allen is the leader in online diamond sales. Their imaging technology is the same as inspecting a diamond with a jeweler's loupe. They have the largest exclusive loose diamond inventory online and fantastic prices. They also have the nicest collection of lab created diamonds online. Save 10% off select Lab Grown Diamonds and 25% on setttings!
What we love about them:
No questions asked returns within 30 days of shipment. James Allen will send you a paid shipping label to return the ring.
Lifetime Warranty
Free International Shipping
Free prong tightening, repolishing, rhodium plating and cleaning every 6 months
Provide insurance appraisals
One free resizing within 60 days of purchase
Free ring inscriptions
Best-in-class high quality imagery of all diamonds in stock
24/7 Customer Service
Best-in-class packaging

---
Blue Nile

Blue Nile is the largest and most well known internet jewelry seller. They have a very large exclusive online inventory. Their high quality images are catching up to James Allens' and their prices are amazing. Blue Nile have generously offered our readers an exclusive one-time use coupon.

(Click Here to save $100 off engagement ring settings)
What we love about them:
No questions asked returns within 30 days of shipment. Blue Nile will send you a paid shipping label to return the ring.
Lifetime Warranty
Free Shipping
Free prong tightening, repolishing, rhodium plating and cleaning every 6 months
Provide insurance appraisal
One free resizing within the first year of purchase
High quality images of about half of their diamonds
24/7 Customer Service
100% credit towards future upgrades (must be at least double in value)
Best in class fulfillment

---
Still afraid of getting ripped off?
Before you buy a diamond, get personal buying advice from industry veterans. We'll help you get the best diamond for the money.
Ask your diamond purchase question here
DISCLAIMER: We don't use your email for marketing. Period.