We are reader-supported. Buying through links on our site may earn us commissions. Learn More.
Deal Alert! Huge James Allen Sale- 3% off Earth Diamonds AND 25% off settings or

15% off at Blue Nile!



Brilliance.com Review: A Disappointing Experience
Overall Score:

2

Price:

4

Selection:

1

Customer Service:

1

Pros

---

Cons

Bad service
Unreliable certificates
Inaccurate/misleading diamond info

Other Recommended Retailers
Bottom Line Recommendation
Brilliance.com seems to be a far inferior diamonds vendor to the major websites we recommend (primarily James Allen and Blue Nile). Their service is problematic and their website seems to have major issues. When comparing the prices, they don't seem to be much cheaper. I just can't imagine dealing with the headaches of working with a company like this in order to save a hundred bucks on a $5,000 order.
About Brilliance
There is very little known about Brilliance. Because I don't know much about the history or people, I will dive right into the their products and service. Unlike James Allen and Blue Nile, it seems that Brilliance does not have the same exclusivity contracts and direct feeds for the diamonds. What this means is that the diamonds listed on their site are not necessarily available.
How does it work? It seems that they have diamonds listed from generic industry feeds. This lets them work on cheaper margins, but means that they can't guarantee a ship date or even immediately confirm if the diamond is available.
Why We Do Not Recommend Buying a Diamond From Brilliance.com
We don't recommend buying a diamond from Brilliance.com for several reasons. These range from the numerous inaccuracies in their diamond information (as documented below) to issues such as unreliable delivery, which is obviously a huge problem if you're ordering a diamond engagement ring shortly before you want to propose.
I've listed these issues below, along with more information on why buying from Brilliance.com isn't recommended. Let's start with their search feature, which often returns inaccurate information that makes it hard to find diamonds of acceptable quality.
Problematic Searches
Brilliance loves to make it seem like they are so much cheaper than everyone else. But are they really? Their inaccuracies on their feeds make it very difficult to tell. Just to simplify things, I was trying to filter for excellent cuts. Brilliance was hiding the copy of the certificate for many of the diamonds, so it's hard to say exactly how many of them are incorrect.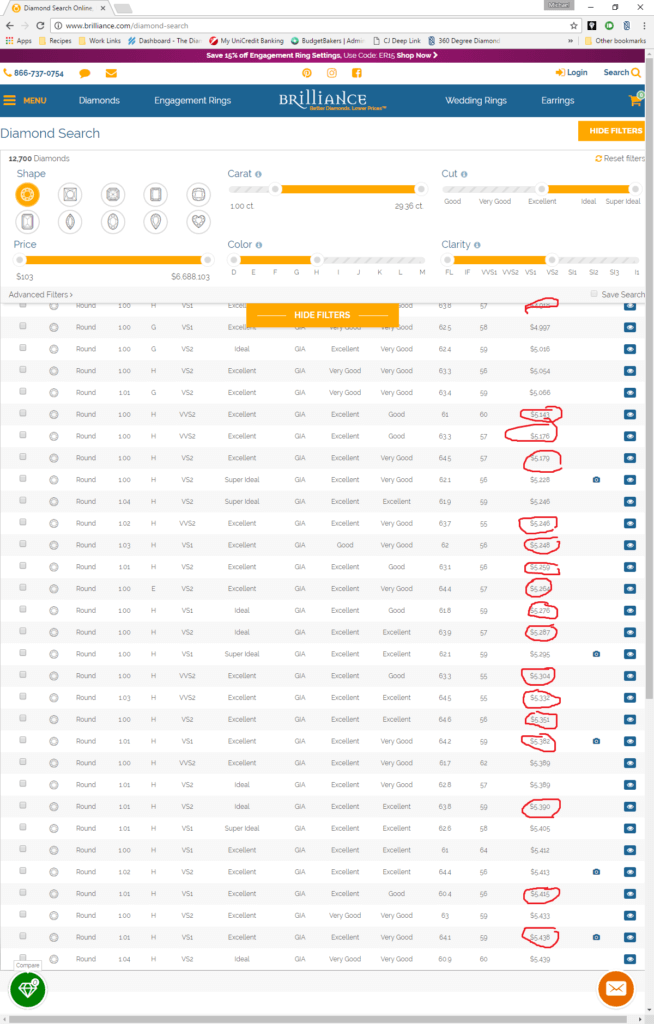 It appeared that a very large percentage of the excellent cuts on their site are not actually excellent cuts. There were some obvious ones there.
Take a look at this search.  Of the 29 diamonds listed, 17 are definitely not excellent cut (circled). You can see that they have depth percentages way outside the acceptable range, or they have polish/symmetry grades that would automatically disqualify them from receiving an excellent cut grade from the GIA.
As we've covered before, the GIA is the gold standard in diamond grading. If a diamond is graded by the GIA as having an excellent cut, it's an excellent cut diamond. If it's graded as having a very good cut, it isn't.
Now, Brilliance would probably claim that they have no choice but to list their diamonds this way, because they're forced to standardize cut grades across the five different labs they use. Because of this, they decided to include some GIA graded very good cuts in their search tools "excellent" cut grade level. We feel it's disingenuous to include very good cuts in the search results when customers are clearly trying to filter out everything except excellent cut diamonds.
EGL Certified Diamonds
This bring us to another problem with Brilliance. As I mentioned above, the diamonds sold by Brilliance aren't all graded by the same entity. This isn't a particularly big deal on its own (other vendors like James Allen and Blue Nile also sell diamonds graded by a variety of labs) — instead, the issue is that some of the labs used by Brilliance aren't as trusted as the GIA or AGS.
Currently, Brilliance sell diamonds certified by EGL, HRD, and IGI in addition to their GIA certified diamonds. We do not recommend these diamond grading labs.
While all of these labs have their issues, EGL is infamous for vastly inflating their quality claims. As we covered in our guide to EGL certification, many of the diamonds sold with EGL certification are significantly lower in quality than their certificate makes them out to be.
This is a huge problem, because you can easily end up overpaying for a low quality diamond based on cut, clarity and color grades that don't match up to its appearance. Because of this, we do not ever recommend buying a diamond with an EGL certificate.
We can overlook a vendor selling IGI and HRD certified stones (like James Allen), but we have a hard time endorsing a vendor that sells EGL certified diamonds. IGI's business was developed to service the major jewelry chains and HRD attempts to be the GIA of Antwerp. But we believe EGL's reason for existence in the industry has always been to help diamond dealers make more money by tricking customers into thinking they're getting something better than they are.
Underwhelming Service
We tried secret shopping Brilliance a few years ago and were unsuccessful because of their service. I currently live overseas so when I was coming back to NYC for a visit, I took the opportunity to shop them.
Despite ordering just a loose diamond (which means there is no work necessary), they weren't able to get the diamond to me in time. It took them several days to even confirm that the diamond was available (they told us the vendor had lent the diamond out to someone else).
In the end, the diamond came the last day I was in the US. It was too late for me to have it photographed or even open it (it got to my sister's house after I already left for the airport).
Is Brilliance.com Really Cheaper?
So the reputation is that at least they are cheap. But is that the case? Sure, if you filter for H VS2 excellent cuts, the prices are much cheaper than what you'd find on Blue Nile or James Allen. But how many of those diamonds are actually excellent cuts?
I used my usual depth/table parameters for round diamonds and found this diamond as the cheapest option on Brilliance. To be sure, that diamond looks like a nice option. But is it really available? Will I be able to get the diamond in time? And how does it stack up against the competition.
Blue Nile is the top online retailer. As we mention in our review, their service and fulfillment are second to none. Here is a comparable diamond from them.
The "savings" you get by going with Brilliance is a whopping 2%. That is a pretty nominal amount for having to navigate their site and deal with their inferior service.
Ringo™ Approved Eye Clean Diamonds
Packaging, Returns/Refunds, Warranty and Delivery
Packaging
Rings ordered from Brilliance are delivered in a black lacquered presentation box. The box has a satin interior and includes the relevant gemological appraisal. There's also a document with the URL for viewing the gemstone's certificate, your receipt and the ring's appraisal. For loose diamonds, Brilliance provide a display tension setting designed to protect the diamond.
Returns and Refunds
Brilliance offer a 30-day money back guarantee on all of their diamonds, engagement rings and other jewelry. If you receive a ring and you're not satisfied, you can return it for a full refund.
At first, this looks like a good offer that's comparable to the guarantees offered by our recommended diamond vendors. However, there's one major issue with this return policy that you should be aware of if you're considering buying from Brilliance.
This issue is that the 30 day money back guarantee period doesn't start from the day you receive your order. In fact, it doesn't even start on the day your order ships. Instead, the 30 day money back guarantee period starts at the time you place your order.
Since it can take days just to confirm that a diamond sold by Brilliance is available and weeks for some orders to actually reach customers, it's hard to take this guarantee seriously. Many customers have reported waiting for weeks to receive orders from Brilliance, meaning you might only have a few days to complete the return process if you want to return a ring.
While some customers have reported that Brilliance offered to extend the guarantee period when their orders were delayed, the whole practice of starting the 30 days before the product even ships seems unfair and deceptive.
To make this point even clearer, let's compare this policy to the money back guarantees offered by other vendors. James Allen also offer a 30 day money back guarantee. It starts when the order ships, not when it's placed. Blue Nile also start their 30 day money back guarantee period when an order ships, not when it's placed by the customer. This gives you significantly more time to decide whether or not you'd like to keep or return the ring.
Warranty
All products sold by Brilliance come with a lifetime warranty. The company promises to replace or repair any items with defects found to have been caused during the manufacturing process. They also offer free ring resizing within 90 days of the date of purchase.
Delivery
Brilliance offer free express shipping on all orders, including international orders. All shipments are fully insured, with most shipped using UPS, FedEx or USPS Priority Mail. Shipment speed can vary depending on the value of your purchase — in general, purchases of $2,000 or more are upgraded to FedEx Overnight or an equivalent delivery service at no extra charge.
Fast delivery is great and obviously a point in Brilliance's favor. However, as I noted above, there are often significant delays that can occur before the delivery process even begins. For example, many customers report waiting for weeks while the team at Brilliance confirms that their diamond is even available before delivering it. After a week or more of delays, free overnight delivery really isn't as much of a benefit as it normally would be.
If you're ordering internationally, it's worth noting that Brilliance will only ship orders with a value of $500 or more. International delivery options can vary by country, making it important to contact Brilliance first if you want to order internationally.
FAQs
Is Brilliance.com Legit?
Brilliance.com is a legitimate diamond vendor. The company sells authentic diamonds and other jewelry. However, as I've mentioned above, there are much better options — for example, James Allen and Blue Nile both have similar pricing, a better shopping experience and significantly better customer service.
Are Diamonds Sold By Brilliance.com Natural?
Brilliance sell natural, untreated and non-enhanced diamonds. All of their diamonds are sold with a grading certificate from the GIA, AGS, IGI, HRD or EGL. As I mentioned above, not all of these certificates are equally reliable for assessing diamond quality.
How Long Does Brilliance Take to Deliver Orders?
Unfortunately, this question is difficult to answer. Because the diamonds listed in Brilliance's inventory don't appear to be subject to any kind of exclusivity contract, it can take quite a long time for the company to fulfill orders. As I mentioned above, when I placed a test order, the diamond arrived too late for me to be able to review it.
Some Brilliance customers have reported waiting weeks for their orders to be dispatched and delivered. Obviously, this is a massive annoyance if you want to propose on a certain date. While you might get lucky and have your order delivered quickly, you could also get unlucky and wait for several weeks before you receive anything.
Conclusion
Overall, we do not recommend buying a diamond from Brilliance. Yes, the prices look good. However, in reality, they're barely any different from what you'd pay with Blue Nile or James Allen when you compare diamonds of equal quality.
In exchange for a tiny reduction in pricing, you could deal with long delays while Brilliance try to locate your diamond, poor diamond availability and a confusing and slightly deceptive return policy. Add the fact that many of the diamonds sold by Brilliance have EGL certificates and it becomes very difficult to recommend buying anything here.
If you're searching for a reliable place to buy diamond engagement ring, we highly recommend James Allen or Blue Nile instead of Brilliance. Both of these vendors offer excellent diamonds, most of which come with either GIA or AGS certification, as well as some of the best customer service in the industry.
If you'd like to learn more about how and where to buy a diamond ring, feel free to check out our guide to the best places to buy an engagement ring. It lists five trusted vendors we recommend, all of which offer a better shopping experience and customer service than Brilliance.
James Allen

James Allen is the leader in online diamond sales. Their imaging technology is the same as inspecting a diamond with a jeweler's loupe. They have the largest exclusive loose diamond inventory online and fantastic prices. They also have the nicest collection of lab created diamonds online. Now save 25% off settings AND 3% off Earth Diamonds during James Allen HUGE limited time sale!
What we love about them:
No questions asked returns within 30 days of shipment. James Allen will send you a paid shipping label to return the ring.
Lifetime Warranty
Free International Shipping
Free prong tightening, repolishing, rhodium plating and cleaning every 6 months
Provide insurance appraisals
One free resizing within 60 days of purchase
Free ring inscriptions
Best-in-class high quality imagery of all diamonds in stock
24/7 Customer Service
Best-in-class packaging

---
Blue Nile

Blue Nile is the largest and most well known internet jewelry seller. They have a very large exclusive online inventory. Their high quality images are catching up to James Allens' and their prices are amazing. Blue Nile have generously offered our readers an exclusive one-time use coupon.

(Click Here to save $100 off engagement ring settings)
What we love about them:
No questions asked returns within 30 days of shipment. Blue Nile will send you a paid shipping label to return the ring.
Lifetime Warranty
Free Shipping
Free prong tightening, repolishing, rhodium plating and cleaning every 6 months
Provide insurance appraisal
One free resizing within the first year of purchase
High quality images of about half of their diamonds
24/7 Customer Service
100% credit towards future upgrades (must be at least double in value)
Best in class fulfillment

---
Still afraid of getting ripped off?
Before you buy a diamond, get personal buying advice from industry veterans. We'll help you get the best diamond for the money.
Ask your diamond purchase question here
DISCLAIMER: We don't use your email for marketing. Period.