Los Angeles Proposal Idea
When you think of Los Angeles, you think about sunshine, beaches, celebrities, etc. But you don't think about ice. But when you are trying to figure out how to propose in LA, you should. There is a very quaint ice skating rink right in the middle of Santa Monica that is the perfect place to propose in the winter.
In 2011, we had a client named Leigh who came to us for Proposal Planning. He had taken his girlfriend Stefanie ice skating on one of their first dates. She was way better than him and at one point he even fell down while skating. She purposely fell down next to him and Leigh jokes that that is when she "fell for him". Stefanie's nickname was also petal so we came up with a beautiful proposal concept.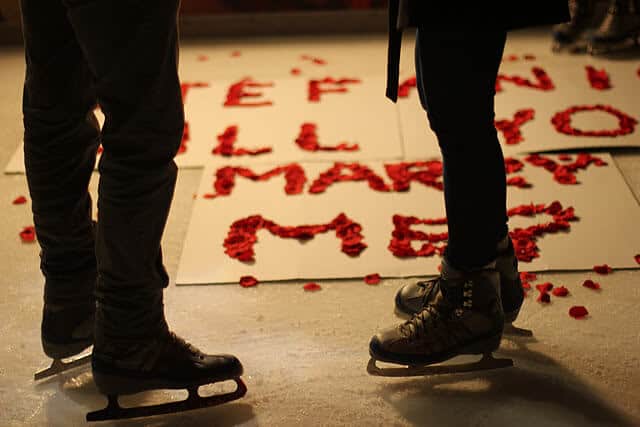 As Leigh and Stefanie ice skated, a song came on that Leigh knew was his cue to get off the rink for 4 minutes. During that 4 minutes, The Heart Bandits ran out onto the rink and spelled out "Stefanie Will You Marry Me?" in rose petals. Leigh brought her back on the rink and that is when their song began to play. He skated her over to the message and got down on one knee and proposed. All of her friends came out to surprise and congratulate her. What do you think? Pictures are courtesy of Newly LA.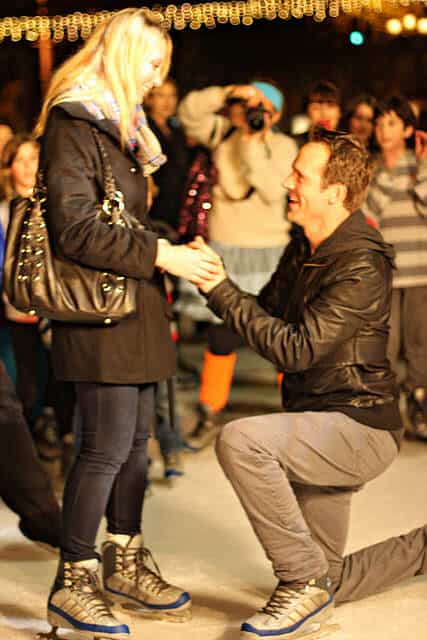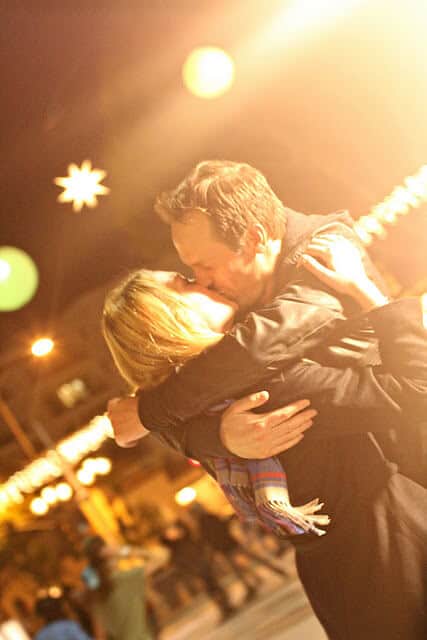 The Heart Bandits are Proposal Planners who help people all over the world propose marriage. They are Proposal Experts and have been featured in the New York Times, Fox News, Houston Chronicle, Orange County Register, Brides Magazine and many more. Contact The Heart Bandits to have them plan your marriage proposal and ensure that your big moment stands out from the rest. For more information about The Heart Bandits, visit www.theheartbandits.com.
Blue Nile

Blue Nile is the largest and most well known internet jewelry seller. They have a very large exclusive online inventory. Their high quality images are catching up to James Allens' and their prices are amazing. Use Promo Code DMNPROSETTINGS15 at checkout and save 15% off your setting
What we love about them:
No questions asked returns within 30 days of shipment. Blue Nile will send you a paid shipping label to return the ring.
Lifetime Warranty
Free Shipping
Free prong tightening, repolishing, rhodium plating and cleaning every 6 months
Provide insurance appraisal
One free resizing within the first year of purchase
High quality images of about half of their diamonds
24/7 Customer Service
100% credit towards future upgrades (must be at least double in value)
Best in class fulfillment

---
James Allen

James Allen is the leader in online diamond sales. Their imaging technology is the same as inspecting a diamond with a jeweler's loupe. They have the largest exclusive loose diamond inventory online and fantastic prices. They also have the nicest collection of lab created diamonds online.
What we love about them:
No questions asked returns within 30 days of shipment. James Allen will send you a paid shipping label to return the ring.
Lifetime Warranty
Free International Shipping
Free prong tightening, repolishing, rhodium plating and cleaning every 6 months
Provide insurance appraisals
One free resizing within 60 days of purchase
Free ring inscriptions
Best-in-class high quality imagery of all diamonds in stock
24/7 Customer Service
Best-in-class packaging