Diamond Pro is reader-supported. When you buy through links on our site, we may earn an affiliate commission. Learn More.
Deal Alert! 25% off James Allen settings
and
15% off Blue Nile settings!
Selling Gold in Pawn Shops: How, Why and Expert Tips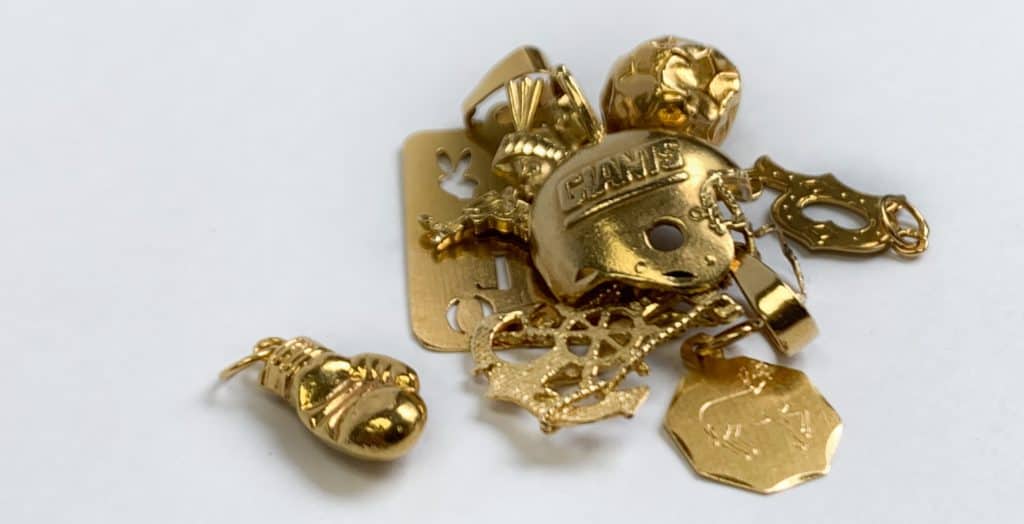 If you have gold jewelry that you'd like to sell for cash quickly, selling it to a pawn shop is a fast, convenient option that will give you an instant cash payment. 
With this said, selling your gold at a pawn shop can have significant disadvantages, from lower prices to a sales process that's often quite high-pressure and intimidating, especially if you're a first-time seller — all topics we've discussed in our complete guide to selling gold.
Below, we've explained what you should know if you're planning to sell gold jewelry or any other gold items to a pawn shop. Our guide explains everything from how much pawn shops currently pay for gold to the steps you'll need to follow to get the best possible deal.
We've also listed alternatives to selling your gold jewelry to a pawn shop, including selling gold jewelry online.
How Much Do Pawn Shops Pay for Gold in July 2020?
The amount pawn shops will pay for gold depends on several factors. The most significant are:
The current price of gold
The fineness of your gold jewelry
The profit margin the pawn shop expects to get on the sale
Whether or not your gold jewelry is easy to resell
Also, it's worth noting that most pawn shops will buy gold jewelry. Gold bullion bars, gold coins and other forms of investment gold generally aren't worth selling to a pawn shop — instead, it's best to sell this to a specialist gold bullion buyer.
We've explained how each of these factors affects how much a pawn shop will be willing to pay for your gold jewelry below.
The Market Value of Your Gold
Let's start with the current price of gold. Like other commodities, the price of gold fluctuates over time based on market conditions. As of July 23rd, the price of gold in the USA is $60.13 per gram, $1,870.54 per ounce and $60,131.54 per kilogram.
Gold prices can change rapidly, making it important to check the current price before you visit a pawn shop or other business that buys gold.
It's important to note that no pawn shop will pay the market price for gold. Pawn shops need to make a profit in order to stay in business, meaning you'll never be offered the exact spot price for gold jewelry. 
Instead, you'll usually be offered a significantly lower amount than the market price. Most of the time, the price you'll be offered per gram will be lower the smaller the amount of gold you have to sell. 
Although the specific price you'll be offered can vary from one pawn shop to another, 50 percent of the gold's scrap price is a common amount.
The Fineness of Your Gold Jewelry
Second, it's important to understand gold fineness. Gold jewelry is almost never made from 100 percent pure gold, as pure gold is soft and easy to scratch. Instead, most gold jewelry is a blend of gold and other metals that are added to increase durability and scratch resistance.
The vast majority of gold jewelry, from wedding and engagement rings to watches, earrings and pendants, is either 10 karat, 14 karat or 18 karat gold. 
The number used to denote a gold's karatage, or fineness, refers to the total parts or pure gold per 24 parts of metal. 
Pure 24 karat gold is 24 out of 24 parts gold. 14k gold, which is commonly used for engagement and wedding rings, consists of 14 parts gold and 10 parts other metals — typically copper, silver, nickel or others. 18k gold is 18 parts pure gold per 24, and so on. 
Most gold jewelry has its fineness noted somewhere. On an engagement or wedding ring, you can usually find the gold fineness engraved on the inside of the band. 
In most cases, the higher the purity level of your gold jewelry, the more it's worth and the more you're likely to be offered by a pawn shop. Make sure that you're aware of your gold's fineness before you approach a pawn shop, as this will help you better understand its market value.
The Specific Pawn Shop You Visit
Third, it's important to be aware that the amount you're offered for your gold jewelry will likely vary from one pawn shop to another.
No two businesses are identical. Although most pawn shops will base their offers on the current price of gold, operating costs and profit margins can vary hugely from one business to the next, meaning you may receive very different offers for your jewelry from different pawn shops. 
Because of this, it's often a good idea to visit several pawn shops before choosing where to sell your gold.
The Ease of Reselling Your Jewelry
Finally, while most pawn shops will use the current price of gold to value your jewelry, many will also consider how easy it is to resell your jewelry after purchasing it.
Some types of jewelry are easier to resell than others. For example, popular items such as gold wedding bands have a large market of potential buyers, making them easier to resell than items that only appeal to a smaller audience of potential customers. 
Although this can vary from one pawn shop to another, items that are easy for the pawn shop to resell might be valued differently from those purchased based on their scrap value.
Pros and Cons of Selling Gold to a Pawn Shop
Selling gold jewelry to a pawn shop can be a good option in certain situations. However, there are both advantages and disadvantages to selling via a pawn shop that you should be aware of before parting with any gold jewelry.
| | |
| --- | --- |
| Pros | Cons |
| Instant payment for your gold — a faster option than other ways to sell gold jewelry. | Pawn shops typically pay less for gold than specialist online gold buyers. |
| No need to ship your gold and wait several days for an online buyer to receive it. | Although not guaranteed, some pawn shops use high-pressure sales tactics to get a better deal when buying gold jewelry. |
| Most medium to large-sized cities have several pawn shops that purchase gold jewelry. | Most pawn shop employees usually do not specialize in gold and may not realize the value of some gold jewelry. |
The biggest advantages of selling gold jewelry to a pawn shop are:
Instant payment. Pawn shops pay right away, meaning you'll receive cash in exchange for your gold jewelry when you sell it. There's no need for you to wait for a bank transfer or check — instead, you're paid right away, without delay.

This can be a significant benefit if you need cash as soon as possible and don't want to wait the 1-3 days most online gold sellers take to process payments.
Convenience. Provided there are pawn shops close to your home, selling gold jewelry to a pawn shop is a simple process. Since you're selling locally, there's no need to ship your jewelry to a different city or state.
The biggest disadvantages of selling gold jewelry to a pawn shop are:
Low prices. Pawn shops generate their profit by purchasing items cheaply and selling them at higher prices. Most pawn shops have significant operating costs, which factor into the amount that they're able to pay for your gold.

In almost every case, you'll receive a lower price for your gold from a pawn shop than you would from an online gold buyer.
High-pressure sales process. Although most pawn shops are honest businesses, some make use of high-pressure sales tactics such as negotiating aggressively or offering an unfairly low price for your jewelry, all in the hope of getting a good deal.
Staff may not be gold experts. Pawn shops typically sell a diverse variety of goods, from consumer electronics to musical instruments, collectibles, watches, jewelry and more. As such, their staff aren't always specialists in each product category.

While this typically isn't a major issue for gold wedding bands and other common gold items, some types of gold jewelry — particularly jewelry that has value beyond its gold content — may not be valued accurately at a pawn shop.
7 Steps to Sell Gold to a Pawn Shop for the Best Price
Ready to sell your gold? If you've decided to sell your gold jewelry to a pawn shop, make sure to follow the seven steps below to receive the best price and avoid being ripped off.
1. Know Your Gold Jewelry's Fineness
As we mentioned above, the amount you'll receive for your gold jewelry will depend on its pure gold content. Make sure to check your jewelry for fineness beforehand (you can often find this on the inside of the band — called a gold "hallmark") to know what you're selling.
You can then calculate the approximate value of the gold by multiplying the gold content by the current scrap gold price. Remember that you'll generally receive less than the market value, as the pawn shop needs to be able to sell the gold for a profit.
Gold Pricing Calculator
Weight of Gold (grams)
Karat
This is the current wholesale price of gold. When selling gold you receive a percentage of the price. We recommend asking Abe Mor for a quote as they have consistently offered the highest percentage to our readers.
Get an Offer
2. Check Your Gold Jewelry's Weight at Home
Make sure to check your gold jewelry's weight before you sell it. You can do this using a simple kitchen scale that measures down to 1/100th of a gram accurately. Take note of the gold item's weight in grams, then check that the weight matches when it's weighed at a pawn shop.
It's worth noting that some gold buyers weigh gold in pennyweights — an old-fashioned unit that is equal to ​1/20th of a troy ounce. You can use this calculator to convert your jewelry's weight in grams to pennyweights.
3. Avoid Mixing Gold Karatages
When you're selling your gold, avoid mixing gold karatages. Make sure to separate 10K, 14K or 18K gold items at the pawn shop, as weighing all of these together could result in you receiving a quotation based on the lowest gold purity.
4. Make Sure Not to Polish Your Gold Jewelry
While polishing your gold jewelry before selling it might seem like a good idea, doing so isn't a smart move. Although polishing will often remove scratches, it can also remove gold from your jewelry and reduce its value.
Instead of polishing your gold band, earrings or other jewelry, gently wipe it using a moist paper towel to remove any dust or dirt that's stuck to the surface.
5. If Possible, Get Several Offers Before Selling
If you live in a mid-sized city or major metropolitan area, there are likely several different pawn shops within a reasonable drive of your home.
If possible, try to visit several pawn shops before choosing where to sell your gold jewelry. You may receive very different offers from each shop, making one option a better deal for you as a seller than the others.
6. Only Sell to a Reputable, Licensed Pawn Shop
Before you sell your gold jewelry, check that you're dealing with a reputable pawn shop. Most states require that pawn shops are licensed in order to operate. The pawnbroker should also provide identification and detailed receipts to document the sale.
7. For a Better Price, Consider Selling Your Gold Jewelry Online
Finally, if you're looking for the best possible price for your gold jewelry, it's worth considering selling it online rather than to a pawn shop.
Pawn shops, like other brick-and-mortar businesses, have relatively high operating costs. Not only do they need to pay for rent and utilities — they also need to pay for advertising, security, employee salaries and countless other expenses.
These operating costs mean that the pawn shop needs to maintain high-profit margins in order to stay in business — margins that lead to lower offers when buying goods. 
Online gold buyers such as Abe Mor Diamond Cutters typically offer higher prices for gold than pawn shops. While most stores pay approximately 50 cents for every dollar of scrap gold value, Abe Mor offer up to 75 percent of the gold jewelry's scrap value.
They also offer a price match guarantee, meaning you'll be able to secure a higher price than you would from a pawn shop or other brick-and-mortar business that buys gold jewelry.
To round out the list, they are true experts in gold and jewelry which means they will recognize what you have and not just guess as at some pawn shops.
Conclusion
Although selling gold jewelry to a pawn shop won't get you the best price, it will give you instant payment for your unwanted or unused jewelry, making this an option worth considering if you're in urgent need of cash.
If you plan to sell your gold jewelry to a pawn shop, make sure to apply the techniques above to avoid common scams and ensure you receive the best possible price. 
For more information about selling gold jewelry, make sure to read our guide to the best places to sell gold for cash, which goes into greater detail about online and offline businesses that buy pre-owned gold jewelry and other gold items.
James Allen

James Allen is the leader in online diamond sales. Their imaging technology is the same as inspecting a diamond with a jeweler's loupe. They have the largest exclusive loose diamond inventory online and fantastic prices. They also have the nicest collection of lab created diamonds online. Save 10% off select Lab Grown Diamonds and 25% on setttings!
What we love about them:
No questions asked returns within 30 days of shipment. James Allen will send you a paid shipping label to return the ring.
Lifetime Warranty
Free International Shipping
Free prong tightening, repolishing, rhodium plating and cleaning every 6 months
Provide insurance appraisals
One free resizing within 60 days of purchase
Free ring inscriptions
Best-in-class high quality imagery of all diamonds in stock
24/7 Customer Service
Best-in-class packaging

---
Blue Nile

Blue Nile is the largest and most well known internet jewelry seller. They have a very large exclusive online inventory. Their high quality images are catching up to James Allens' and their prices are amazing. Blue Nile have generously offered our readers an exclusive one-time use coupon.

(Click Here to save $100 off engagement ring settings)
What we love about them:
No questions asked returns within 30 days of shipment. Blue Nile will send you a paid shipping label to return the ring.
Lifetime Warranty
Free Shipping
Free prong tightening, repolishing, rhodium plating and cleaning every 6 months
Provide insurance appraisal
One free resizing within the first year of purchase
High quality images of about half of their diamonds
24/7 Customer Service
100% credit towards future upgrades (must be at least double in value)
Best in class fulfillment

---
Still afraid of getting ripped off?
Before you buy a diamond, get personal buying advice from industry veterans. We'll help you get the best diamond for the money.
Ask your diamond purchase question here
DISCLAIMER: We don't use your email for marketing. Period.