We are reader-supported. Buying through links on our site may earn us commissions. Learn More.
Deal Alert! Huge James Allen Sale- 3% off Earth Diamonds AND 25% off settings or

15% off at Blue Nile!



How to Sell Your Gold Bars and Coins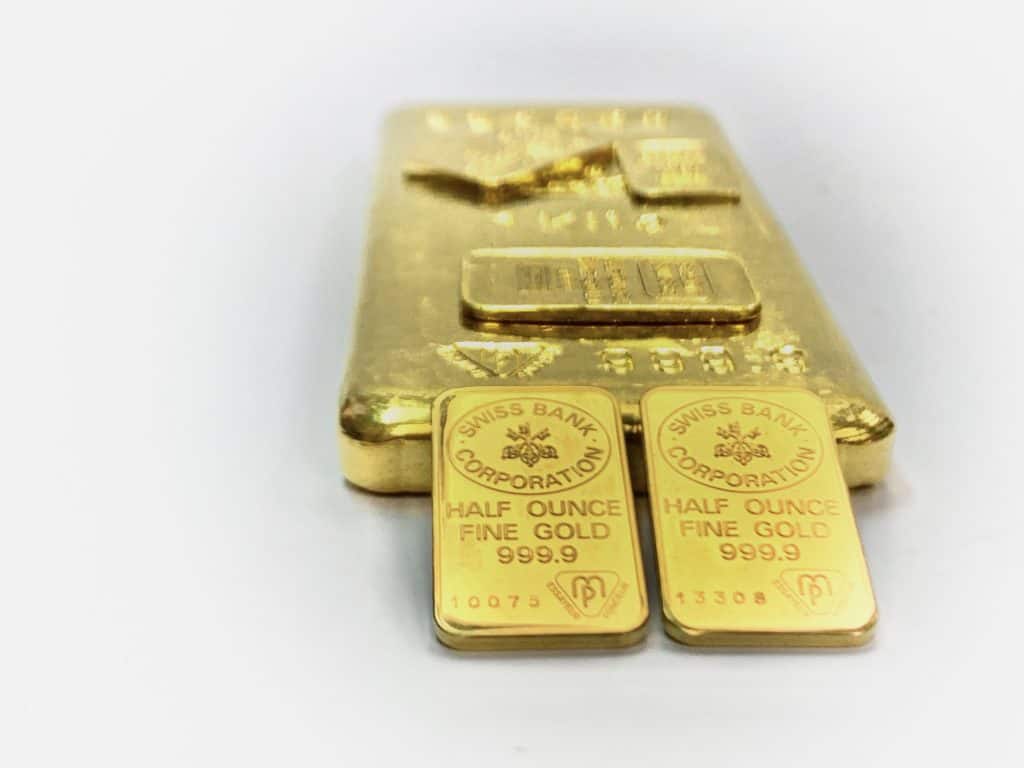 Gold is one of the oldest and most trusted stores of value we have. Individuals, institutional investors and banks hold gold bullion as an investment, or a hedge against currency fluctuations and uncertainty.
Gold bullion means gold of high purity (usually 99.5% pure or higher), often in the form of minted gold bars or coins. Gold bullion is the most popular type of gold to hold as an investment or store of value, as it's generally easy to sell, and maintains its value well.
When we're talking about selling gold, you can also get a good amount of money by selling gold wedding bands, engagement rings and other types of jewelry. These forms of gold don't maintain their value as well as bullion, though. So if you're keeping physical gold as savings or for investment purposes, it's best to hold it in bars or coins.
Gold prices reached record highs in 2020, making it a great time to get a good sum for your holdings. The current spot price for gold (as of the 11th of November 2020) is $60.09 per gram, $60,089 per kilo, or $1,868.98 per ounce. Overall, prices in 2020 have skyrocketed, reaching $2,036 per ounce at the highest point.
As with any transaction, it's important to follow best practices to make sure you get the best value. By knowing what you have and what it's worth, as well as selling to a reliable gold buyer, you'll go a long way to getting a fair price for your gold.
Tips to Get the Maximum Cash for your Gold Bullion
Selling gold bullion is a major transaction, thus there can be significant implications for your return if you don't follow best practices. Bullion is used for monetary purposes, either as an investment or a store of value, so it stands to reason that you'll want to get the best price when it's time to sell.
Here are some tips to maximize the price you get for selling your gold bullion.
Know the current value of gold
Gold is a commodity, which means it has a market value that is constantly fluctuating. Any sales of gold bullion are based on the current gold spot price, which is the current price of gold in the market, at the time of the sale.
Before selling your gold bullion, it's vital to know the spot price, so you have a general idea of what your gold is worth at the time. Incorrect or outdated prices can have a significant negative impact on your sale.
When looking at the market price, understand two things. First, the spot price of gold refers to 99.99% pure, 24K gold. While this is not as big a consideration when selling gold bullion as it is if you were selling gold jewelry (as gold bullion is almost always "pure" gold). If your gold is a lower karatage, the price you'll get will be lower too.
Second, you usually won't get the exact spot price for your gold, especially if you're selling low quantities. Gold merchants generally tack on a small commission, which is taken out from the spot price. This makes the transaction economical for the merchant. There may be a bigger fee when selling gold jewelry or scrap metal, which needs to be melted down and refined, but with gold bullion such as coins and bars, the price offered should be fairly close to the spot price.
Understand what you have and its value
Once you know the spot price of gold, you'll be able to make a rough assessment of what your gold is worth before you look to sell. 
The value of gold bullion is very transparent, so by knowing what kind of gold you have on hand and weighing it yourself, you'll have a good idea of what it's worth on the market.
Weighing can be done with a regular kitchen scale. Once you have the weight, use the gold price calculator below this paragraph to get an estimate of what your gold is worth at the time.
Gold Pricing Calculator
Weight of Gold (grams)
Karat
This is the current wholesale price of gold. When selling gold you receive a percentage of the price. We recommend asking Abe Mor for a quote as they have consistently offered the highest percentage to our readers.
Get an Offer
The weight x value equation is best for gold bars. If you're selling officially minted gold coins, you can check the current price of your coins on sites like Monex, Money Metals Exchange or JM Bullion. These coins, such as the American Buffalo, Canadian Maple Leaf and Austrian Philharmonic Gold Coins, are usually sold per unit. To find the value of your gold coins, simply find the current price of the type of coin you have and multiply by how many you have.
Again, take into account there will be a small difference between the buying and selling price of gold bullion coins. Coin buyers won't pay the same price to buy coins as to sell them, however, it should be fairly close.
Find a merchant that specializes in gold bullion
Many businesses that offer cash for gold do it to resell your gold at a markup, meaning the price they offer to buy your gold for will be a lot less. These stores, such as pawn shops that operate on a buying and selling model, need to offer less than what your gold is worth in order to make a profit.
Gold bullion is held as an investment, as the price of gold will almost certainly rise over time. So, when you sell gold bars or gold coins, you're selling close to the market price, as the buyer can expect to profit just by holding on to the gold for a length of time.
That's why you should always sell gold bullion to a buyer that specializes in gold bars and coins, rather than a retail store that most likely won't offer fair value for your bullion.
Sell to a trusted gold buyer
Finally, ensure you sell your gold bullion at the right place. You're most likely to get the best prices selling online, as these merchants have lower overhead and can thus offer better prices.
You may also be able to find local bullion dealers in your area, in which case these dealers can also be a good option. Just be sure to thoroughly research the dealer beforehand, to ensure they are reliable and trustworthy. It's also a good idea to get a quote or approximation of your gold bullion's value before you go in.
Whatever you do, try to stay away from local jewelers or pawn shops. While these stores can offer cash for gold fast, they won't give you good prices, particularly for investment gold such as gold bars and coins, which should be sold quite close to the market value.
Best Places to Sell Your Gold Bullion for Cash
There are more than enough reputable places to cash out your gold bullion without needing to resort to a pawn shop. Here are the best ways to sell gold bars or coins.
Abe Mor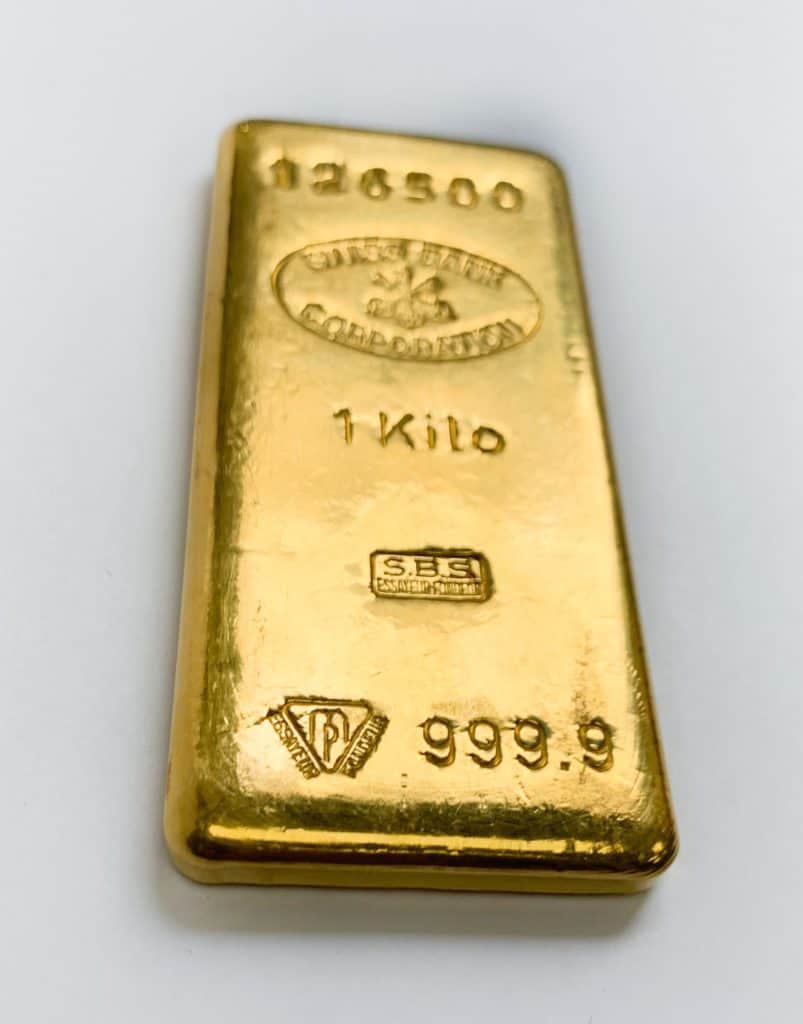 Abe Mor, a dealer situated in New York City, has a gold buying program that allows you to easily sell your gold bullion online. You can check what your gold bullion is worth with their gold price calculator, and then fill out a simple form to get a quote on your gold. If you accept the offer made, you'll be paid out within one business day, which is great if you need fast access to cash for your gold.
If you decide to sell with Abe Mor, they'll give you free and fully insured shipping with FedEx or US mail, making it easy to send in your gold bars or coins to be examined in person. The process is extremely easy, giving you the peace of mind that is so important with a large transaction like this.
What's more, we've found Abe Mor gives better prices than many other places that buy gold bullion, online or in person. If you're looking to sell your gold bullion, you can be confident Abe Mor will give you a fair market price for your bars or coins. You can also contact them for a quote if you have other types of gold you wish to turn into cash, such as jewelry or scrap gold.
Local bullion dealers
If you prefer to sell your gold in person, you can look for a gold bullion dealer near you. There are usually dealers located in most major cities, so if you're in or near one of these areas, do a search for "sell gold bars near me" to find one.
Some people may be more comfortable selling to a local dealer, however, be sure that the dealer you choose is a trustworthy one. Many unscrupulous dealers may use the in-person transaction to pressure you or mislead you into selling your bullion for a low price. Check reviews and recommendations before heading in, and get an approximation of what your gold is worth before going in.
Online bullion dealers
Generally speaking, you're most likely to get the best value for your gold from an online dealer. These merchants have less overhead and a more economical business than a local store, meaning they can offer better prices with lower fees.
While Abe Mor is the best store that buys gold online we've personally reviewed, there are many more reputable online gold buyers. You can find a number of dealers by searching for things like "sell gold bullion", "sell gold bars" or "sell gold coins".
Like if you were selling in person, be sure to perform due diligence on any store you're considering selling to, to ensure they are trustworthy before you engage in a transaction.
How to Sell Gold Bars and Coins: In Summary
If you've been sitting on your gold bullion waiting for the right price, now is a great time to sell, with the price of gold reaching the highest levels for several years. Our top recommendation for selling gold bars or coins is Abe Mor, who offer the best customer experience and value for your bullion. Selling with a reputable online dealer like Abe Mor is the best way to get close to market value, and turn your gold bullion into cash without any undue hassle.
Wherever you sell your gold bars or coins, be patient and follow the best practices outlined above. Doing so and knowing the value of your gold will help you make a prudent decision when it's time to sell.
James Allen

James Allen is the leader in online diamond sales. Their imaging technology is the same as inspecting a diamond with a jeweler's loupe. They have the largest exclusive loose diamond inventory online and fantastic prices. They also have the nicest collection of lab created diamonds online. Now save 25% off settings AND 3% off Earth Diamonds during James Allen HUGE limited time sale!
What we love about them:
No questions asked returns within 30 days of shipment. James Allen will send you a paid shipping label to return the ring.
Lifetime Warranty
Free International Shipping
Free prong tightening, repolishing, rhodium plating and cleaning every 6 months
Provide insurance appraisals
One free resizing within 60 days of purchase
Free ring inscriptions
Best-in-class high quality imagery of all diamonds in stock
24/7 Customer Service
Best-in-class packaging

---
Blue Nile

Blue Nile is the largest and most well known internet jewelry seller. They have a very large exclusive online inventory. Their high quality images are catching up to James Allens' and their prices are amazing. Blue Nile have generously offered our readers an exclusive one-time use coupon.

(Click Here to save $100 off engagement ring settings)
What we love about them:
No questions asked returns within 30 days of shipment. Blue Nile will send you a paid shipping label to return the ring.
Lifetime Warranty
Free Shipping
Free prong tightening, repolishing, rhodium plating and cleaning every 6 months
Provide insurance appraisal
One free resizing within the first year of purchase
High quality images of about half of their diamonds
24/7 Customer Service
100% credit towards future upgrades (must be at least double in value)
Best in class fulfillment

---
Still afraid of getting ripped off?
Before you buy a diamond, get personal buying advice from industry veterans. We'll help you get the best diamond for the money.
Ask your diamond purchase question here
DISCLAIMER: We don't use your email for marketing. Period.