Diamond Pro is reader-supported. When you buy through links on our site, we may earn an affiliate commission. Learn More.
Deal Alert! 25% off James Allen settings
and
15% off Blue Nile settings!
Windsor Jewelers Reviews: High Prices
Overall Score:

3.17

Price:

1.5

Selection:

3.5

Customer Service:

4.5

Pros

Luxurious Experience
Fine Selection
Excellent Service

---

Cons
Other Recommended Retailers
Bottom Line Recommendation
I had a great time at Windsor Jewelers. They are a fantastic retailer. As we explain here, there is no way a physical retailer can compete with online retailers like James Allen or Blue Nile. Our secret shopping bore that out pretty clearly.
That said, Windsor Jewelers is still a great retailer. For those people who decide that they want to go to a physical retailer and there is a Windsor Jeweler in your area, they are a fantastic choice. You will pay a premium by going to a physical store, but at least you are getting something for that premium.
The History
From reading about Windsor Jewelers' history it looks like the founder, Robert Simon, had similar starts in the industry. After a brief stint in the retail side of the business, Robert ended up working for a wholesaler as a traveling salesman. When he was ready to settle down, Robert opened up his own store in Winston-Salem in 1986.
Windsor Jewelers' business grew to the point where they needed to open a larger store, which they did in 1991. In 2013, with the addition of Rob's son Ben to the team, Windsor Jewelers opened up their second store in Charlotte.
The Experience at Windsor Jewelers
I should get this out of the way first. Windsor Jewelers was the best experience we had in Charlotte. Upon your arrival, you are immediately engrossed in a luxurious buying experience. The store has a calm, yet elegant ambiance to it. Unlike many of the places we go, they aren't trying too hard to be trendy or giving off some cheap feel. You feel like this is the place to make a luxury purchase.
We were directed to the engagement ring part of the store, and Dave introduced himself to us. He was friendly, and gave us space to look around on our own. He was close enough to help, without giving us the impression he was hovering over us.
I know this seems like salesmanship 101, but it is incredible that the overwhelming majority of stores we walk into have salespeople that are either super pushy and aggressive, or overtly standoffish and aloof. I'm not trying to minimize the amount of skill it takes to find that sweet spot, but I would think stores selling such high ticket items would make a concerted effort to find those people, train them and compensate them enough to retain them. Windsor seems to have that part of their business down pat.
The Windsor Jewelers Diamonds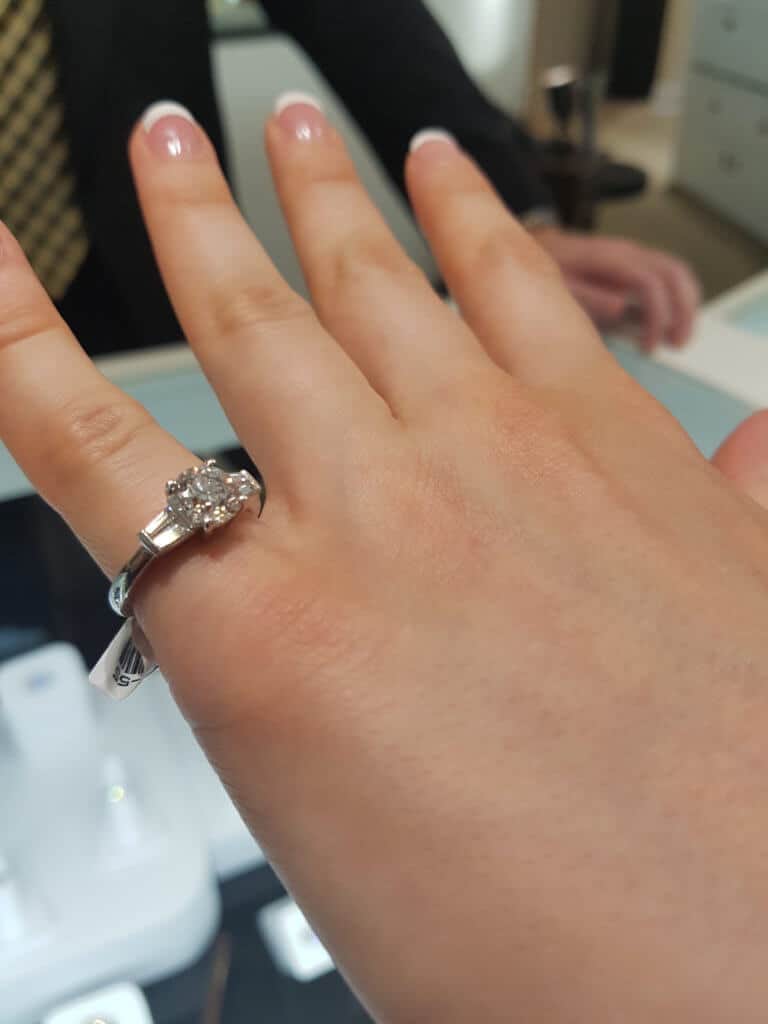 After some perusing, and with Dave's help, we settled on two rings. Both of the rings had round center diamonds. The first one was a 1.61ct G color, I1 clarity diamond in a platinum baguette setting for $16,995. Both Annie and I were very impressed with the brilliance of the diamond, but we were able to see the inclusions quite easily. I guess we aren't your typical consumers when it comes to noticing inclusions, but I would be hesitant to recommend a diamond like that to one of our readers. To be fair, Dave was upfront about this. He mentioned that the price is far more favorable and some people prefer to make that trade-off.
The second ring we took for a test drive was a 1.51ct G color, VS2 clarity diamond in a rose gold solitaire setting for $21,950. This diamond was eye-clean, and had some brilliance, but I felt the table was a tad too big. Unfortunately Dave had some trouble finding the GIA certificate (he assured us the diamond was GIA certified while noting that the other diamond was not certified), so we couldn't look at the details. If I had to guess, I'd say the diamond had a 60 or 61% table. That would be within the range of Excellent by GIA standards but higher than we'd recommend for our readers.
The Engagement Ring Comparison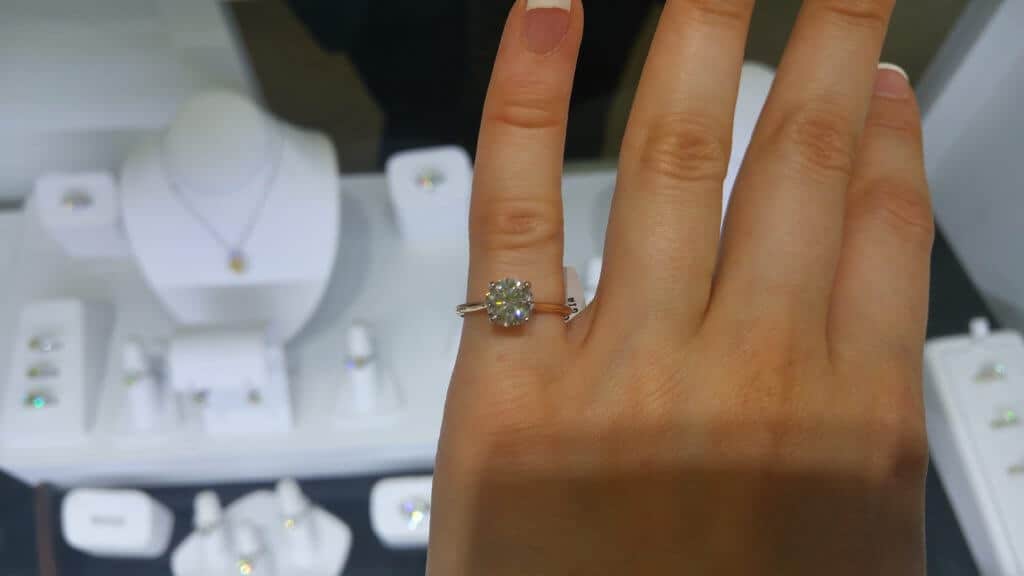 Let's start with the 1.61 G I1. We didn't see a certificate but we will take them at face value and assume it really is a G I1. Here is a 1.64ct G color, SI2 clarity excellent cut round diamond from James Allen for $10,300. If you add the diamond to this tapered baguette ring, your total cost will be $12,220. So the Windsor Jewelers' piece will cost you 35% more than a comparable piece from James Allen.
The second ring was a 1.51 G VS2. Here is beautiful 1.50ct G color VS2 clarity excellent cut diamond from Blue Nile for $12,339. You can add that diamond to this rose gold setting and it will cost you just over $13,000. If you put the two rings side by side, it would be almost impossible to tell the difference. Yet the ring from Blue Nile is about 40% less than the ring from Windsor Jewelers.
James Allen

James Allen is the leader in online diamond sales. Their imaging technology is the same as inspecting a diamond with a jeweler's loupe. They have the largest exclusive loose diamond inventory online and fantastic prices. They also have the nicest collection of lab created diamonds online. Save 10% off select Lab Grown Diamonds and 25% on setttings!
What we love about them:
No questions asked returns within 30 days of shipment. James Allen will send you a paid shipping label to return the ring.
Lifetime Warranty
Free International Shipping
Free prong tightening, repolishing, rhodium plating and cleaning every 6 months
Provide insurance appraisals
One free resizing within 60 days of purchase
Free ring inscriptions
Best-in-class high quality imagery of all diamonds in stock
24/7 Customer Service
Best-in-class packaging

---
Blue Nile

Blue Nile is the largest and most well known internet jewelry seller. They have a very large exclusive online inventory. Their high quality images are catching up to James Allens' and their prices are amazing. Blue Nile have generously offered our readers an exclusive one-time use coupon.

(Click Here to save $100 off engagement ring settings)
What we love about them:
No questions asked returns within 30 days of shipment. Blue Nile will send you a paid shipping label to return the ring.
Lifetime Warranty
Free Shipping
Free prong tightening, repolishing, rhodium plating and cleaning every 6 months
Provide insurance appraisal
One free resizing within the first year of purchase
High quality images of about half of their diamonds
24/7 Customer Service
100% credit towards future upgrades (must be at least double in value)
Best in class fulfillment

---
Still afraid of getting ripped off?
Before you buy a diamond, get personal buying advice from industry veterans. We'll help you get the best diamond for the money.
Ask your diamond purchase question here
DISCLAIMER: We don't use your email for marketing. Period.