Diamond Pro is reader-supported. When you buy through links on our site, we may earn an affiliate commission. Learn More.
Deal Alert! 25% off James Allen settings
and
15% off Blue Nile settings!
Smyth Jewelers Reviews: Decent, but Expensive
Overall Score:

3.67

Price:

2.5

Selection:

4.5

Customer Service:

4

Pros

Fantastic Diamonds
Capable Customer Service

---

Cons
Other Recommended Retailers
Bottom Line Recommendation
Smyth Jewelers is a very nice retailer. We felt the store could have done a bit more in the ambiance department, but the staff was friendly and knowledgeable. They had an adequate selection of settings and the diamonds were very impressive. As we explain in this article, there is no way a physical retailer can compete with the top line online retailers when it comes to price and selection, but the prices were reasonable.
If you feel that you are getting some added value buying in a physical retailer then Smyth Jewelers is an excellent jeweler. If you are comfortable buying online, you can save about 20% buying from a retailer like Blue Nile or James Allen. Or, if you prefer, you can get a diamond that is far more brilliant from Brian Gavin Diamonds for roughly the same price.
The History
Smyth Jewelers is one of the oldest jewelers in the United States. Albert Smyth founded their Maryland based jewelry business more than one hundred years ago. Tom Smyth, a third generation family member, is now co-president with another third generation Smyth, Bob Smyth.
Smyth Jewelers now has three locations in Maryland: Timonium, Ellicott City and Annapolis. Though the other two stores are nice, they pale in comparison to the flagship store in Timonium. The store is enormous taking up 50,000 square feet., a third of which is dedicated to showroom space.
The Experience
I would have loved to secret shop Smyth's original store in the suburbs of Baltimore. That store has a nostalgic hold on me as it was one of the first business trips I ever made when I was working on the manufacturing/wholesale side of the business. Unfortunately, they are closed on Sunday's and we would not have made it in time on Saturday.
Fortunately though, they have a location in Annapolis. This gave Annie and I an excuse to check out the Naval Academy Museum as well. Smyth is located in a very nice shopping area on Towne Centre Boulevard.
The store had an interesting ambiance. Don't get me wrong; it wasn't bad. It was well appointed and had a bright clean look. But the store also sold some nicknacks that seemed out of place for a luxury store. There were some naval themed home accessories and bags that seemed to cheapen the feel a bit.
The salespeople were quick to amble over and offer assistance. Everyone was friendly and welcoming. It took a few minutes of perusing, but we finally settled on a few diamonds to check out. At this point we were led over to some small booths on the side to take a look at the diamonds.
The Smyth Diamonds Selection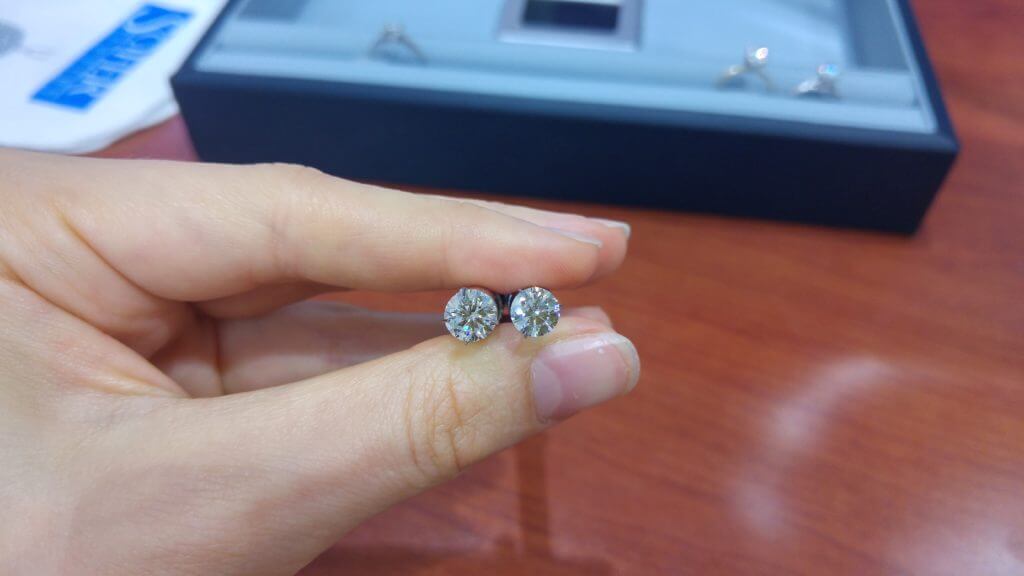 I was very happy with the selection we viewed at Smyth. You may have read a few other diamond reviews on our site. All too often retailers are pushing diamonds without GIA or AGS certification. That is a big issue. Even if a retailer sticks with GIA certified diamonds, it's rare that they will fit the sweet spots in color, clarity and cut that we feel give the consumer the best bang for their buck.
Smyth really hit the nail on the head when it comes to their product. Their diamonds were GIA certified and were right in our favorite range. Both diamonds were Excellent cut round diamonds that would have been perfect for any setting except halos.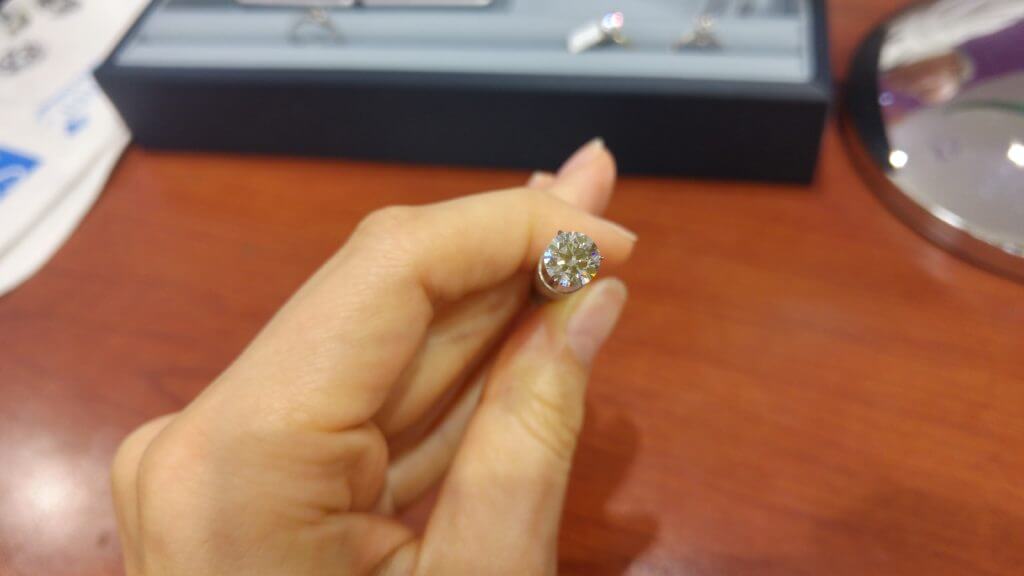 The first diamond we looked at was a 1.20ct I color SI2 clarity for $7,390. I wouldn't say the diamond was perfect but it was a nice choice. We are not big fans of 60% tables, but that is a relatively minor issue. I was able to pick out the inclusions with my naked eye, but the diamond would be eye-clean for the majority of typical consumers.
The second diamond was even better. It was a 1.01ct I color, SI1 clarity for $6,225. We both liked the brilliance of this diamond and it was completely eye clean. There was an issue with GIA's server, so he couldn't print out the certificate. They were quick to email us a copy of the cert and it confirmed that the cut was fine on the diamond.
Comparing Smyth Engagement Rings
So I will take a slightly different tack here in the comparison. The first diamond (the 1.20ct) was nice, but wasn't as perfect a cut as I'd like. Here is a very nice 1.20ct I color, SI1 clarity excellent cut from James Allen for $5,850. This is a slightly better diamond (slightly better cut and a higher clarity grade), yet it's about 20% cheaper.
Another option would be to go for a significantly better diamond. Here is an absolutely stunning 1.21ct G color, SI2 clarity ideal cut from Brian Gavin Diamonds for $7,850. This diamond is the absolute pinnacle when it comes to brilliance. The brilliance is overwhelming in comparison to a typical excellent cut diamond. It's also two grades higher in color yet it's within 5% of the price.
The second diamond from Smyth, as we mentioned, was very nice. Here is a comparable 1.00 I color, VS2 clarity excellent cut diamond from Blue Nile for $4,940. This diamond is superbly cut and slightly better on clarity. Despite that, the diamond from Smyth Jewelers was 25% more expensive.
James Allen

James Allen is the leader in online diamond sales. Their imaging technology is the same as inspecting a diamond with a jeweler's loupe. They have the largest exclusive loose diamond inventory online and fantastic prices. They also have the nicest collection of lab created diamonds online. Save 10% off select Lab Grown Diamonds and 25% on setttings!
What we love about them:
No questions asked returns within 30 days of shipment. James Allen will send you a paid shipping label to return the ring.
Lifetime Warranty
Free International Shipping
Free prong tightening, repolishing, rhodium plating and cleaning every 6 months
Provide insurance appraisals
One free resizing within 60 days of purchase
Free ring inscriptions
Best-in-class high quality imagery of all diamonds in stock
24/7 Customer Service
Best-in-class packaging

---
Blue Nile

Blue Nile is the largest and most well known internet jewelry seller. They have a very large exclusive online inventory. Their high quality images are catching up to James Allens' and their prices are amazing. Blue Nile have generously offered our readers an exclusive one-time use coupon.

(Click Here to save $100 off engagement ring settings)
What we love about them:
No questions asked returns within 30 days of shipment. Blue Nile will send you a paid shipping label to return the ring.
Lifetime Warranty
Free Shipping
Free prong tightening, repolishing, rhodium plating and cleaning every 6 months
Provide insurance appraisal
One free resizing within the first year of purchase
High quality images of about half of their diamonds
24/7 Customer Service
100% credit towards future upgrades (must be at least double in value)
Best in class fulfillment

---
Still afraid of getting ripped off?
Before you buy a diamond, get personal buying advice from industry veterans. We'll help you get the best diamond for the money.
Ask your diamond purchase question here
DISCLAIMER: We don't use your email for marketing. Period.