We are reader-supported. Buying through links on our site may earn us commissions. Learn More.
Deal Alert! Huge James Allen Sale- 3% off Earth Diamonds AND 25% off settings or

15% off at Blue Nile!



San Diego Diamond Buying Guide
San Diego and I go way back when it comes to diamonds. When I started out as a salesperson for a diamond manufacturer, San Diego was the very first city I visited. I was on a first-name basis with everyone who worked the front desk at the Hilton Gaslamp as I was there every month.

San Diego is a beautiful city with many great jewelry retailers. In this guide, we'll talk about the different areas of San Diego and specific stores that we feel have the most to offer.

Buying Online Vs. Buying From a Local San Diego Retailer

Based on our many years of experience in the industry, we feel strongly that you should buy a diamond online instead of at a jewelry store. Why? A reputable online vendor offers a phenomenal selection at excellent prices.

Because of the way diamond wholesalers distribute and sell, online retailers have a more efficient, less expensive process. What does that mean for you as a buyer? You'll come away with a stunning diamond at a fraction of the cost. To put it in perspective, even after negotiating, the retailers we visited in San Diego were 30-40% more expensive than what we could find online.

You still need to be selective when you shop for diamonds online. That's why we urge readers to choose a reliable vendor, like Blue Nile or James Allen. We've vetted countless vendors, and those two top our list for many reasons.

Still, we know that not everyone wants to buy diamonds online. That's why we go secret shopping: to provide thorough reviews and feedback about local diamond retailers.

Where to Buy a Diamond in San Diego

As you shop for a diamond in San Diego, keep in mind that you're paying a premium. You want to make sure that the place you choose is worth that premium.

Downtown San Diego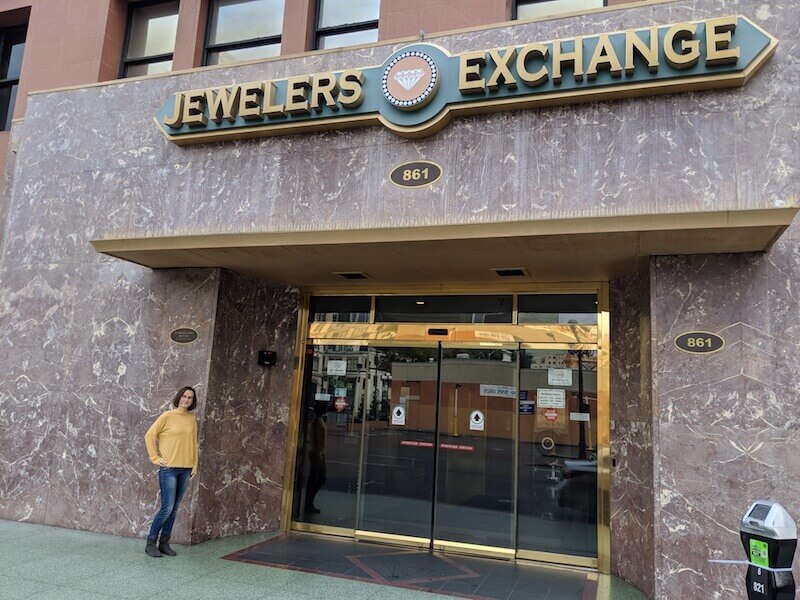 While there aren't many jewelers scattered around downtown, there is the wholesale diamond building on 6th Ave. I would be very wary of shopping in the building downtown. Be extra careful about buying a diamond that has a GIA certificate (the certification we normally recommend), because I'm not sure the sellers can be trusted.

Most of the "dealers" have plenty of diamonds with EGL or other certificates—lab certs we don't recommend. Being perfectly honest, the building has a seedy feel to it. It just doesn't seem like the place I'd want to buy a diamond. Read our guide to learn more about diamond certification.

La Jolla

While shopping in the seaside La Jolla area, we were most impressed with Westfield UTC. Not only is the shopping center pleasant to walk around, but we also found the stores to have a luxurious modern vibe. More surprisingly, we were impressed with the diamonds we saw there.

Expert Tips for Buying a Diamond in San Diego

Our goal is to help our readers find the most beautiful diamond at the best price.

Here are our top tips for buying in a store:

1. Verify the Certification: All diamonds should come with a certificate. The main question is: what lab entity issued the certification? We recommend only considering diamonds with an AGS or GIA certificate. These two lab entities are the most consistent and reliable in the industry.

Choosing a certificate from a different entity — no matter how good the diamond's grading — can result in a diamond that's lesser quality than what the report states. If a seller is urging you to buy a diamond with a certificate other than one from the GIA or AGS, politely decline and shop elsewhere.

2. Look at the Diamond's Cut: Any diamond you consider should be graded as an excellent or ideal cut on the certificate. Beyond the grading, you also want to consider how much fire and brilliance the diamond gives off. For a round cut diamond, the depth percentage should be below 62.5% and the table percentage should be below 60%. Make sure to read our guide on diamond depth and table. For recommendations on shapes other than a round diamond, check out our diamond shapes guide.

3. Assess the Clarity: Yes, you can read the Clarity grade on the certificate, which is important. But you also need to look at the diamond closely yourself. Move the diamond away from the bright lights in the jewelry store. Look at the diamond. See if you notice any blemishes, inclusions, or imperfections. If the diamond is eye-clean, it's a stone to consider. If you notice blemishes, you'll want to keep shopping.

In general, diamonds with a VS1 Clarity or VS2 Clarity grade will be eye-clean. While you could opt for a higher Clarity grade, like VVS1 or VVS2, you'll be paying more for the same goal: an eye-clean stone.

4. Gauge the Color: The goal with a diamond is to choose one that appears white to the naked eye. In most cases, a diamond in the G-I range will give you a colorless stone. Diamonds in the D-F range will also appear colorless but will cost far more.

As you assess Color, keep in mind the type of setting you're choosing. If you're going with yellow gold or rose gold, you may be able to choose an I, J, or even K Color diamond. If you're going with a white gold or platinum setting, we suggest staying in the G-I range. Above all, you want the diamond to look white in relation to the setting you choose.

5. Don't Rush the Process: With a purchase as large as a diamond ring, you don't want to feel pressured or make a rash decision. You want to end up with the most stunning stone in the most beautiful setting.

If a salesperson is trying to get you to make a decision quickly, remember that you don't have to make a decision in a day. Take time to compare diamonds, ring settings, and prices. Look online to see what you can find. Feeling confident in your decision is extremely important, especially since this will be a piece of jewelry that is worn for many years.

If you want help in comparing stones and evaluating diamonds, reach out to our experts. We'll give you personalized advice for your budget and situation.

Diamond Retailers in San Diego

Quality Diamonds

If you are intent on buying your ring downtown, I recommend visiting Quality Diamonds. Be sure to insist on GIA-certified diamonds. Ask for Koby. He's one of the most knowledgeable diamond people I know.

David & Sons

This was a lovely independent jeweler that we went to at the Westfield UTC. It had a positive vibe. The diamonds we were shown were all GIA-certified and were well cut and eye-clean. The prices were a bit high for our liking but they were reasonable.

This was a pleasant surprise for us. Our previous experience at a Ben Bridge store was less than stellar. At the Westfield UTC, we had a vastly improved experience. Not only did we have a great experience with the salesperson, but every diamond we looked at was also GIA-certified and well cut. Ben Bridge is still overpriced, but we will be adjusting our review based on this experience. 
Where to Buy a Diamond Online
Whether you buy a diamond online or in a store, make sure you choose a high-quality vendor. By shopping with a trustworthy dealer, you can focus on selecting the best diamond for your budget. Throughout our time in the industry, we've vetted dozens of diamond vendors. The best places to buy an engagement ring are all online.

Blue Nile
With Blue Nile comes a phenomenal selection. They have the largest online inventory of diamonds and jewelry. They also provide free shipping and a lifetime warranty. Most importantly, though, Blue Nile diamonds and settings are stunning, and competitively priced.
>>MORE:Read our full review of Blue Nile here.

James Allen
James Allen offers a fantastic collection of diamonds and settings. The imagery on their site is the best in the industry — giving you the opportunity to examine each diamond closely before purchase. James Allen is also known for their excellent customer service, free shipping, and lifetime warranty.
>>MORE: Read our full review of James Allen here.

Find a diamond you love
While shopping for an engagement ring, keep in mind the basics of the 4cs. Focus on finding a diamond that's well cut, offers sparkle, and matches his or her style.

For expert help in choosing a beautiful diamond, reach out to us.

James Allen

James Allen is the leader in online diamond sales. Their imaging technology is the same as inspecting a diamond with a jeweler's loupe. They have the largest exclusive loose diamond inventory online and fantastic prices. They also have the nicest collection of lab created diamonds online. Now save 25% off settings AND 3% off Earth Diamonds during James Allen HUGE limited time sale!
What we love about them:
No questions asked returns within 30 days of shipment. James Allen will send you a paid shipping label to return the ring.
Lifetime Warranty
Free International Shipping
Free prong tightening, repolishing, rhodium plating and cleaning every 6 months
Provide insurance appraisals
One free resizing within 60 days of purchase
Free ring inscriptions
Best-in-class high quality imagery of all diamonds in stock
24/7 Customer Service
Best-in-class packaging

---
Blue Nile

Blue Nile is the largest and most well known internet jewelry seller. They have a very large exclusive online inventory. Their high quality images are catching up to James Allens' and their prices are amazing. Blue Nile have generously offered our readers an exclusive one-time use coupon.

(Click Here to save $100 off engagement ring settings)
What we love about them:
No questions asked returns within 30 days of shipment. Blue Nile will send you a paid shipping label to return the ring.
Lifetime Warranty
Free Shipping
Free prong tightening, repolishing, rhodium plating and cleaning every 6 months
Provide insurance appraisal
One free resizing within the first year of purchase
High quality images of about half of their diamonds
24/7 Customer Service
100% credit towards future upgrades (must be at least double in value)
Best in class fulfillment

---
Still afraid of getting ripped off?
Before you buy a diamond, get personal buying advice from industry veterans. We'll help you get the best diamond for the money.
Ask your diamond purchase question here
DISCLAIMER: We don't use your email for marketing. Period.