Diamond Pro is reader-supported. When you buy through links on our site, we may earn an affiliate commission. Learn More.
Deal Alert! 25% off James Allen settings
and
15% off Blue Nile settings!
Rogers and Hollands Reviews: High Prices, Poor Service
Overall Score:

2

Price:

2.5

Selection:

2.5

Customer Service:

1

Pros

---

Cons

They also have some very bad diamonds
High prices
Poor service

Other Recommended Retailers
Bottom Line Recommendation
Rogers & Hollands' selection is very hit or miss. You need to be careful that you don't get screwed. Even if you manage to avoid those pitfalls, their pricing is nothing spectacular. If you are willing to pay a 30 – 40% premium over buying online, you should be getting some sort of added value. Judging by our in-store experience, there was nothing to justify spending extra at Rogers & Hollands.
You are better off buying a diamond ring from a reputable online retailer like Blue Nile or James Allen. You will have a far better experience and you will save 30 – 40%.
The History
Rogers & Hollands have an incredibly long and rich history by jewelry store standards. Rogers Jewelers' roots go back to 1945 but that pales in comparisons to Hollands which started way back in 1910. The companies merged and slowly grew. By the 1980s they were operating about 30 stores. By the turn of the century, the company had 64 locations.
In the current retail landscape of IPOs, mergers and acquisitions, Rogers & Hollands has managed to maintain their company as a family run business, despite having locations spread out over 10 states.
The Experience
We had the opportunity to visit a Rogers & Hollands store on our recent trip to Chicago. Just off Magnificent Mile, they have a location in Water Tower Place. Walking around what seemed to be an interesting and upscale shopping mall, we finally found Rogers & Hollands a few floors up.
While we are generally underwhelmed by the ambiance in mall stores, Rogers & Hollands was pretty decent. It didn't have the most luxurious feel, but at least it didn't feel like a Groupon day at supercuts. The store had a comfortable vibe that felt almost upscale.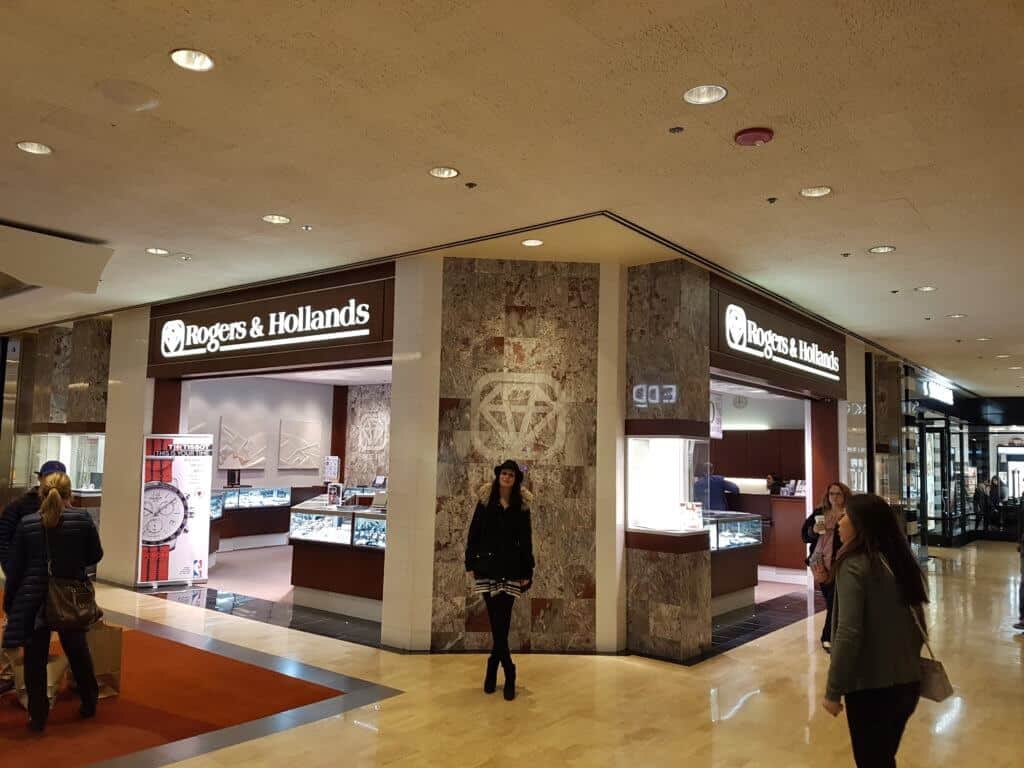 The comfortable feeling ended as soon as we looked for help. I still don't understand how a store can be selling such pricey items while completely ignoring customer service. Given the fact that these stores simply can't compete with reputable online vendors from a quality and value perspective, the only advantage they seem to have would be direct personal contact.
The staff in the store seemed visibly upset that we walked in and that they needed to stop their conversation. While perusing diamonds, the salesperson who reluctantly detached from their group was visibly bored. There was very little feedback nor was there any attempt to guide us through the purchase. I was so annoyed, I was tempted to just walk out without even looking at any of their rings.
Rogers & Hollands Diamonds
Alas, we came there for you guys. I couldn't just walk away without looking at their products. Their diamond choices were a mixed bag. On the one hand, they did have some nice choices. On the other hand, they had some diamonds with bad certificates.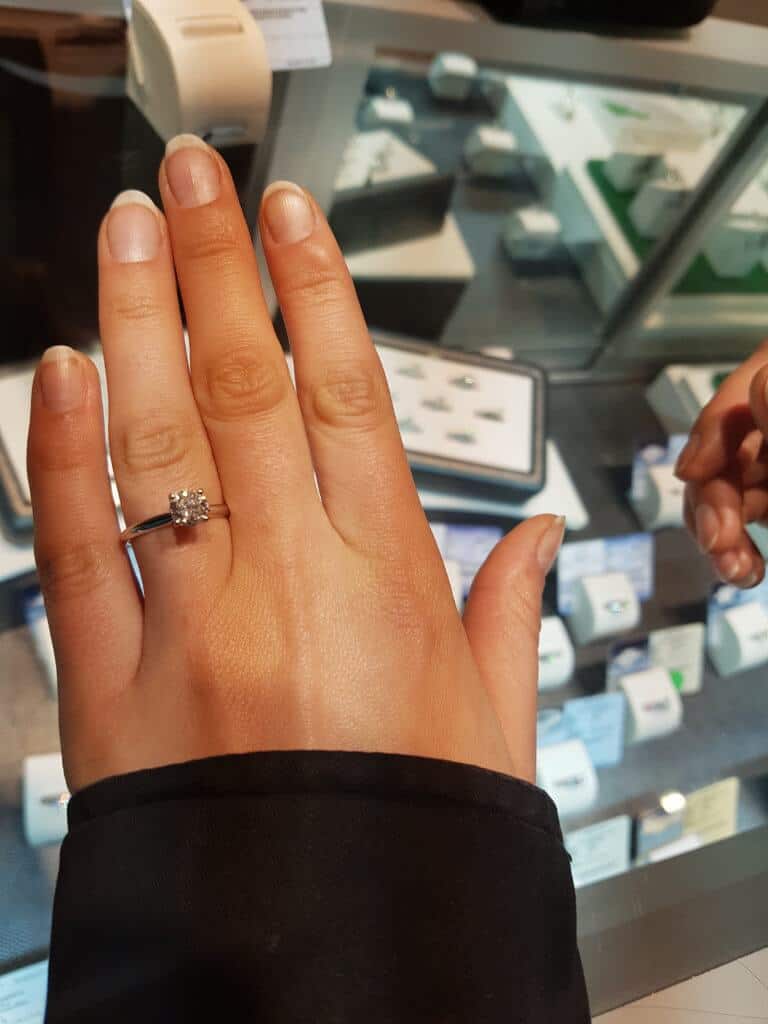 The first diamond we looked at was a 1.20ct H SI1 round diamond in an 18kt white gold solitaire setting for $10,400. The diamond was GIA certified, eye-clean and pretty nice. The cut wasn't great (the depth was a bit high) but it was a nice diamond overall.
The second diamond we looked at was 0.90ct "EF" color "SI3" clarity diamond in a white gold setting for $3,999. I put the color and clarity grades in quotes because the diamond was EGL certified. In reality, the quality was much worse than that. I wasn't able to properly examine it, but at best it was an H I1.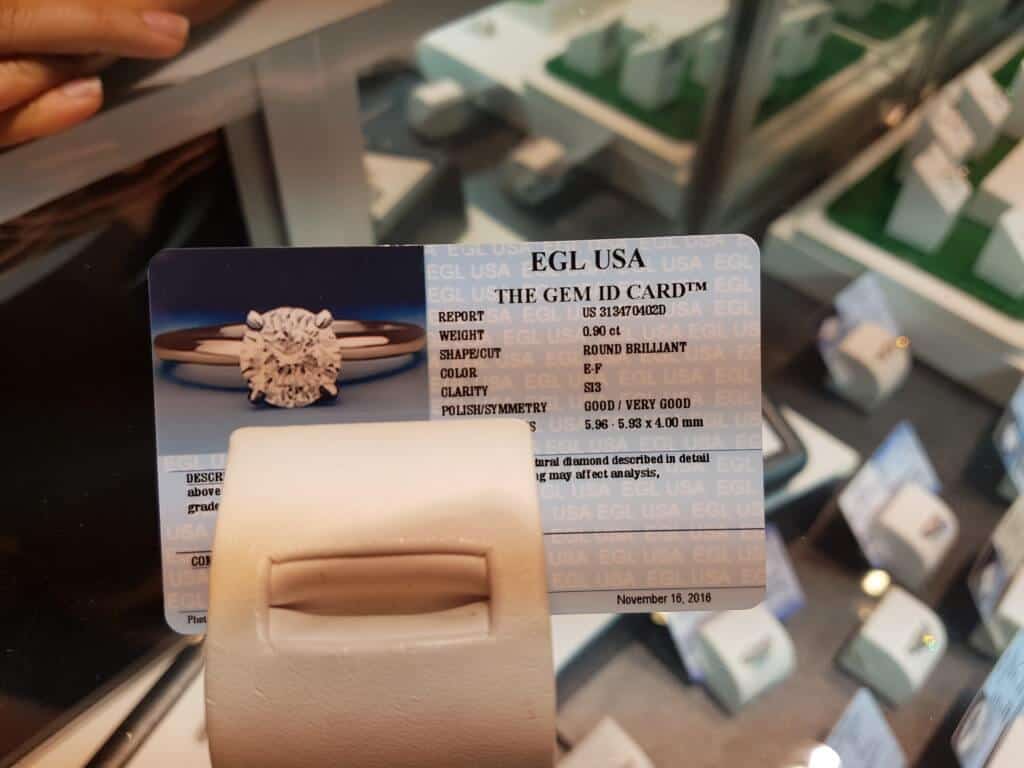 Not only was the quality incredibly low (and they used a less reliable certificate to try to mask that), but the cut was horrific on the diamond as well. As I mentioned above, the 1.20ct diamond was OK cut. The depth was 62.9% which is the maximum I would ever consider when judging a diamond. Ideally it should be closer to 62.0%. This 0.90ct diamond had a depth percentage of 67. That is off the charts bad.
The Value
I'm going to ignore the 0.90ct because that diamond is a bad choice at any price. So let's focus on the 1.20ct diamond. That diamond was pretty nice, but the price seems insane to me. Take a look at this 1.20ct H SI1 excellent cut from James Allen. This diamond is roughly comparable and it costs $6,350. Adding in this similar solitaire setting and the cost is $6,960. That is 33% cheaper than the choice at Rogers and Holland without accounting for the tax savings (that will bring your total savings to about 40%).
For another comparison, you can go with this 1.22ct H Si1 from Blue Nile. This diamond is also comparable to the Rogers and Hollands choice but it will only cost you $6,135. Adding this solitaire setting to the diamond will run you a total of $6,535. Again, that is a savings of about 42% while getting the same ring.
James Allen

James Allen is the leader in online diamond sales. Their imaging technology is the same as inspecting a diamond with a jeweler's loupe. They have the largest exclusive loose diamond inventory online and fantastic prices. They also have the nicest collection of lab created diamonds online. Save 10% off select Lab Grown Diamonds and 25% on setttings!
What we love about them:
No questions asked returns within 30 days of shipment. James Allen will send you a paid shipping label to return the ring.
Lifetime Warranty
Free International Shipping
Free prong tightening, repolishing, rhodium plating and cleaning every 6 months
Provide insurance appraisals
One free resizing within 60 days of purchase
Free ring inscriptions
Best-in-class high quality imagery of all diamonds in stock
24/7 Customer Service
Best-in-class packaging

---
Blue Nile

Blue Nile is the largest and most well known internet jewelry seller. They have a very large exclusive online inventory. Their high quality images are catching up to James Allens' and their prices are amazing. Blue Nile have generously offered our readers an exclusive one-time use coupon.

(Click Here to save $100 off engagement ring settings)
What we love about them:
No questions asked returns within 30 days of shipment. Blue Nile will send you a paid shipping label to return the ring.
Lifetime Warranty
Free Shipping
Free prong tightening, repolishing, rhodium plating and cleaning every 6 months
Provide insurance appraisal
One free resizing within the first year of purchase
High quality images of about half of their diamonds
24/7 Customer Service
100% credit towards future upgrades (must be at least double in value)
Best in class fulfillment

---
Still afraid of getting ripped off?
Before you buy a diamond, get personal buying advice from industry veterans. We'll help you get the best diamond for the money.
Ask your diamond purchase question here
DISCLAIMER: We don't use your email for marketing. Period.