Diamond Pro is reader-supported. When you buy through links on our site, we may earn an affiliate commission. Learn More.
Deal Alert! 25% off James Allen settings
and
15% off Blue Nile settings!
Reeds Jewelers Reviews: Bad Value, Low Quality, Poor Service
Overall Score:

1.17

Price:

1.5

Selection:

1

Customer Service:

1

Pros

---

Cons

Poor customer service
Low quality products
Bad value

Other Recommended Retailers
Bottom Line Recommendation
I struggled to find any value when I was at Reeds. The customer service ranged from underwhelming to bizarre and uncomfortable. The selection was limited and very low quality and the price was far too high for what they were offering. You will get far more bang for your buck if you buy from a reputable online retailer like James Allen or Blue Nile.
The History
Reeds Jewelers beginnings start just after WWII by Bill and Roberta Zimmer. They opened their first store in downtown Wilmington, North Carolina. By 1979, Reeds had more than 20 locations around the Carolinas. Today they have 60 locations spanning 13 states.
The Experience
Annie and I managed to visit a Reeds location while we were travelling in North Carolina and Virginia. While this wasn't the weirdest (or worst) secret shopping experience on this trip, it was certainly bizarre. And I'm not talking about the good kind of bizarre.
The store had a very typical mall feel. I couldn't pick it out of a lineup with any of the other dozen major mall jewelry retailers. Fortunately for Reeds, the store was very busy when we walked in. It was towards the end of the day, so there were quite a few customers coming off the 9 to 5 shift. We actually had to wait almost 45 minutes before there was someone to help us. I don't mean that as criticism; they just seemed to be unusually busy.
We finally had someone come over to help us and this is where things went south. I understand that many of these retail chains have dozens of locations and it's impossible to retain sales staff that have strong diamond or jewelry backgrounds. That wouldn't be a reasonable expectation for a typical mall store. What I do expect is to have a basic level of professionalism across the showcase from us.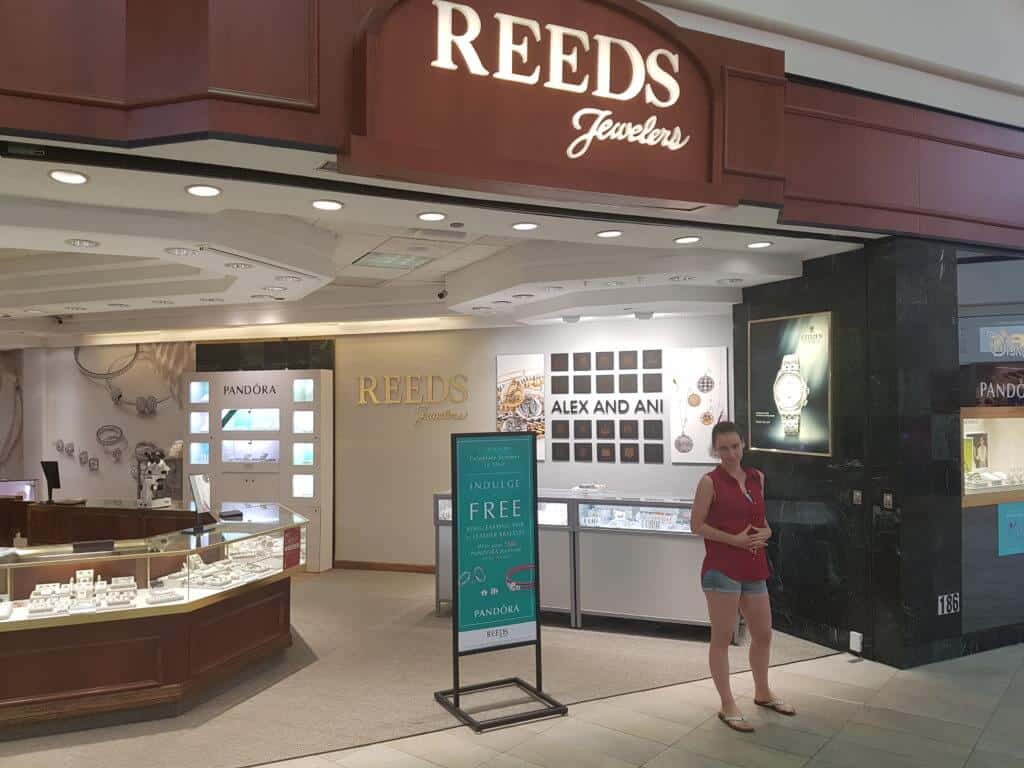 One of the first things out of her mouth was a very bizarre joke referring to how Annie looked like she is good wife material and must be good in the kitchen. There are several ways to interpret that joke, none of which make the salesperson look good. Neither Annie nor I are particularly sensitive and we have no problem being the butt of a joke that may cross certain lines. But what salesperson thinks it's a good idea to tell a joke to strangers that has a very good chance of coming across as offensive (and not particularly funny, no less)? What the hell was she thinking?
Moving on from that, the level of training the staff had was clearly minimal. We asked some pretty basic questions and the answers were all over the place. The only consistency was that she kept saying that I should be spending more money than the budget I gave her. We gave her a budget of $8,000 which I'm pretty sure is on the high end for Reeds customer range. Her upselling was not only rude, but a terrible sales tactic. The whole time at Reeds, I couldn't help but think about what kind of commission and incentive structure they have in place. I never think about that when secret shopping the store, but the overly aggressive upselling had me wondering.
Reeds Jewelers Diamond Review
One could hope that at least we'd see some nice rings while we were there. Alas, it was not meant to be. We saw two one carat diamonds (one round, one princess) that were incredibly poor quality for $3,799. We didn't see any certification on them, but Reeds claimed they were IJ color and I2 clarity. Even through the showcase, you could see a yellow tint. Upon closer inspection all I could see were the inclusions when looking at them. I wouldn't recommend rings like that at any price.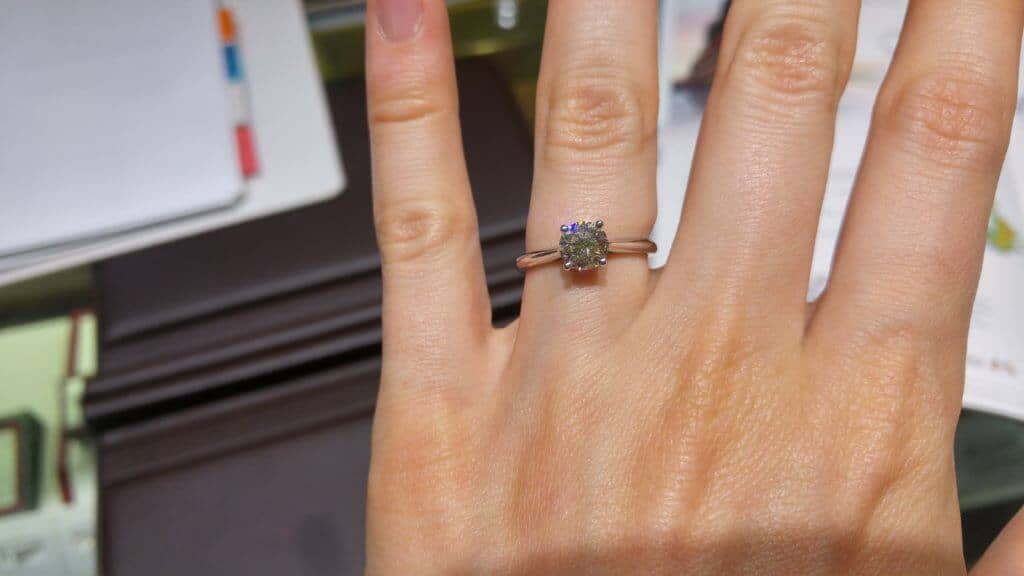 The final option we looked at was a 1.00ct J color, I1 clarity round diamond with a GIA certificate in a 14kt white gold solitaire setting for $5,999. Oddly enough, the certificate did not have a cut grade, but the diamond was cut quite deeply (63.5%). The depth of the diamond ended up trapping most of the brilliance. That, in turn, caused the yellowness to be more apparent. The inclusions were also very apparent.
Comparing Reeds Jewelers Rings
I won't even bother comparing something to Reeds' lower quality products. As you are about to see, we will find diamonds that are superior to their "high quality" offerings for better prices than their "low quality" rings.
So first let's compare apples to apples. Here is a gorgeous 1.02ct J color, I1 clarity excellent cut diamond from James Allen for $2,610. If you add that diamond to this ring, your total cost will be $2,790. That is a superior diamond (significantly improved cut) for less than half the price of the Reeds Diamond. In fact, despite being vastly superior to Reeds' lower quality offerings, the James Allen ring is even cheaper than those as well.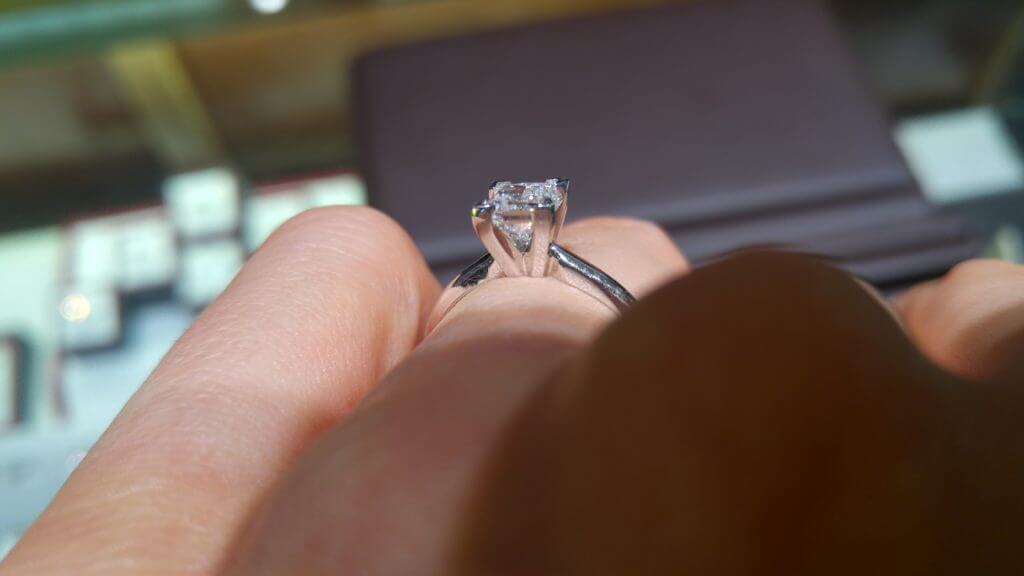 In fact, you can even go significantly higher in quality and still end up spending significantly less than you would at Reeds. Here is a 1.00ct J color, SI1 clarity excellent cut from Blue Nile for $3,758. If you add it to this ring, the total out of pocket is $3,958. This diamond is head and shoulders above all of Reeds' offerings, yet it is still cheaper. Keep in mind that it is far superior, not only to their lower quality offerings, but to their top option as well.
James Allen

James Allen is the leader in online diamond sales. Their imaging technology is the same as inspecting a diamond with a jeweler's loupe. They have the largest exclusive loose diamond inventory online and fantastic prices. They also have the nicest collection of lab created diamonds online. Save 10% off select Lab Grown Diamonds and 25% on setttings!
What we love about them:
No questions asked returns within 30 days of shipment. James Allen will send you a paid shipping label to return the ring.
Lifetime Warranty
Free International Shipping
Free prong tightening, repolishing, rhodium plating and cleaning every 6 months
Provide insurance appraisals
One free resizing within 60 days of purchase
Free ring inscriptions
Best-in-class high quality imagery of all diamonds in stock
24/7 Customer Service
Best-in-class packaging

---
Blue Nile

Blue Nile is the largest and most well known internet jewelry seller. They have a very large exclusive online inventory. Their high quality images are catching up to James Allens' and their prices are amazing. Blue Nile have generously offered our readers an exclusive one-time use coupon.

(Click Here to save $100 off engagement ring settings)
What we love about them:
No questions asked returns within 30 days of shipment. Blue Nile will send you a paid shipping label to return the ring.
Lifetime Warranty
Free Shipping
Free prong tightening, repolishing, rhodium plating and cleaning every 6 months
Provide insurance appraisal
One free resizing within the first year of purchase
High quality images of about half of their diamonds
24/7 Customer Service
100% credit towards future upgrades (must be at least double in value)
Best in class fulfillment

---
Still afraid of getting ripped off?
Before you buy a diamond, get personal buying advice from industry veterans. We'll help you get the best diamond for the money.
Ask your diamond purchase question here
DISCLAIMER: We don't use your email for marketing. Period.