We are reader-supported. Buying through links on our site may earn us commissions. Learn More.
Deal Alert! Huge James Allen Sale- 3% off Earth Diamonds AND 25% off settings or

15% off at Blue Nile!



Reeds Jenss Reviews: High Prices
Overall Score:

2.83

Price:

1.5

Selection:

3

Customer Service:

4

Pros

Fantastic customer service
Nice diamond options

---

Cons
Other Recommended Retailers
The History
Reeds' beginnings started more than 70 years ago by Bill and Roberta Zimmer. A true family run business, one of my first ever business trips (when I was working on the manufacturing side of the business) was visiting Jeff Zimmer. Since that time, Reeds Jenss has expanded to eight stores over three states.
The Experience
Jenny and I walked into their Amherst store and felt a bit like we were transported back in time. The store looked like it was straight out of a 90s movie set. There was this oddly kitschy feeling as well that emanated from the right side of the store where they sold houseware gift type things.
That said, it was eminently more comfortable when we made our way to the diamond section. Sue, the sales associate, sauntered over and we felt immediately at home. She was very friendly, and immediately added some cheer to our day.
As we started to go through the diamond selection process, Sue shined even more. She was very knowledgeable of diamonds and really seemed to try to help us find the right diamond for us. While I didn't agree with the diamond she settled on (more about that later), she was giving sound advice (we can agree to disagree) and really adapted her message and offerings based on our feedback (as opposed to a robotic response that was printed out on an instruction sheet).
The Product
Sue only showed us GIA certified diamonds. I'm not sure if they had other certificates or non-certified, but she noted that we had a keen eye (, and this is what we focused on. The first diamond she showed us was a 1.26ct G VS1 excellent cut for $10,995. The diamond was very nice, but not exactly the best cut (depth and angles were a tad high).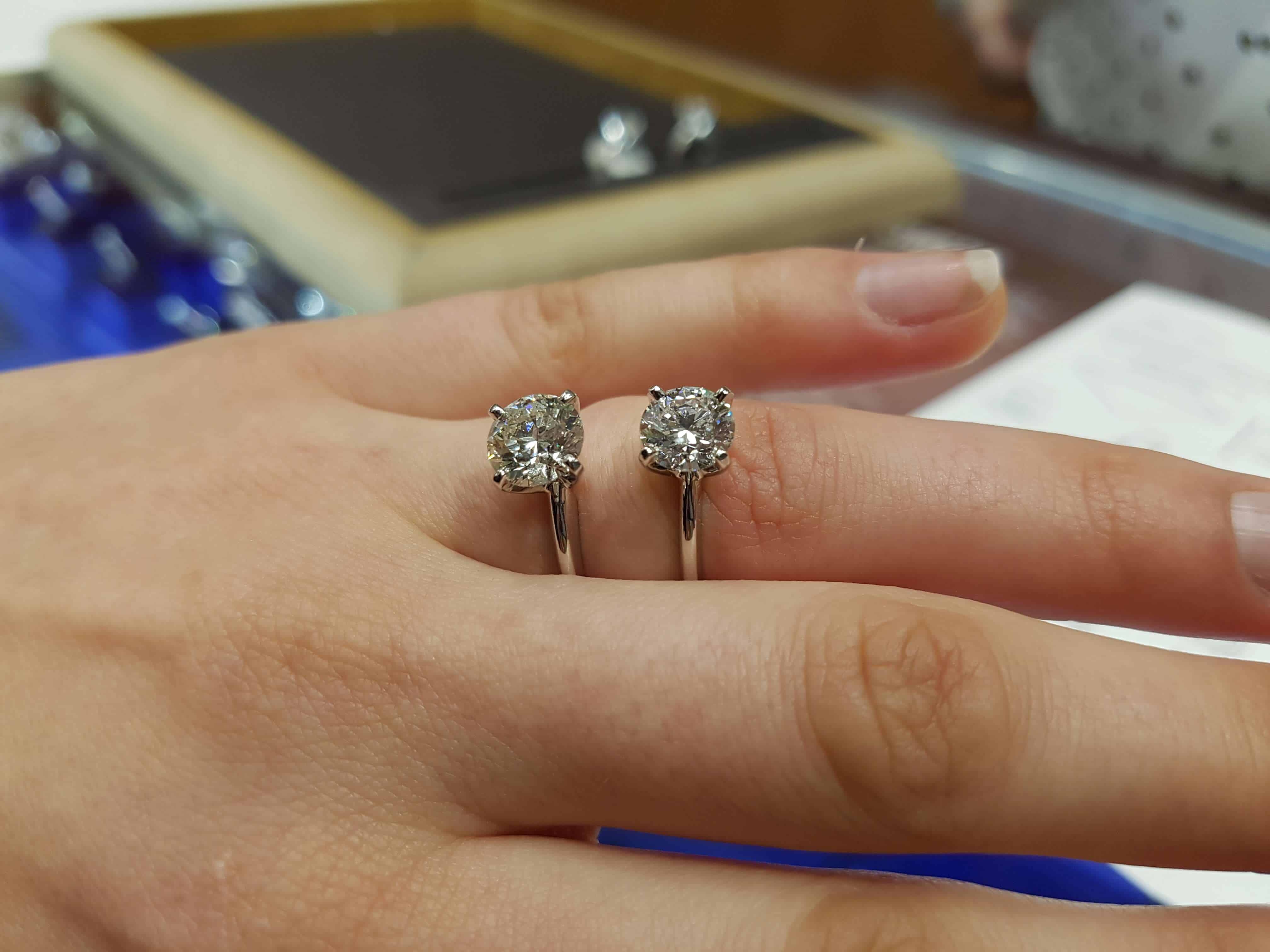 The diamond Sue really pushed was a 1.61 K SI2 ex cut for $7,995. Both diamonds were set in simple white gold solitaire settings. The K SI2 was slightly better cut, but still just a tad high in the depth/crown angle areas.
Sue was fantastic in explaining that you shouldn't pay a premium for color and clarity upgrades if you can't tell the difference with your eye. That is in agreement with our feelings on the matter, but we didn't agree in terms of where to draw the line. I could clearly see the inclusion in the SI2 and Jenny noticed the yellowish tint. It was borderline in both cases (after all, we both have quite a bit of experience), but I would have gone with a nicer SI2 and a J color.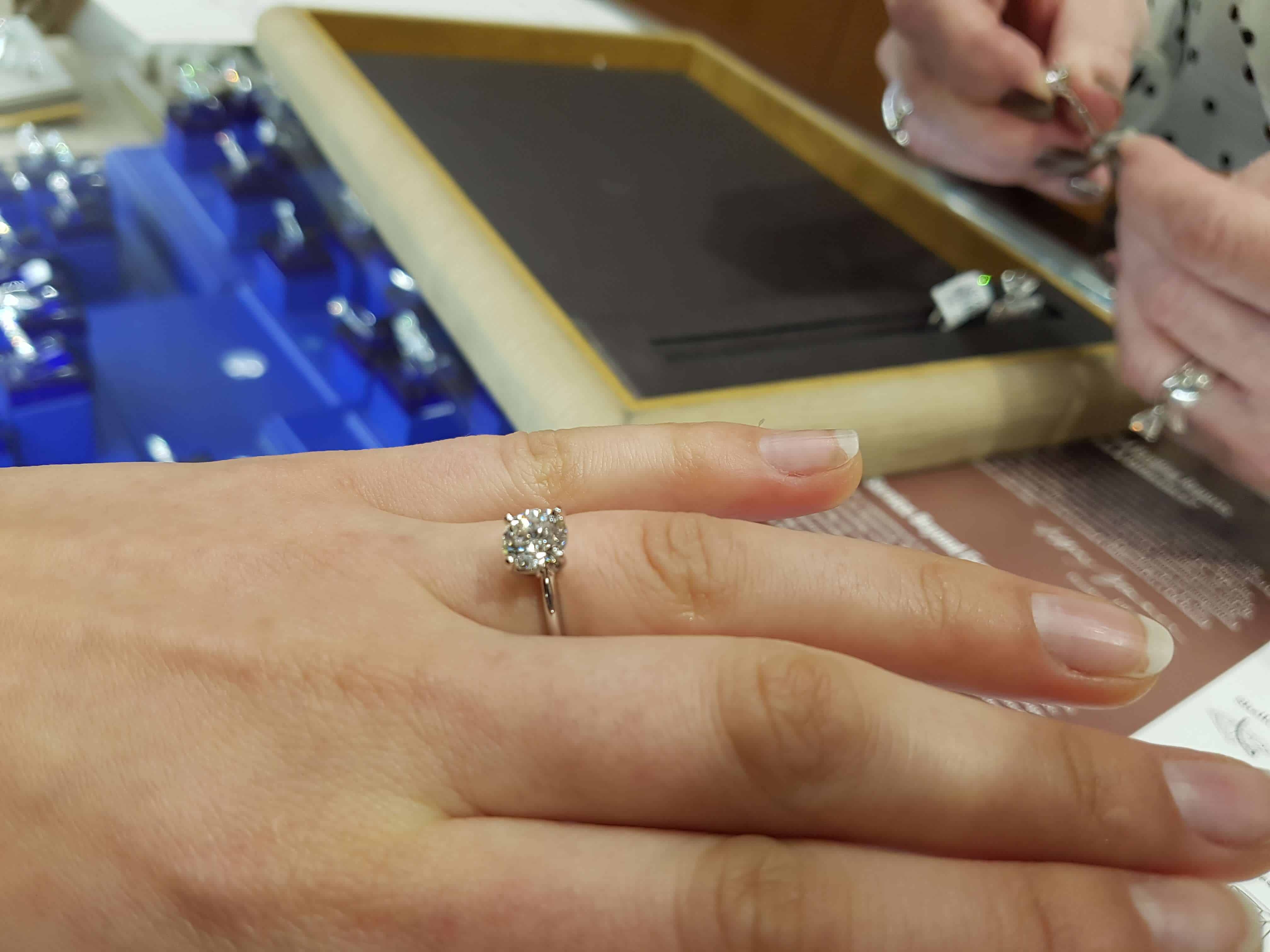 Sue, however, was not pushy at all. She was giving us her honest opinion and was trying to be as helpful as she could be. I had zero qualms with her actual recommendations.
The Value
This is where, as is often the case, Reeds Jenns fell a bit flat. The prices weren't unreasonable, but you can get better value elsewhere. Lets compare that 1.26ct G VS1, to this identical 1.29ct G VS1 from James Allen. This diamond comes it at $9,820 or 11% cheaper.
The gap widens when you look at their 1.61ct. As I mentioned, I thought the inclusions were quite noticeable. Compare that diamond to this 1.59 K VS2 from James Allen for $6,190. The diamond is superior (higher clarity) and it is a whopping 23% cheaper.
Bottom Line
The store experience is a bit mixed (dated ambiance, fantastic service) and the quality of the diamonds are ok. However, you are better off shopping with a company like James Allen. You will get far better bang for your buck. If you have a specific reason to go with Reeds though, they are not a bad choice.
James Allen

James Allen is the leader in online diamond sales. Their imaging technology is the same as inspecting a diamond with a jeweler's loupe. They have the largest exclusive loose diamond inventory online and fantastic prices. They also have the nicest collection of lab created diamonds online. Now save 25% off settings AND 3% off Earth Diamonds during James Allen HUGE limited time sale!
What we love about them:
No questions asked returns within 30 days of shipment. James Allen will send you a paid shipping label to return the ring.
Lifetime Warranty
Free International Shipping
Free prong tightening, repolishing, rhodium plating and cleaning every 6 months
Provide insurance appraisals
One free resizing within 60 days of purchase
Free ring inscriptions
Best-in-class high quality imagery of all diamonds in stock
24/7 Customer Service
Best-in-class packaging

---
Blue Nile

Blue Nile is the largest and most well known internet jewelry seller. They have a very large exclusive online inventory. Their high quality images are catching up to James Allens' and their prices are amazing. Blue Nile have generously offered our readers an exclusive one-time use coupon.

(Click Here to save $100 off engagement ring settings)
What we love about them:
No questions asked returns within 30 days of shipment. Blue Nile will send you a paid shipping label to return the ring.
Lifetime Warranty
Free Shipping
Free prong tightening, repolishing, rhodium plating and cleaning every 6 months
Provide insurance appraisal
One free resizing within the first year of purchase
High quality images of about half of their diamonds
24/7 Customer Service
100% credit towards future upgrades (must be at least double in value)
Best in class fulfillment

---
Still afraid of getting ripped off?
Before you buy a diamond, get personal buying advice from industry veterans. We'll help you get the best diamond for the money.
Ask your diamond purchase question here
DISCLAIMER: We don't use your email for marketing. Period.