We are reader-supported. Buying through links on our site may earn us commissions. Learn More.
Deal Alert! Huge James Allen Sale- 3% off Earth Diamonds AND 25% off settings or

15% off at Blue Nile!



A Guide to Buying Diamonds in Portland
Portland is my absolute favorite city in America. I always say that if I move back to the US, it will be to Portland. I love everything about the city, from the food pods to disc golfing, to last Thursdays on Alberta Street.
While the vibe of the city can definitely be described as "alternative " (I mean come on, "keep Portland weird"?), many Portlanders are taking the traditional route of buying a diamond engagement ring. So I figured I may as well use it as an excuse to head on over and do some secret shopping.
Buying a Diamond Online Vs. Buying at a Local Retailer in Portland
If you've read the other articles on our site, you've probably realized that we prefer online diamond vendors to brick and mortars stores. Why? Because they offer a larger selection at much better prices. They have lower overhead costs, don't need to house an inventory—or hire as many staff.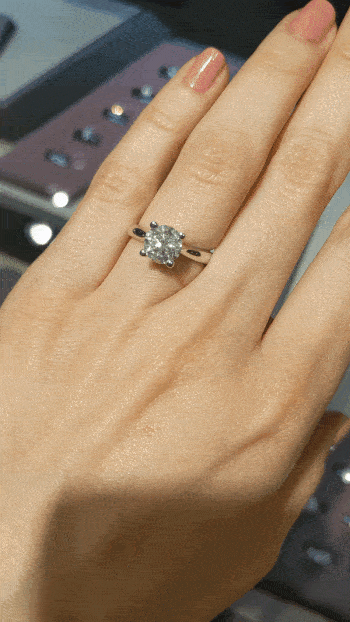 To put it in perspective, we found comparable rings online for 30-40% less than the prices we saw in Portland. For example, a beautiful engagement ring like this $4,620 round cut halo engagement ring from James Allen would probably cost about $6,200 at a Portland jewelry store.
We know that not everyone wants to buy a diamond online. Keep in mind, though, that when you buy from an in-store jeweler, you're paying a premium. Make sure that premium is worth it.
5 Tips for Buying a Diamond
When shopping for a diamond, make sure you're getting the most stunning stone for your budget. Follow our expert tips to get the highest quality diamond at the best price.
Look at Cut Quality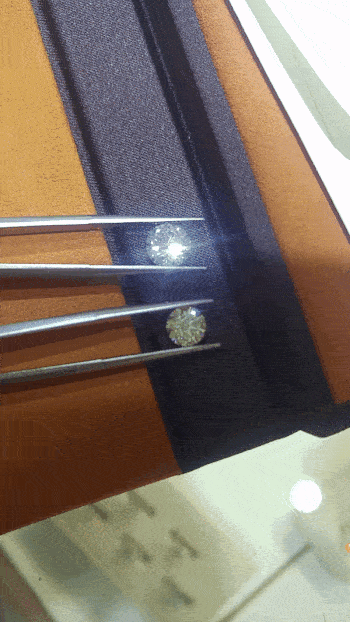 A diamond's cut is the greatest indicator of beauty. The cut either makes the stone brilliant and sparkly, or dull and lifeless. That's why you should limit your search to Ideal and Excellent cut diamonds. Beyond that, for Round Cut diamonds, keep the table below 60% and the depth percentage below 62.5%. Check out our Diamond Shapes guide for other recommendations.       
Verify the Certification
A diamond's certification tells you a lot about the diamond and confirms what it is that you're buying. It describes the diamond's Cut, Color, Clarity and Carat, among other things. You don't just want any certificate, though. You want one from a highly reputable lab entity: either the GIA or AGS. These labs are the most consistent and reliable in the world, and we recommend only looking at diamonds with these certificates.
Evaluate Clarity
When it comes to Clarity, check what the certificate states, but also how the diamond looks. The main goal is to find a diamond that doesn't have any blemishes and inclusions when you look at it with the naked eye. In most cases, you can find an eye-clean diamond at a VS1 or VS2 clarity grade. In other words, you don't need to pay for a VVS1 or VVS2 diamond. 

Choose White
When buying a diamond, look for one that appears white in relation to its setting. Typically, you can find a diamond in the G-I range that appears white to the naked eye. Rather than paying more for a D, E or F colored diamond, you can find a beautiful white stone for less.
Compare Your Options
Salespeople, especially those working on commission, have an incentive for you to buy a diamond the day you walk into their store. But we encourage you to take your time. Buying a diamond is a big purchase, and you want to make sure you're getting the most beautiful stone for the best price. Compare what you see in the store to what you can find online at a vendor like Blue Nile or James Allen. You can also send us a note with the GIA cert number of the stone you're considering. We'll take a look and see if it's a smart purchase.
Where to Buy a Diamond in Portland
Based on our secret shopping experiences in Portland, here are the best places to look for a diamond engagement ring. 
Kassab Jewelers – Downtown
Kassab is a very nice independent jeweler based in Portland. They have three locations, but we only visited their downtown store. We found the service to be fantastic and they had an interesting selection of engagement rings.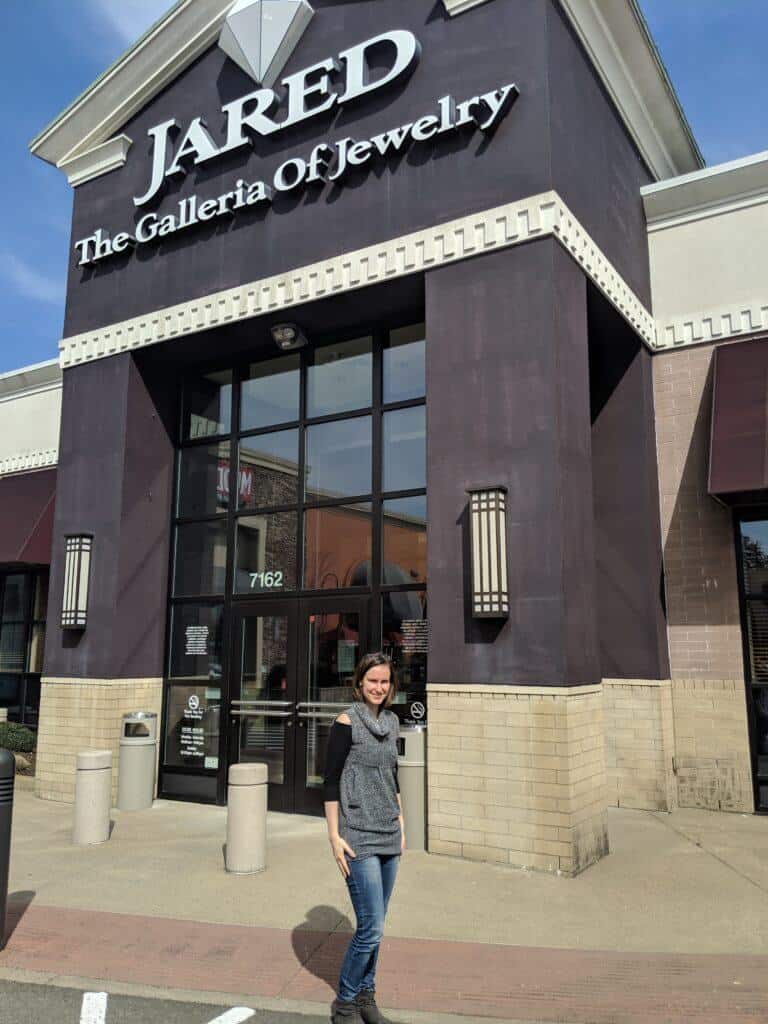 A little south of downtown we decided to step into Jared for a quick look. This was our favorite stop at a Jared in the five years I've been secret shopping around America. Yes, there were many diamonds there I would avoid. But we were very impressed with the First Light diamond they offered us.
Blue Nile Showroom – Washington Square Mall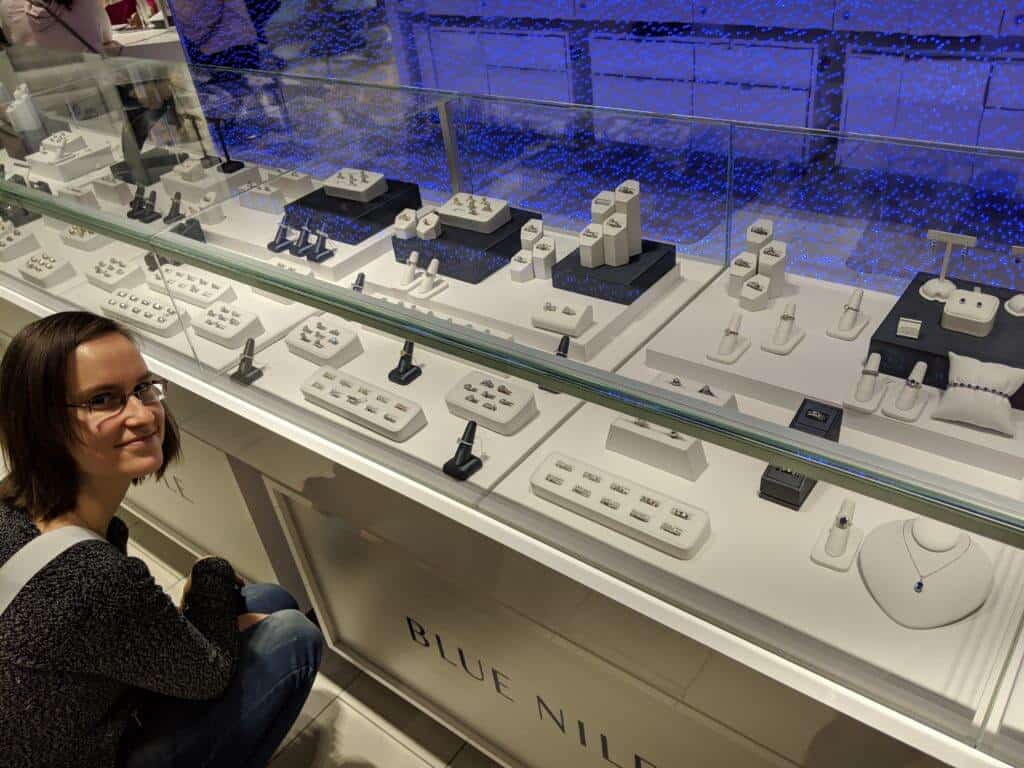 This is where the best of all worlds meet. We mention all of the advantages of buying from an online retailer. Having the showroom to sit down and try the different settings gives you the best of both worlds. No other store can compete with this.
Options for Buying Online
As we mentioned, Blue Nile is one of our top choices for buying a diamond. They maintain the largest online inventory of diamonds and settings. With Blue Nile, you get a phenomenal selection at excellent prices. They also offer free shipping and hassle-free returns. 
We also highly recommend shopping with James Allen. They maintain an incredible inventory of diamonds and rings of all shapes and styles. They're known for their great customer service and providing high-tech imagery of each diamond, so you know exactly what you're buying.
You can also reach out to us with what you're looking for and your budget. We can help you find a truly stunning diamond at an excellent price point. 
Engagement Ring Styles
From bezel settings to halo rings, there's a wide range of engagement ring styles. You can find classic rings like this Round Cut solitaire from James Allen or more intricate designs like this Princess Cut with a twisted pave band from James Allen. There are also beautiful vintage settings for Oval cuts. All of the options available give you the exciting ability to design a ring that your partner will love.
Take each decision one at a time. Select your diamond shape and choose the setting style you like. Decide on your precious metal—whether that's yellow gold, rose gold, white gold or platinum.
Most importantly, though, select a diamond with plenty of brilliance. A well-cut diamond will sparkles, while a poorly cut diamond appears dull. Check out our top tips for buying a diamond to find one that will shine for many years to come.
James Allen

James Allen is the leader in online diamond sales. Their imaging technology is the same as inspecting a diamond with a jeweler's loupe. They have the largest exclusive loose diamond inventory online and fantastic prices. They also have the nicest collection of lab created diamonds online. Now save 25% off settings AND 3% off Earth Diamonds during James Allen HUGE limited time sale!
What we love about them:
No questions asked returns within 30 days of shipment. James Allen will send you a paid shipping label to return the ring.
Lifetime Warranty
Free International Shipping
Free prong tightening, repolishing, rhodium plating and cleaning every 6 months
Provide insurance appraisals
One free resizing within 60 days of purchase
Free ring inscriptions
Best-in-class high quality imagery of all diamonds in stock
24/7 Customer Service
Best-in-class packaging

---
Blue Nile

Blue Nile is the largest and most well known internet jewelry seller. They have a very large exclusive online inventory. Their high quality images are catching up to James Allens' and their prices are amazing. Blue Nile have generously offered our readers an exclusive one-time use coupon.

(Click Here to save $100 off engagement ring settings)
What we love about them:
No questions asked returns within 30 days of shipment. Blue Nile will send you a paid shipping label to return the ring.
Lifetime Warranty
Free Shipping
Free prong tightening, repolishing, rhodium plating and cleaning every 6 months
Provide insurance appraisal
One free resizing within the first year of purchase
High quality images of about half of their diamonds
24/7 Customer Service
100% credit towards future upgrades (must be at least double in value)
Best in class fulfillment

---
Still afraid of getting ripped off?
Before you buy a diamond, get personal buying advice from industry veterans. We'll help you get the best diamond for the money.
Ask your diamond purchase question here
DISCLAIMER: We don't use your email for marketing. Period.