Paris Jewellers Reviews: Low Quality, Bad Service, High Prices
Scared of getting ripped off? Don't want to waste your money? Confused by all the choices? Contact us.
For the first time in our memory, James Allen is offering sales on both loose diamonds (10% off select Lab Grown Diamonds) and settings (25% on your setting) at the same time. What makes this sale HUGE is that James Allen is allowing you to double dip and save on both the diamond and setting in the same purchase. If you were considering Lab Grown Diamonds, this combination can save you thousands of dollars.
Blue Nile, one of our favorite vendors, is running an "Anniversary Sale" and offering savings of 15% on select engagement ring settings. Use code 2021NILE at checkout.
We get commissions for purchases made from our affiliates through links in this article. Learn More.
Mike Fried

Overall Score:
1.17
Price:
1.5
Selection:
1
Customer Service:
1
Pros
---
Cons
Low quality
Bad prices
Inept service
Other Recommended Retailers
The History
Compared to some of the other Canadian companies we secret shopped on this trip, Paris Jewellers has relatively humble beginnings. Their story starts 30 years, when they opened their first store in St. Albert, Alberta. Since then they have grown in size considerably, going from that one store to 28 stores spanning four provinces.
The Experience
We decided to go the the Bramalea Shopping Centre to as they were the most convenient for us on our recent trip to Toronto. To start, the mall itself was incredibly depressing and wasn't a good start to the experience.
Walking into the store, they definitely didn't do anything to lift our mood. The store seemed a bit seedy and very outdated. Honestly, there was a seedy lingerie store next door, and it was hard to tell apart the stores.
The sales staff was very eager to please, but didn't know anything at all. First off, we were being helped by someone who was new. I had no problem with her, but the store in general. There is no excuse for letting someone with absolutely zero training talk to customer on their own.
It even got to the point where we asked to see the certificate and she couldn't figure out how to find it on her own. She had the boxes of certificates but was completely stymied. I actually took the box and found them in 20 seconds (after she spend 5 minutes looking).
The Product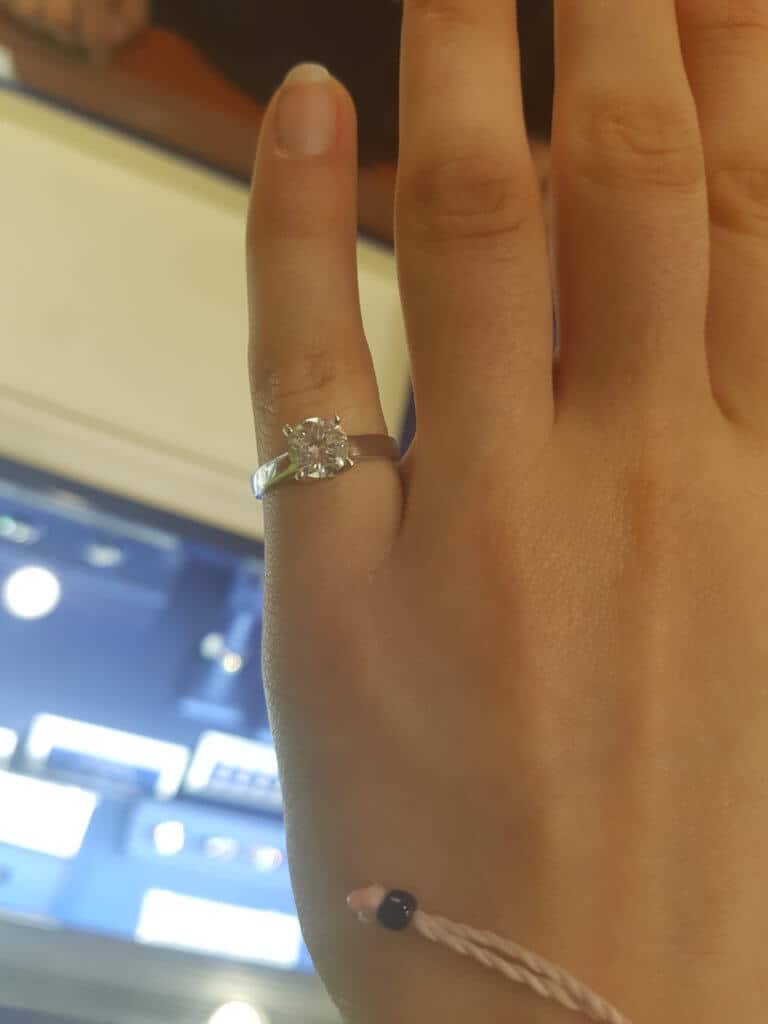 Firstly, the certification was weak (to put it charitably). The quality claims definitely seemed inflated by the GS certificates. The first ring we looked at was a 1.00 G I1 round diamond in a solitaire setting for c$8,499. The other diamond we looked at was a 1.00ct G SI2 cushion cut in a pave setting for c$9,799. In both cases, the inclusion was very noticeable.
The Value
Let's compare the round diamond to this 1.04ct H SI2 round cut diamond from Blue Nile. This diamond is far superior. Its a GIA certificate so the grades are actually what they claim. The color from the diamond I saw at Paris Jewelers seemed to be an H. The difference in clarity though is enormous (both in appearance and in value). Yet, if you add that diamond to this nice solitaire, the price is only c$5,470. That is 35% cheaper than the inferior offering from Paris Jewellers.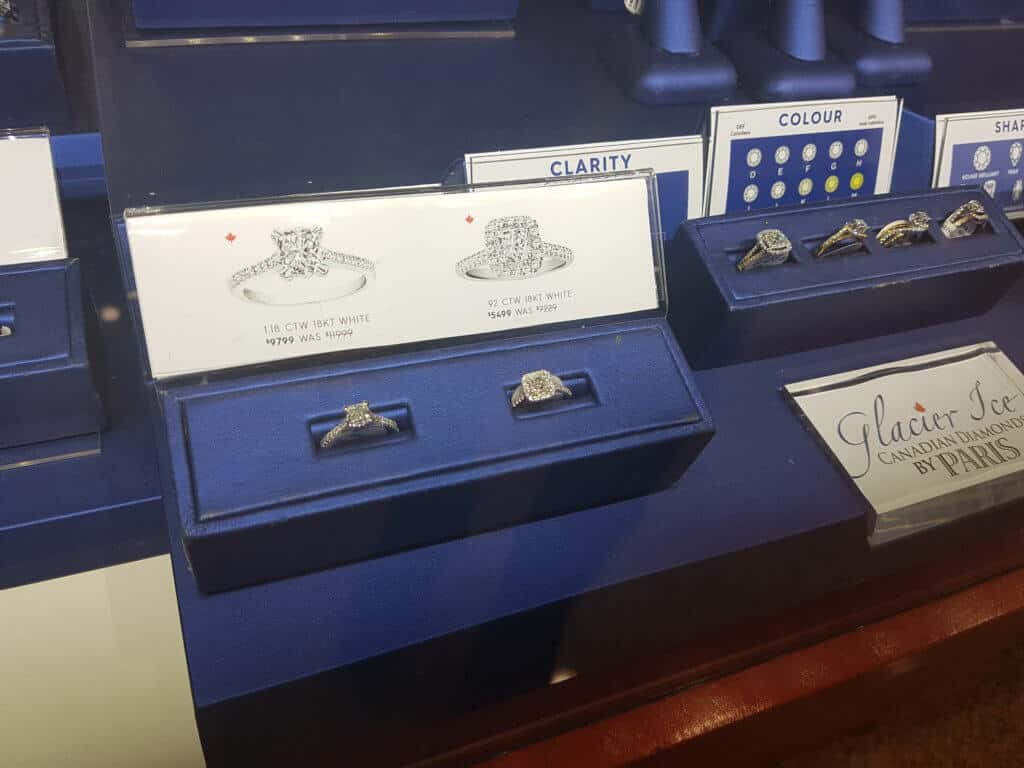 The same goes for the cushion cut. Here is a 1.00ct F SI2 cushion cut for $3,614. Again, the diamond is superior in quality. Add in this gorgeous petite micropave setting and the price comes out to only c$4,860. That is HALF the price of inferior product at Paris.
Bottom Line
I just don't see a reason to buy a diamond ring at Paris Jewelers. The service is underwhelming, the locations don't give you any positive vibes buying there. Worst off, the product is inferior and way overpriced. You are better off going to some of the other stores or, best yet, buying from one of the top online retailers like Blue Nile.
James Allen

James Allen is the leader in online diamond sales. Their imaging technology is the same as inspecting a diamond with a jeweler's loupe. They have the largest exclusive loose diamond inventory online and fantastic prices. They also have the nicest collection of lab created diamonds online. Save 25% off Engagement Rings during James Allen Summer Vibes Sale.
Save 10% off select Lab Grown Diamonds
What we love about them:
No questions asked returns within 30 days of shipment. James Allen will send you a paid shipping label to return the ring.
Lifetime Warranty
Free International Shipping
Free prong tightening, repolishing, rhodium plating and cleaning every 6 months
Provide insurance appraisals
One free resizing within 60 days of purchase
Free ring inscriptions
Best-in-class high quality imagery of all diamonds in stock
24/7 Customer Service
Best-in-class packaging

---
Blue Nile

Blue Nile is the largest and most well known internet jewelry seller. They have a very large exclusive online inventory. Their high quality images are catching up to James Allens' and their prices are amazing. Blue Nile have generously offered our readers an exclusive one-time use coupon.

(Click Here to save $100 off orders of $1000 or more)
What we love about them:
No questions asked returns within 30 days of shipment. Blue Nile will send you a paid shipping label to return the ring.
Lifetime Warranty
Free Shipping
Free prong tightening, repolishing, rhodium plating and cleaning every 6 months
Provide insurance appraisal
One free resizing within the first year of purchase
High quality images of about half of their diamonds
24/7 Customer Service
100% credit towards future upgrades (must be at least double in value)
Best in class fulfillment

---
Still afraid of getting ripped off?
Before you buy a diamond, get personal buying advice from industry veterans. We'll help you get the best diamond for the money.
Ask your diamond purchase question here
DISCLAIMER: We don't use your email for marketing. Period.