Na Hoku Reviews: Don't Waste your Money
Scared of getting ripped off? Don't want to waste your money? Confused by all the choices? Contact us.
For the first time in our memory, James Allen is offering sales on both loose diamonds (10% off select Lab Grown Diamonds) and settings (25% on your setting) at the same time. What makes this sale HUGE is that James Allen is allowing you to double dip and save on both the diamond and setting in the same purchase. If you were considering Lab Grown Diamonds, this combination can save you thousands of dollars.
Blue Nile, one of our favorite vendors, is running an "Anniversary Sale" and offering savings of 15% on select engagement ring settings. Use code 2021NILE at checkout.
We get commissions for purchases made from our affiliates through links in this article. Learn More.
Mike Fried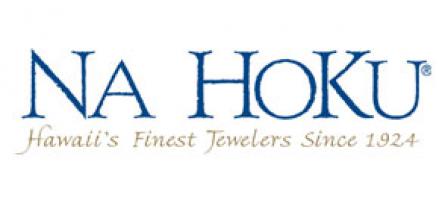 Overall Score:
1.5
Price:
1.5
Selection:
1
Customer Service:
2
Pros
Nice bridal and accessory jewelry
---
Cons
Poor selection for engagement rings
High prices on engagement rings
Other Recommended Retailers
The History
Na Hoku is retail chain based in Hawaii. The name is Hawaiian for "stars" and they do play up the Hawaiian theme on their site and marketing. The company has roots going back almost 100 years. Their jewelry is all made by Hawaiian designers and manufacturers.
Na Hoku now has 59 stores spread around the United States.
The Experience
We decided to give No Hoku a shot while we were visiting Chicago. Located at the foot of the famous Magnificent Mile, I was expecting a nice store with a certain level of luxury. I was quite surprised walking in as it felt quite the opposite.
Despite being a freestanding store, it had the same feel as a typical mall store. The interior struck me as drab and underwhelming. The store also seemed very cramped. It felt like they had no room in the back given the fact that used FedEx boxes were all over the display cases. It was also pretty depressing to find out that there was no ambiance or theme in the store that would differentiate itself based on its roots.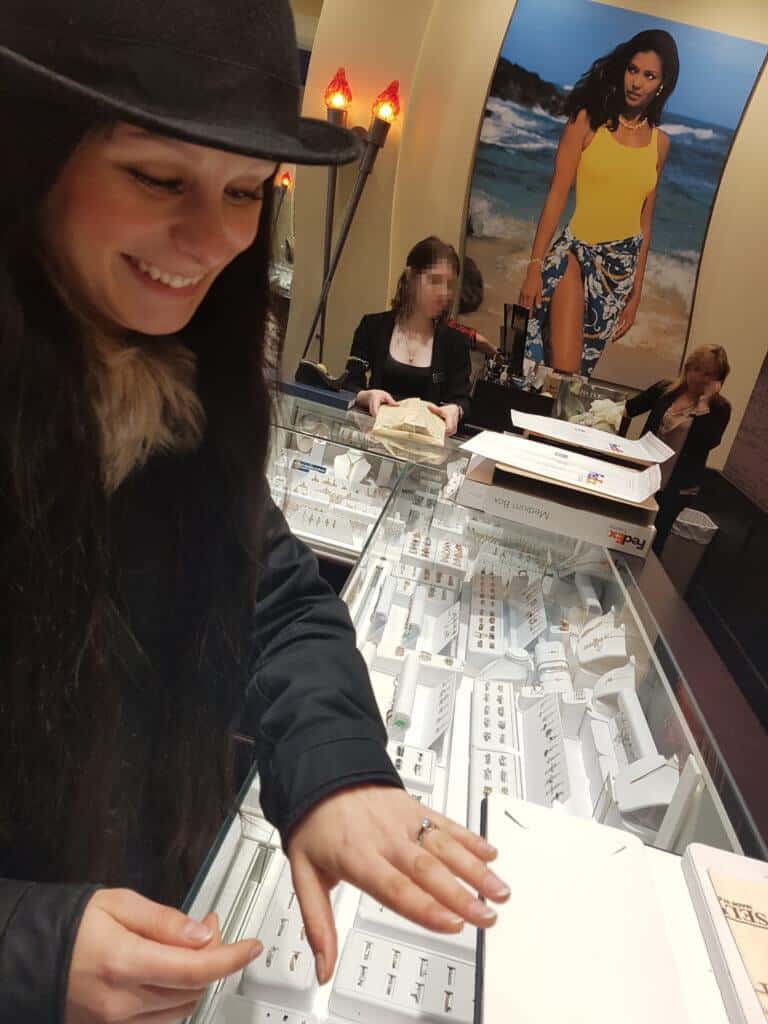 The salespeople were prompt and helpful, to a point. While they were eager to help, they didn't seem to have much knowledge in the diamond department. To be fair, it seems that the focus of Na Hoku's business is not engagement rings (this is a rarity for us), so if you are looking for other types of jewelry, take our review with a grain of salt. This is not exactly my purview of expertise, but their jewelry products looked very nice.
The Product
Their selection of engagement rings in the store is incredibly limited. They only had a couple of solitaire rings and the largest size available was a one carat diamond. We looked at an IGI certified 1.00ct G VS2 in an 18K white gold setting for $10,750. If you look at the cert, you will notice that the cut is incredibly poor on the diamond. The diamond is incredibly deep which saps the brilliance of the diamond and makes it look smaller.
The Value
This is where the Na Hoku train really goes off the rails. Even ignoring the fact that they use a less than stellar certificate, the price for the quality is truly horrific. Here is a superior (better color, better certificate) 1.00 F VS2 diamond from James Allen for $6,660. If you add this solitaire setting, the price is 33% cheaper. And that doesn't even take into account the fact that you save on taxes. The real cost savings would be 40%.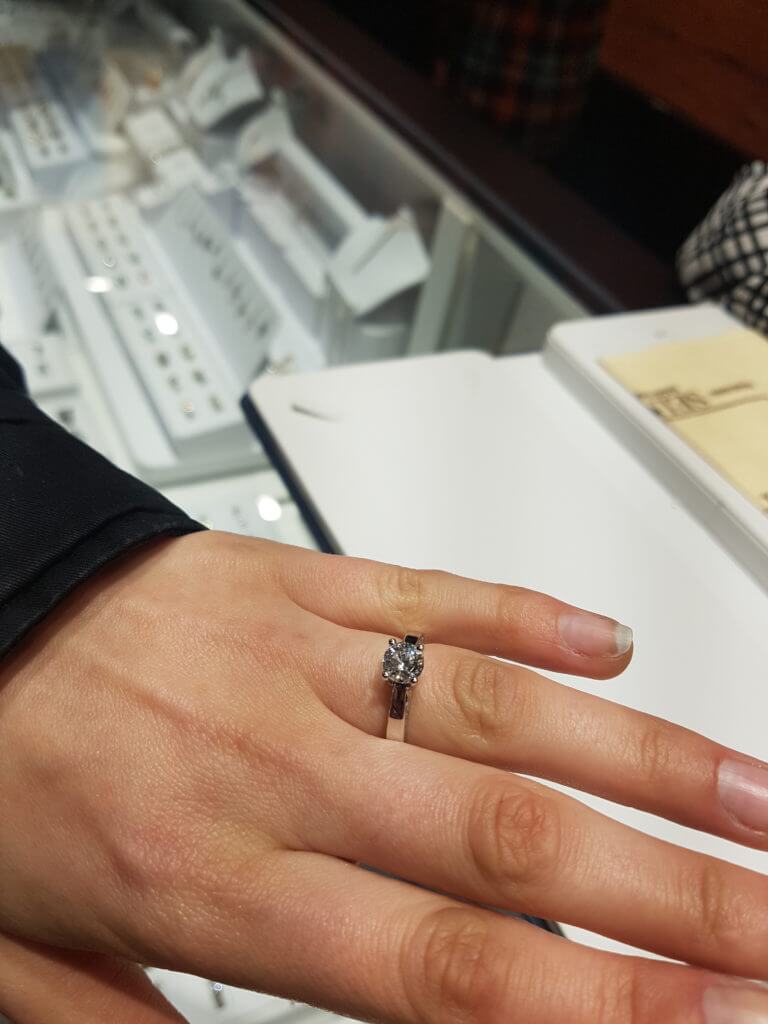 You can also go with this far superior 1.00ct G VS2 for $6,000. As we mention throughout our site, cut is the most important aspect of diamond buying. This is a much nicer choice and you still save about 40%.
Bottom Line Recommendation
Na Hoku may be a great place to buy an elaborate brooch or a unique bracelet. But when it comes to buying engagement rings, they are not the right spot. You are better off buying a superior ring for less from James Allen or Blue Nile.
James Allen

James Allen is the leader in online diamond sales. Their imaging technology is the same as inspecting a diamond with a jeweler's loupe. They have the largest exclusive loose diamond inventory online and fantastic prices. They also have the nicest collection of lab created diamonds online. Save 25% off Engagement Rings during James Allen Summer Vibes Sale.
Save 10% off select Lab Grown Diamonds
What we love about them:
No questions asked returns within 30 days of shipment. James Allen will send you a paid shipping label to return the ring.
Lifetime Warranty
Free International Shipping
Free prong tightening, repolishing, rhodium plating and cleaning every 6 months
Provide insurance appraisals
One free resizing within 60 days of purchase
Free ring inscriptions
Best-in-class high quality imagery of all diamonds in stock
24/7 Customer Service
Best-in-class packaging

---
Blue Nile

Blue Nile is the largest and most well known internet jewelry seller. They have a very large exclusive online inventory. Their high quality images are catching up to James Allens' and their prices are amazing. Blue Nile have generously offered our readers an exclusive one-time use coupon.

(Click Here to save $100 off orders of $1000 or more)
What we love about them:
No questions asked returns within 30 days of shipment. Blue Nile will send you a paid shipping label to return the ring.
Lifetime Warranty
Free Shipping
Free prong tightening, repolishing, rhodium plating and cleaning every 6 months
Provide insurance appraisal
One free resizing within the first year of purchase
High quality images of about half of their diamonds
24/7 Customer Service
100% credit towards future upgrades (must be at least double in value)
Best in class fulfillment

---
Still afraid of getting ripped off?
Before you buy a diamond, get personal buying advice from industry veterans. We'll help you get the best diamond for the money.
Ask your diamond purchase question here
DISCLAIMER: We don't use your email for marketing. Period.